May, 30, 2013
5/30/13
2:00
PM ET
On Wednesday we started an interview with first-year NC State offensive coordinator Matt Canada. Here is the second part of our interview:
How is the running game looking? Who's coming back?
Matt Canada:
We've got Shad, [
Shadrach Thornton
] Shad's coming back.
Right, he was a nice surprise last year.
MC:
Yeah, he had a very good freshman year. And
Tony Creecy
is a great kid, a very durable, solid guy who had a very, very good spring. Those two guys certainly carried most of the load this spring. And we've got some guys coming in here in the fall, so there will be some freshmen at the skill positions who might be able to have an impact a little faster than the linemen, those types of spots. You never know.
[+] Enlarge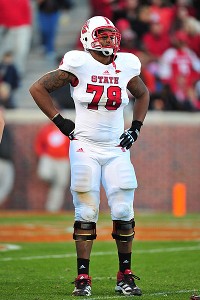 David Scearce /Icon SMIAfter losing four offensive linemen from last season, NC State will be relying on Rob Crisp for leadership.
And how do you look up front?
MC:
That's the key to everything.
Rob Crisp
, he's a guy who played a lot of football. He's a guy coming back, and we're certainly counting on him to be a leader in every way, starting with his play and the way he leads that group. I think he understands that. When you lose four linemen, there's a lot of leadership that left the room. You work through that and understand that. The other guys have played,
Tyson Chandler
has played, [Duran] Christophe, everyone is still competing. Competition is a great thing, and we're going to continue to have it every day until the opener.
Just in general, what was the most challenging thing for you guys this spring?
MC:
I don't know. Putting in a new offense is fun, it's exciting. Spring is the best time of year to do those things. You go out, you just ball. Changing the tempo, we've done it a couple times now -- once at Northern and once here now. Those are things you see and have to work through, those things have been good.
How has Pete [Thomas] done in the no-huddle?
MC:
Very good. He's a smart quarterback, understands it, and has done a good job.
What's your main priority to get done this summer?
MC:
We'll just continue to evaluate the spring film, look at what we did well, decide exactly where we're going to head, and how we're going to attack the season with the players we have. We've got 15 days of film.
You mentioned Asa Watson, what kinds of things can he do in this offense? How does he fit in?
MC:
He can do it all. He blocks well, he can catch the football. I think he's a very versatile player, so I'm excited about him and watching him develop. … He'll be full strength in camp. He's a leader. He's a very good person, a great kid, and a guy we're looking to to lead us.
May, 13, 2013
5/13/13
2:00
PM ET
Asa Watson
says he has always had the heart to help people.
In quite a twist, it was his bad heart that got him started on one of his first mission trips at NC State.
[+] Enlarge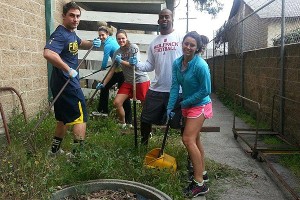 NC State sports informationNC State tight end Asa Watson volunteered with Athletes in Action's "Urban Project L.A."
It was 2011, the year Watson had his first heart surgery to correct a rapid heartbeat. Coaches told him he would have to redshirt. Watson decided he wanted to do something big. So rather than attend the first session of summer school, he volunteered with Athletes In Action's "Urban Project L.A."
Watson spent three weeks volunteering and was mainly in the Skid Row section of the city, helping out kids, working on urban renewal projects and getting to know the community itself.
The trip had such a profound impact on him, he volunteered with the project again during spring break last March.
"That was a really eye-opening experience because I had never been around an area so stricken by poverty," Watson said in a recent phone interview. "That had such an impact on me. I also had great experiences with the people I met, and leading up to this year, I realized as a senior my time is running out. I always wanted to do something for my spring break. I decided this was the time to do it."
Watson spent time in Compton on his second trip, working on a prayer tour, visiting local ministries and connecting with children in the area. He also did some work around the community as well, and spent time at the local Salvation Army.
When Watson was younger, he did some mission trips as well. His dad, Ken, is a pastor in Norfolk, Va. His mom went on many trips. The first one they went on together was to Belize. "That one started my heart for helping people," Watson said.
Along the way, there have been trips to Jamaica and Canada, as well. But the two trips to Los Angeles opened his eyes to an even bigger truth. Spending a few weeks somewhere is really only a start.
"In order to get lasting, sustainable change you have to spend a long time investing in a place, you have to learn to know the people in the community and figure out what their real need is," Watson said. "People don't need just a meal and a pair of shoes. They need better resources and a vision to see that there is a way to improve their lives, improve their situations."
Watson has given of himself during times of great uncertainty in his own life. As a sophomore at NC State, he started feeling lightheaded sometimes during practices, and his heart would race uncontrollably. Doctors discovered he had too many electrical pathways to his heart.
"Instead of one heartbeat, I had three," he said.
After the first procedure did not completely correct the problem, Watson underwent a second heart surgery in 2012. He remains on medication to help control his heartbeat. Though it sounds downright scary, doctors tell Watson his heart condition puts him in no extra danger when playing contact sports.
"When I explain to people, most can't understand. It just felt like my heart was tired," Watson said. "I've learned to deal with it. It doesn't happen as much as it used to, but there's still those instances when my heart beats too fast, and I get lightheaded and have to stop."
Now going into his final season, Watson has one last shot to make an impact on the offense. New coach Dave Doeren has Watson listed as the first-team tight end on the post-spring depth chart.
"I think the tight end is going to play a pretty big role in the offense," Watson said. "I'm going to have to be a great blocker, and I'm going to have to be able to receive the ball when asked. I'm looking forward to the change."