February, 28, 2012
2/28/12
11:23
AM ET
NC State linebacker
D.J. Green
is
ineligible to play this season
after testing positive for a banned substance, according to J.P. Giglio of the Raleigh News & Observer.

According to the report, Green said he took a supplement in an attempt to gain weight. It was an unfortunate decision for Green and his team, as the linebacker position was already thin. With
Audie Cole
and
Terrell Manning
gone, the linebacker position is one of the biggest questions facing the Pack entering spring practices. Cole was the team's leading tackler each of the past two seasons, and Manning was one of the defense's most disruptive players last year.
Green was the only returning starter. He was having a great 2011 before he injured his knee and wound up starting seven games. The position will now be in the hands of young players like
Brandon Pittman
and
Michael Peek
, both sophomores.
Dontae Johnson
has some starting experience at linebacker, but he's more of a safety and played a crossover role last year.
The good news for NC State's defense is that the entire secondary returns, including one of the top cornerbacks in the country in
David Amerson
, but the Wolfpack will need to find some answers at linebacker this spring and summer in order to solidify the front seven.
January, 13, 2012
1/13/12
11:00
AM ET
It's time to wrap up the 2011 season with the top performers from the bowl games. No, they're not all from Florida State and NC State. Although they could be …
Offense:
QB:
Mike Glennon
, NC State:
He was named the MVP of the Belk Bowl after throwing for 264 yards and three touchdowns to lead NC State past Louisville 31-24.
RB:
Preston Lyons
, Georgia Tech:
The senior fullback started in place of injured
David Sims
and rushed for 138 yards in the overtime loss to Utah. Before this, Lyons had never rushed for more than 50 yards in a game.
[+] Enlarge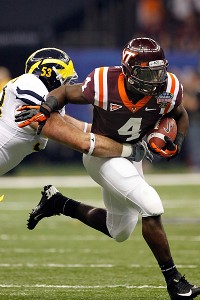 AP Photo/Dave MartinVirginia Tech running back David Wilson finished the season with 1,709 rushing yards.
RB:
David Wilson
, Virginia Tech:
He broke the school's single-season rushing record in the Allstate Sugar Bowl against Michigan with 82 yards on 24 carries. He finished the season with 1,709 yards. His 11-yard run on his second carry of the third quarter enabled him to surpass Ryan Williams' mark of 1,655 yards set in 2009.
WR:
Rashad Greene
, Florida State:
He had five catches for 99 yards and a touchdown in the 18-14 win against Notre Dame and was named the MVP of the Champs Sports Bowl. His 15-yard touchdown catch with just over 13 minutes to play gave the Noles a 15-14 lead.
WR:
T.J. Graham
, NC State:
He finished with seven catches for 116 yards and two touchdowns in the win against Louisville. He also had three kick returns for 63 yards and one punt return for two yards.
WR:
Kris Burd
, Virginia:
He had six catches, 103 yards, two touchdowns and a broken collarbone. He became only the third player in school history to score two receiving touchdowns in a bowl game.
OT:
Zebrie Sanders
, Florida State:
He was the lone senior on an offensive line that started four freshmen. He posted a career-high grade of 94 percent in his final game at left tackle.
OT:
Rob Crisp
, NC State:
Hey, no other lineman in the ACC had a reception in a bowl game. Granted, his teammates keep ribbing him for rumbling and fumbling, but Crisp played a good game, paving the way for the offense from the right tackle spot.
G:
Josue Matias
, Florida State:
As one of four true freshman starters on the Noles' line, Matias posted a grade of 82 percent from the left guard position in his first career start.
G:
Shaq Mason
, Georgia Tech:
Even with guard
Omoregie Uzzi
sitting out with an injury and suspended tackle
Phil Smith
on a bus back to Atlanta, Tech rolled up 311 rushing yards and 448 total yards against a Utah defense that was ranked among the nation's best entering the Hyundai Sun Bowl.
C:
Dalton Freeman
, Clemson:
Freeman had an 84 percent grade and four knockdowns in helping Clemson to 443 yards and 33 points against West Virginia.
Defense:
DE:
Brandon Jenkins
, Florida State:
He finished with two tackles (both solo), including one sack for minus-10 yards. His sack in the third quarter took Notre Dame out of field goal range.
DT:
Nikita Whitlock
, Wake Forest:
He finished with six tackles, 0.5 sacks, 1.5 tackles for loss and one fumble recovery in the loss to Mississippi State.
[+] Enlarge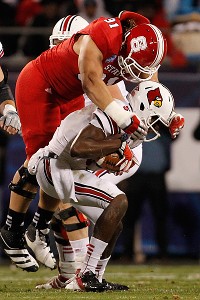 AP Photo/Bob LeveroneThe Wolfpack's Markus Kuhn lands on Louisville's Teddy Bridgewater for a sack during the Belk Bowl.
DT:
Markus Kuhn
, NC State:
He finished with three tackles, including 1.5 for a loss of seven yards. He also had one sack for a loss of six yards in the win against Louisville.
DE:
J.R. Collins
, Virginia Tech:
He finished second on the team with seven tackles and had one tackle for loss in the loss to Michigan in the Allstate Sugar Bowl.
LB:
Nigel Bradham
, Florida State:
He closed out his career with a team-high nine tackles (eight solo) against Notre Dame, finishing the season with a team-leading 86. He was the first FSU player to lead the team in tackles for three consecutive years since All-American Marvin Jones (1990-92). Bradham also added his third career interception in the win.
LB:
Tariq Edwards
, Virginia Tech:
He finished with a team-high eight tackles, one sack for a loss of seven yards and two tackles for a loss of eight yards in the loss to Michigan.
LB:
Audie Cole
, NC State:
The senior ended his career with a team-high 10 tackles, including a pair of sacks and four tackles for loss.
DB:
David Amerson
, NC State:
He had two interceptions and returned one of them 65 yards for a touchdown in the Belk Bowl win against Louisville. He became the ACC's leader in interceptions in a single season with 13. It was one shy of the Football Bowl Subdivision record set by Al Worley of Washington in 1968.
DB:
Kyle Fuller
, Virginia Tech:
He intercepted a pass by Michigan quarterback
Denard Robinson
in the first quarter. The interception marked his second of the season and the second of his career.
DB:
Merrill Noel
, Wake Forest:
He had a team-leading seven tackles and one interception for 18 yards in the 23-17 loss to Mississippi State.
DB:
Lamarcus Joyner
, Florida State:
With Notre Dame inside the 5-yard line, Joyner intercepted his team-best fourth pass of the season. His 77-yard kickoff return after Notre Dame went up 14-0 was the longest kickoff return by a Seminole this year. It was also the third-longest in FSU bowl and Champs Sports Bowl history.
Special teams:
P:
Shawn Powell
, Florida State: He punted 8 times for 378 yards and a 47.2-yard average. He had three punts of more than 50 yards and landed two inside the 20-yard line. His performance sealed his title as the nation's leader in punting.
P/K:
Justin Myer
, Virginia Tech:
Myer entered the game 0-for-2 on the season but made field goals in the Allstate Sugar Bowl of 37, 43, 36 and 25 yards, recording a field goal in every quarter and tying Georgia's Billy Bennett (2003) for the BCS bowl record. The four field goals tied for second-most in Sugar Bowl history. Myer missed on his fifth try, a 37-yard attempt in overtime. The field goals were the first in Myer's collegiate career. The Hokies made six field goals of 30 or more yards all season entering the game.
A/P:
Sammy Watkins
, Clemson:
Despite the loss, Watkins broke two school records in the Discover Orange Bowl and finished with 205 all-purpose yards, giving him 2,282 for the season -- second-most in ACC history. He had seven kick returns for 143 yards, and he had five catches for 66 yards and a touchdown.
November, 30, 2011
11/30/11
10:00
AM ET
NC State linebacker Audie Cole saw the support disappear from Carter-Finley Stadium last Saturday --literally -- as the home crowd began to bail on the home team, which trailed Maryland 41-14 with six minutes remaining in the third quarter.
"Half the stands left, thought the season was over," Cole said.
Senior receiver
T.J. Graham
heard the fans boo as he headed into the locker room at halftime.
"That hit kind of hard with the seniors; we felt like we were getting booed off our senior day," Graham said. "After that we kicked it into the next gear."
[+] Enlarge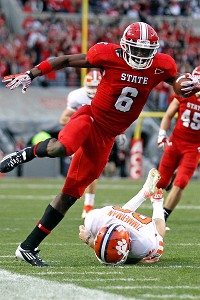 AP Photo/Gerry BroomeT.J. Graham and the Wolfpack are taking a lot of confidence into their bowl game.
As in, 35-point, fourth-quarter gear. Who knew it even existed?
Getting to the seventh win this season was like finding water in the desert for the Wolfpack. For most of the season, it was a mirage, and through the majority of three quarters against Maryland last week, it was on the brink of disappearing. NC State, though, never quit. The Wolfpack rallied for what was the biggest comeback in school history and the second-biggest comeback in ACC history to beat Maryland 56-41 and become bowl eligible.
NC State has been one of the ACC's most inconsistent teams, not only from week to week, but also half to half, and no game proved that more than the regular-season finale against Maryland. While it wasn't the championship-caliber season they had hoped for, NC State won three of its final four games, including an upset of then-No. 7-ranked Clemson, and has momentum to build on heading into the postseason.
"It's quite an accomplishment from where were sitting a few weeks ago," Cole said. "But in the long run, I think it's kind of a disappointment, too, the way we shot ourselves in the foot in the beginning of the year. But in the past few weeks I'd say it's quite the accomplishment. Nobody believed we were going to come in and play well against Clemson, and we played probably one of our best games of the year against them. We came out slow against Maryland and then somehow found a way to pick it up and win the game and now we get another."
Officials from the Belk Bowl in Charlotte are hoping NC State is available for selection on Sunday, and it will be the program's third bowl appearance in the past four years. NC State began the season 2-3, and a surprising 14-10 loss to Boston College on Nov. 12 put the Pack in a must-win situation for the final two games of the season. Their bowl hopes seemed to be over at that point, with Clemson looming on the schedule, but NC State stunned everyone with a 37-13 win.
Once again, NC State has made a turnaround in the second half of the season under coach Tom O'Brien, and a lot of it has to do with the health of the team. Heading into the Maryland game, NC State had started eight different lineups in 11 games because of injuries, and a total of 12 players missed the Georgia Tech game with injuries.
With key players healthy, in the three games leading up to the Maryland game, NC State's defense had allowed just nine points per game and a total of three touchdowns. Cornerback David Amerson leads the nation in interceptions with 11, and Graham set an ACC record in kickoff returns. Quarterback
Mike Glennon
accounted for six touchdowns in the win over Maryland. There are plenty of positives for the team to build on heading into the bowl game, none bigger than the way it finished the Maryland game.
"It looks good to the bowl committees," Graham said. "They're going to want us, because we're having a pretty hot November. Other than that, it's confidence. We are a pretty good team. We've flashed greatness at times and done the complete opposite at times. It's just nice knowing we can overcome anything, basically."
November, 1, 2011
11/01/11
3:00
PM ET
It's tough to keep up with all of college football's major awards, so I wait until a bunch of them have been released and then compile a one-stop shopping post for you. There are still lots to come this month, so I'll update it again. Based on how many times you'll see Luke Kuechly's name mentioned, you'd think he brings home some kind of award this season. He definitely deserves it. Here's a look at your ACC semifinalists so far:
BEDNARIK AWARD.
Presented to the nation's most outstanding defensive player by the Maxwell Football Club.
Luke Kuechly, LB, Boston College
Sean Spence, LB, Miami
BUTKUS AWARD.
Presented to the nation's most outstanding linebacker by the Butkus Foundation.
Zach Brown, North Carolina
Audie Cole, NC State
Luke Kuechly, Boston College
Sean Spence, Miami
LOU GROZA AWARD.
Presented to the nation's most outstanding kicker by the Palm Beach Sports Commission.
Chandler Catanzaro, Clemson
Dustin Hopkins, Florida State
Jimmy Newman, Wake Forest
Jake Wieclaw, Miami
ROTARY LOMBARDI AWARD.
Presented to the nation's most outstanding down lineman by the Rotary Club of Houston.
Luke Kuechly, Boston College
MAXWELL AWARD.
Presented to the nation's most outstanding player by the Maxwell Football Club.
DAVEY O'BRIEN AWARD.
Presented to the nation's best quarterback by the Davey O'Brien Foundation.
JIM THORPE AWARD.
Presented to the nation's most outstanding defensive back by the Jim Thorpe Association.
David Amerson, CB, NC State
Jayron Hosley, CB, Virginia Tech
Chase Minnifield, CB, Virginia
June, 29, 2011
6/29/11
5:00
PM ET
You are going to argue about this. How do I know? Because I'm still arguing with myself over it ...
[+] Enlarge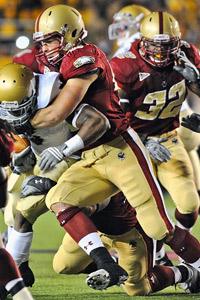 Michael Tureski/Icon SMILuke Kuechly leads a deep group of Boston College linebackers.
1. Boston College:
Luke Kuechly is one of the best in the country, but he's not alone. The Eagles also have Kevin Pierre-Louis, who ranked second nationally among all freshmen in tackles per game last season with 7.15 -- ninth in the ACC. It won't be easy to replace Mark Herzlich, on or off the field, but Steele Divitto played in 11 games last season, and Nick Clancy and Will Thompson both saw time on the second team.
2. Florida State:
The Noles had to replace two starters, including Kendall Smith, the team's second-leading tackler, last season, and Mister Alexander, but the upcoming talent could be even better. Nigel Bradham led the team with 98 tackles and five pass breakups last season, and Christian Jones, Jeff Luc, Telvin Smith and Vince Williams will also be competing for playing time.
3. Miami:
Sean Spence, who has 30 career starts, should be one of the best in the country, and Ramon Buchanon, another senior, also returns. The Canes have five other linebackers with experience in Kelvin Cain, who started seven games, Jordan Futch, who had a great spring and will see the field, Tyrone Cornelius, Shayon Green and C.J. Holton.
4. North Carolina:
Kevin Reddick, who led the Tar Heels with 74 tackles last season, returns for his third season as starter. Zach Brown is also a returning starter with game-changing capabilities, and there is plenty of depth with Dion Guy, Darius Lipford, Ebele Okakpu and Herman Davidson. Junior college transfer Fabby Desir could also have an impact.
5. NC State:
Audie Cole and Terrell Manning have combined for 39 career starts, and Cole fared well this spring moving to the middle to replace Nate Irving. With the return of Sterling Lucas, Dwayne Maddox and Colby Jackson, there is plenty of experience, but not quite as much depth as some other programs.
6. Georgia Tech:
The Jackets return both starters in Steven Sylvester and Julian Burnett. There is no shortage of depth with Jeremy Attaochu, Quayshawn Nealey, Brandon Watts, Albert Rocker, Malcolm Munroe and Daniel Drummond.
7. Clemson:
This group has a lot of potential, especially if true freshmen Tony Steward and Stephone Anthony make an immediate impact. There's no question they'll be given a chance, but the Tigers already have a good group with Corico Hawkins, Quandon Christian and Jonathan Willard.
8. Virginia Tech:
It seems like this rotation has been in flux for a while now. The Hokies' leading tackler returns in Bruce Taylor, Barquell Rivers had 96 tackles as a starter in 2009 but was injured last season, and there are several young players adding to the competition. Chase Williams, Tariq Edwards, Telvion Clark and Jack Tyler are only a few. Whip linebacker Jeron Gouveia-Winslow will have to earn his spot back over Alonzo Tweedy, Dominique Patterson and Nick Dew.
9. Maryland:
The Terps were hit hard here with the losses of Alex Wujciak (381 career tackles) and Adrian Moten (14.5 career sacks). Demetrius Hartsfield returns with 20 career starts, and there are four lettermen returning including Darin Drakeford, Isaiah Ross, David Mackall and Bradley Johnson.
10. Wake Forest:
Kyle Wilber's move to outside linebacker will give this position a boost, as he led the Deacs with 14.5 tackles for loss and six sacks last season. His backup is Gelo Orange (22 tackles). The Deacs also have Tristan Dorty, Joey Ehrmann, Mike Olsen, Scott Betros, Riley Haynes and Justin Jackson.
11. Virginia:
Starters LaRoy Reynolds and Ausar Walcott both return, but neither has started more than 11 career games. Junior Steve Greer has prior starting experience but played mainly as a reserve last season. Adam Taliaferro, Conner McCartin, Tucker Windle and LoVante Battle are also in the mix for playing time.
12. Duke
: Kelby Brown is the lone returning starter, but he's a promising young player who led the nation last season as a freshman in fumbles recovered. He missed spring ball while recovering from a knee injury, but is expected to start with Tyree Glover or Kevin Rojas.
April, 13, 2011
4/13/11
9:00
AM ET
This spring is the first time coach Tom O'Brien's NC State team has had all its scholarship players to work with in the two-deep depth chart. That alone has made it a more enjoyable spring. The biggest question facing NC State heading into the fall will be the wide receivers, but O'Brien can deal with that. "In the past we've had two or three question mark positions," he said. "Now we're down to one."
I caught up with O'Brien on Friday to see how the Pack was doing this spring. Here are some highlights:
[+] Enlarge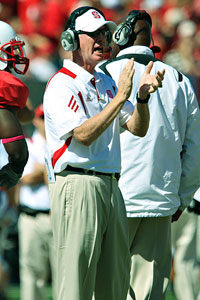 Brian Utesch/US PresswireNC State coach Tom O'Brien has confidence in quarterback Mike Glennon.
First, the bad news:
NC State running back and 2010 leading rusher
Mustafa Greene
will
have foot surgery and miss the rest of the spring
, according to The Raleigh News & Observer. Greene had really made strides with his pass protection since last year and O'Brien told me on Friday Greene had "grown up a lot."
The good news:
Greene is expected to be back by the fall, and the Wolfpack is in a much better situation than it was this time a year ago, when it didn't have any running backs on the roster with starting experience.
Brandon Barnes
and
James Washington
give the position depth.
The move to the middle:
Audie Cole's move to middle linebacker has been a successful one this spring. He has taken over the spot vacated by Nate Irving, and O'Brien has been pleased. "I think it's showing that the move was a good one for us," O'Brien said. "Audie Cole is really a good linebacker, he's a smart kid. Jon (Tenuta) likes to put his best player at linebacker. Audie has taken the challenge, he's getting everybody lined up, he understands everything about the defense."
The Mike Glennon era begins:
O'Brien has no lack of confidence in Glennon, who has plenty of spring experience running with the first team. "He's much more comfortable doing things. He has the ability to make any throw that has to be made on the football field. It's just a question of getting in and doing it in game experience and gaining the confidence to do it under pressure time in and time out."
The Russell Wilson era ends:
What if he comes back? "It really doesn't matter if he does or not," O'Brien said. "We're committed to Michael Glennon, and we're going forward from there. What we've discussed with Russell and Michael, understand where we are and what we have to do. We're all about team building. It's all about continuity. Nobody can say Russell is coming back. You can't count on it."
Improved o-line:
This is the first time O'Brien has five players to work with who have game experience. It's been a much better starting point for the Pack this spring.
The lingering question
: NC State graduated its top receivers and needs some playmakers to emerge. O'Brien said he's not going to know how many of the young players will fare until they're in a game situation. "I don't think it's an area we're comfortable with yet," O'Brien said. "It's an area that's certainly a work in progress and you can certainly tell that
T.J. Graham
and
Jay Smith
are ahead of the rest of the pack because they have the most experience. Steve Howard and
Quintin Payton
had played a little bit last year. They have showed progress. The kids that are intriguing to us right now are Tobais Palmer and
Bryan Underwood
. They are the guys we redshirted a year ago. They're doing a little more thinking right now than they are playing. That's all part of figuring everything out right now. They certainly are talented young guys. Once they get it figured out they'll be much more in tune with what we have to do to play much faster."
January, 24, 2011
1/24/11
9:00
AM ET
It's time to reload in the ACC. Here's a look at the position needs for each team in the Atlantic Division for the 2011 signing class:
BOSTON COLLEGE
Offensive linemen:
Six players on the final two-deep roster for 2010 were either juniors or seniors, and the Eagles will have to find replacements for Anthony Castonzo, Rich Lapham and Thomas Claiborne. There were two juniors at center in 2011, and the recruiting overall at this position hasn't been as strong in recent years.
Defensive linemen:
The Eagles have been thin at the position to begin with since the departures of Ron Brace and B.J. Raji. The interior line should be a priority, as tackle Damik Scafe will graduate, and Kaleb Ramsey will be a senior. Defensive end Brad Newman will also graduate.
CLEMSON
[+] Enlarge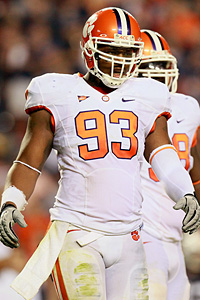 Kevin C. Cox/Getty ImagesReplacing Da'Quan Bowers is a top priority for Clemson.
Defensive line:
The early departure of defensive end Da'Quan Bowers and the loss of Jarvis Jenkins makes this group a priority. Seven of the eight players up front on the final two-deep roster were either juniors or seniors.
Quarterback:
Prior to the early enrollees, Clemson only had one scholarship quarterback on the roster -- projected starter
Tajh Boyd
. The depth needs to be rebuilt after the loss of starter
Kyle Parker
and transfer of backup Willy Korn.
Running back:
The early departure of
Jamie Harper
to the NFL left a hole in the Tigers' lineup. It's not completely empty, as
Andre Ellington
remains the best back on the roster and
Roderick McDowell
was a redshirt freshman backup to Harper.
FLORIDA STATE
Offensive lineman –
The departures of Rodney Hudson and Ryan McMahon will leave gaping holes up front, and A.J. Ganguzza and Antwane Greenlee aren't expected to return. Overall, the staff is looking for bigger, better players. With the exception of right guard, this was a veteran group.
Running back:
Despite the current depth, the coaching staff still wanted to sign about three more running backs in this class.
Wide receiver:
This would be the third priority for the staff.
Bert Reed
and
Taiwan Easterling
will both be seniors, but the team has lacked some dynamic playmakers at the position.
Linebacker:
The Noles lost two starters from last year's Atlantic Division championship team, and there are several young players on the rise like Jeff Luc and Telvin Smith, but the staff wants more numbers at the position.
Safety:
The Noles need an upgrade at this position.
Defensive line:
This is a matter of mostly building depth and size and continuing to get better.
MARYLAND
Kicker/ Punter:
Nick Ferrara has the ability to do both, but he also struggled at both in 2010. Travis Baltz was a four-year starter at punter who has to be replaced. The kicking game should be a top priority in this class, and a concern if Ferrara doesn't become more consistent.
Wide receiver:
The early departure of standout
Torrey Smith
to the NFL leaves quarterback
Danny O'Brien
without a favorite target. Seven of the nine receivers listed on the most current depth chart for 2010 were either juniors or seniors.
Running back:
The Terps have to replace starter Da'Rel Scott, and
Davin Meggett
will be a senior. There is some talent behind Meggett in
D.J. Adams
, but the position could use more depth.
Secondary:
Six of the top 10 players in the secondary were either juniors or seniors in 2010, including safety Antwine Perez, who will graduate. Kenny Tate and Cameron Chism will both be seniors, and the corner position is the biggest need.
Defensive end:
Defensive coordinator Don Brown would like to bring in at least one player who can really bring some speed off the edge.
NC STATE
Kickers:
The Wolfpack lost their starting punter and place-kicker, easily making kickers the biggest need in this recruiting class.
Defensive linemen:
With the exception of sophomore Brian Slay, the entire 2010 line was comprised of juniors and seniors. The Pack have to replace two starters, and two returning starters, Jeff Rieskamp and J.R. Sweezy, will be seniors.
Linebackers:
This was another veteran group for NC State, with five of the six players on the two-deep either juniors or seniors. Nate Irving's graduation will be a big hit and Audie Cole will be a senior.
Quarterback:
If
Russell Wilson
leaves early, the position will be even thinner, but backup
Mike Glennon
will be a junior, so the staff needs to build more depth.
WAKE FOREST
Offensive linemen:
The Deacs will have four redshirt juniors returning up front, and have to replace redshirt senior center Russell Nenon. The staff is looking to increase the depth and talent up front.
Linebackers:
The position hasn't been the same since the 2008 class (Aaron Curry and Stanley Arnoux). They were both drafted and two of the fastest players the program has ever seen. The staff needs to bring in more talent and speed here.
November, 4, 2010
11/04/10
3:04
PM ET
NC State coach Tom O'Brien knew about linebacker Audie Cole long before he arrived in Raleigh. O'Brien recruited Cole out of Monroe, Mich., while he was still head coach at Boston College.
Fortunately for NC State, Cole followed O'Brien to Raleigh.
"Everybody knows, 'Don't you worry, don't you fear, Audie Cole will soon be here,'" said linebackers coach Jon Tenuta.
[+] Enlarge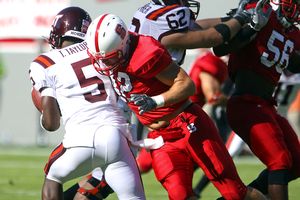 Brian Utesch/US PresswireAudie Cole has 44 tackles and four sacks this season for NC State.
There doesn't seem to be much Cole can't do. He's a former high school quarterback who has also played baseball, basketball, inside linebacker, outside linebacker, and is even a golden glove winner in boxing. He enters Saturday's game at Clemson coming off tying for a team-high eight tackles in the 28-24 upset of Florida State. He ranks third on the team in tackles and third in tackles for loss.
"He's typical of the guys we used to recruit at BC, in that he was a multiple position player in high school, he had great character, great leadership qualities in high school, and could be a multiple position player for you so that he wouldn't have to be pigeonholed into one spot," O'Brien said. "… It's due to him and his work ethic and how he's worked so hard to become the football player he has. He's been a great surprise and has been doing a great job for us."
Never before had Cole dominated a game like he did against Central Florida on Sept. 11. Cole was credited with a dozen tackles, including nine solo, a 10-yard sack and two other tackles for loss. He also pulled down his first career interception and forced a fumble on a play that ended up being overturned. Cole also had two sacks against Virginia Tech, and 12 tackles against Central Florida.
"It's being a year older, understanding a lot more and the big thing that's helped me out a lot is having Nate (Irving) and Terrell (Manning) playing really well next to me," Cole said. "I think we're all playing pretty good this year. Having those two next to me is making me a better player."
Cole entered this season as the only returning starter on defense who was an upperclassman. His leadership has been key to the Wolfpack's relevance in the Atlantic Division race. He was the team's leading tackler a year ago and entered this season aiming for 100 tackles. With Nate Irving back, and sophomore Terrell Manning improving, Cole has had more help this year. He still has 52 tackles, including 8.5 for loss.
"We're all making plays and as long as we're making plays and making stops, I don't really care how many I get," he said. "Together all three of us are playing great."
Tenuta said he has three of the better linebackers in the ACC, and Cole has been a big part of their improvement as a group.
"His mental toughness and his approach to football, and the way he understands where everybody fits and what everybody has to do, he's a leader in his own way," Tenuta said. "He's not a real vocal guy. The guy is tough as nails and he just enjoys playing the game."
May, 6, 2010
5/06/10
10:30
AM ET
There's always the potential for a surprise contender, a late-season push by an unheralded opponent (see: Duke, 2009).
The ACC race is so wide open this fall it wouldn't be a true surprise if any of the following teams won the conference title: Clemson, Boston College, Florida State, Georgia Tech, Virginia Tech, Miami or North Carolina.
So who would be a surprise, that darkhorse who creeps up on everyone?
My early pick is the
North Carolina State Wolfpack
. Here are three reasons why:
1. It's about time.
Coach Tom O'Brien is due. He's entering his fourth season and hasn't been able to catch a break. Injuries or other setbacks prevented O'Brien from showing what he can do when he's got everything in place. O'Brien is a better coach than his 2-6 ACC record last year indicates, and wins over Pitt and UNC are proof. If everyone on this team can stay healthy and out of trouble, the Pack should be back in the postseason.
2. Russell Wilson should still be one of the best quarterbacks in the league.
He completed 59.3 percent of his passes last year for 3,027 yards and a league-leading 31 touchdown passes. He finished 15th nationally in pass efficiency with a 147.77 rating. He also finished 19th nationally in total offense.
3. The defense will be better.
Linebacker should be a strong position, especially with the return of Nate Irving, who had 80 tackles and four interceptions in 2008, and Audie Cole, who was NC State's leading tackler a year ago with 73. They'll be under the guidance of former Georgia Tech defensive coordinator Jon Tenuta, who was hired to coach the linebackers. The secondary was young and ever-changing last year but should be better with the return of two starters in C.J. Wilson and Brandan Bishop. Four other defensive backs started last year.