October, 9, 2012
10/09/12
9:00
AM ET
When was the last time a player worked as a third-string running back in practice during the week, and on Saturday took the field as a team's starting quarterback?
Before Saturday, it had to have been awhile. TCU's
Trevone Boykin
made both unorthodox moves out of necessity, but couldn't lead TCU to a win over Iowa State in the Frogs' first Big 12 home game.
[+] Enlarge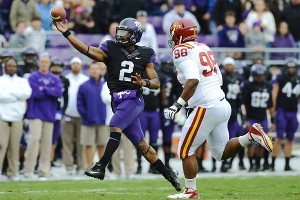 Matthew Emmons/US PresswireTrevone Boykin got his first start as the Horned Frogs' quarterback on Saturday against Iowa State.
Boykin won the TCU backup quarterback job ahead of
Matt Brown
, but the 6-foot-2, 215-pound redshirt freshman from Mesquite, Texas, worked at running back with
Waymon James
out for the season with a knee injury and
Matthew Tucker
a game-time decision with an ankle injury.
On Thursday morning, TCU coach Gary Patterson dealt with the news that his starting quarterback,
Casey Pachall
, had been arrested on suspicion of DWI. Pachall was suspended indefinitely, and all of a sudden, it was Boykin's time.
For one practice, he was the team's starting quarterback. After Thursday, it was time to go head-to-head against the Big 12's No. 3 scoring defense.
"We wish we had a little bit more for [time for] it. The biggest thing is he doesn't have the experience to do it," Patterson said. "Trevone runs better, but just needs the experience of seeing the field better."
TCU's offense didn't change much with Boykin in place instead of Pachall, but to make matters worse, Tucker couldn't play to provide Boykin a safety valve. When James went down with a knee injury, Patterson said he had one back he trusted. Now, that one back was down, and only freshman
B.J. Catalon
and senior
Aundre Dean
were left.
Still, TCU managed 455 yards of offense, more than any offense against Iowa State all season.
"You're talking about playing your first Big 12 [game] and I consider Iowa State a pretty good defense," Patterson said. "The key is you can't throw interceptions, especially not for touchdowns, and you can't turn the ball over. He's got to do a better job of managing the game."
Will Boykin get another chance this week against Baylor, which has had two weeks to prepare for the Frogs? Patterson says he'll address Pachall's status at his Tuesday media luncheon, after meeting with the school's AD and chancellor on Sunday.
Boykin was responsible for three interceptions, and Catalon coughed up a pair of fumbles, including one inside Iowa State's 5-yard line.
Boykin's last interception was returned for a score, but his speediness provides a new facet to TCU's offense that Pachall couldn't.
"We're excited about it; he gave us some options we didn't have before," Patterson said. "We'll move forward with that."
March, 4, 2010
3/04/10
12:30
PM ET
On Wednesday we looked at the
top quarterbacks transferring
from schools from automatic qualifying conferences to non-AQ schools, and a today we're going to look at some of the top running backs.
Here are my top five running back transfers from AQ schools:
Sam McGuffie, Rice:
As a true freshman at Michigan in 2008, McGuffie led the Wolverines in rushing with 486 yards and three touchdowns. He also missed three games with an injury. McGuffie, combined with Miami quarterback transfer Taylor Cook, could make Rice a feared offensive team in Conference USA. McGuffie can run, catch and return kicks. He might be the best weapon the Owls have this spring.
Lennon Creer, Louisiana Tech:
Creer transferred from Tennessee after head coach Lane Kiffin arrived in 2009. Creer had played two seasons for the Volunteers and appeared in 24 total games. In 2008, he rushed for 388 yards and two touchdowns. He'll have a prime opportunity to earn the starting role this spring with the Bulldogs looking for a new running back to replace
Daniel Porter
. Sophomore
Tyrone Duplessis
will be his primary competition, and it will be interesting to see how the running game is used with the Bulldogs' new spread offensive system.
Aundre Dean, TCU:
Dean came from UCLA last year as a Parade All-American running back, but this spring he'll be trying his hand at safety. TCU is loaded at running back and Dean probably would have seen spot time behind
Ed Wesley
and
Matthew Tucker
. But the Horned Frogs are thin at safety and it's an opportunity for Dean to play. Plus, the TCU coaching staff has proved time and time again that it has a knack for placing players in positions that accentuate their abilities.
Cameron Bell, Northern Illinois:
Chad Spann
is the starting running back, but the Huskies were most effective last season when they had a two-headed attack. Me'co Brown, who was the No. 2 back, returns, but he's had some injury and family issues that have limited his playing time. The door is open for Bell, an Iowa State transfer, to compete for playing time and help the Huskies re-establish the two-headed monster. But there will be a lot of competition in the backfield this spring with junior college transfer Jasmin Hopkins,
Ricky Crider
and Antoine Kirkand.
Raymond Carter, Colorado State:
Carter is another former UCLA running back looking for a home. However, finding one with Colorado State this year won't be easy. The Rams return both leading rushers in
John Mosure
and
Leonard Mason
, and 92 percent of last year's rushing yards. The Colorado State backfield is crowded with
Lou Greenwood
and
Chris Nwoke
also competing this spring. Carter was a highly rated back out of high school and saw action in seven games during his freshman year at UCLA. However, he had just 51 yards and a touchdown in that first season.
February, 18, 2010
2/18/10
11:00
AM ET
Here's a breakdown of three issues facing each program heading into the spring:

Air Force Falcons
Spring practice starts:
Feb. 18
Spring game:
March 17
What to watch:
Air Force is in a comfy position because it has all of its passing, rushing and scoring back from 2009. The biggest key to next season will be the play of quarterback Tim Jefferson. He didn't get to go through spring football last year, so this should help the Falcons even more for 2010.
While all of the offensive skill positions return, the offensive line is depleted. All five starters are gone and while there are competent backups ready, they'll need to use the spring to get on the same page and continue to open holes for the Falcons' triple option.
The defense returns six starters, but they'll be learning under a new full-time defensive coordinator in Matt Wallerstedt. Wallerstedt was the co-defensive coordinator last year, but it will be interesting to see what twists he adds to one of the NCAA's best defenses in 2009.

BYU Cougars
Spring practice starts:
March 15
Spring game:
April 10
What to watch:
The top position battle for the Cougars this season will be at quarterback. Riley Nelson has the edge since he was Max Hall's backup last year, but returning missionary James Lark and early enrollee Jake Heaps will be in the mix, too. The Cougars will add one more quarterback competitor in the fall.
Tight end is another interesting competition since both Dennis Pitta and Andrew George are gone. Devin Mahina, Richard Wilson and Mike Muehlmann all will be competing for that starting spot.
The Cougars lost their entire starting defensive line and four of the six on the depth chart. The other two players on the two-deep played and there are some returning missionaries that could step in and help right away.

Colorado State Rams
Spring practice starts:
March 25
Spring game:
April 24
What to watch:
Quarterback seems to be the popular question for the Colorado State in the spring. This year, there's much anticipation over early enrollee Pete Thomas. Thomas will challenge senior Jon Eastman, junior T.J. Borcky, and redshirt freshman Nico Ranieri. Borcky will also play wide receiver.
A year ago, the offensive line was a position of strength for the Rams, this year they're trying to replace four starters and the only returner, tackle Paul Madsen, didn't even start the entire seasons. Guard Jake Gdowski and tackle Mark Starr figure to be in the mix along with several redshirt freshmen and sophomores.
The defense should be a strength for the Rams this year. They lose just two starters and return 24 lettermen, including linebacker Ricky Brewer, who was an all-conference performer in 2008 but was suspended all of 2009.

New Mexico Lobos
Spring practice starts:
March 23
Spring game:
April 17
What to watch:
With Donovan Porterie still waiting to hear about a sixth year, there will be a quarterback competition this spring. Sophomore B.R. Holbrook is the favorite against juniors Tate Smith and Brad Gruner, but the spring winner will have to fend off top recruits Tarean Austin and Stump Godfrey in the fall.
Running back Terence Brown, who was the penciled in starter last season before tearing his ACL in the spring, will once again be the favorite to win the top rushing spot for the Lobos. While two freshmen and a sophomore manned the position last year, the Lobos ranked 110th in rushing.
In making the running game better, the Lobos have to get better on the offensive line. They lose three starters, including center Erik Cook. There are a few young players waiting in the wings, and the Lobos added three more in this recruiting class.

San Diego State Aztecs
Spring practice starts:
Feb. 20
Spring game:
March 20
What to watch:
The biggest issue facing San Diego State has got to be its running game and coach Brady Hoke has stockpiled running backs in an effort to solve the problem. Dwayne Garrett, Adam Muema and Deonte Williams will compete for backfield playing time with returning starter Brandon Sullivan, backup Davon Brown, and three other running backs who were signed in the 2009 class. as well as, Atiyyah Henderson, who is trying to get a sixth year of eligibility. Figuring out which of those players can balance this offense will be the spring focus.
The offensive line also will be an interesting competition to watch. Since Hoke didn't recruit any offensive linemen in his first class and has to replace seniors at right tackle and left guard, the Aztecs brought in junior college linemen Juan Bolanos, Riley Gauld and Joe Unga to compete immediately.
The search for speed on the edges of the defense will begin this spring as defensive coordinator Rocky Long looks to get better at defensive end and at the Aztecs hybrid position. Perry Jackson is the only defensive end joining the Aztecs this spring and they return both of their starting ends from last season.

TCU Horned Frogs
Spring practice starts:
March 24
Spring game:
April 10
What to watch:
Replacing All-American defensive end Jerry Hughes will be a big task, but TCU has a history of finding diamonds in the rough. In fact, when Hughes replaced Chase Ortiz, no one knew who he was. D.J. Yendrey, who played defensive tackle last season, and Braylon Broughton, who was Hughes' backup, will compete for the starting role.
The Horned Frogs will look for a replacement for Clint Gresham at deep snapper. Gresham was the team's deep snapper for the past three seasons and in that time TCU never had a bad snap.
Aundre Dean, a running back transfer from UCLA will work at strong safety this spring. He worked out at strong safety some last season, but now the move will likely be permanent. It's just as well. The Horned Frogs have a quite a few running backs lining up for playing time.

UNLV Rebels
Spring practice starts:
March 15
Spring game:
April 17
What to watch:
UNLV's offense will undergo a makeover with new coach Bobby Hauck at the helm. Instead of the spread style that the Rebels ran the past five season, they'll switch to a more run-based, possession attack. The transition shouldn't take long to master, but finding the right players to run the scheme will be a chore.
One of the top goals this spring will be finding a more consistent power attack that goes along with Hauck's offensive coaching philosophy. Channing Trotter was the Rebels top rusher with 479 yards and eight touchdowns, but the next two top rushers were the Rebels' quarterbacks. UNLV ranked 86th in the country in rushing with 126.83 yards per game.
The speed defense will also be a focus this spring as the Rebels struggled against the run (220.58 yards per game allowed) and ranked 106th in sacks and 117th in tackles for loss. Only two starters from the defensive line return and the depth is not experienced, so finding some players to fill those holes will be a major concern.

Utah Utes
Spring practice starts:
March 9
Spring game:
April 17
What to watch:
One of the things to watch this spring is the development of junior college transfer John Cullen and how he fills in for departed senior Zane Beadles at left end. Cullen was brought in specifically to fill that hole and him jelling with the rest of the line will be important for quarterback Jordan Wynn this spring.
The defensive end position is up for grabs this spring with transfer James Aiono, Junior Tui'one, Christian Cox, Nai Fotu and Lei Talamaivao, who is moving from tackle to end. Talamaivao won the starting defensive tackle spot twice, but suffered a broken leg in each of those years.
Former backup quarterback Chad Manis is set to be the starting middle linebacker for the Utes. Manis spent some of last year still working at the quarterback position while making the transition to linebacker. The Utes lost all of their starting linebackers from 2009.

Wyoming Cowboys
Spring practice starts:
March 6
Spring game:
April 17
What to watch:
Wyoming will spend the spring transitioning from a 3-4 to a 4-3 base defense. The Cowboys, who allowed 393.31 yards per game and 27.31 points per game, will still be multiple, but will work out of the 4-3.
The Cowboys graduated both of their top defensive ends, so they moved Gabe Knapton and Josh Biezuns, two of their better defensive players, to defensive end. Knapton ranked second on the team in tackles and Biezuns was third on the team in sacks and tackles for loss.
With Knapton and Biezuns moving to the defensive line, the Cowboys will be entertaining some competition at linebacker this spring. Players such as Ghaali Muhammad and Ben Durbin, who both played in 2009, will have the opportunity to earn starting roles.
May, 5, 2009
5/05/09
2:30
PM ET
Posted by ESPN.com's Ted Miller
But I reckon I got to light out for the Territory ahead of the rest, because Aunt Sally she's going to adopt me and sivilize me and I can't stand it. I been there before.
March, 11, 2009
3/11/09
10:00
AM ET
Posted by ESPN.com's Ted Miller
Things are always interesting with Rick Neuheisel, and his first season coaching UCLA was no exception.
The Bruins opened with an overtime win over Tennessee. Then went splat, 59-zip, at BYU. And so started a decidedly inconsistent season.
With poor play at quarterback, no running game and a porous offensive line -- and that's sugarcoating things for the woeful offense -- UCLA finished 4-8 and in eighth place in the Pac-10.
| | |
| --- | --- |
| | |
| | Joe Nicholson/US Presswire |
| | Rick Neuheisel was 4-8 in his first season at UCLA. |
But Bruins fans felt a lot better after Neuheisel fetched a highly rated recruiting class, which reignited whispers that -- just maybe -- USC should start looking over its shoulder and worrying about its football, er, monopoly in Los Angeles.
Spring practices don't crank up until April 2, but it seems like a good time to check in.
Let's look back on 2008: What were you happy with and unhappy with?
Rick Neuheisel: I thought our team played hard, but we lacked the proficiency to be a good team. We never got any consistency as an offense. Defensively, we hung in there most games, but we weren't stout enough to be a three-and-out type team. Our kickoff situation put us in a field position deficit because we weren't able to kick the ball off very far. We'd end up having to go long distances with respect to field position. We've got a lot of things to get better at if we're going to be a better football team. But the influx of new, young talent, the great effort in weight room and so forth, I think is going to lead to that.
How exited are you that the whole 'Neuheisel is back' won't be the big story this year?
RN: I'm excited the focus will be on our football team. Obviously, this was a program that needed a kick start with respect to the recruiting and excitement and that stuff. We were fortunate to have a big win at the start of the season that reminded folks how fun football can be. Now it's up to us to deliver that on a more regular basis. Obviously, if we could get to a bowl game this year, that would be a step in the right direction. I think a year from now, we're going to be a team that can compete for the top prizes.
You guys got a lot of publicity about your recruiting success on signing day.
RN: Recruiting went well. Recruiting went really well. It was kind of a validation of what I thought all along: That you can recruit at UCLA. That if you do it the right way and go after the right guys you can deliver. I was pleased to see that was possible.
October, 31, 2008
10/31/08
12:30
PM ET
Posted by ESPN.com's Ted Miller
These links have Mora.
September, 3, 2008
9/03/08
12:35
PM ET
Posted by ESPN.com's Ted Miller
A look inside the Pac-10 this week.

Washington: The heat is on coach Tyrone Willingham, and his likely tall order is producing an upset victory over No. 15 BYU at Husky Stadium this weekend in front of an increasingly disgruntled fan base. It's obvious that the Huskies defense can only do so much with schemes to mask talent gaps. But it's the offense that severely underachieved at Oregon. That should improve this week inside a home stadium where calling audibles at the line of scrimmage will be far easier than inside boisterous Autzen Stadium. The offensive line, which was surprisingly bad against the Ducks, also should feel challenged this week, and a less athletic BYU defense should help. Moreover, offensive coordinator Tim Lappano told reporters he plans to expand the playbook after holding back with so many freshmen in the playing rotation.

Arizona State: The Sun Devils offensive line -- picked apart during the preseason -- mostly passed its first test against Northern Arizona. Give them a gentleman's C, considering the absence of a running game while yielding only one sack. Stanford will offer a far stouter test. For one, the Cardinal feature a veteran defense with nine starters returning. Second, that defense was strong against the run vs. Oregon State but gave up 404 yards passing, which means ASU QB Rudy Carpenter will be firing away. But will he be safe in the pocket? This won't just be a test of the OL, either. It will be a test of whether Carpenter will stick to the plan to get rid of the ball quickly instead of trying to wait for a big play to develop downfield. It's notable, though, that the Beavers rebuilt offensive line only gave up two sacks in 54 pass attempts to the Cardinal.

Oregon State: It's interesting how so many appear to be expecting Penn State to roll through the Beavers. That gets a big "hmmm" here. Are folks supposed to be impressed with the Nittany Lions bludgeoning Coastal Carolina 66-10 with 334 yards on the ground and six rushing TDs? If so, why isn't Arizona getting more hype for its 70-zip win over Idaho, which would beat Coastal Carolina, a team that, apparently, is located on the coast of one of the Carolinas? I see an Oregon State team that will shock Penn State with its speed on the perimeter. If the Beavers maintain something approaching parity in the trenches, this will be a close game. The return of safety Al Afalava also will substantially help the Beavers run defense, which was so porous against Stanford. One caveat: It's also possible that some of OSU's younger players will be wide-eyed playing in front of 107,000-plus at Beaver Stadium, so that could lead to early and critical mistakes.

USC: Which is more important a RB's foot or an LB's finger? While most eyes are on Ohio State RB Beanie Wells' injured foot in anticipation of the Buckeyes Sept. 13 visit to USC, it might be as important to pay attention to Trojans LB Rey Maualuga's broken finger, which he aggravated vs. Virginia while turning in a performance well below the All-American's standards. The thing with a RB's foot -- it becomes obvious when it's injured and the back can't play. With a finger, the feeling is tape it up and go. But it's often worse to play with a seemingly minor injury because it can lead to major mistakes. Recall QB John David Booty playing with an injured hand in the upset loss to Stanford and tossing four interceptions. What if a RB or TE escapes a Maualuga tackle and transforms a routine play into a TD? Moreover, USC has been quietly hit by injuries to its LB depth, most particularly Maualuga's talented backup Chris Galippo (back). At present, Maualuga's backup is true freshman Uona Kaveinga, though Galippo could be back for the Ohio State game.

UCLA: If we can step away from the glow of an upset win over Tennessee for a moment, the present and future reality is the Bruins need to replace three injured offensive starters. Recall: This offense already has a patchwork line and is using its third QB. So who steps in for TE Logan Paulsen (broken foot), WR Marcus Everett (toe) and TB Kahlil Bell (ankle)? Well, Paulsen's replacement Ryan Moya didn't look like a lightweight after leading the Bruins with seven receptions for 65 yards against the Vols -- including the go-ahead 3-yard TD pass with 27 seconds left -- but Paulsen's absence hurts the viability of two-TE sets. With Everett out a few weeks, junior Terrence Austin steps in. He caught five passes for 37 yards against the Vols. Sophomore Dominique Johnson and freshman Taylor Embree both played well against Tennessee, so there's encouraging depth there. And at TB, Raymond Carter jumps to the first team, but count on Rick Neuheisel tapping into his talented freshman class, including Aundre Dean.