NCF Nation:

Aundrey Walker
April, 16, 2013
4/16/13
12:00
PM ET
Lane Kiffin and Co. have released their official post-spring two-deep depth chart. And not surprisingly, there aren't a lot of surprises.
One of the most watched quarterback competitions in the country lists
Max Wittek
OR
Cody Kessler
OR Max Browne. Leaving us with what we knew a month ago. It's going to be Wittek OR Kessler OR Browne.

Steve Bisheff of WeAreSC
makes his case
-- and a compelling one at that -- for Kessler, who clearly had the strongest spring of all three quarterbacks.
Despite Kessler's clear advantage coming into the (spring) game, Kiffin had Max Wittek starting with the first unit at the Coliseum on Saturday. And even after Kessler outplayed his main competitor, throwing for 242 yards and three touchdowns with no interceptions compared to Wittek's 145 yards, two touchdowns and two interceptions, Kiffin insisted that no quarterback had emerged as a front-runner for the position and that he won't name a starter until the fall.
Sticking with the offense, there was already an assumed pecking order at wide receiver, but it's more solidified now. Darreus Rogers and
Victor Blackwell
are behind Biletnikoff winner
Marqise Lee
.
Nelson Agholor
will start opposite Lee with
De'Von Flournoy
and
George Katrib
backing him up.
Some intrigue at running back with
Silas Redd
at the top, but the starting gig is listed as Redd or Justin Davis or
Tre Madden
. Same for the fullback, which lists
Soma Vainuku
or
Jahleel Pinner
as the starter.
So while the entire offensive backfield is a grab bag of "ors," there is at least some solidarity on the offensive line, where four of the five starters appear to be in place.
Aundrey Walker
and
Max Tuerk
make up the left side with
Marcus Martin
at center and
John Martinez
at right guard. The only spot still in doubt is at right tackle between
Kevin Graf
or
Chad Wheeler
.
The new-look 52 defensive front has
Devon Kennard
and
Morgan Breslin
at the outside linebacker spots (that's going to be a scary combination, by the way) with
Leonard Williams
and
George Uko
(also a darn good tandem) at the ends. Nose tackle is still up for grabs between
Antwaun Woods
or
Cody Temple
.
In the secondary, where there are almost as many holes as there are questions -- little has been determined. Three of the four starting spots have an "or" attached to them. Only
Anthony Brown
looks like the inked-in starter.
Torin Harris
and
Kevon Seymour
are battling for the other corner spot and
Demetrius Wright
or Leon McQuay III are battling for free safety.
Josh Shaw
and touted freshman Su'a Cravens -- who missed a significant portion of spring drills -- will head into fall battling for strong safety.
March, 1, 2013
3/01/13
12:00
PM ET
While quarterback competitions are typically front-and-center during Pac-12 spring practices, there are always other interesting spring storylines.
Here are two.
[+] Enlarge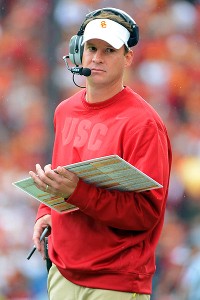 Harry How/Getty ImagesUSC coach Lane Kiffin enters the spring with several new assistants, a new defensive scheme, and uncertainty at quarterback.
Ted Miller
: It was a horrible, no-good, rotten, very bad 2012 season for USC coach Lane Kiffin. And the 2012-13 offseason has been no picnic either. Some Trojans fans wanted Kiffin fired. Just about all were frustrated. Justifiably so, by the way.
Lane: Welcome to spring, the season for rebirth! Time to turn the page. Or, perhaps, pick up an entirely new book.
At the very least, the situation at USC is interesting. One of the nation's premier programs is front-and-center for many of the wrong reasons, but there is enough talent on hand for Kiffin to turn things around and shut up his critics.
Interesting plot lines? Kiffin will be breaking in four new assistant coaches, including a pair of new coordinators, his defense will be transitioning from a 4-3 base to a 3-4, and he's looking for a new quarterback for the first time in his tenure.
There's a lot going on. Lots of questions. Lots of doubt, too. Yet negative momentum isn't irreversible.
What if the Trojans have an exceptional spring?
What if Clancy Pendergast shakes things up and, suddenly, the defensive guys are playing hard and fast in a sound scheme they understand? And what if the offense, nonetheless, makes plenty of plays because the quarterbacks are sharp and the line is manning up? What if the fitness level of the Trojans improves? What if offensive tackle
Aundrey Walker
breaks through, realizing his future NFL contract will be based on performance, not measurables? What if
Devon Kennard
proves a perfect fit as a 3-4 outside linebacker, as we believe he is? What if guys like
Marqise Lee
,
Hayes Pullard
,
Silas Redd
,
Dion Bailey
and
Kevin Graf
step up as leaders? What if receivers
George Farmer
and
Victor Blackwell
decide they don't want to be left in the dust behind Lee and
Nelson Agholor
? What if running back
Tre Madden
says, "Hey, remember me?"
What if Kiffin simultaneously refocuses and relaxes? What if he uses his capable brain to be smart, not a smart aleck, to be creative, not sneaky? What if he realizes the media is not an enemy, but just a bunch of folks trying to do their job whom he should humor with vague though sometimes amusing answers?
There are a lot of "What ifs?" with USC and Kiffin. It's not difficult, by the way, to talk yourself into believing a bounce-back is entirely possible.
That's what is interesting. Kiffin 2.0 was 2010 and 2011, when he seemed to find his rhythm as a coach after controversial stints with the Oakland Raiders and
Tennessee Volunteers
. Kiffin 3.0, was 2012, a complete face-plant.
This spring presents us with Kiffin 4.0. It could prove to be the most important transition of his career as a head coach.
And that is interesting.

Kevin Gemmell
: Besides quarterback battles -- which I think are always the most exciting position battles there are -- I'm most curious to see how the running back battle is going to play out at Stanford.
When you look at a Stanford squad that is very heavy on upperclassmen -- on both sides of the ball -- you have to wonder if all of the pieces are in place for Stanford to make a legitimate run at the national championship.
I wasn't sure before, but with the addition of Tyler Gaffney to the running back corps, I'm warming up to the idea that the Cardinal could challenge any team in the country for a BCS championship -- if they can get out of their own conference (or division for that matter) -- which anyone will tell you is no easy task.
It's no surprise that Stanford's primary offensive weapon is the quarterback. Not because of what he does with his arm -- but because of what he does when he goes under center -- checking out of bad plays and putting the offense in the best possible play against the defense shown. This allows running backs to flourish. Andrew Luck was phenomenal at it.
Kevin Hogan
should get better.
So, when Hogan turns to handoff on power right or power left, who is going to be the primary ball carrier?
Anthony Wilkerson
has shown bursts and outstanding top-end speed. But injuries have slowed him, and playing behind
Stepfan Taylor
the past few years didn't allow him to really break out following his strong true freshman season. Gaffney is a rock and hard to bring down. He's the kind of guy who could carry the ball 10 times for 4.5 yards a pop.
Barry Sanders
is an interesting X-factor. He obviously was a high-profile recruit because of his name -- but beyond that, he's supposedly a pretty darn good back. Maybe he ends up winning the job and can be a 15-carry type of guy.
Then you have
Ricky Seale
, a shifty runner with great vision who has been trapped at the bottom of the depth chart, but continues to receive praise from David Shaw.
Remound Wright
and hybrid
Kelsey Young
are also in the mix.
Whoever is Shaw's go-to back, he'll have the benefit of running behind an outstanding offensive line that is only going to get better with
David Yankey
-- an All-American and last year's Morris Trophy winner -- moving back to his natural position at guard. And Shaw has said he plans to keep
Ryan Hewitt
at fullback -- giving the running backs a cadre of blockers that rivals any other in the country.
By season's end, this could be your national championship team. The question is, which back will carry it there?
October, 19, 2012
10/19/12
12:00
PM ET
As we turn the corner at the midway point of the season, your Pac-12 bloggers recount what has surprised them the most in the first half of the season. One is a pleasant surprise. The other, not so much.
Kevin Gemmell:
I think we're all a bit taken aback by the remarkable success Oregon State has had so far this season. Let's be honest -- even the most devout of Beavers believers didn't think their team was going to have the school's best start since 1939. If you did, you are a real-McCoy psychic and you should immediately send all relevant stock tips
here
.
What's so impressive -- aside from the 5-0 start and top-10 spot in the BCS standings -- is the way Oregon State has gone about doing it. Great offense. Great defense. And above all, a no-nonsense, physical approach to football. There is an attitude -- a focused swagger, if you will -- that is really fun to watch.
[+] Enlarge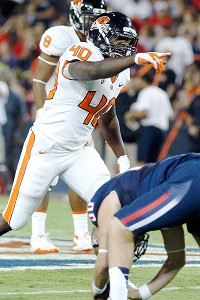 Rick Scuteri/US PresswireLinebacker Michael Doctor has helped point the way for Oregon State's top-five rush defense.
The Beavers have been solid in the trenches on offense and relentless on defense. The offensive line has come together faster than most anticipated -- which obviously has contributed to a rushing attack that averages 119.6 yards per game (up from a league-worst 86.9 in 2011).
Defensively, you can't say enough about the play of
Scott Crichton
,
Jordan Poyer
and a player I think is flying under the radar:
Michael Doctor
.
Naturally, the growth of quarterback
Sean Mannion
has been helpful. He's done a much better job taking care of the ball (OSU ranks 12th nationally in turnover margin), and we've been talking about
Markus Wheaton
and
Brandin Cooks
as a potential breakout duo since we started doing weekly Take 2s in the spring.
Heading into this week's games, the Beavers owned the second-best pass attack in the Pac-12. Again, with teams such as Washington State, USC and UCLA expected to air it out, did anyone really see that one coming?
And the fact that they can plug in
Cody Vaz
and not miss a beat is impressive.
But as much credit as Mike Riley deserves for the offense, defensive coordinator Mark Banker deserves equal praise -- if not more. The Beavers have the top rush defense in the conference and the No. 4 rush defense in the country, allowing just 70 yards per game on the ground. That's elite status, and it takes more than just talented players to attain it. It takes an attitude. It takes an unwavering mentality that our defense is going to dictate to you, not the other way around.
Talking with Poyer and Crichton throughout the season, they said the simplest answer is that they are motivated by being 3-9 in 2011. It was a crummy season, and they didn't want to feel like that again. That's pretty good motivation.
The fact that Oregon State is better than last season isn't a surprise. It's the fact that the Beavers are
so
much better that is both surprising and pleasant.
Ted Miller
: The mediocrity of USC's offense is shocking. No one saw that coming.
This is where someone claims he or she saw it coming. No you didn't. Stop it. No you didn't. Hush.
USC welcomed back nine starters from an offense that in 2011 averaged 35.8 points, 456.8 yards and 294.2 passing yards per game. Among those starters were quarterback
Matt Barkley
, the nation's leading Heisman Trophy candidate; 2011 All-American wide receiver
Robert Woods
; second-team All-Pac-12 wideout
Marqise Lee
, the co-freshman offensive player of the year; second-team All-Pac-12 center
Khaled Holmes
; and 1,000-yard rusher
Curtis McNeal
.
[+] Enlarge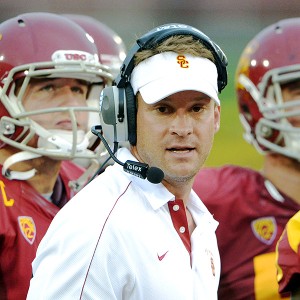 Kirby Lee/Image of Sport/US PresswireCoach Lane Kiffin has reined in his offense and let the defense hold on to USC leads.
Barkley had completed 69 percent of his passes with 39 touchdowns and seven interceptions in 2011. He ranked eighth in the nation in passing efficiency. And he had all his weapons coming back. Oh, and the Trojans added a second 1,000-yard rusher when
Silas Redd
transferred from Penn State.
There were no weaknesses. While the departure of Matt Kalil left a sizable void at left tackle, the consensus was that
Aundrey Walker
was the next surefire NFL draft choice at a position where USC always has a surefire NFL draft choice.
Yet here we are. With the more difficult portion of the schedule ahead, USC is worse in just about every area on offense. Heck, the Trojans are 112th in the nation on third down, behind teams such as Memphis, Colorado and Kansas.
Heading into this week's games, Barkley ranks 30th in the nation and third in the Pac-12 -- behind a pair of first-year starters -- in passing efficiency. He's thrown six interceptions after throwing seven in 12 games last season. He's completing just 62.7 percent of his throws. He's been sacked nine times after going down just eight times all last season.
Woods is 99th in the nation with 60 yards receiving per game and five touchdowns; he had 15 TDs and averaged 107.67 yards per game last season. McNeal, now a backup, has only 44 carries.
Lee's numbers are better than last season, but he hasn't been consistent catching the ball.
Some of the blame falls on coach Lane Kiffin, the offensive playcaller who's opted for a more conservative approach, particularly when the Trojans have a lead. With an improved defense, Kiffin seems content to run the ball and play to his defense once he gets ahead.
Still, in the preseason, there was a legitimate discussion of whether this offense might end up ranked among the best in college football history. The question now is whether it will be among the top half of the Pac-12.
And that is a huge surprise.
May, 20, 2011
5/20/11
3:06
PM ET
Every team has hope heading into the offseason. And every team has concerns.
Ergo, we're going to run through the conference and look at the chief matters -- on the up and downside -- for each Pac-12 team.
Next up:
USC

Biggest reason for hope
: Barkley to Woods, repeat.
One of the highlights of my spring practice tour was seeing USC quarterback
Matt Barkley
smash receiver
Robert Woods
in the helmet with a pass. Woods didn't see it coming, and the ball had some mustard on it, but the talented sophomore was unhurt. Not sure why the moment so amused me -- was finishing off a a 20 oz Starbucks dark drip for the early a.m. session at the time -- other than it was a rare instance of miscommunication for this slick pair of future NFL starters. Woods earned freshman All-American honors last season, but made much of his noise in the return game. He was dominant at most times this spring and -- apologies to Arizona's
Juron Criner
-- might end up as the best receiver in the conference. Barkley will be entering his third season as the Trojans' starter. He improved last season over his true freshman campaign, and it's not unreasonable to expect him to make another jump in 2011, which might be enough to garner him All-American consideration. Barkley isn't shy about admitting he expects to push into the Heisman Trophy conversation. Bottom line: If Woods doesn't eclipse the 1,000-yard, 10 TD benchmarks, it would be fairly surprising.
Biggest reason for concern
: Whither the offensive line?
Barkley exemplifies Southern California cool, but he's not completely unflappable. He was frustrated at times during spring practices because he was working under constant duress behind a patchwork offensive line, and even
memorably lost his temper once
. (I also enjoyed Barkley mildly grousing to me about what he felt was a media overreaction to a fairly common football occurrence). USC is replacing three starters on its offensive line, and only left tackle Matt Kalil was available this spring. Moreover, Kalil is the only certainty heading into the fall, though Khaled Holmes is the likely starter at center and Kevin Graf should get the nod somewhere. But injuries not only exposed a lack of depth. There was a bit of, "These don't look like USC guys." USC has always passed the sight test. During the glory years under Pete Carroll, the No. 2 line looked more physically impressive than 90 percent of other FBS teams' starters. That's no longer the case. Touted incoming freshmen Cyrus Hobbi and Aundrey Walker are expected to be immediately in the mix. If you're looking for an area to start the discussion of an over-under for the Trojans getting eight wins in 2010, the offensive line likely will determine that trajectory.