NCF Nation:

Austin Apodaca
September, 30, 2013
9/30/13
11:00
AM ET
Taking stock of Week 5 in the Pac-12.
Team of the week
: Arizona State's home victory over USC was an announcement to the rest of the country that the Sun Devils deserve to be ranked, and the country responded by putting ASU back in the Top 25 at No. 22. More important than national perception, however, is that the Sun Devils didn't fall to 0-2 in conference play, which would have been devastating for the team's season-long goals. They picked up a South Division win and are still in control of their destiny in the division. One last nonconference game next week against Notre Dame and then it's all league games the rest of the way -- including a pivotal Oct. 19 game against Washington and the all-important No. 23 game at UCLA.
Best game
: In a week where the average margin of victory was 29 points in the five games, the "closest" was Washington's 18-point victory over visiting Arizona. But there was a sense Washington was in control all 60 minutes. Oregon was fun to watch simply for the fact that not even Mother Nature could play defense against the Ducks. Stanford was fun to watch because the Cardinal looked explosive. Oregon State was fun to watch because it was a complete performance. But the ASU-USC game probably had the most drama. We had an idea of what was at stake, and even when USC cut it to 48-34 with 9:54 left in the game, there was still that lingering thought that maybe it wasn't over. Of course, ASU scored two more touchdowns to put it away. And the end result was Lane Kiffin's dismissal.
[+] Enlarge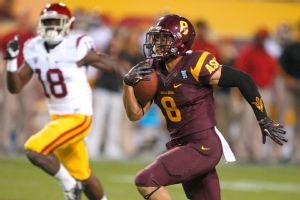 AP Photo/Rick ScuteriD.J. Foster played a part in Arizona State's offensive explosion against USC.
Biggest play
: After USC took a 21-20 lead in the opening minute of the second half, the Sun Devils responded 21 seconds later with a 74-yard touchdown from
Taylor Kelly
to
D.J. Foster
. But that wasn't the biggest play. On USC's next series, less than a minute later,
Alden Darby
jumped a
Cody Kessler
pass and returned it 46 yards for a score, giving the Sun Devils a 34-21 lead less than two minutes into the third quarter. He had two picks on the day, and the pick-six was a massive momentum swing, and it happened while Pat Haden and USC decision-makers were huddling to decide Kiffin's future.
Offensive standout
: Tough to ignore the kind of numbers
Sean Mannion
is putting up. After matching a school record two weeks ago at Utah with five touchdown passes, he surpassed the record by throwing for six touchdowns and 414 yards in the blowout win over Colorado. He did have an interception, but only because his receiver's hands and chest got in the way and it was tipped in the air. Mannion now has 21 touchdowns on the year to just two picks.
Defensive standout
: Has to be Darby, who totaled seven tackles to go with his two interceptions and a fumble recovery. Defensive standout 1B goes to Stanford's
Trent Murphy
. Is there any outside linebacker with better hands? Or does he only show them off at CenturyLink Field? Saturday he intercepted a point-blank pass in the backfield from
Austin Apodaca
and returned it 30 yards for a touchdown. If that looked familiar, he did the same thing last year at the CLink against Washington.
Special teams standout:
With four games in the Pacific Northwest Saturday, weather was dominant storyline when it came to special teams. We saw numerous fumbles, bad snaps and weather-induced wackiness. But there was nothing wacky about Oregon's
Bralon Addison
, who returned two punts for touchdowns. The first was a 75-yard return in the second quarter that was pure sideline speed. The second, a 67-yard return, required a little more dancing and cutting -- and avoiding being knocked down by his teammate before the play even got started.
Smiley face:
The Pac-12 once again has five teams ranked in the Top 25 in both polls with ASU's victory over USC. And Oregon State is receiving votes in the coaches poll.
Frowny face:
Injuries always get a frowny face -- and Saturday saw two of the league's superstars go down with injuries. Oregon's De'Anthony Thomas was injured on the kickoff and didn't return. And USC wide receiver
Marqise Lee
suffered a knee injury that hopefully looked worse than it really is.
Thought of the week:
The Beavers are back, sort of. Oregon State finally strung together a game where its defense matched the offense. And Colorado is a much-improved team from last season. Are the Buffs bowl bound? Probably not. But they aren't the Buffs of last year, which gives a little credence to Oregon State's dominating performance. The initial thought was that the Beavers would be 7-0 or 6-1 heading into their Oct. 26 showdown with Stanford. And they might still be (though Washington State isn't going to make it easy). Not suggesting you go all-in on the Beavers. Remember, they are only a week removed from a miraculous win over San Diego State. But don't sell just yet, either.
Question of the week
: The Trojans have a bye week to patch holes and put "Operation: Changing Lanes" in action. Do they look to an NFL name or a college name? UCLA is showing that a former NFL coach can have success in Los Angeles, even if he's not an alumnus. USC is an attractive gig, and you can bet there were a lot of back-channel phone calls going out over the past 72 hours.
March, 21, 2013
3/21/13
11:00
AM ET
When the
Washington State Cougars
kick off spring ball today, the hope is that things will be a little faster. A little crisper. There is an understanding of what coach Mike Leach now expects from his players -- both from a technical and a mental perspective.
"Statistically, a year older if nothing else," Leach said, addressing the media in a pre-spring conference call Wednesday. "I think in spring there is always some introduction and some re-introduction but there will be less of that. We should get out of the blocks a little quicker. Also we'll have a body of work from last year to learn from, which there is a ton to learn from that. If we can tighten everything a tiny bit all the way around, then the whole production will be higher."
But most importantly, the Cougars have to start believing they can be a good football team.
[+] Enlarge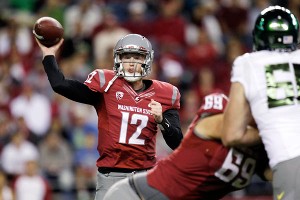 AP Photo/Ted S. WarrenConnor Halliday has experience on his side in the QB competition with Austin Apodaca.
"We spent too many times as a team last year being surprised when something good happened to us," Leach said.
Headlining the spring session will be the quarterback competition between junior
Connor Halliday
and redshirt freshman
Austin Apodaca
. Leach said he isn't going to force the issue, but he wants to see some progress at the position before they break camp.
"[Quarterback competitions] aren't as complicated as everybody makes them out to be," Leach said. "You go out there. You rep them, and the guy that plays the best, you play him more than the other guy. But I think it will be a pretty good contest.
"Starting out they'll be 50-50 [in number of reps]," Leach said. "I do want to get them a lot of reps. The more the better. One guys is a redshirt freshman and then Connor has either started or been involved in a handful of games. I do want somebody to secure and lock down the position. I am going to give them as many reps as possible. It will be 50-50 for a period -- I would anticipate half or more of spring. I do have quite a bit of reps because I don't have a third guy working in. If I have three, then it's a little more tangled. Then it's harder. I'm in pretty good shape rep-wise this year."
There isn't a third ... yet. That will be reevaluated when touted recruit
Tyler Bruggman
joins the team in the fall.
"We'll find out," Leach said of Bruggman's possible involvement in the competition. "Early in camp we'll check and see where everybody is at."
Other notes
Leach on speedy freshman wide receiver Robert Lewis: "He's fast. Has a real quick burst. In two steps he hits high gear and he's pretty elusive right and left. We're kind of excited to see what he can do. He played a variety of positions in high school -- everything from running back to receiver to returner to this, that and the other thing. We need to try to identify what he can do and see how close he is to being ready to play."

On changes he'd like to see to spring rules: "More days, and I'd like to be able to scrimmage somebody. Not like a scrimmage game [setting], more like a mixed practice like they do in the NFL. For example, somebody you don't play or maybe somebody you do, you have the inside drill against them. You have one-on-one against them. You have some team period plays against them."

On trying to speed up the tempo: "We went back and forth a little with it last year and then we got into a musical-quarterback situation. That was harder to do. It's always been part of it. We've done no-huddle for decades ... we'll no-huddle and that will be a part of things."

On former QB Jeff Tuel making an NFL roster: "It will be interesting. The biggest thing he's battling is experience. Jeff hasn't played in a ton of games because his career has been plagued by injuries and things of that nature. He needs to make up for experience as quick as he can and some of that experience has to do with winning games. The mental and physical experience has to pick up as fast as he can. I think he's talented. I think he's a smart guy. And a lot of it is right-place-right-time."