NCF Nation:

Austin Cassidy
May, 9, 2012
5/09/12
1:00
PM ET
LINCOLN, Neb. -- Nebraska linebacker
Will Compton
reaches into his jeans pocket and pulls out his iPhone.
The lock screen displays the following: "Thank God, go to work, do extra, don't give yourself an excuse and become the absolute best." Compton's phone also contains what he describes as desire statements and reward statements.
Desire statement: "I want to be one of THE BEST linebackers in the country."
Reward statement: "Reap the benefits. All-Conference, All-American, getting drafted to the NFL."
Compton reviews the messages every day as part of a routine he adopted during the offseason. His goal: becoming a trusted and genuine leader for Nebraska's defense, which loses several from the 2011 team -- linebacker Lavonte David, cornerback Alfonzo Dennard, safety
Austin Cassidy
, tackle Jared Crick.
As Nebraska's starting middle linebacker, Compton, who earned honorable mention All-Big Ten honors last season, knows leadership comes with the territory. But he has taken a uniquely proactive approach to the responsibilities he'll shoulder in 2012.
"I've put in extra time to know what I can do in that role," Compton told ESPN.com last month. "You can't just all of a sudden be a leader. I try to lead with my personality, be a genuine type of guy instead of just out on the field barking all the time, saying, 'Hey, I'm a leader now. Let's do this and do that.'
"You might naturally have things, but you also need a sense of direction when you're stepping in a role like that."
Compton has taken many of his cues from a book, "The Mental Edge," by
noted sports psychologist Ken Baum
. During a team flight to a game last season, Compton noticed Huskers star running back
Rex Burkhead
reading the book and asked him about it.
Burkhead told Compton about some of the visualization techniques the book promoted and how to gear the mind to produce outcomes. Compton admits he's not a big reader, but he became interested.
"I was like, 'Has it helped you out?'" Compton said. "And he said it's done wonders for him. Once he got done with it, I've had it ever since and I've just gone over it a lot, done all the techniques. It's probably the best book I've read."
Compton began spending 10-15 minutes a day visualizing game scenarios and moments of success: a 13-tackle effort in a win at Penn State ... pressuring quarterback Kirk Cousins in a win against Michigan State ... celebrating with his teammates after forcing a turnover ... racking up a career-high 15 tackles in a win against Fresno State. He tried to tune his mind so he could literally "feel the wind and smell the grass." He began doing breathing exercises to relax.
He also worked on performance cues, simple acts that put him in the right mind-set to perform. The cues can be as simple as squeezing a fist or touching an index finger to a thumb.
"When you hit those performance cues," he said, "when you're about ready to take the field, those feelings of excitement and success enter your body."
If Compton needed an extra boost, he watched video of Baltimore Ravens standout linebacker Ray Lewis, whose pregame speeches and displays are never short on emotion.
Burkhead saw changes in his teammate during the winter months and when Nebraska began spring ball.
[+] Enlarge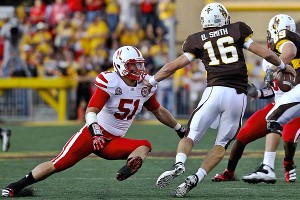 Troy Babbitt/US PresswireLB Will Compton says he's putting the pressure on himself to make Nebraska a standout team in 2012.
"You can see it on the field," Burkhead said. "His energy, his leadership toward the defense, his aggressiveness, the toughness he has to keep pushing throughout practice, you can definitely tell he's made significant improvement."
Compton always has been interested in the mental side of football, but he used to struggle with it. After starting eight games as a redshirt freshman in 2009, he missed the first five contests of 2010 with a foot injury and finished the season with just 15 tackles in nine games (four starts).
The 6-2, 230-pound Compton started 11 games last fall and recorded 82 tackles, including seven for loss.
"A couple years ago, all I thought was, 'Gosh, don't mess up. I don't want the coaches to chew me out,'" he said. "I firmly believe that it's all mental, the way you think for yourself and the way you think of success against negative feelings. When you start to make plays, you don't even worry about messing up any more."
Compton relays a similar message to Nebraska's younger linebackers, especially those who will help fill the void left by David, one of the nation's most productive linebackers the past two seasons.
"It's not being the next Lavonte David," he said. "It's about playing your role, and that role happens to be the starting Will linebacker. You just want success in that."
Nebraska's coaches acknowledge the team's depth at linebacker still isn't where it needs to be for the Big Ten, which requires more linebackers on the field than the Huskers used to play in the Big 12. The issue is being addressed in recruiting, but the Huskers will lean on a select few this fall.
Compton has shown he's ready to answer the bell.
"He's a fifth-year senior, he knows this is his last go-round for this team and the program," defensive coordinator John Papuchis said. "You can tell everything he's done in the offseason has been purposeful."
February, 27, 2012
2/27/12
3:47
PM ET
The postseason position rankings are hitting the home stretch, and today we take a look at the Big Ten secondaries. It's a little tricky to evaluate secondary play from 2011. While seven Big Ten teams ranked in the top 18 nationally in pass defense, only two squads ranked in the top 29 in pass efficiency defense.
Nebraska cornerback
Alfonzo Dennard
was the lone Big Ten defensive back to appear on both the coaches' and media's first-team all-conference squad, so there was some disagreement.
[+] Enlarge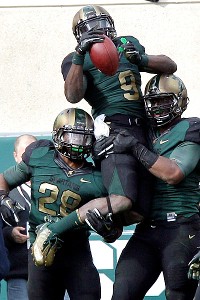 AP Photo/Carlos OsorioIsaiah Lewis' interception against Michigan helped the Spartans beat their in-state rival and propel Michigan State's secondary to elite status in the Big Ten.
The top seven units are solid, while the bottom three are among the worst in the FBS.
Michigan State once again tops a defensive chart, but the top four or five squads here were all strong in the secondary. Be sure and check out our
preseason secondary rankings
.
Let's get to the rundown:
1. Michigan State:
The Spartans had three of four starting defensive backs — safety
Trenton Robinson
, cornerback
Johnny Adams
and safety
Isaiah Lewis
— selected first-team or second-team All-Big Ten, illustrating the depth coach Mark Dantonio has built in recent years. Michigan State's secondary also continued to be a playmaking unit, recording a league-best 18 interceptions, returning four for touchdowns. The Spartans had five defensive backs record two or more interceptions. Adams will enter the 2012 season pegged as the league's top cornerback.
2. Penn State
: Like the other defensive units, Penn State's secondary shouldered a heavy burden because the team's offense struggled for so much of the season. The Lions had veteran leadership with
D'Anton Lynn
,
Nick Sukay
and
Drew Astorino
, and they led the Big Ten and ranked sixth nationally in pass efficiency defense (107.2 rating). Penn State finished third in the league in interceptions (14) and tied with Michigan for the fewest passing touchdowns allowed (12). Sukay earned second-team All-Big Ten honors.
3. Illinois
: Although Illinois' strength on defense could be found in the front seven, the secondary held its own as well. The Illini ranked third nationally in pass defense (162.3 ypg), and opposing teams completed just 54.9 percent of their passes against the Orange and Blue. Illinois finished 30th nationally in pass efficiency defense. Although the safety play looked spotty at times, Illinois boasted a strong cornerback tandem in
Terry Hawthorne
and
Tavon Wilson
.
4. Michigan:
Arguably no single position group in the Big Ten made more dramatic strides than Michigan's secondary, a lightning rod for criticism the previous three seasons. The Wolverines finished 16th nationally in pass defense and 36th in pass efficiency defense. Although they didn't record many interceptions, they tied for the league low in passing touchdowns allowed (12). Safety
Jordan Kovacs
emerged as an effective blitzer and playmaker and cornerback
J.T. Floyd
blossomed with two interceptions, eight pass breakups and a forced fumble. Corner
Blake Countess
is an exciting young talent.
5. Nebraska:
The Huskers had the Big Ten's best defensive back in Dennard, who shut down arguably the league's top two receivers (
Marvin McNutt
,
B.J. Cunningham
) in Nebraska victories. But the group's overall performance was a bit underwhelming, as opposing teams attacked the deep middle and caused some personnel shuffling. Opposing teams completed just 53.2 percent of their passes against Nebraska, the lowest number in the Big Ten. Hard-hitting safety
Daimion Stafford
emerged for a group that loses Dennard and veteran safety
Austin Cassidy
.
6. Wisconsin:
For the second straight season Wisconsin displayed good playmaking ability in the secondary, finishing second in the Big Ten with 16 interceptions. Safety
Aaron Henry
(coaches) and cornerback
Antonio Fenelus
(media) both received first-team All-Big Ten recognition. The Badgers also played most of the season without one of their starting cornerbacks,
Devin Smith
. But the unit also had some high-profile lapses at the end of games. Speed also became an issue in the Big Ten title game against Michigan State and in the Rose Bowl against Oregon.
7. Ohio State:
The numbers aren't bad -- Ohio State ranked 14th in pass defense and 53rd in pass efficiency defense -- but the Buckeyes seemed to be missing something in the secondary, and throughout their entire defense, for that matter. There were some bright spots, like freshman cornerback
Bradley Roby
, and some hard hits delivered by safety
C.J. Barnett
and others. But Ohio State finished just eighth in the league (53rd nationally) in pass efficiency defense, as opposing teams completed more than 60 percent of their pass attempts against the Scarlet and Gray.
8. Purdue:
We had high hopes for a group that returned all four starters, headlined by All-Big Ten candidate
Ricardo Allen
at cornerback. At times, Purdue's secondary looked solid, but the unit's overall performance fell in line with the team's average theme for 2011. Allen struggled to contain some elite wideouts but still finished the season with 81 tackles (62 solo), three interceptions, four pass breakups, a blocked kick and a forced fumble. He and
Josh Johnson
form an exciting cornerback tandem entering the 2012 campaign.
9. Iowa:
Much like Ohio State, Iowa didn't have a typical season on defense, and the secondary had its share of struggles. Iowa had average numbers (58th in pass yards allowed, 72nd in efficiency), and allowed opposing teams to complete 62 percent of their passes. The Hawkeyes saw a big drop-off in playmaking, as they recorded only 10 interceptions and allowed 21 touchdown passes. Safety
Micah Hyde
earned second-team All-Big Ten honors from the media, while cornerback
Shaun Prater
didn't have the huge senior season some expected.
10. Northwestern:
The Wildcats would finish last in some leagues, but they're the best of a bad bunch at the bottom of the rankings. Despite an All-Big Ten safety (
Brian Peters
) and a four-year starter at cornerback (
Jordan Mabin
), Northwestern suffered breakdowns in both scheme and execution. The Wildcats endured a particularly bad stretch to begin Big Ten play, as they couldn't stop Illinois receiver
A.J. Jenkins
, admittedly got confused against Iowa and let Penn State quarterback
Matthew McGloin
go off. The secondary has to be a huge priority for Pat Fitzgerald and his staff during the offseason.
11. Minnesota:
It's a close call for the last spot, but Minnesota avoids the basement, thanks in large part to safety
Kim Royston
, who made the most of his sixth season with a team-high 123 tackles. But Royston was the lone bright spot for Minnesota's secondary, which stung from the loss of cornerback Troy Stoudermire to a broken arm. The Gophers recorded the fewest interceptions in the Big Ten (4), and allowed opponents to complete 67.7 percent of their passes, the highest total in the league. Minnesota finished 107th nationally in pass efficiency defense.
12. Indiana:
The Hoosiers' historic struggles in the secondary continued in 2011, as they surrendered a league-high 26 passing touchdowns and finished 116th out of 120 FBS teams in pass efficiency defense. Opponents averaged 8.5 yards per completion against an Indiana team that played more freshmen than any squad in the FBS. There's some hope with players like safety-linebacker
Mark Murphy
and cornerback
Greg Heban
, and Indiana brings in two junior college defensive backs for 2012.
November, 16, 2011
11/16/11
11:00
AM ET
Week 12 might be a snoozer in many parts of the country, but in the Cornhusker State, they're wide awake.
Their beloved
Nebraska Cornhuskers
still have plenty at stake, beginning Saturday at No. 18 Michigan.
[+] Enlarge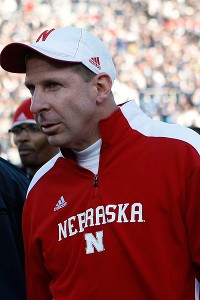 Rob Christy/US PresswireCoach Bo Pelini and Nebraska still have hopes of reaching a BCS bowl.
After surviving an awkward week as "Penn State's opponent," the 16th-rated Huskers have reclaimed the spotlight all for themselves. There's no need to downplay what's on the table for coach Bo Pelini and his team Saturday at the Big House.
1. Legends division livelihood
Nebraska can prolong the Legends division race to the final weekend of the regular-season if it knocks off Michigan. A Huskers win would prevent No. 15 Michigan State from clinching the division title even if it takes care of Indiana at Spartan Stadium. If the Huskers lose to Michigan and Michigan State beats Indiana, it's all over. The Spartans would go to Indy.
By beating Michigan, Nebraska would put itself in position to turn up the heat on Michigan State in Week 13 even if the Spartans also win Saturday. Nebraska's regular-season finale takes place on Black Friday against Iowa. A Huskers win would force Michigan State to beat Northwestern the following day in Evanston to win the division. As Nebraska found out Nov. 5, Northwestern is playing much better as of late.
"We have a lot to play for," Pelini said Monday.
2. BCS at-large livelihood
Even if Nebraska falls short in the division, it can stay alive for a possible BCS at-large berth by beating Michigan. If the Huskers sweep Michigan and Iowa to finish the season at 10-2, they would be in the running for an at-large berth. While Big Red didn't have the season some expected, it would finish on a three-game win streak that includes wins in both State College and Ann Arbor.
A third loss likely would remove Nebraska from both the division race and from the BCS bowl picture entirely.
Beating Michigan takes on added importance because the Wolverines are in a similar position, needing help in the division but eying a possible BCS at-large berth. Michigan also can finish the regular season at 10-2 if it knocks off both Nebraska and archrival Ohio State, a team it hasn't beaten since 2003. Wolverines fans are itching to travel to one of the big bowls, and Michigan would be an enticing option. Nebraska can make that dream go away Saturday.
3. Big Ten respect
Nebraska might not win the Big Ten title in its first year as a league member. But after a
very shaky start
in its new league, the Huskers can finish on a strong note.
Much was made about Nebraska's first Big Ten schedule, which featured division crossover games against Wisconsin, Ohio State and Penn State, and road trips to Madison, State College and Ann Arbor. Most teams that must visit Camp Randall Stadium, Beaver Stadium and Michigan Stadium in the same season would gladly take a 2-1 mark.
If the Huskers win Saturday, they'll finish the stretch at 2-1 and show they can perform on the Big Ten's biggest stages.
"When our schedule came out these were the two games I was most excited for," safety Austin Cassidy said of the trips to both Penn State and to Michigan. "To have these two back-to-back, it's definitely a challenge. I think this team, coach Bo, is all about taking a challenge in stride and really pushing and testing yourself.
"It's going to be fun."
Week 12 will be a fun week for Nebraska. And a very meaningful one.
November, 12, 2011
11/12/11
7:11
PM ET
STATE COLLEGE, Pa. -- Earlier this week, Nebraska coach Bo Pelini thought Saturday's Penn State game would -- and should -- be canceled.
Running back
Ameer Abdullah
's mother called him, worried about her son's safety when the team traveled to Beaver Stadium.
And the Cornhuskers were constantly reminded all week of the imbroglio they were about to enter every time they turned on the TV or radio or got on the Internet.
Nebraska got roped into the Penn State sex abuse scandal by mere association as the first team to play the Nittany Lions after the story exploded on the national scene. While the Huskers didn't have to deal with nearly as many distractions as Penn State's players did, this still wasn't a normal week for them by any means.
"You talk to them about it, but the fact is there were times it was hard as a coach," Pelini said. "Obviously, the coverage was all over the place; everywhere you turned, that's where the focus was."
But the Huskers managed to keep their focus on the game. There will be much written about how the Nittany Lions battled through their adversity to acquit themselves well in a strong performance. Don't forget the team that actually earned the 17-14 victory, one that showed plenty of grit on the road.
[+] Enlarge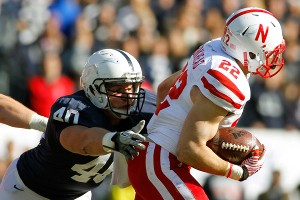 Justin K. Aller/Getty ImagesRex Burkhead rushed for 121 yards and a score against the Nittany Lions.
"You could just feel it before the game," running back
Rex Burkhead
said. "There was something in the air that let you know you were in a different type of game. We did a terrific job of staying away from those distractions."
Penn State actually outgained the Cornhuskers 375-331 in total yards. Both teams had 21 first downs, and both lost fumbles near midfield to set up touchdowns for the other side. So it was a remarkably even game in many ways. Except when it mattered most.
The Nittany Lions had cut a 17-0 third-quarter deficit to a mere three points and faced fourth-and-1 at their 37 in the final two minutes. Naturally, they handed the ball to
Silas Redd
, who had been the Big Ten's best running back in a spectacular October. But Huskers linebacker Lavonte David met him just before the first-down line and pushed Redd backward, a classic mano-a-mano confrontation between two of the league's star players.
One more defensive stand was needed when Penn State got the ball back at its 28 with 49 seconds left. The Lions only got as far as their 46 before running out of time. Nebraska's defensive players were rewarded with their traditional Blackshirts after the Michigan State win but were left black-and-blue in an upset loss last week to Northwestern. They bounced back Saturday.
"We really had to man up," safety Austin Cassidy said. "We had to refocus because we gave up a lot of yards against Northwestern."
Offensive coordinator Tim Beck knew he had to loosen up a Nittany Lions defense that was allowing just 12.4 points per game this season. So he added a few wrinkles, most notably putting Burkhead under center and switching quarterback
Taylor Martinez
to Burkhead's I-back spot a few times. Burkhead was supposed to throw it twice, but the receivers were covered both times.
"Rex is a great thrower," Abdullah said. "He could play quarterback."
Beck is happy just to see Burkhead run the ball like he did Saturday. A week after a disappointing 69-yard day against Northwestern that had fans wondering if Burkhead was worn down, he ran for 121 yards and a touchdown against one of the nation's top defenses.
"He took it personally," Beck said. "He was very upset at himself after last week's game. I'm proud of him."
The new formations were designed to loosen up Penn State's defense, but Nebraska really got going after a listless first quarter when it turned to the option game. Martinez continues to improve his decision-making on the option and made a perfect pitch to Burkhead just before getting dragged to the turf for what turned out to be the decisive touchdown.
"He made some good decisions today," Beck said. "There's some instinct involved in that, but a lot of it is just repetition. He's just got to keep practicing."
The Huskers are lucky that they can just focus on improving in the coming days. They know Penn State has a lot more difficult road ahead. Several of the players expressed empathy for the Lions, and they showed that empathy by joining Penn State in a moving pregame prayer at midfield before the game.
"That helped put everything at ease and let us just play the game," fullback
Tyler Legate
said. "I feel for those guys, and I hope they get over it."
The road win was big for the Huskers, who lost control of their fate in the Legends Division race with the Northwestern loss. They trail Michigan State by one game in the division and need the Spartans to lose at least once in the final two weeks to earn a trip to Indianapolis. That's assuming Nebraska wins out, and it faces another tall challenge on the road next week at Michigan.
"All we can do is worry about us," Cassidy said.
Or at least now they can.
November, 3, 2011
11/03/11
1:06
PM ET
Big Ten fans heard a lot about Nebraska cornerback Alfonzo Dennard this summer. Adam and I ranked him
No. 13
in our league player rankings, and Dennard made several preseason awards watch lists.
But those who hadn't previously watched the senior play might have spent much of this season wondering what the big deal was. Dennard missed the first three games with a quadriceps injury he suffered in August practice, and even after returning he didn't make a huge impact. Meanwhile, the entire Cornhuskers defense struggled to stop teams like Washington and Wisconsin.
[+] Enlarge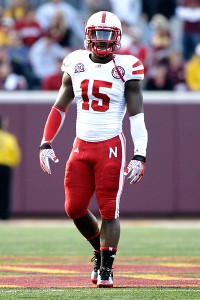 AP Photo/Paul BattagliaAlfonzo Dennard has slowly returned to form and enjoyed a breakout game last week against Michigan State.
The truth is, Dennard wasn't really himself for the first few games after he came back this season.
"Every single time I went out there, I was thinking about my quad," he told ESPN.com this week. "I wasn't even focused on my plays and stuff like that, because I was scared of being injured again."
Dennard said he didn't begin to start feeling truly healthy again until the Oct. 8 Ohio State game. Even then, he felt rusty with his technique and timing, thinking too much instead of just reacting. That changed last week.
"In the Michigan State game, I felt like I kind of picked up where I left off last year," he said.
And fans finally got to see what the fuss was about. Nebraska matched up Dennard most of the day with
B.J. Cunningham
, the Spartans' all-time leading receiver and one of the best wideouts in the league. Cunningham didn't record a single catch for the first time in 41 games. Not so coincidentally, the Huskers had their finest overall defensive performance of the season in a 24-3 win.
It's far too simplistic to say that Dennard is the only reason that the Blackshirts are back. But he is a big reason.
"When you know you've got a guy that's better, who can shut a guy down, that almost eliminates someone else from the equation," safety Austin Cassidy said. "Then maybe we can use a safety in on the run, or maybe we can focus on another wide receiver. If he takes care of his responsibility, that means we can give somebody else some help who might need it more."
Dennard didn't get it all done by himself last week. He had safety help on just about every deep try to Cunningham, often from the rapidly improving Daimion Stafford.
"That's a big deal," Dennard said. "When you don't have safety help, you can be kind of hesitant out there. But when you have help over the top, you can be as aggressive as you want."
The 5-foot-10, 205-pound corner likes to be aggressive. Michigan State coach Mark Dantonio said Cunningham has been great all year in going and getting jump balls, but he couldn't outwrestle Dennard for any. Dennard hasn't picked up an interception yet this season but has been close several times.
"He's been rounding into form the last couple weeks," head coach Bo Pelini said. "He's feeling good, feeling healthy. I wouldn't trade him for any corner in the country, so he means a lot to our defense."
Dennard will be challenged this week against Northwestern, which leads the league in passing offense (288 yards per game) during Big Ten play. He'll likely cover Wildcats star receiver
Jeremy Ebert
, and
Dan Persa
is the kind of mobile quarterback who has given the Huskers fits this season.
"They remind us a lot of the teams in the Big 12, so that's what we're used to," Dennard said. "But it's not going to be easy."
Little has come easy for Dennard most of this season. But he's back to the form that caused so many high preseason expectations. And the Blackshirts just might be, too.
October, 29, 2011
10/29/11
6:30
PM ET
LINCOLN, Neb. -- In the locker room after
a 24-3 win
over Michigan State, Nebraska defensive coordinator Carl Pelini told his players that he had a present for them. Then he held up a black shirt.
As fashion goes, it isn't much to look at. Just a plain, mesh black shirt that big men sweat through during practice. But the shirts are a proud tradition for the Cornhuskers' defense, and they're only handed out when the players earn them through performance.
For about as long in a season as anyone can remember, Nebraska had gone shirtless in 2011. The defense looked nothing like the one that has annually been one of the nation's best. On Saturday, the Huskers finally found their form, holding Michigan State to a season-low 187 yards in a dominant effort.
"We turned the corner," defensive end Josh Williams said. "Now we can actually say we're Blackshirts."
[+] Enlarge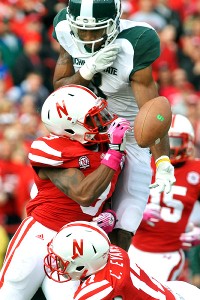 AP Photo/Dave WeaverThe Cornhuskers kept B.J. Cunningham without a catch in a game for the first time since 2008.
And Nebraska can say that it's back in the hunt for a Legends Division title. By ruining Michigan State's magical October run, Big Red moved into a first-place tie in the division, along with the Spartans and Michigan. The Big Ten may not have any national title contenders, but the league should boast a wild November race toward Indianapolis.
The Huskers still have to go to Penn State and Michigan, but now they control their own destiny. If they play defense like they did Saturday, they may just put a chokehold on the division.
"I think they saw today what we're capable of doing when we're right," coach Bo Pelini said.
Michigan State looked lost in its first conference trip to Lincoln, confused by a Huskers defensive scheme that is both simple and complex at the same time. They play both their safeties deep to help in the passing game, leaving it to the linebackers to stop the run and the front four to get pressure. Carl Pelini said he called the same defensive play for almost the entire game.
Why change when it's working so well? Michigan State quarterback
Kirk Cousins
couldn't find openings in the zone and continually threw into double coverage. Nebraska made sure to give safety help all day on star receiver
B.J. Cunningham
, who finished without a catch for the first time since 2008. At the end of the third quarter, Cousins had just 35 passing yards -- or nine fewer than he had on last week's Hail Mary to beat Wisconsin. And while the Cover 2 look should in theory leave a defense open to the running game, the Spartans managed only 101 rushing yards, averaging a paltry 3.4 yards per carry.
Afterward, the only real question was: Where had this defense been all season?
Pelini said he sensed a big day coming because the players were "locked in" all week with their preparation.
"It's easy to defend a team when you know what they're doing before they even know," Nebraska safety Austin Cassidy said. "We knew exactly what was going to happen on every play."
That kind of knowledge had been missing earlier this season, as the Huskers' defense surrendered 38 points to Washington, 48 to Wisconsin and 27 to Ohio State. Carl Pelini blamed some of the bad defense partly on a lack of cohesion in the secondary, which is so key to his scheme. Star cornerback Alfonzo Dennard, who shut down Cunningham on Saturday, missed time with a pulled leg muscle he suffered in training camp and is just now rounding into form. Safety Daimion Stafford, who came over from junior college this summer, needed to grow. He broke up three passes and nearly had a pick-six Saturday.
"Our guys are more knowledgeable now, so they're being faster and more aggressive and not second-guessing themselves," Carl Pelini said.
The improvement began during the bye week following an Oct. 8 victory over Ohio State. That's when the Pelini brothers got back to basics with their defense, re-emphasizing fundamentals and basic concepts.
"Physically and mentally we were able to regroup," Cassidy said. "We were able to step back as a unit, as defensive backs, and focus on ourselves. That helped people get a better grasp on what we're trying to do."
Michigan State looked like it could use some time off. After three straight emotional wins against Ohio State, Michigan and Wisconsin, the Spartans were uncharacteristically sloppy on special teams, hurt themselves defensively with drive-extending penalties and appeared to be worn down in the fourth quarter.
They refused to use the October grind as an excuse for the loss, however. In reality, a 3-1 record through that stretch is probably as good as the team could have hoped for coming into this season. Michigan State has a much easier schedule in the final month than either Nebraska or Michigan and can get to Indy by winning out if the Huskers drop a game.
"We had a great month," Cousins said. "It didn't end the way we wanted it to, but it's more important how we respond than what we did in October. People remember how you finish, and that's why November is so important."
No one will want to play the Huskers in November if their defense can keep up this resurgence. Michigan State came into Saturday's game with the heavily-hyped defense, one that ranked second nationally in yards allowed per game. But now that the Blackshirts are back, there might be a new big, bad bully in the Big Ten.
"We're pretty damn proud of our defense around here," Carl Pelini said. "Everybody you listened to this week said [Michigan State is] a better defense. I challenged our guys and said, 'Let's go out and show them we are a better defense.' Who knows who's better or not, but today our defense was better."
October, 22, 2011
10/22/11
5:05
PM ET
Raise your hand if this halftime score surprises you.
If your hand is now elevated, well, you just haven't been paying attention.


This looked like a tremendous mismatch on paper, and it's playing out that way. Nebraska is simply way too good for a Minnesota team that is a long, long way from competing against the Big Ten's better teams. The only real question remaining in this one is how long Bo Pelini will stick with his starters, and
how bad the final margin will be
.
The Cornhuskers have just marched up and down the field and have more than three times as many yards as Minnesota.
Kenny Bell
scored on an 82-yard reverse,
Taylor Martinez
has thrown a short touchdown pass and
Rex Burkhead
plunged into the end zone with less than a minute left. Austin Cassidy has also scored on a fumble return. The Gophers' only bragging point in the half was stopping the Huskers on two goal-line stands and forcing field goals instead of touchdowns, or else this could be even worse.
But Minnesota's most promising offensive series ended when the center snapped the ball too early on 4th and 1, catching
MarQueis Gray
off guard in the shotgun. The Gophers just make far too many fundamental mistakes like that, and that's why they're so far behind at halftime.
September, 27, 2011
9/27/11
9:30
AM ET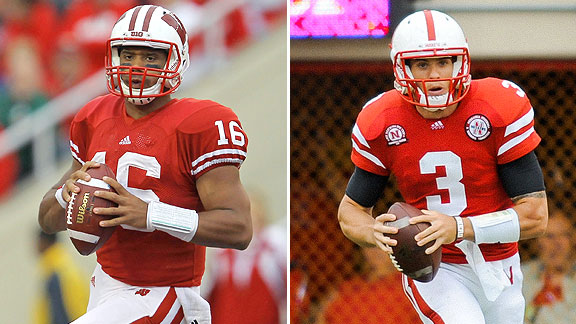 Getty ImagesRussell Wilson and Taylor Martinez will meet in the first matchup between the two teams since 1974.
From the beginning, Bo Pelini has made it about Nebraska and no one else.
He contributed practically nothing to the hype following Nebraska throughout its transition to the Big Ten Conference. Asked numerous times about preparing for new teams, new schemes and new stadiums, Pelini has tossed out brief, bland responses and waited for the conversation to return to his team and its mission.
In case you haven't heard, Nebraska's game this week at Wisconsin happens to mark its first league contest as a Big Ten member. It happens to be the first Big Ten matchup of top-10 teams -- Nebraska is ranked eighth, Wisconsin seventh -- since the 2008 season. It happens to pair two undefeated teams led by two dynamic quarterbacks (
Russell Wilson
and
Taylor Martinez
). It happens to mark the teams' first meeting since 1974. It happens to feature the two teams many project to meet in the inaugural Big Ten championship game in December.
Oh, and a little show called ESPN "College GameDay" will be there for it all.
Saturday's game seems like a really big deal. Not for Bo Buzzkill.
Here are some snippets from Pelini's news conference Monday:
"The hoopla is all for you guys. It is just the next game on the schedule for us."

"The No. 1 thing we have to do is take care of us and get better."

"It's just the next game for us. It is just part of the process of what we are trying to accomplish as a team. Historically, it doesn't affect our guys."
What Nebraska wants to accomplish is crystal clear. It wants to win championships and reclaim a place among the nation's elite.
The Huskers haven't won an outright conference title and a BCS bowl since the 1999 season (2000 Fiesta Bowl). They haven't finished in the top 10 of the final AP Poll since after the 2001 season. They haven't beaten a top-10 opponent on the road since 1997.
They want to be great again. They can take a big step toward greatness Saturday night in Madison.
Make no mistake: it's still all about Big Red. Pelini would have it no other way.
But all the elements surrounding Saturday's game -- the magnitude, the history, the opponent, the spotlight, the setting -- help Nebraska's cause.
"We're going to be on a big national stage," Huskers safety Austin Cassidy told ESPN.com. "Nebraska hasn't been exactly where we've wanted to be since the heyday back in the '90s. It's an opportunity to get out in front of a lot of people and show that we can play some ball here again, and that we're back."
Nebraska couldn't have scripted a better opportunity to announce itself to its new league. Wisconsin is the defending Big Ten co-champ, a 2011 Rose Bowl participant and a team widely regarded as the class of the conference.
The Badgers are 45-4 at home since the start of the 2004 season and 34-3 under coach Bret Bielema. The three teams that beat Bielema's Badgers at Camp Randall all went on to BCS bowls.
That's where Nebraska wants to go. And this is the path to get there.
"That makes it even more important," Cassidy said. "This is our first Big Ten game of all time, and I can't think of a better venue to have it at than Wisconsin. It'll be a really good test for us."
Wilson and the nation's No. 8 offense will challenge a Nebraska defense that has had mixed results so far. Entering the season with lofty expectations, the Huskers allowed a combined 67 points to Fresno State and Washington before a stingier performance last week.
The Blackshirts will be as healthy as they've been all season in Madison as All-America candidates Jared Crick, Lavonte David and Alfonzo Dennard will play together for the first time this season.
"It's been a wild roller-coaster ride, up and down," Cassidy said. "When we're on, we're on. And when we lose focus or we lose our technique, that's when we've been giving up points and yardage. The thing that's reassuring is none of it has been the scheme. Everyone's starting to understand that we can really start to trust what we're doing.
"It's on us to go out there and execute."
Nebraska's focus remains on itself, but Huskers players still plan to enjoy the moment and the experience of a new road setting. They traveled to raucous settings in the Big 12 -- Texas A&M's Kyle Field stands out -- but they're gearing up for Camp Randall.
Cassidy has received the inside scoop from his fiancée's family, all of whom went to Wisconsin and grew up in Madison. They've filled him in on the program, the stadium, and yes, the "Jump Around" at the start of the fourth quarter.
"I hear that it shakes, literally, the whole stadium, you'll feel it," he said. "It'll be cool. I might start jumping around a little bit, too."
Cassidy and his teammates hope to be jumping around at the end of the fourth quarter, too.
"There's such high expectations around here for football, and rightly so," he said. "Everyone expects us to play at a certain standard, and this is an opportunity for us to go out and say, 'Hey, look, that same standard you've set us for us is what we want, too.'"
September, 26, 2011
9/26/11
5:11
PM ET
It was a move Wisconsin had to make, but one that didn't come without risk.
Any addition to a successful operation, especially at a position of unique importance, has the potential to create friction and factions. Wisconsin attributes its success in the past two decades to the Wisconsin Way, a blue-collar approach rooted in player development, fundamental play and hard work. The majority of Wisconsin recruits fit the philosophy. Some, like in all programs, do not.
[+] Enlarge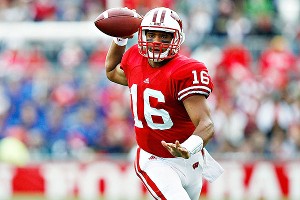 AP Photo/Andy ManisWilson threw 33 TDs last season en route to being Big Ten Quarterback of the Year for the Badgers.
Wisconsin couldn't afford having
Russell Wilson
fall into the latter category.
The Badgers knew they were getting a great talent in Wilson at a position -- quarterback -- of great need. But the other things, the intangibles that can take a team to another level or tear it apart, left some reasonable doubt.
No more.
"I don't think it could have possibly gone smoother," Wisconsin linebacker Chris Borland said. "He's the exact guy we try to recruit, character-wise. He's the type of player you can afford to bring in as a transfer. ...
"He fits in here so well."
Granted, it's easy to say all this after watching Wilson in his first four games as a Badger.
He has completed 75.8 percent of his passes for 1,136 yards with 11 touchdowns and one interception. He ranks second nationally in quarterback rating (218.4) and 17th in total offense (311 ypg). He's on pace to throw 32 touchdown passes, 11 more than the team record. He has added a new layer to an offense -- Wilson averages 12 yards per pass attempt, tops among FBS quarterbacks with at least 50 attempts -- that shattered almost every team record in 2010. He has fans and media types brainstorming the last time Wisconsin had a quarterback like this.
But it's Wilson's personality, not his passing, that has his teammates and coaches buzzing.
"You knew of him as a player, but when you're around him every day, you understand the work he puts into it and the way he approaches things," offensive coordinator Paul Chryst said. "He comes every day looking to get better. He's competitive, he's hard on himself, works great with the players. All the things you can't necessarily see on film are areas he excels in."
Wilson has been a national story for months, as many chronicled his route from NC State to minor league baseball and eventually to Wisconsin. His hot start has thrust him -- fairly or unfairly -- into the Heisman Trophy discussion a year after another quarterback transfer (Auburn's Cam Newton) won the award.
"One area that's surprised me is how well he handles all that's going on around him," Wisconsin coach Bret Bielema said. "People are starting to talk Heisman, people are trying to anoint him king, and all he does is keep giving credit to his players, his coaches, his offensive line, his daily preparation. And it's not a false bravado, either. ...
"Russell Wilson believes in what makes you good every day, and that's what he sticks to."
Wilson didn't have to change himself to adapt to his new team. By all accounts, he approached football the same way at NC State.
If anything, his visit to Madison in May brought some relief. The Wisconsin players weren't foreign to him.
"I noticed the high character here," he said, "the work ethic here."
The big questions after Wilson arrived on campus in July surrounded how he'd fit in with the Wisconsin offense and how fast he could make the adjustment. Although Chryst adapts to his players, he runs a proven scheme that piled up points and yards in 2010.
The if-it-ain't-broke adage applied, no matter who was playing quarterback.
"No doubts at all about how good he was," running back
Montee Ball
said of Wilson, "but I had a little doubt about how fast he was going to pick up the playbook."
By the end of camp, "he was teaching us," Ball said.
"It's what I expected," Wilson said, "maybe a little bit more in terms of how well everything's gone so far. But at the same time, I had full confidence in learning the offense, confidence in the guys I was playing with. That's why I came here."
Many folks outside America's Dairyland are already tired of the Wilson hype and point to the competition he has faced thus far. Wilson has yet to face an FBS defense ranked higher than 70th nationally, although, to be fair, he's partly responsible for those low ratings.
But Wisconsin didn't bring in Wilson to beat UNLV, Oregon State, Northern Illinois and South Dakota. Wilson didn't come to Madison to beat those teams.
He came to play elite opponents in national showcase games on grand stages.
Nebraska? Check. Saturday night on ABC? Check. Camp Randall Stadium? Check.
We'll find out a lot about Wilson this week against the eighth-ranked Huskers, who boast a star-studded defense that will finally be at full strength.
"The main thing is playing relaxed and playing with confidence," he said. "The preparation has really prepared me for a big game. Playing quarterback, you have to make sure the other 10 guys are on the same page, playing with confidence. There's going to be storms, but you have to weather the storms."
Nebraska's speed on defense jumped out to Wilson when he watched tape of the Blackshirts. The feeling is mutual.
"He can do it with his arm, he can do it with his feet," Nebraska safety Austin Cassidy said. "Any time you can go up against arguably the best quarterback in college football, that's obviously going to be a very good test."
After acing the first four weeks, Wilson's biggest tests await.
August, 22, 2011
8/22/11
9:00
AM ET
Nebraska has no plans to tiptoe across the Big Ten's doorstep this season.
The Huskers fully intend to break down the door.
[+] Enlarge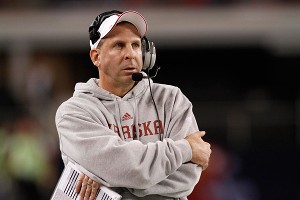 Brett Davis/US PresswireHead coach Bo Pelini and the Cornhuskers believe they have the talent and depth to compete for the Big Ten and national titles.
Since the Big Ten approved Nebraska as its 12th member on June 11, 2010, the goodwill has flowed from Lincoln across the league footprint. Nebraska has heaped praise upon its new league -- occasionally tweaking its old one, the Big 12, in the process -- and repeatedly noted that the Big Ten's history and culture provide an excellent fit for one of college football's iconic programs.
But the time for pleasantries is over. The Huskers aren't just happy to be here.
"We have all the pieces to win it all this year," senior defensive tackle Jared Crick said. "Not just the Big Ten championship, but the whole thing."
Bold words from arguably the Big Ten's best player. But there's evidence to back it up.
While moving to a new conference brings unique challenges for Nebraska coach Bo Pelini and his players, they fully believe they can win the Big Ten in Year 1. It would be quite an accomplishment for a program that, despite its storied history, last won a conference title in 1999 and hasn't recorded a top 10 finish in a decade.
Nebraska's case for a Big Ten title begins with its players, particularly on defense. Crick is one of three All-America candidates -- linebacker Lavonte David and cornerback Alfonzo Dennard are the others -- headlining a unit that ranked among the top 15 nationally in each of the past two seasons. Crick and David both earned second-team All-America honors in 2010, while Dennard recorded four interceptions for a secondary filled with NFL prospects.
But Nebraska is about more than star power. Veterans Baker Steinkuhler and Cameron Meredith join Crick on one of the nation's top defensive lines, while safety Austin Cassidy quarterbacks the unit and Sean Fisher returns from injury to assist David.
Despite losing first-round draft picks in each of the past two years (Ndamukong Suh, Prince Amukamara), the Blackshirts are setting the bar even higher in a league where elite defenses rise to the top.
"We have more talent than we've had in the past," said Crick, who has recorded 9.5 sacks in each of the past two seasons. "We have depth coming out of our ears. It's a great thing to know, that if you want a breather, you can come out and the next guy will come in and he won't let down. That's true across the board."
The Big Ten's best teams, namely Ohio State, boast elite defenses nearly ever year, and Nebraska brings a strong track record.
"Look at who coaches them," Huskers wide receiver
Brandon Kinnie
said. "You've got two defensive brainiacs."
Those would be Bo Pelini and his brother Carl, Nebraska's defensive coordinator. Bo Pelini has coached a top 15 defense in seven of the eight seasons since returning to the college ranks from the NFL.
Their intricate scheme asks a lot of the players but can suffocate opponents.
"There's not one defense that's comparable to ours," Crick said. "Very complex, and that's what makes it unique. As a defensive lineman, I have five responsibilities, where other defensive linemen, all they've got to do is shoot their gap. We want it that way."
Nebraska might have a championship-level defense this season, but questions swirl around an offense that has been unreliable. After the unit stumbled late last season, Pelini switched gears, promoting Tim Beck to coordinator.
Beck's system is designed to provide greater freedom for players and not bog them down in details.
"We're getting it down every day in practice," Kinnie said. "We haven't scratched the surface of what we can do."
The offense likely will hinge on sophomore quarterback
Taylor Martinez
, whose inconsistent 2010 season mirrored that of the entire unit.
He sizzled during the first seven games, eclipsing 100 rushing yards five times and lighting up Oklahoma State for five touchdown passes. But an ankle injury suffered against Missouri derailed his season, which got ugly both on and off the field.
Martinez has earned high marks from his coaches and teammates during the offseason, both for his play and for displaying greater maturity.
"He's much more confident playing," Beck recently told reporters of his quarterback. "I'm really proud of his leadership, the way he's handling everything."
The Huskers are also a hungry bunch after dropping back-to-back Big 12 championship games by a combined four points. While the rest of the Big Ten gets adjusted to division play, Nebraska knows what it takes to reach a championship game, and the pain that comes with falling just short.
"We were really close, and we had some disappointments," Pelini said. "As a whole program, we've got to get over the top."
Despite a new league, 11 new opponents and a much-discussed schedule that makes stops in Madison, State College and Ann Arbor, there's a belief among the Huskers and the supporting evidence that they can take the next step.
"All over, we've got a good team, and we can do big things," Dennard said. "Last year, we ended up very bad, so we're going to try and go out there and show the world that Nebraska is a better team."
July, 11, 2011
7/11/11
1:20
PM ET
The Big Ten preseason position rankings have reached the home stretch as we take a look at the secondaries. Although individual positions like center and defensive tackle could boast more star power, the Big Ten's overall strength in the secondary jumps out.
There's a lot to like about the Big Ten cornerbacks as nearly every team boasts experience and/or exciting young players. The Big Ten loses All-Conference safeties Tyler Sash and Jermale Hines but brings back quite a few solid contributors.
There's definite separation after the top four groups, while Nos. 6-9 are extremely close.
Here's the rundown (coming soon: cornerbacks and safeties rankings) ...
[+] Enlarge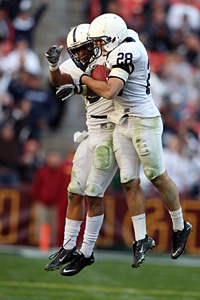 Maxwell Kruger/US PresswirePenn State has an experienced secondary that includes safety Drew Astorino, right, and cornerback D'Anton Lynn, shown celebrating an Astorino interception last season.
1. Penn State:
The Lions' linebackers seem to be generating more preseason buzz, but I really like what Penn State brings back in the defensive backfield. There's plenty of experience with safeties Drew Astorino and Nick Sukay, and cornerbacks D'Anton Lynn and Stephon Morris. Penn State needs Sukay to regain the form he showed in the first half of 2010 before a torn pectoral muscle ended his season. Lynn is a bona fide All-Big Ten candidate. If Malcolm Willis, Chaz Powell and others solidify depth here, Penn State should have an elite secondary.
2. Ohio State:
This is a group the Buckeyes rarely have to worry about, even after losing three starters. The good news is several key players return from injuries, including safeties Tyler Moeller, C.J. Barnett and Christian Bryant. Moeller should provide a major boost at the "star" position. The cornerback spots should be fun to watch as Travis Howard and Dominic Clarke fend off some challengers for the starting jobs.
3. Nebraska:
Like Ohio State, Nebraska can rely on having an elite pass defense under the Pelini brothers, even after losing several standout players. All-American corner Prince Amukamara will be missed, but Alfonzo Dennard is ready for a starring role. Nebraska needs Ciante Evans to follow what Dennard did in 2010. The Huskers likely will use more linebackers this season, but they'll need to fill holes at safety as Austin Cassidy, Courtney Osborne and others are in the mix.
4. Wisconsin:
The Badgers' secondary took a major step forward in Chris Ash's first season on the staff. The key is continued progress, continued playmaking and becoming a truly elite group like Ohio State and Nebraska. Wisconsin seems to have the pieces in place with veteran Aaron Henry at safety, as well as All-Big Ten selection Antonio Fenelus and Devin Smith at cornerback. The Badgers must fill the other safety spot, and speedster Shelton Johnson could fill in there.
5. Michigan State:
The secondary triggered Michigan State's 2010 turnaround, improving from 112th nationally in pass defense in 2009 to 60th last season. After recording 17 interceptions last season, the Spartans
must stick to their MAP motto
-- Make A Play -- as they aim for a repeat championship this fall. Safety Trenton Robinson is among the league's most experienced defensive backs, and hopes are high for cornerback Johnny Adams, who had an excellent spring. The unit could hinge on young players like Darqueze Dennard, Isaiah Lewis and Tony Lippett.
6. Iowa:
The bad news is Iowa loses veteran safeties Sash and Brett Greenwood from a defense that slipped to 84th nationally against the pass in 2010. The good news is All-Big Ten cornerback Shaun Prater returns along with playmaking junior Micah Hyde. Prater could be a shutdown corner this fall, and Hyde, whose pick-six won the Insight Bowl, could play either corner or safety. Iowa must build depth around them with Jordan Bernstine, Greg Castillo, Tanner Miller and others.
7. Purdue:
One of the Boilers' big question marks entering 2010 turned out to be a pleasant surprise, and the secondary could be a big strength this fall. Here's a group that could make a move up these rankings by November. Cornerback Ricardo Allen is a budding superstar who recorded two pick-sixes last season. Safety Logan Link is always around the football, and Josh Johnson could take a significant step as he complements Allen.
8. Illinois:
I'm tempted to rank Illinois a few notches higher, and if the Illini address several questions in the secondary, I'll gladly do so after the season. If safety Supo Sanni returns to form and both he and cornerback Terry Hawthorne stay healthy, this could be an excellent group. Tavon Wilson returns to his preferred position of cornerback and could have a big season, while Trulon Henry brings experience to the safety spot.
9. Northwestern:
Given the question marks in the front seven, Northwestern needs its veteran secondary to step up. Players like cornerback Jordan Mabin and safety Brian Peters should answer the bell this fall. Both multiyear starters can make plays on the football and change games. There's good competition between David Arnold and Ibraheim Campbell at the other safety spot, while Jeravin Matthews emerged this spring to win the starting corner job opposite Mabin.
10. Michigan:
I'll probably take some heat from Wolverines fans, who will point to the return of cornerbacks Troy Woolfolk and J.T. Floyd, the emergence of young players like Carvin Johnson and a defensive makeover under Brady Hoke and Greg Mattison. All of that could lead to better results, but Michigan still has fewer certainties in the secondary than do most teams on this list. This unit has been a disaster the past few years, and it'll take a lot of things to go right to get things back on track.
11. Minnesota:
Linebacker looks like a strength for the Gophers' defense, but there are questions both up front and in the secondary. The secondary will need more help from a line that generated no pass rush in 2010, but the defensive backs must help themselves, too. Cornerback Troy Stoudermire had a good spring and adds a big hitter to the group. Minnesota really needs big things from safety Kim Royston, who wants to lead the way after receiving a sixth year of eligibility. Building depth around Stoudermire and Royston will be vital in preseason camp.
12. Indiana:
Fixing this group is arguably the biggest challenge for new coach Kevin Wilson and co-defensive coordinators Mike Ekeler and Doug Mallory. Indiana simply hasn't had enough Big Ten-caliber defensive backs in recent years, and the results have been ugly. The Hoosiers surrendered a league-worst 27 touchdown passes in 2010 and finished 114th nationally in pass defense efficiency. Sophomore safety Greg Heban is a nice piece, but Indiana will need a boost from Lawrence Barnett, Lenyatta Kiles and others.
June, 9, 2010
6/09/10
10:00
AM ET
You heard about Oklahoma's
Landry Jones
and his backup earlier this morning, but here are the most irreplaceable players for the rest of the conference.
Robert Griffin III, QB, Baylor:
This one's pretty simple. Griffin means more to his team than any player in the conference. The 2008 Big 12 Newcomer of the Year helped the Bears win their 2009 season opener at Wake Forest before a season-ending knee injury in the third game. He'll come back for 2010 still a sophomore. But his injury last season now means his backup,
Nick Florence
, is surprisingly experienced.
Alexander Robinson, RB, Iowa State:
Robinson rushed for 1,195 yards in 2009 and is by far the Cyclones' best player. His yards per carry average is almost 1.5 yards higher than his backup last season. This year, the battle for No. 2 is ongoing, with
Beau Blankenship
and freshmen
James White
and
Jeff Woody
trying to earn any spare carries not soaked up by Robinson.
Nate Solder, OT, Colorado:
This season will be Solder's third as starting left tackle, the key position on the offensive line. He's proven to be one of college football's premier linemen, but his durability and experience have meant very little playing time for backup Ryan Dannewitz, a redshirt freshman.
Jake Laptad, DE, Kansas:
Laptad is a force in the backfield and racked up 6.5 sacks and 12 tackles for loss last season. His backup is junior college transfer Quintin Woods, but with just four career tackles, there's a clear dropoff in both production and talent.
Blaine Gabbert, QB, Missouri:
In just his second year as starter, Gabbert could be poised for a big jump like his predecessor, Chase Daniel. The Tigers earned a North title in Daniel's second season and No. 1 ranking after the regular season. But Gabbert needs to stay healthy. His backup is former walk-on
Jimmy Costello
, who's never played a meaningful snap, but behind him are a group of untested freshmen with potential in
Ashton Glaser
,
James Franklin
and Gabbert's younger brother,
Tyler Gabbert
.
Eric Hagg, S/LB, Nebraska:
The central figure of the Huskers' Peso defensive scheme (Hey!
Remember that
?) gives the Husker defense the teeth that helped them nearly upset Texas and blow out Arizona. His backup is Austin Cassidy, who has plenty of on-field experience after appearing in all 13 games last season. Like Hagg, Cassidy has the ideal size for the position at 6-foot-1 and 210 pounds, and notched nine tackles as a sophomore in 2009.
Markelle Martin, S, Oklahoma State:
Martin's sophomore season was overshadowed by big-hitting senior Lucien Antoine, but he'll be one of the team's leaders as a junior in 2010. He's the team's leading returning tackler, and should join Orie Lemon and Ugo Chinasa as the anchors of a defense replacing its four leading tacklers from 2009. His backup, Mathies Long, played in the last six games of 2009, but has just three career tackles.
Sam Acho DE, Texas:
The better known of Texas' Acho brothers, he played in 24 games before taking over as starter last season. He notched 63 tackles and four fumble recoveries, tied for most in college football. He was also a semifinalist for the Lott Trophy. But at Texas, there's always a pretty narrow gap between starter and backup. Acho's backup should be either Russell Carter
or
Alex Okafor, who will also play behind opposite defensive end Eddie Jones. Carter played in nine games last season and notched five tackles. Okafor played in all 14 games last season and tallied 22 tackles.
Jerrod Johnson, QB, Texas A&M:
No backup will be able to reproduce Johnson's impressive numbers from 2009 (38 touchdowns, 4,085 total yards). But Johnson's backup
Ryan Tannehill
does have plenty of experience--at a different position. He got plenty of reps this spring with Johnson sidelined from live action after minor shoulder surgery, but he's the team's active leader in receiving, with 1,418 career yards. He's thrown just nine passes in two seasons with the Aggies.
Colby Whitlock, DT, Texas:
Should assume the role of nose tackle in Tech's new 3-4 scheme under coach Tommy Tuberville and defensive coordinator James Willis. Though it's a new position, Whitlock's experience will be tough to replace. Of his 46 tackles in 2009, 8.5 came behind the line of scrimmage. His backup is a mountain of a man, Myles Wade. The 6-foot-2, 340-pound junior college transfer made just two tackles in limited action last season, but he still has two years of eligibility left, and could plug plenty of holes in the middle of the defense after Whitlock graduates.