March, 26, 2014
Mar 26
1:15
PM ET
STILLWATER, Okla. -- Few programs in college football are equipped to overcome losing three of their four most productive receivers from the previous season.
At least without missing a major beat.
[+] Enlarge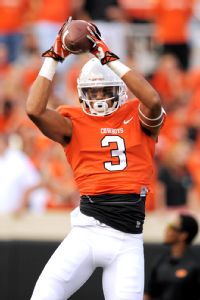 AP Photo/Brody SchmidtAs a freshman in 2013, Marcell Ateman caught 22 passes for 276 yards for the Cowboys.
But
Oklahoma State
could be one of those few programs, armed with several young wideouts on the cusp of breaking out in 2014.
Starters
Josh Stewart
,
Tracy Moore
and
Charlie Moore
, who combined for 146 catches and almost 2,000 receiving yards, are gone, leaving rising sophomore
Jhajuan Seales
as the only returning starter.
But the Cowboys also welcome back a host of budding young receivers, who seem poised to keep the Oklahoma State passing attack humming.
"I think the receiving corps is going to be good," Seales said. "I think our offense will be the same. People have to step up and fill in for Tracy and Charlie and those guys. But I think we have the guys who can do that."
The Cowboys have Seales, which is a nice start.
As a redshirt freshman last season playing alongside Stewart and the Moores, Seales hauled in 39 catches for 571 yards. Two of Seales' three touchdowns came in two of Oklahoma State's final three games. Though he still has much to prove, Seales has the same combination of physicality and speed reminiscent of another Cowboy receiver who donned the jersey No. 81 --
Justin Blackmon
.
"I feel I can be a go-to guy," Seales said. "But there are other guys out there who can be that go-to guy, as well."
Such as
Marcell Ateman
, who like Seales, carved out a role at outside receiver as a freshman, and caught 22 passes.
"Ateman, when he decides to play hard, he's a big, physical body," coach Mike Gundy said.
Sophomores
Brandon Sheperd
(223 receiving yards) and
David Glidden
(15 catches) received plenty of time in the rotation last season.
The Cowboys also bring back
Blake Webb
and
Austin Hays
, who both started in 2012 as freshmen before injuries sidelined them for virtually the entire 2013 season.
Hays, who played with Oklahoma quarterback
Trevor Knight
in high school in San Antonio, started nine games two seasons ago and finished with 394 receiving yards. But he was unable to play most of last season because of a nagging hamstring injury.
"It was so frustrating," he said. "I kept thinking I was going to come back and never did. Not getting to get on the plane with the team, that very frustrating."
Hays is close to 100 percent again this spring, and he has shown the versatility to play on the outside or in the slot. But he might have more competition for playing time now than he did two years ago.
The Cowboys signed junior-college speed demon
Tyreek Hill
, who has already broken numerous sprint records on the track team.
Ra'Shaad Samples
, who redshirted as a freshman last season, can also fly and reportedly has run the 40-yard dash in 4.32 seconds. Both players could bring major speed to the inside receiver positions.
"Some of those young receivers are starting to make a few plays," Gundy said. "So it's exciting that we have talent on our team that can make plays in the future."
No doubt, Oklahoma State will miss Stewart, Charlie Moore and Tracy Moore at receiver. But that doesn't mean the Cowboys will miss a beat there, too.
Said Seales: "Now we get to follow in their footsteps."
March, 11, 2014
Mar 11
9:00
AM ET
STILLWATER, Okla. -- Just two springs ago, Oklahoma State had a true freshman quarterback emerge out of a three-way battle to stunningly capture the starting job before the season.
This spring, the Cowboys have another true freshman quarterback who might be capable of the same.
After winning 10 games and ranking in the top-10 for several weeks late last season, Oklahoma State kicked off its spring practice on Monday as a team in transition. Of all 128 FBS programs, only Utah State returns fewer starters than the Cowboys. And one of the many positions the Pokes must find starting replacement is at quarterback.
Gone is
Clint Chelf
, who became just the second quarterback in program history to earn first- or second-team all-conference honors.
J.W. Walsh
, who has eight career starts over two seasons, is the only returner at the position with any experience and is the favorite to reclaim the starting job.
[+] Enlarge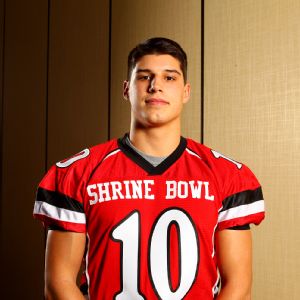 Miller Safrit/ESPNMason Rudolph was the star of Oklahoma State's 2014 class and will be afforded every opportunity to become the Cowboys' starting quarterback.
But the Cowboys also have an intriguing true freshman in
Mason Rudolph
, who enrolled early and will be with the squad this spring.
Two years ago, head coach Mike Gundy named true freshman
Wes Lunt
the starter coming out of spring drills. And one pressing question that popped up Monday during Oklahoma State's spring press conference was, would Gundy entertain the idea of doing the same again?
"The truth is, if you have a freshman come in and is the better player, you probably play him," Gundy replied. "It would be hard at that position [quarterback] because we can say what we want, but everybody watches the practices we watch. And everybody has a good feel for what's happening. And we have a responsibility to our team to give them the best chance to have success. So we have to watch real close. I thought three springs ago that [Lunt] was clearly the best player -- that's why we named him the starter. What that holds for the future, I'm not sure. But if we didn't think he was [the best], we certainly wouldn't have named him the starter. And so we just have to watch and see how it works."
In other words, Rudolph will have his chance, just like Lunt did.
Rudolph arrived in Stillwater as perhaps the most highly-touted quarterback prospect the school had ever signed.
Lunt was a three-star recruit and was the No. 42-ranked quarterback coming out of high school. By contrast, Rudolph was Oklahoma State's top recruit of this class and was rated the eighth-best pocket passing quarterback in the nation.
He threw for 4,377 yards and 64 touchdowns as a senior at Northwestern High in Rock Hill, S.C., while leading his team to a state championship.
Weeks later, he was named MVP of the Shrine Bowl of the Carolinas All-Star Game after leading his team on a game-winning touchdown drive. Rudolph split time with Georgia quarterback signee
Jacob Park
, but when the game was on the line, Rudolph was the one the coaches called on. And like he had in high school, Rudolph delivered in crunch time.
"He had that leadership ability that you could see on the sideline with his team," Oklahoma State offensive coordinator and quarterbacks coach Mike Yurcich said. "When he threw the football, the physical side was apparent.
"He also has an 'it' factor. You know when you see it. It's hard to describe. It's hard to put into words."
Whether that "it" factor translates into Rudolph accomplishing what Lunt did two springs ago remains to be seen.
Lunt had an easier path to the starting job then. The Cowboys were replacing first-round NFL draft pick Brandon Weeden, and at the time, neither Chelf nor Walsh had any experience.
Though Walsh's play dipped last season, he shined as a redshirt freshman after Lunt got injured in 2012 and wound up leading the entire Big 12 in the Adjusted QBR metric.
"J.W. always has had great leadership, and we want him to have a great feel for what we want to accomplish on offense from a read standpoint, footwork fundamentals, things that he can control," Gundy said. "J.W. brings experience to the table. J.W. will be the guy that goes out there first this year because he has the most experience."
Experience alone, however, won't guarantee Walsh the job.
Limited arm strength plagued Walsh's ability to complete throws downfield last season. That, coupled with poor decision-making, opened the door for Chelf to reclaim the job in early October.
Superior arm strength is what helped propel Lunt to the top of the depth chart two springs ago, and that could also be a similar asset for the 6-foot-4, 217-pound Rudolph this spring. But Rudolph, who rushed for 16 touchdowns as well last season, also seems to possess more mobility than Lunt, who suffered a knee injury after his third start while unsuccessfully attempting to escape the pocket.
"You can also tell he has some fight in him," said third-year wide receiver
Austin Hays
. "It's so hard when you're a freshman. But towards the end of spring, Wes really started to find his way. Eventually he earned it, and everybody followed him.
"I don't see why Mason couldn't do that, too."
August, 5, 2013
8/05/13
11:00
AM ET
STILLWATER, Okla. -- Through the years, Oklahoma State's high-powered offense has featured better individual receivers. Wideouts like Hart Lee Dykes, Rashaun Woods, Dez Bryant and Justin Blackmon -- who were all first-round draft picks.
Yet top to bottom, coach Mike Gundy agrees his Cowboys have never featured a deeper, more talented overall receiving corps than the one he'll take into this season.
[+] Enlarge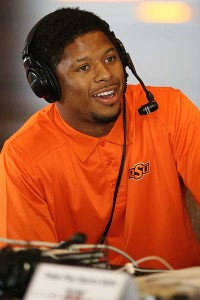 Kevin Jairaj/USA TODAY SportsJosh Stewart is just one of the many solid players returning for the Cowboys' receiving corps this season.
"I think we have a really good group," he said. "At times it's a little unfair to compare guys to Dez and Blackmon -- two of the most talented guys to compete in this league.
"But from top to bottom ... we have 10 or 12 guys that I think in three weeks could play in a game and go out there with the ones and have success. So we may be as good at that position as we've ever been -- without having maybe a potential first-round guy."
The Cowboys might not have that potential first-round pick, but thanks to the fortuitous timing of an injury, they do have two go-to guys.
Oklahoma State went into 2012 counting on senior
Tracy Moore
to take over for Blackmon as the No. 1 receiver. Moore proved up to the challenge, hauling in four touchdown passes in a shootout loss at Arizona early in the season. But a month later, Moore's season was derailed when he suffered an ankle injury that sidelined him for the year.
"Other than (running back) Joseph Randle, before Tracy got hurt, he was our best player on offense," Gundy said.
Moore getting hurt, however, provided a silver lining that should benefit the Cowboys this season: it cleared the way for
Josh Stewart
to shine out of the slot. After taking over as Oklahoma State's primary pass-catcher, Stewart rapidly developed into one of the most dangerous receivers in college football and finished with 101 receptions, third-most in the Big 12.
And because Moore played less than 30 percent of the 2012 season, he was given a medical redshirt to come back, providing Oklahoma State with two playmakers who have shouldered the No. 1 receiver role.
"Not a lot of teams have that," Stewart said.
Moore and Stewart will have plenty of help, too.
The Cowboys return two other starters at receiver in
Charlie Moore
and
Blake Jackson
, who combined for more than 65 receptions and 1,000 yards last season. Oklahoma State also brings back
Austin Hays
, who filled in admiringly after Tracy Moore got hurt with 29 catches, and
Blake Webb
, who got the start against Oklahoma.
"It's crazy because last year I thought that we had great depth at the position," said Jackson, who plays on the inside opposite Stewart. "Now getting Tracy back for another year, it's crazy how many good receivers we have. We have 12 guys that could start right now and we'd be productive and keep moving."
Among those 12 are underclassmen
David Glidden
,
Brandon Sheperd
and
Jhajuan Seales
, who all are vying for time. Seales has been especially turning heads. Gundy singled him out as someone who developed physically during the offseason as much as anyone on the squad.
"Anyone in the starting lineup go down, we've got someone that could fill them up at every spot and do good, and I'm not just saying that," Stewart said. "We've had pretty good depth the last three years -- but nothing like this."
The Cowboys are also about to reap the benefits of more fruitful recruiting efforts. In its most recent signing class, Oklahoma State landed four-star receivers
Ra'Shaad Samples
and
Marcell Ateman
, incoming freshmen who appear talented enough to contribute right away.
"The success we're having has a lot to do with this, the previous success," Tracy Moore said. "People see what Blackmon did, people see what Dez Bryant did. They want to come here and we're getting top guys now."
The Cowboys don't have a Blackmon or a Bryant. But the position in Stillwater has never been better.
"We are so stacked on receivers," Moore said. "We're definitely pretty stacked."
March, 8, 2013
3/08/13
9:00
AM ET
Recruiting is a fickle beast. Even if your school lands an elite prospect there's no guarantee that player will develop into an difference maker at the college level. It's a realization that makes evaluation just as important as recruiting and landing top prospects. Each year relative unknowns on signing day emerge as playmakers for their college programs in the fall. Here's a look at a signee from each Big 12 school during the past two recruiting cycles (2011 and 2012 signing classes) who has already exceeded expectations.

Baylor
Linebacker
Eddie Lackey
wasn't a highlight signee in February 2012. Yet the junior college transfer stepped right in and finished second on the squad with 104 tackles. He had five games with nine tackles or more and intercepted four passes, returning two for touchdowns.
In 2013:
Lackey could be even better with a year under his belt. His ability to be comfortable playing in space, while bringing the physical mindset of a linebacker is one of the reasons he could be poised to earn All-Big 12 honors as a senior.

Iowa State
Receiver
Quenton Bundrage
wasn't considered a "can't miss" prospect when he signed with the Cyclones out of Bradenton (Fla.) Manatee High School in February 2011. After a redshirt season, he emerged as a threat for the Cyclones offense as a redshirt freshman with 20 receptions for 232 yards and two touchdowns in 2012.
In 2013:
Fellow redshirt freshman
Sam Richardson
started ISU's final three games at quarterback, overshadowing Bundrage's contributions as a newcomer. But the duo could become a important foundation for ISU's offensive attack over the next three seasons. At 6-foot-2, 187 pounds, Bundrage brings a size/speed combination that can be difficult for Big 12 defenses to handle.

Kansas
Jake Love
played small school football at Tonkawa (Okla.) High School, making it unclear how he would transition to the rigors of playing linebacker in the Big 12. Yet, he made an immediate impact after a redshirt season, starting four games in 2012. He finished with 36 tackles, including eight tackles for loss as a redshirt freshman.
In 2013:
Love's playmaking ability became clear in 2012 so he should emerge as a mainstay in KU's defense. His eight tackles for loss, which ranked second on the squad, are a sign of his active and aggressive approach when he's on the field.

Kansas State
ESPN.com had him as a two-star prospect along the offensive line, so it's hard to imagine
Cody Whitehair
being more overlooked when he signed with the Wildcats in 2011. A versatile lineman who started at guard and tackle at different points during KSU's Big 12 title season, Whitehair earned honorable mention All-Big 12 honors as a redshirt freshman in 2012.
In 2013:
He should join center
B.J. Finney
as one of the anchors of the Wildcats' offensive line. His versatility should allow KSU to get creative as they look to find ways to get their five best offensive linemen on the field in 2013.

Oklahoma
Folks in Norman, Okla., barely noticed when Arizona Western running back
Damien Williams
signed with the Sooners in February 2012. Senior
Dominique Whaley
was set to return alongside talented juniors
Roy Finch
and
Brennan Clay
, making it appear unlikely the junior college transfer would make an immediate impact. But Williams didn't get the memo, earning the starting job at the beginning of October and finishing with 176 carries for 946 yards and 11 touchdowns.
In 2013:
Williams will have to hold off a bevy of talented backs angling for carries in the Sooners backfield, but the senior has proven game-breaking ability that will be difficult to ignore.

Oklahoma State
Receiver
Austin Hays
was an afterthought on Signing Day 2012. The overlooked prospect outperformed several Cowboys receiver signees who were much more highly regarded in February. He started six games and finished with 29 receptions for 394 yards and two touchdowns.
In 2013:
His dependability, ball skills and competitiveness should make him a mainstay in the Cowboys lineup, even though he's not a game-breaking receiver in the mold of Dez Bryant or Justin Blackmon.

Texas
ESPN.com had
Joe Bergeron
as a three-star recruit who appeared to be destined to a career buried on the bottom of the depth chart behind the elite running backs the Longhorns were inking. Yet Bergeron made an immediate impact as a freshman and continues to be a productive force in UT's offensive backfield. He's scored 21 touchdowns in two seasons including 16 touchdown runs as a sophomore in 2012.
In 2013:
He enters his junior season as UT's best short-yardage runner and should continue to earn carries at running back thanks to his toughness and physical running style.

TCU
Offensive tackle
Aviante Collins
was a three-star prospect on ESPN.com, far from a recruit with expectations to start immediately. Yet that's exactly what Collins did, starting all 13 games of his true freshman season. And he showed some versatility by starting games at right and left tackle in 2012.
In 2013:
Collins will be a foundational member of TCU's offensive attack this season. There's no reason he cannot be a four-year starter for the Horned Frogs and leave a legacy as one of the most productive signees in the Gary Patterson era.

Texas Tech
Jakeem Grant
was never going to be considered the prototypical receiver prospect. At 5-foot-6, 163 pounds, it's a given to have people notice Grant's size (or lack thereof) before his ability. Size didn't stop him from becoming one of the most explosive players on the Red Raiders offense as a redshirt freshman, averaging 11.7 yards per touch thanks to his quickness and speed.
In 2013:
With Kliff Kingsbury taking over, the new Red Raiders coach will undoubtedly find ways to take advantage of Grant's speed and open-field ability. His physical gifts are difficult for most opponents to match up with.

West Virginia
Safety
Karl Joseph
wasn't a complete unknown when he stepped on campus. Yet nobody could have envisioned Joseph becoming one of the best players on WVU's defense. He led the Mountaineers with 102 tackles and brought a physical mindset to the secondary.
In 2013:
Joseph provides an excellent base upon which a foundation can be built as WVU looks to rebuild its defense. He will bring a physical presence to the Mountaineers secondary for years to come.