NCF Nation:

Austin Hinder
July, 12, 2013
7/12/13
9:00
AM ET
Your B1G and Pac-12 bloggers have been grinding away on their respective leagues' nonconference primer series. Here's
the Big Ten series
, and here's
the Pac-12 series
. Part of the fun is learning about other teams in other conferences and what they bring to the table. The Pac-12 and Big Ten face each other five times during the regular season. The Pac-12 got the better of the matchups last year. Will this year be different? Brian Bennett and Kevin Gemmell decided to talk it over.
Brian Bennett
: The first thing I look at for Big Ten-Pac-12 matchups in any given season is where the games are staged. Big Ten teams don't seem to think the West Coast is the Best Coast; they are just 5-20 in true road games against the Pac-12 since 2000, and that includes an 0-3 mark on the road versus the Pac-12 last year. (The league also has just one win in its past 10 Rose Bowls, but not all of those games came against the Pac-12.)
[+] Enlarge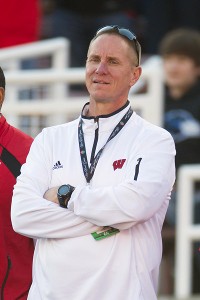 AP Photo/David StlukaNew coach Gary Andersen and the Badgers will have their hands full at ASU this season.
So it's not good news for the league that I cover that three of these five matchups are located far left of the Midwest. If there's any reason for optimism, it's that the Big Ten teams should be substantial favorites in two of the road games -- Northwestern at Cal in the opener and Ohio State against those same Bears in Week 3. Cal is intriguing because of new coach Sonny Dykes, but Northwestern and Ohio State are both legitimate Top 20 teams with conference-title aspirations; if they can shake off the jet lag and contain the Bears' passing attack, they should take care of business.
The two most interesting games -- and what look like virtual toss-ups -- are Wisconsin at Arizona State, and UCLA at Nebraska. The Badgers have a lot of returning talent, but a new head coach and different schemes on both sides of the ball. It's also going to be a clash of styles, with the Badgers' power running game going up against Arizona State's spread offense. Will Gary Andersen's team have its new systems figured out by then, and is Wisconsin's defense -- particularly its inexperienced secondary -- fast enough to handle the Sun Devils?
UCLA-Nebraska is probably not getting enough attention as a must-watch game this year. Last year's shootout in Pasadena, Calif., featured nonstop pingpong action, and both teams figure to have topflight offenses again. The Cornhuskers have a perilously young defense, but Bo Pelini's teams usually defend much better at home than on the road. Quarterback
Taylor Martinez
-- who grew up a Bruins fan but was recruited by them as a defensive back -- will be highly motivated to beat UCLA his senior year. This is Nebraska's only major test in the first seven games, and it's one I think the Huskers have to find a way to win.
Finally, there's Washington at Illinois. The Illini get the benefit of home turf, sort of, as the game will be played at Soldier Field in Chicago. We'll see if Tim Beckman's crew will inspire enough fans to show up by Week 3. While Washington has been mediocre for what seems like forever, I can't confidently pick Illinois to beat any half-decent power conference opponent at this point.
In the end, I say the Big Ten manages a winning record this time around against the Pac-12, taking the two games in Berkeley, Calif., and the one in Lincoln, Neb. A 3-2 mark sounds about right, though if Wisconsin can pull off the win in the desert, that could be a good sign for both the Badgers and the league as a whole.
Kevin Gemmell
: I'm going 3-2 also, but in favor of the Pac-12. After all, if we were in total agreement, it would make for a pretty boring Take 2. So I'll play the contrarian when it comes to UCLA-Nebraska.
[+] Enlarge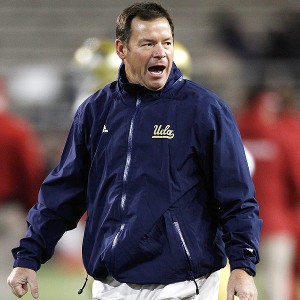 William Mancebo/Getty ImagesCoach Jim Mora and UCLA allowed just six points in the second half of last year's win against Nebraska.
We agree on the Cal games versus Northwestern and Ohio State -- though I think Cal is going to give both of those teams a better run than they are banking on. I like what Andy Buh is doing with a defense that could be sneaky good. And the Bears have
some explosive depth at wide receiver.
But ultimately it's a rookie quarterback -- whomever Dykes chooses among
Zach Kline
,
Jared Goff
and
Austin Hinder
-- and a team that will still have some growing pains as new systems are installed on both sides of the ball. Like you with Illinois, I'm not ready to give the Bears the green light yet. However, last year's game in Columbus, a 35-28 win for Ohio State, should serve as a reminder not to take Cal lightly. No doubt, the Buckeyes will remember
Brendan Bigelow
and his four carries, 160 yards and two touchdowns.
Both halves of the Pac-12 blog have been saying we believe Washington is going to get over that seven-win hump this year after three straight seasons of mediocrity. The Huskies have a lot of pieces in place with a returning quarterback, a 1,400-yard rusher, good receivers, a good line and the top tight end in the country. Their defense made huge strides last season in the first year under Justin Wilcox, and we're expecting another leap forward in 2013. What scares me is Washington's inconsistent play on the road the past few seasons. During the Huskies' trio of 7-6 seasons, they are 14-5 in Seattle (last year they played at CenturyLink Field) and 6-11 on the road. The past two years they are 11-2 at home and 3-8 on the road (0-2 in their bowl games at neutral sites). If the Huskies want to have a breakout year, they are going to have to win away from home. Steve Sarkisian actually talked about this
in a Q&A we did back in April
. But they certainly have the talent to win this game.
The ASU-Wisconsin game is really a critical one for the Sun Devils. It kicks off a four-game stretch (with no bye weeks) that also includes Stanford, USC and Notre Dame. ASU is another team looking for some national credibility, and this is its first opportunity to get some. You're right to talk about the ASU offense, but that defense -- which ranked first nationally in tackles for a loss and second in sacks last season -- is going to be crazy good with
Will Sutton
and
Carl Bradford
leading the attack. I'm banking on a good game, but ultimately one ASU wins at home.
That brings us to UCLA-Nebraska, a game I'm also surprised more people aren't geeked up about outside of the respective fan bases. This should be a fantastic showcase for both leagues.
Brett Hundley
impressed in his freshman campaign, and I think this game is going to be a spotlight for two of the country's most athletic quarterbacks. I was in Pasadena for the game last season, and what actually stood out to me was UCLA's defense -- particularly in the second half. The Bruins allowed only six points, and kept Martinez to 11 yards rushing and the Huskers to 106 total yards in the final 30 minutes. They should be improved in Year 2 under Jim Mora and Lou Spanos. If the Bruins pull this one off, it's going to be because of what they can do defensively.
April, 16, 2013
4/16/13
1:00
PM ET
Four of the five Pac-12 teams that entered spring with wide-open quarterback competitions are now finished with practices and are headed into the offseason.
So ... what did we learn? A little but not a lot. We didn't expect much resolution and we didn't get it. So, hey, we lived up to expectations.
Arizona, California, Colorado, Oregon State and USC entered the spring with wide-open battles. Of them, only Oregon State is still practicing, and coach Mike Riley has said he won't decide between
Cody Vaz
and
Sean Mannion
until the fall.
Which is sort of the message with the other four, too.
Still, here's our best tea leave reading.

Arizona
When I was in Tucson at the beginning of spring practices, coach Rich Rodriguez and offensive coordinator Rod Smith kept saying they just wanted to find a QB with whom they could win.
At the time, I kept thinking, "Well, duh." But I get it now. The translation:
Matt Scott
isn't walking back down the stadium tunnel. It's difficult to imagine 2013 production at the position will approximate what the Wildcats had in 2012.
The general takeaway from spring practices? The Wildcats probably can be at least adequate on offense and win a few games and be competitive throughout the season with
B.J. Denker
at quarterback.
The second takeaway? The guys who weren't able to participate this spring -- USC transfer Jesse Scroggins and incoming freshman Anu Solomon -- are Denker's true competition.
So ... this is still wide open and it's wide open in a predictable way.
Denker has the most experience in the offense. Scroggins has a significantly better arm. Solomon is seen as the future. The question with him is readiness and whether he will benefit more from a redshirt season (Pac-12 blog guesses "yes") than playing immediately, even if in only limited packages.

California
California's QB competition also remains officially unresolved, but the scuttlebutt seems to strongly favor redshirt freshman
Zach Kline
.
Further, there was some movement. For one, senior
Allan Bridgford
, quite reasonably, recognized he was the odd man out and opted to transfer. Second, it became a three-man race between Kline, junior
Austin Hinder
and surprising true freshman Jared Goff.
The post-spring depth chart was sort of interesting, though it's likely the Pac-12 blog is reading more into stuff than it should. While all three were separated by the time-honored "OR," Goff was first, Kline second and Hinder third.
Typically, "ORs" go in alphabetical order. You don't need a Berkeley degree to know that's not what happened there. Perhaps this is a case of youngest to oldest?
A further wrinkle: Hinder is the best runner of the troika by a wide margin. It wouldn't be surprising if he's given some specific, situational packages to run next fall.

Colorado
Colorado started with six candidates -- though not with equal standing -- and the top two after spring practices might surprise some, particularly those hoping for new blood: juniors
Connor Wood
and
Nick Hirschman
.
Before spring practices began, more than a few folks believed redshirt freshman
Shane Dillon
was the favorite. But he often looked raw while Wood and Hirschman seemed far more comfortable with the new offense under Mike MacIntyre, something that likely is due to their having significantly more experience.
Of course, there's no reason Dillon can't find his stroke this summer and jump back into the competition. The most obvious precedent of a guy overcoming a poor spring to win the starting job is Arizona State's
Taylor Kelly
, who was well behind
Mike Bercovici
and
Michael Eubank
a year ago.
Further, just like Arizona, Colorado has its own touted incoming true freshman: Sefo Liufau.
Youth is an advantage in some ways. The Buffaloes aren't going to win the Pac-12 in 2013. There's something to be said for, if the race is close, going with Dillon or Liufau and accepting immediate growing pains with an eye toward 2014 and beyond.
+

+
USC
USC's
QB situation is interesting
, in large part because one guy clearly outplayed the competition this spring: Sophomore
Cody Kessler
.
But
Max Wittek
is undeniably a more talented passer; he might have the strongest arm in the Pac-12. He also is a strapping 6-foot-4, 235 pounds, while Kessler is a scrappy 6-foot-1 215.
USC isn't known for scrappy. Some might call that, on occasion, a shortcoming.
So there is a bit of controversy here as coach Lane Kiffin didn't seem inclined to say after the spring game -- Kessler passed for 242 yards and three touchdowns with no interceptions compared to Wittek's 145 yards, two touchdowns and two interceptions -- that Kessler was ahead.
Of course, this could just be a minor, media-driven quibble. For one, Kiffin might release a depth chart in a few days and put Kessler ahead. So there you go, media!
Or Kiffin, unlike his mentor and predecessor Pete Carroll, might want to keep the competition going as long as possible. He might want to see who asserts himself as the screws tighten. Nothing invalid about that. Will we media sorts similarly harrumph if Riley does the same even if Vaz/Mannion decisively outplays Mannion/Vaz?
(Carroll liked to "anoint" -- his frequently used term -- a QB as early as possible so he could take over requisite leadership for the position).
The problem Kiffin has is some see him sometimes prioritizing talent over performance (see, OT
Aundrey Walker
), which diminishes the perception of true competition. Carroll seemed to fall into that during his later years at USC before bolting for the Seahawks.
Anyone remember the old USC glory days of "Competition Tuesdays?"
Wittek might end up
earning
the starting nod. But it will not benefit him if there's a sense in the locker room that he didn't truly win the job. If Kiffin hands him the keys to the offense -- not saying he will, only "if" -- then it will be a disservice to Wittek as much as his teammates.
April, 13, 2011
4/13/11
3:23
PM ET
BERKELEY, Calif. -- Quarterbacks are always a big story. Quarterback competitions are typically bigger stories. But quarterback is an almost singular story this spring at California.
For one, no one has any idea who the 2011 starter will be, an uncertainty that has been rare since coach Jeff Tedford took over in 2002. Tedford announced last week that he'd reduced the candidates list from five to three -- senior
Brock Mansion
, junior Buffalo transfer Zach Maynard and sophomore
Allan Bridgford
-- but it's unlikely that troika will be winnowed to one until late in preseason camp.
[+] Enlarge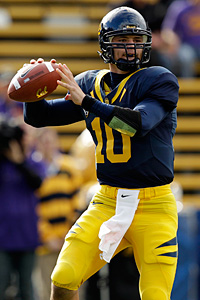 AP Photo/Marcio Jose SanchezBrock Mansion threw for 646 yards and a pair of TDs last season.
Finally, more than a few critics are questioning Tedford's once impeccable bona fides for developing quarterbacks. Sure, Tedford has mentored six who became first-round NFL draft picks: Kyle Boller, David Carr, Trent Dilfer, Joey Harrington, Aaron Rodgers and Akili Smith. But in our "what-has-he-done-lately?" world, folks are asking, well, what has Tedford done lately with quarterbacks, with an incriminating finger-pointing at the less-than-stellar production from Joe Ayoob, Nate Longshore and
Kevin Riley
.
Tedford will call plays this fall and he has been heavily involved with the quarterbacks this spring. He attends all position meetings and spends plenty of practice time with the QBs and new assistant Marcus Arroyo.
Tedford is as aware as anyone that bouncing back from a down campaign -- his first losing season in nine years in Berkeley -- will require at least solid play at quarterback.
"For us to get back to 10- or 11-win seasons, we have to have better play at the quarterback position," he said.
So far, no quarterback has asserted himself.
Mansion, due to experience, would in most situations be considered the front-runner. But he didn't do well in four starts after replacing Riley. His efficiency rating ranked last in the Pac-10 by a wide margin, and he threw five interceptions with just two TDs.
Said Tedford: "You can tell that Brock is better because of the experience he had last year. He's more comfortable. And he's even learned some things physically. You can see the maturity there a little bit. Still not where we need to be."
More than a few folks believe Maynard, the best athlete of the three and half-brother to standout receiver
Keenan Allen
, to be the front-runner. As a sophomore starter at Buffalo in 2009, he completed 57.5 percent of his passes for 2,694 yards and 18 touchdowns with 15 interceptions and added 455 yards rushing and one TD.
Said Tedford: "He does have some athleticism. He can make plays with his legs. He throws the ball accurately. He can throw all the balls on the field. He's a lefty. He can throw the deep ball. He's got zip on the ball. His main thing is just going to be the mental part of understanding our offense and understanding what we're looking for."
Tedford also said that the Bears' offense has some spread-option elements it could adapt for Maynard.
Bridgford is reputed to be a strong pure passer, but he's coming back from shoulder surgery and his mobility also is an issue. The scuttlebutt is he's presently in third place and could be challenged by redshirt freshman
Austin Hinder
, who Tedford said was a strong No. 4.
Said Tedford of Bridgford: "Smart guy. Can throw the ball. He can throw all the balls on the field. Escape dimension? Haven't seen that yet. That's a concern, but he's not a lead foot by any means."
Trying to figure out where things stand isn't easy. Even Allen clings to neutrality, at least publicly. And players appear to be as in the dark as fans about who will prevail.
"I know you guys all want to know that -- we all want to know as well," offensive tackle Mitchell Schwartz said. "I have a lot of confidence in the coaching staff. They are going to put the right guy on the field."
It's been a while since Tedford and Cal found the "right" guy to put behind center. The Bears' success in 2011 probably hangs on Tedford rediscovering his inner QB Yoda.
April, 7, 2011
4/07/11
6:07
PM ET
BERKELEY, Calif. -- California lost a receiver and cut its quarterback competition from five candidates to three Thursday.

Tedford
Coach Jeff Tedford said that that senior
Brock Mansion
, junior Zach Maynard and sophomore
Allan Bridgford
are the finalist for the starting job. He said redshirt freshman
Austin Hinder
was fourth and had impressed him but his chances were hurt by his youth. Junior
Beau Sweeney
, who was
Kevin Riley
's backup over the early portion of the 2010 season, ended up No. 5.
"We're really going to find with those practice reps if somebody can separate themselves," Tedford said.
Tedford, however, said the competition figures to continue well into preseason camp.
Whoever wins the job will have one less speedy receiver.
Tevin Carter
, a redshirt freshman from Los Angeles, has quit the team. Carter didn't ask for a release so he could transfer.
"He's finished here, which is unfortunate," Tedford said. "I don't know if he had a passion to play football anymore... he doesn't know if he wants to play football."
Will have a lot more from my visits to to Stanford and Cal over the next week. So stay tuned.
March, 30, 2011
3/30/11
12:41
PM ET
There's lots of change going on at California this spring, starting with the Bears becoming nomadic.
Cal will practice at six different sites due to renovations at Memorial Stadium and problems with the team's temporary practice facility on Witter Rugby Field. And, of course, home games this fall will be played in AT&T Park, not in Memorial Stadium, the team's home for the past 88 seasons.
Beyond the grass under their feet, the Bears have plenty of issues. Most folks know there's as wide open a competition at quarterback between
Brock Mansion
,
Beau Sweeney
, Zach Maynard,
Allan Bridgford
and
Austin Hinder
. But that's not the only question.
[+] Enlarge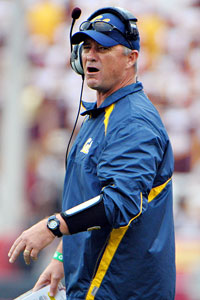 Kirby Lee/US PresswireJeff Tedford is going to have an expanded role in the offense this season.
The offensive line underachieved in 2010 and now must replace two starters. What's the pecking order at tailback (and, by the way, who's healthy enough to compete)? There are four voids on the defensive front seven -- two on the line, two at linebacker -- and two in the secondary. And what about improving the special teams?
Further, coach Jeff Tedford is taking a bigger role with the offense, though that role hasn't been defined, other than him coaching quarterbacks. It seemed he
said he was going to call plays this fall
, but then he apparently backtracked on the
first day of spring practices Tuesday
.
There are a lot of chefs in the offensive kitchen. In addition to Tedford, who is looking to reclaim his title as quarterback guru, there's offensive coordinator/line coach Jim Michalczik, passing game coordinator/receivers coach Eric Kiesau and running game coordinator/running backs coach Ron Gould. While they are all familiar with each other -- Michalczik and Kiesau are returning to Berkeley after stints elsewhere -- those lines of communication will need to be worked out.
Further, in terms of personnel, the Bears have recruited well the past two years. It's likely a number of younger players -- redshirt freshmen, sophomores as well as incoming players this fall -- will immediately compete for playing time.
So Cal's spring practices are as much about transition as they are renewal after a disappointing 5-7 season.
Some notes:
Injuries
: This is fresh from Jonathan Okanes of the
Contra Costa Times
after the first practice:
Several players will practice only in limited fashion this spring because of injuries/surgeries: Among them are left tackle Mitchell Schwartz (back), center Dominic Galas (shoulder), fullback Will Kapp (shoulder) and nose tackles Kendrick Payne (shoulder) and Aaron Tipoti (shoulder). All of these players were there and in their gear today doing individual drills. But they won't be involved in team drills.
Running back pecking order
? Also out is running back
Dasarte Yarnway
(knee), and fellow running backs
Covaughn DeBoskie-Johnson
and
Trajuan Briggs
are coming back from injuries -- though both are
reportedly ready to go
-- so it's difficult to project how the competition will go with
Isi Sofele
, whom Tedford designated as the No. 1 guy before spring practices. Brandon Bigelow, Daniel Lasco and junior college transfer C.J. Anderson join the fray in the fall. It's more than likely that the ultimate depth chart at the position won't be resolved until mid-to-late August.
As for the QBs
: Tedford almost certainly won't name a starter after spring practices, though he would like to narrow the
field of five (or so) to three
. If you were a betting Pac-12 blog reader -- and you probably are -- you should put your money on Brock Mansion, junior Zach Maynard and sophomore Allan Bridgford being the top troika heading into the offseason. The basis of that, it must be noted, is pure hunch -- Tedford's veneer of vague has been admirably tenacious on the matter. It's possible he truly doesn't have much sense of a pecking order in his own head at this point.
Youngsters to watch
: Youngsters and new players who might challenge for starting or key roles include wide receivers
Tevin Carter
and
Kaelin Clay
; linebackers Nick Forbes, Dave Wilkerson, Chris McCain and Cecil Whiteside; defensive end Gabe King; O-linemen Mark Brazinski and Matt Williams; and safety Avery Walls.
March, 1, 2011
3/01/11
1:00
PM ET
Every Pac-12 team has issues, even the ones that played in BCS bowl games last January.
We touched on a number of these in our
spring preview
as well as our team-by-team breakdowns of the
North
and
South
divisions.
But what are the five biggest issues in the conference this spring?
[+] Enlarge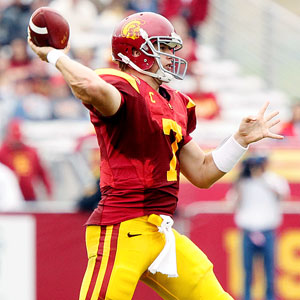 Ric Tapia/Icon SMIUSC boasts one of the top returning quarterback in the nation in Matt Barkley.
Hey, thanks for asking!
1.
Quarterback competitions
: No other conference even compares to the Pac-12 in terms of top-to-bottom quality of quarterbacks. Seven teams welcome back their 2010 starter and four are All-American candidates: Stanford's
Andrew Luck
, Oregon's
Darron Thomas
, USC's
Matt Barkley
and Arizona's
Nick Foles
. Arizona State and Colorado, with
Brock Osweiler
and
Tyler Hansen
, respectively, have QBs with starting experience who are favorites to win the starting job. But three teams are wide open at the most important position: California, UCLA and Washington. For the Huskies, it's fairly simple:
Keith Price
or
Nick Montana
will replace
Jake Locker
. For Cal, it's wildly complicated, with five in the mix: senior
Brock Mansion
, sophomore
Allan Bridgford
, redshirt freshman
Austin Hinder
, junior Zach Maynard and junior
Beau Sweeney
. For UCLA, it's critical and uncertain, with coach Rick Neuheisel's job security likely hanging on getting at least adequate play at the position from
Kevin Prince
,
Richard Brehaut
or true freshman Brett Hundley.
2.
Where's the beef
? No team in the conference appears set on both lines. Arizona State's offensive line welcomes back all five starters, but it's got two voids at DT. The Washington D-line in 2011 figures to look a lot like the unit that played in 2010 due to injuries, but the O-line must replace two starters. Oregon State and Colorado are only replacing one offensive lineman, and the Buffaloes' depth chart on defense returns mostly intact. But how well did those lines play in 2010? Arizona has the most questions: All five spots are open on the O-line and three on the D-line. Oregon must replace three starters on both lines. Stanford, UCLA and USC must replace three starters on offense, while Cal, Oregon State, Stanford, Utah and Washington State have at least two vacancies on defense. If, as coaches say," it all starts up front," then there will be a lot of fronting this spring.
3.
Secondary issues at Utah, Colorado
: The Utes and Buffaloes will be facing all those new, NFL-ready QBs with big questions in their secondaries. Utah must replace all four starters, while the Buffaloes lose a pair of cornerbacks, Jimmy Smith and Jalil Brown, who are top NFL prospects, from a secondary that wasn't very good in 2010. Injuries were an issue in Boulder last year, particularly at safety, but with a new coaching staff in town this will be an area of hot competition.
4.
Getting coordinated
: There will be a fair amount of "getting to know you" -- and your schemes -- this spring in the conference. Colorado and Stanford have new head coaches, though Stanford promoted David Shaw from within, so change won't be terribly dramatic in terms of scheme from Jim Harbaugh. UCLA has two new coordinators. California shook up its offensive staff. Utah brought in Norm Chow after he was pushed out at UCLA. Arizona had significant staff changes, though one-half of 2010's co-coordinators stayed in Tucson. New coaches bring in new ideas and new terms. And they may promote different players past incumbent starters.
5.
Details, details in Eugene and Palo Alto
: Oregon and Stanford are both sure preseason top-10 teams, in large part because they welcome back elite skill position players, such as Luck, Thomas and Ducks running back
LaMichael James
. But both teams have issues. Both have vacancies on both lines. Both are replacing their top receivers. Both have voids at linebacker. Both have an open spot at cornerback. Stanford needs a kicker. While a quick look at the depth chart suggests the reinforcements will be solid, spring ball is about walking the walk.
February, 4, 2010
2/04/10
12:13
PM ET
California's
class of 20
ranks 15th in the nation and includes three ESPNU 150 players.
Coach Jeff Tedford said the class was "as solid as any class we've ever had here."
Top prospects
:
Keenan Allen
, who decommitted from Alabama, was a highly rated safety that Tedford said would play on both sides of the ball, though primarily at receiver. Tedford compared
Chris Martin
to former Bears outside linebacker Zack Follett.
Cecil Whiteside
is another guy who figures to challenge for playing time at linebacker. Defensive end
Gabe King
also figures to be in the mix early.
Under the radar
: The Bears need help at receiver and Tedford called
Terrance Montgomery
"one of the more underrated guys that we have in our class."
Tevin Carter
also figures to be in the mix at receiver. Tedford gushed about running back
Trajuan Briggs
and compared tight end
Jacob Wark
to former Bear Craig Stevens.
Issues
? Hard to find many problems with this class. There's no obvious, run-stuffing noseguard for the Bears' 3-4 scheme.
Adrian Lee
is the only cornerback, and he played tailback in high school.
Notes
: Linebacker
Chris McCain
most likely will grayshirt in order to get his academics in order ... Receiver
Coleman Edmond
will get a look returning punts and kicks ... Quarterback
Zach Maynard
, a transfer from Buffalo, is Allen's brother and they were a package deal ... Quarterback
Austin Hinder
is the grandson of Cal Hall of Famer Jim Hanifan.