October, 21, 2010
10/21/10
10:33
AM ET
In no particular order, here are 10 things to watch this week in five ACC games:
Bowl eligibility:
Both Georgia Tech and Virginia Tech can become bowl eligible this weekend if they win. So far, Florida State is the only ACC team to have reached the six-win mark. NC State is also one win away, but the Pack have a bye week.
Turnovers in Miami.
They've been the Hurricanes' downfall in three straight losses to UNC, as Miami has 10 turnovers to UNC's one during that span. But UNC isn't the only team that can force mistakes. If UNC quarterback
T.J. Yates
is finally going to slip up again, there's a good chance it happens on Saturday against a defensive line that helped Miami lead the nation in tackles for loss and rank fourth in the country in sacks.
The red zone in Miami.
North Carolina leads the ACC in red zone offense having converted on 22 of 24 trips inside the 20-yard line. The Tar Heels have scored 16 touchdowns and made 6-of-7 field goal attempts. UNC is the only team in the ACC that hasn't turned it over in the red zone this season. Miami hasn't been as fortunate. The Canes have lost possession six times inside the 20, including three turnovers. Miami has scored 15 touchdowns in 26 trips in the red zone, but UNC and Miami have the No. 2 and No. 3 red zone defenses in the ACC, respectively.
[+] Enlarge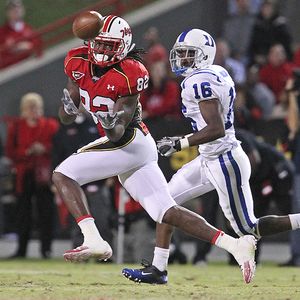 Mitch Stringer/US PresswireTorrey Smith is Maryland's best player on offense but is fighting an ankle injury.
Maryland wide receiver Torrey Smith.
He's their best player on offense. They need him. But his ankle isn't 100 percent and he's having trouble cutting on it. If BC is going to take away the Terps' running game -- which it is expected to do -- Danny O'Brien is going to need some help in the passing game. Smith is also 49 yards shy of setting an ACC career record for kickoff returns.
BC running back Montel Harris.
He needs just 65 more yards to reach 3,000 in his career and only three BC players before him have ever reached that number. Derrick Knight, BC's all-time leading rusher, was the last to do it in 2003. Harris will be the first player in school history to reach it as a junior. The milestone could be an early birthday gift, as he turns 21 on Oct. 30, the day the Eagles host Clemson at Alumni Stadium. He ran for 142 yards in last year's 19-17 win over the Terps, and he ran for 191 yards in the loss at Florida State last weekend while averaging 7.3 yards per carry. FSU was able to keep him out of the end zone, though, and the Terps will be challenged to do the same.
Georgia Tech quarterback Joshua Nesbitt.
He needs 44 more rushing yards to break the ACC career record of rushing yards by a quarterback. After rushing for 106 yards against Middle Tennessee, Nesbitt has 2,718 yards. The record is held by former Clemson standout Woodrow Dantzler (2,761, 1998-2001). How long can the Tigers' D protect their record books?
Clemson defensive end Da'Quan Bowers.
Georgia Tech's offensive line will have its hands full with this guy. He's leading the nation in sacks and tackles for loss.
Quarterbacks in the Commonwealth.
Duke quarterback
Sean Renfree
can't afford five interceptions against Virginia Tech in Blacksburg, and Virginia quarterback
Marc Verica
is looking to shake off the three picks he threw last week against UNC and rebound against Eastern Michigan. And
Tyrod Taylor
? Well, he can move into fourth place in career passing yards at Virginia Tech with 144 more yards.
Virginia Tech's secondary against Duke's receivers.
The Hokies' pass defense hasn't exactly been stellar this year, and it's no secret that Duke is going to throw the ball. The Blue Devils have three of the ACC's top receivers in
Conner Vernon
,
Donovan Varner
and
Austin Kelly
. The Hokies' Jayron Hosley leads the ACC with four interceptions.
Virginia's running game.
The Cavaliers' rushing defense hasn't been very good, but Eastern Michigan's is worse. Expect
Keith Payne
and
Perry Jones
to boost their stats. Eastern Michigan is allowing 228 rushing yards per game.
September, 18, 2010
9/18/10
5:31
PM ET
Don't take Duke's touchdown lightly. Alabama hadn't allowed a touchdown until Duke quarterback
Sean Renfree
threw an 11-yard touchdown pass to
Austin Kelly
. Yes, Duke is losing,
45-13
. Only Duke expected Duke to win. But the Blue Devils put some points on the board against the No. 1 team in the nation. That counts for something in Durham.
October, 29, 2009
10/29/09
8:00
AM ET
Posted by ESPN.com's Heather Dinich
Did you know that UNC backup quarterback Bryn Renner's father, Bill, was a punter at Virginia Tech (1979-82) before playing in the NFL with the Green Bay Packers? Yep. He led the Hokies in punting average in 1981 and 1982.
There's nothing like kicking off the weekend with a Thursday night game in Lane Stadium, so let's start there …
1. UNC's rushing receivers.
The Tar Heels have been looking for yards from everyone, and against Florida State last week, receivers accounted for 109 rushing yards.
Greg Little
had 48,
Johnny White
added 40 and
Jheranie Boyd
chipped in 21. The Tar Heels also got a spark in their running game last week from tailback
Shaun Draughn
, who ran for a season-high 126 yards, and the Hokies' rushing defense has struggled this year compared to seasons past and is ranked 76th in the country.
2. UNC's front seven vs. Tyrod Taylor and Ryan Williams.
The Tar Heels had 22 sacks all of last year, and they already have 17 sacks this year. They're also piling up the tackles for loss, and while FSU quarterback
Christian Ponder
had his way with what was the No. 1 ranked pass defense in the country, UNC held FSU to just 43 yards rushing last week. They've held five of their seven opponents to under 100 rushing yards, and the Hokies have the No. 17 ranked rushing offense in the country.
3. Miami's linebackers without Sean Spence.
The Canes will have a different look at Wake Forest this week without Spence, who will miss the game with a knee injury. Taking his place will be Ramon Buchanan, who filled in for Spence when he was hurt during the Clemson game. Most of Buchanan's experience has been on special teams this year. Meanwhile, running back
Kevin Harris
is expected to return for the Deacs after missing the past five games with a groin injury.
4. Shootout in Raleigh.
This game could look like a 2008 Big 12 matchup -- all offense. NC State quarterback
Russell Wilson
and FSU quarterback Christian Ponder have both done enough to win this season, but haven't gotten the support from their defenses. If that's the case again on Saturday, it could be a very high-scoring game, as both teams are averaging about 30 points per game.
5. Field position in Vanderbilt Stadium.
Vanderbilt running back
Warren Norman
leads the SEC and ranks 13th nationally in all-purpose yards per game (157.5 ypg) and 16th nationally in kickoff returns (29.04 ypa). Georgia Tech sophomore Jerrard Tarrant leads the ACC in punt return average (19.9 ypa). Both teams have a plus-five turnover margin, and statistically, Vandy has fared well stopping the run. The Jackets will obviously present a different challenge, but Norman can help compensate by giving the offense a good starting point.
6. C.J. Spiller's backups.
One week after the biggest performance of his life, Spiller is likely to have a limited role Saturday against Coastal Carolina. There's no need to risk getting him hurt against an FCS team the Tigers should be able to beat without him. It's a great opportunity to rest Spiller for the FSU game and give
Andre Ellington
and
Jamie Harper
some more experience.
7. Duke's receivers.
Quarterback
Thaddeus Lewis
has been getting all the pub, and deservedly so, but he couldn't do it without somebody on the receiving end. For the first time in school history, Duke has four wide receivers with 25 or more pass receptions in a single season.
Austin Kelly
,
Conner Vernon
,
Johnny Williams
and
Donovan Varner
have made it a much deeper group.
8. Virginia's defensive adjustments.
In a week's span, the Cavaliers have had to study two completely different offensive schemes in Georgia Tech's run based triple option and Duke's high-flying passing attack that leads the ACC in passing offense with 322.57 yards per game. This is what UVA excels at, though, as the Cavs have the ACC's top passing defense. Virginia ranks fifth nationally, allowing just 151.29 yards per game. They haven't allowed more than 190 passing yards in a game this season.
9. A new interception streak.
At the beginning of the season, it was NC State's Russell Wilson. Now it's Virginia quarterback
Jameel Sewell
who is on a roll without an interception. Sewell has not been intercepted in his last 141 pass attempts, dating to the Southern Miss game. The school record for consecutive passes without an interception is 231.
10. Boston College linebacker Luke Kuechly.
If you haven't seen him play yet, it's time, as he's already drawn comparisons to Mark Herzlich and is currently the leading freshman tackler in the nation with 10.38 tackles per game. Kuechly leads BC with 51 solo tackles, 58 assisted. He had a game-high and career-tying 14 tackles against the Irish and had one pass breakup, and he'll face another top quarterback this week in Central Michigan's
Dan LeFevour
.
October, 28, 2009
10/28/09
11:00
AM ET
Posted by ESPN.com's Heather Dinich
It was the kind of performance that will resonate for many years to come -- one that caught the attention of coaches throughout the ACC and couldn't be ignored nationwide.
| | |
| --- | --- |
| | |
| | AP Photo/Gerry Broome |
| | Thaddeus Lewis has completed 64.1 percent of his passes for 1,972 yards and 14 touchdowns. |
Duke quarterback
Thaddeus Lewis
completed 40 of 50 pass attempts -- something you probably couldn't do in your backyard if you tried, let alone against a BCS-level defense, for 459 yards and five touchdowns in a 49-28 road win over NC State on Oct. 10.
"And we dropped some," said wide receiver
Austin Kelly
. "He could've easily been 45 for 50 or 46 for 50. It's one game I'll remember for the rest of my life, that performance he had at NC State."
While other talented quarterbacks and their fans throughout the country are clamoring for attention and awards, Lewis is quietly trying to achieve the one reward he desperately wants above all others -- a bowl invitation -- and he's getting them closer. In the past three games, Lewis has thrown for 1,189 yards and nine touchdowns. The win over Maryland last weekend marked the first time since 1994 Duke has defeated back-to-back ACC opponents. This week, they head to Virginia in search of the next step toward reaching their postseason goal, which requires three more W's.
"It would be huge, just because of all the adversity we faced being here at Duke, going 1-11, or 1-12 the last two years, but obviously battling back to turn this program around," Lewis said. "It would be huge. With this being my last season, this is the start of building a program. I want to help contribute to getting these guys to a bowl game, to where they can get that experience and want to get there every year."
This team wouldn't even be close to bowl eligibility without Lewis. He has accounted for 17 of Duke's 23 touchdowns this year. He has completed 64.1 percent of his passes (164 of 256) for 1,972 yards and 14 touchdowns with three interceptions. He's also rushed for three touchdowns. He's the reason Duke leads the ACC in passing offense and ranks third in total offense. His career numbers rank him among the ACC's best.
"He's a special young man," said Duke coach David Cutcliffe. "It goes beyond what he does on the field for us. He's a tremendous leader. Quarterbacks sometimes try to be leaders. Thad Lewis doesn't have to try. People respond to him. He's very spirited, even going back to camp, when he was so sick with the swine flu and had a significant ankle injury, he never lost his spirit. You wouldn't believe how many times he tried to practice or tried to go through it and I had to just pull him out. I think his team saw that and his play right now is so consistent and so good. He's a very talented young man. Guys on both sides of the ball feel like if we play well, Thad's going to give us a chance to win games because he can make so many plays."
A win over Virginia isn't out of the question on Saturday, especially considering Duke started the 2008 ACC season with a 31-3 win at home against the Cavaliers. The Blue Devils' defense forced six turnovers in the game and outscored the Cavaliers 28-0 after halftime.
If they're going to do it again, though, they'll have to continue to depend on Lewis.
"I feel like he's the MVP of this team," Kelly said. "I say that with confidence. I feel like the things he's doing this year, it's been amazing. It's an honor to be a part of the same team as him."
If Lewis keeps it up, they might be teammates for one extra game this year.
April, 22, 2009
4/22/09
10:08
AM ET
Posted by ESPN.com's Heather Dinich
Duke coach David Cutcliffe made a difference in his first season, winning four games in 2008. While that might sound like a disastrous season for many, the Blue Devils won as many games last season as they had in the four previous seasons combined. Still, it wasn't good enough for Cutcliffe, who thought they were capable of winning more. He discusses that and more in our interview this week:
| | |
| --- | --- |
| | |
| | Kevin C. Cox/Getty Images |
| | While his program showed signs of improvement in 2008, David Cutcliffe knows there is still work to be done. |
Ok, let's go ahead and get this one out of the way. Can Greg Paulus really throw the football well enough to be a college quarterback?
David Cutcliffe: Greg can throw the ball. I haven't seen him throw it in person, but I saw him on high school tape, and he threw the ball a lot and effectively. My dealings with him, I kind of started that. I actually called Mike Krzyzewski first, just to say, 'Hey, I'm going to call Greg.' I wouldn't do it without telling Mike first. We had six practices left, and he could play a little receiver. It would be very difficult for him to start for us at quarterback. He just decided if it wasn't pure quarterback he wasn't interested in it, so we'll see what happens, but you don't bet against a competitor. Ever. He is definitely a fierce competitor.
Do you have a pretty good relationship over there with Coach K? Or do you guys not really see each other much?

DC: Absolutely, great. I'm one of his biggest fans. I have watched him practice, I love to hear him teach, I love conversations with him because he is the epitome of a coach. He's always teaching. I just think he's a master, I really do. I enjoy everything he does with his program.
About your program, what is the biggest change you've seen since you took over?
DC: People starting to believe we can win at Duke, most importantly our players, but not unimportantly our fans. Our fans, we're creating a little expectation. People say you're crazy, well I don't think so. I don't know if you'd call it revitalizing, because it basically had gone dead. Part of beginning a program is to make people believe we can win at Duke.