NCF Nation:

Austin Shepherd
November, 10, 2013
Nov 10
1:45
AM ET
TUSCALOOSA, Ala. --
T.J. Yeldon
doesn't have to raise his voice. There's a perpetually serious look about him during games, a rage that smolders from behind his face mask. His is a silent sense of purpose, a will that rarely bubbles into words. The throat-slashing gesture he used against Texas A&M earlier in the season underscores his quiet intensity.
Alabama's starting running back didn't make a sound after stomping on the throat of LSU on Saturday night. He didn't speak with the media after running for 133 yards and two touchdowns in a 38-17 victory that kept the top-ranked Crimson Tide undefeated and on track for a berth in the BCS title game. And why should he? His play did all the talking -- his ability to read blocks, stop on a dime and change direction. He took the offense on his back when it mattered most.
[+] Enlarge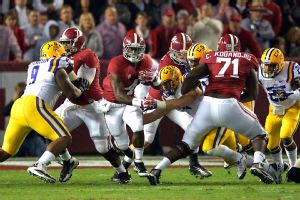 John David Mercer/USA TODAY SportsT.J. Yeldon ran through the LSU defense with ease, enabling Alabama to control the ball and the game.
"He doesn't say a word," said UA right tackle
Austin Shepherd
of Yeldon. "I try to talk to him, and he won't."
It's not meant to be callous or self-centered, Shepherd explained, it's just Yeldon's way.
"He's just focused on the game," Shepherd said. "I think that he's just focused on what he needs to do.
"That dude's awesome. I love blocking for him. He sees and makes cuts that are unbelievable. He makes us look good and makes our job easy."
When Yeldon got locked in against LSU, everything came together for Alabama. The Tide offense had been up and down in the first half, troubled by inconsistent execution up front and a passing game that left something to be desired. But when Alabama made a concerted effort to feed Yeldon the ball and dominate the line of scrimmage, the entire tenor of the game changed. Alabama got back to smash-mouth football, and all hope of an LSU upset vanished. Yeldon, who ran for 104 yards in the second half alone, carried the ball six times during a 10-play, 71-yard drive that took 4 minutes, 44 seconds off the clock and put Alabama up by two touchdowns in the fourth quarter.
"That's the best thing about him: We can just keep smashing the ball," Shepherd said.
AJ McCarron
, Alabama's veteran quarterback, said Yeldon's ability to move the chains was instrumental in keeping LSU's defense off balance. The safeties crept toward the line of scrimmage to stop the run, and McCarron made them pay with the pass, completing 5 of 7 attempts in the second half.
Alabama scored 21 second-half points to LSU's 3.
"Any time you have balance it dictates what we want to do and puts the defense in a bind," McCarron explained.
"It seemed they went around the end, and they seemed to go inside, too," LSU coach Les Miles said. "T.J. had guys that were unblocked right at the point of attack and made them miss and would go get yards. The drive on some of those runs were pretty special."
In a game that was characterized by its physicality, Alabama came out the victor. LSU, try as it might, didn't have enough bullets to stay in the fight.
Alabama's defense manned up, and the offense was as bruising as ever. Yeldon benefited from a line that shared his same will to dominate. Its performance was eerily reminiscent of the play of last year's group that took control against Georgia in the SEC championship game and later sent three players to the NFL in April.
Shepherd said the goal was to punish LSU up front, and he felt that goal was accomplished.
"It's the line of scrimmage," he said. "It's who controls that that it's going to come down to."
Alabama's offensive line pushed the pile, and Yeldon took full advantage. Together they demoralized LSU, though it was Shepherd who had to speak up for a noticeably absent Yeldon after the game.
He might not say much, but Yeldon's actions were powerful Saturday night in Tuscaloosa. He proved to be the perfect battering ram to accomplish Alabama's goal: Silent, yet brutally effective.
September, 2, 2013
Sep 2
7:00
AM ET
ATLANTA --
Anthony Steen
,
Ryan Kelly
and a few of their fellow offensive linemen huddled near the makeshift stage at the 50-yard line, outside a yellow rope that separated players from the media on the field of the Georgia Dome in Atlanta. Alabama was being presented a leather helmet for beating Virginia Tech 35-10 in the Chick-fil-A Kickoff Game, but this group of disgruntled players weren't interested in watching the celebration.
AJ McCarron
,
Christion Jones
and the rest of the stars of the game smiled for the cameras while Kelly and Steen had their backs to the action. Turning toward one another, they did their best to figure out what just went wrong. A year after having the best offensive line in college football, the Crimson Tide's front five looked underwhelming. It was a foreign site for the mass of Alabama fans that packed the domed stadium hoping to see what three new starters could do against a Virginia Tech defense decimated by injuries and attrition. In an unusual sight, the line of scrimmage wasn't awkwardly disjointed.
Steen, a third-year starter at right guard, wasn't expecting the amount of movement Hokies defensive coordinator Bud Foster threw at them. The defensive line went east and west where the Tide expected it to go north and south. Alabama wants to go straight at you on offense, and against Virginia Tech it couldn't get the correct angles to do that. The result: 12 tackles for loss, four sacks and a running game that could never really get going. Even AJ McCarron struggled to set his feet and deliver the ball downfield. Alabama's 96 rushing yards and 110 passing yards would have both been the worst production of any game last season.
"We celebrated a little bit, but it was just a little quiet," he said. "We expected to go out there and win by 50."
NFL scouts on hand for the game put it in more striking terms.
"The O-line got their a-- kicked," one scout said.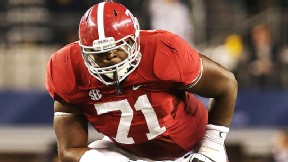 Kevin Jairaj/USA TODAY SportsLeft tackle Cyrus Kouandjio said "all the little things" stacked up against the Alabama offensive line against Virginia Tech.
The general consensus among professional evaluators was that if Alabama doesn't get better up front and runs the ball effectively, it won't be able to win a third national championship.
It wasn't the newcomers on the line that stood out the most, though. Left tackle
Cyrus Kouandjio
, the anchor of the group and a presumptive early first-round pick in the coming draft, was a turnstile at times, slow of foot as Virginia Tech's defensive ends cut around him to reach the quarterback. Alabama tried running behind Steen to start the game, having
T.J. Yeldon
carry the ball in his direction for the first three carries, but the results were gains of 2, 4 and 4 yards.
"We had good plays and we had bad plays," Kouandjio said. "It's a good thing this is the first game and we have a bye week to iron out the kinks and go back at it.
"They moved around a lot. It's all the little things that kind of got to us tonight."
Alabama coach Nick Saban put it more succinctly: "They outplayed us up front, if you want to know the truth."
"We were soft," he added. "Didn't have a solid pocket. Quarterback didn't feel comfortable. Timing in the passing game wasn't what it needed to be in terms of how much time we had to throw it, how much time we had to get open. Those are the kind of things I think we really need to improve on."
Saban replaced left guard
Arie Kouandjio
, a first-time starter after back-to-back knee injuries early in his career, for backup
Kellen Williams
, who performed ably but not spectacularly in the second half. The other new addition to the line, right tackle
Austin Shepherd
, couldn't do much to get the running game going on his side.
The result was obvious: This is not the Alabama offensive line that dominated offenses with the likes of Barrett Jones, Chance Warmack and D.J. Fluker. This line had trouble with an unranked Virginia Tech team that, while enthusiastic, doesn't have the depth of many SEC defenses Alabama will face this season.
The good news is Alabama gets the benefit of the bye week and will have a full two weeks to prepare for No. 7 Texas A&M, which had nine tackles for loss in a season-opening win over Rice. The matchup in College Station, Texas, is arguably the biggest game of the season for the Tide, who lost to
Johnny Manziel
and the Aggies last season.
"We had a lot of guys out there that were ready to get out there and play," Steen said. "Some of us were nervous. Heck, I was nervous a little bit in the beginning -- first game of the season, who's not? As the season goes on, we'll be able to tell how good we'll be."
TOP 25 SCOREBOARD
Saturday, 12/21
Monday, 12/23
Tuesday, 12/24
Thursday, 12/26
Friday, 12/27
Saturday, 12/28
Monday, 12/30
Tuesday, 12/31
Wednesday, 1/1
Thursday, 1/2
Friday, 1/3
Saturday, 1/4
Sunday, 1/5
Monday, 1/6
TOP PERFORMERS