NCF Nation:

Austin Walker
July, 1, 2011
7/01/11
3:30
PM ET
Moving on to the safeties …
[+] Enlarge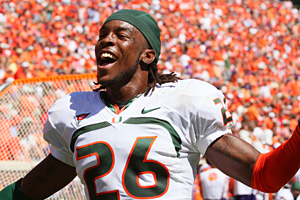 Marvin Gentry/US PresswireRay-Ray Armstrong is among the leaders of a strong Miami secondary.
1. Miami:
Vaughn Telemaque and Ray-Ray Armstrong return, but JoJo Nicolas moved to corner. Even though Armstrong wasn't a starter last year, he still ranked third on the team with 79 tackles and tied for the team lead with three interceptions.
2. Florida State:
The Seminoles return both starters in Nick Moody and Terrance Parks. Moody had 79 tackles last season and Parks had 44 and six deflections. The group was strengthened with the addition of Lamarcus Joyner, who moved from cornerback and proved this spring he's capable of being a safety.
3. NC State:
The Wolfpack has two of the best in Earl Wolff, the team's leading tackler last season with 95, and Brandan Bishop, who had 56 tackles and a team-high four interceptions. Dontae Johnson (22 tackles), also returns.
4. Virginia Tech:
Eddie Whitley is the lone returning starter, but he should be one of the best in the ACC. Antone Exum, who was the No. 2 free safety last season, moved to rover this spring. He played in every game last season and had five starts when Tech went to its nickel defense.
5. Virginia:
The Cavaliers return veteran starters in Rodney McLeod and Corey Mosley, who have combined for 41 career starts. Mosley had 52 tackles and two interceptions last season, and McLeod had 54 tackles and four pass breakups. Safety Dom Joseph (34 tackles) also returns.
6. Duke:
The Blue Devils return both starters in Matt Daniels and Lee Butler. Daniels, a senior, has started 25 career games and is one of the top returning tacklers in the ACC. Butler had 58 tackles and nine passes defended last season.
7. Boston College:
The Eagles return juniors Jim Noel, who had four interceptions in eight starts, and Okechukwu Okoroha, who started the final six games last fall. Noel, Okoroha, and Dominick LeGrande combined for 90 tackles last season.
8. Wake Forest:
Both starters return in Daniel Mack and Cyhl Quarles. Mack had 45 tackles and two interceptions last season. Duran Lowe (30 tackles) could unseat Quarles, who is Wake's leading returning tackler with 71 hits. Redshirt freshman Desmond Cooper is also competing for playing time.
9. Clemson:
Rashard Hall has 19 career starts and made 62 tackles and two interceptions last season. Safety Jonathan Meeks (28 tackles, one start) also returns, along with Carlton Lewis.
10. Maryland:
Just as Kenny Tate's move to linebacker bumped the Terps up in the ranking in that category, his departure from safety drops them a few notches as they now don't have any returning starters there. They do, however, have experience. Eric Franklin played in 11 games, with 23 tackles and three interceptions (tied for second on the team). Matt Robinson played in all 13 games and posted 29 tackles and forced a pair of fumbles. The Terps have plenty of depth with Austin Walker, Titus Till, Anthony Green and Desmond Haynes.
11. North Carolina:
Matt Merletti had five starts and Jonathan Smith, who lettered in 2008 and 2009 but missed all of last season, are the projected starters. They will be pushed by junior Gene Robinson (four starts, 30 tackles, one interception) for playing time.
12. Georgia Tech:
The Jackets had to replace both of their safeties in Mario Edwards and Jerrard Tarrant. Safety Fred Holton (11 tackles) and Isaiah Johnson (46 tackles, one interception) are the two most likely front-runners to start this fall.
June, 18, 2010
6/18/10
9:00
AM ET
On Monday, NC State quarterback
Russell Wilson
buried his father. Our thoughts and prayers are with him this weekend as our fathers are celebrated. Wilson's father, Harrison, died on Friday after a long illness, but at his funeral, his son remembered fondly what an impact he had on his athletic career. Russell's father played football at Dartmouth and then made it to the last cut for the San Diego Chargers AFTER completing his law degree.
According to school spokesman Annabelle Myers, Russell and his brother spoke at the funeral and told countless stories about their dad waking them to throw baseballs to them, and how the three of them would go out and one would play quarterback, one would play wide receiver, and one would play running back.
These are the moments and memories our dads deserve a big thanks for this weekend. In honor of Father's Day, here's a look at some of the ACC's 'Famous Fathers,' and the players who share their legacies. Thanks to the sports information directors in the league and Mike Finn in the Greensboro office for making this post possible:
BOSTON COLLEGE
Redshirt freshman defensive end Max Holloway's father (Brian) played 10 seasons in the NFL (with Patriots and Raiders). His maternal grandfather, Johnny McKenzie, played 19 seasons in the NHL, winning two Stanley Cups with the Boston Bruins.
Junior wide receiver Chris Fox's father (Tim) was an All-American at Ohio State under Woody Hayes and played 10 years in the NFL (with the Patriots, Chargers and Rams).
Redshirt freshman wide receiver Hampton Hughes' father played for six years for the Dallas Cowboys.
Junior linebacker Mike Morrissey's father (Jim) played nine seasons in the NFL for Chicago and Green Bay.
CLEMSON
QB Mike Wade, LB Chris Richardson and Landon Walker: Their fathers, Mike Wade Sr., Chuckie Richardson and Gary Walker, played on the national championship team in 1981.
DUKE
Kicker Paul Asack's father Phil Asack was a 1971 Duke graduate who lettered for three seasons before joining the San Diego Chargers.
Redshirt sophomore offensive tackle Conor Irwin's father Tim Irwin played football at the University of Tennessee and in the NFL from 1981-94 with the Minnesota Vikings, Tampa Bay Buccaneers and Miami Dolphins. As an aside, his uncle, King Irwin, played football at Georgia Tech.
Wide receiver Matt Pridemore's father Tom Pridemore played at West Virginia and for the Atlanta Falcons.
Receiver Brandon Braxton's father David Braxton played for the Minnesota Vikings, Phoenix Cardinals and Cincinnati Bengals.
FLORIDA STATE
QB Christian Ponder's father, David, was a defensive lineman at FSU from 1980-83.
Redshirt freshman defensive end Dan Hicks' father is former FSU standout and NFL veteran Dan Footman.
Incoming freshman linebacker Christian Jones' father, Willie Jones Sr., was a standout defensive end for the Seminoles (1975-78) and a second-round draft choice of the Oakland Raiders in 1980 and returned to FSU as a graduate assistant football coach in 1988.
Quarterback Clint Trickett, who enrolled as a freshman in January and took part in spring practice, is the son of FSU assistant head coach/offensive line coach Rick Trickett. Travis Trickett, another son who has been a videographer in the FSU football program, will be the graduate assistant on offense this season.
GEORGIA TECH
Junior safety Cooper Taylor's father, JimBob Taylor, played quarterback at Tech.
Senior wide receiver Kevin Cone's dad, Ronnie, played running back at Tech.
Senior running back Lucas Cox's brother, Michael, was a three-year starter at fullback for Tech and now plays for the Kansas City Chiefs.
MARYLAND
Defensive lineman Joe Vellano's father, Paul, played for Maryland (1971-73). He was an All-American defensive lineman in 1972 and All-ACC in 1972-73.
Defensive back Austin Walker and defensive lineman Alex Walker are the sons of Doc Walker, who starred at UCLA from 1974-77 before being drafted by the Cincinnati Bengals. He also started at tight end from 1980-85 for the Washington Redskins, playing for the 1982 Super Bowl championship team. Their father is currently a local sports-talk radio host for Sportstalk 980 and also covers ACC football for Raycom television.
Running back Davin Meggett's father, Dave, played in the NFL for three different teams -- the New York Giants (1989-1994), the New England Patriots (1995-1997) and the New York Jets (1998).
MIAMI
Backup quarterback A.J. Highsmith's father, Alonzo Highsmith, and running back Damien Berry's father, Kenny Berry, played for Miami. Highsmith played at Miami from 1983-86 and in the NFL for seven years. Berry was at Miami from 1987-89.
Backup quarterback Spencer Whipple is the son of assistant head coach and offensive coordinator Mark Whipple.
NORTH CAROLINA
Punter C.J. Feagles's father, Jeff, is currently the New York Giants punter and has played 21 seasons in the NFL.
Backup quarterback Bryn Renner's father, Bill, was a punter at Virginia Tech and for the Green Bay Packers.
Offensive tackle Brennan Williams' father, Brent, played in the NFL from 1986-93 with the Patriots, Seahawks and Jets.
Linebacker Shane Mularkey's father, Mike, is the offensive coordinator for the Atlanta Falcons.
NC STATE
R.J. Mattes' father, Ron, played at Virginia, where as a senior in 1984 he was an all-ACC defensive tackle for George Welsh. He also played offensive tackle in the NFL for the Seahawks, the Bears and the Colts. He is now coaching at Virginia as offensive line coach.
VIRGINIA
Wide receiver Jared Green is the son of Darrell Green, who was a standout cornerback for the Washington Redskins and a 2008 inductee into the Pro Football Hall of Fame. Jared gave his father's induction speech at the ceremony.
Cornerback Chase Minnifield is the son of Frank Minnifield, a Pro Bowl cornerback for the Cleveland Browns, playing from 1984-92.
VIRGINIA TECH
Zac Evans is the son of George Evans, who was a starter on the Hokies' offensive line and lettered from 1979-82.
Kenny Lewis, Jr., is the son of Kenny Lewis, Sr., a standout running back for the Hokies who is enshrined in the Tech Sports Hall of Fame.
Beau Warren's father, Donnie Warren, played 14 years in the NFL for the Washington Redskins.
Freshman linebacker Chase Williams, who entered school in January, is the son of Gregg Williams, the defensive coordinator of the Super Bowl Champion New Orleans Saints.
Linebacker Jeron Gouveia-Winslow is the son of Kurt Gouveia, who was also a starter for the Redskins.
Wiley Brown's father, Chuck Brown was deemed the Godfather of GoGo music.
WAKE FOREST
Quarterback Brendan Cross is the son of former 49ers center Randy Cross.
Linebacker Joey Ehrmann is the son of Joe Ehrmann, who played for the Colts and Lions.
Center Chance Raines' father, Mike, was an All-American at Alabama under Bear Bryant.
Quarterback Ted Stachitas' father, Len, is vice president of the National Football Foundation and the executive director of the NFF's Play It Smart Program, a highly successful youth development program.