NCF Nation:

Averee Robinson
June, 11, 2013
6/11/13
9:00
AM ET
There are plenty of first-year players to watch in the soon-to-be renamed Big East this fall. Here is a quick look at those with the potential to have breakout seasons.
[+] Enlarge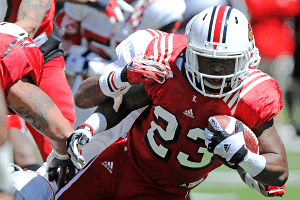 Jamie Rhodes-USA TODAY SportsLouisville Cardinals running back Brandon Radcliff really stepped up in the spring game.
Brandon Radcliff, RB, Louisville.
With
Senorise Perry
out this spring, Radcliff got an opportunity to show what he can do. Radcliff ended up with 56 yards on five carries in the spring game and seems poised for more. Perry's status for the start of the season remains up in the air, so watch for Radcliff and
Dominique Brown
to carry the load early on.
Prescott Line, RB, SMU.
His brother, Zach, was a constant in the Mustangs' backfield over the last several seasons but now he's gone. That leaves big shoes to fill. Line is next in line to help carry the load, as he had a good spring and should see plenty of action this year with Traylon Shead in the backfield.
Chris Muller, RG, Rutgers.
Muller was a huge get for Rutgers when he signed back in 2012, and now he is poised to see some serious game time as a redshirt freshman. He is listed on the post-spring depth chart as the co-starter at right guard with veteran
Antwan Lowery
.
Averee Robinson, DT, Temple.
Robinson, the younger brother of former Owls standout Adrian Robinson, enrolled in January and made his presence known in the spring, earning reps with the second team. He had a great performance in the spring game (four sacks) and certainly will be in the Owls rotation come fall.
Luke Adams, DE, UCF
. Adams was easily one of the bright spots for the revamped Knights' defensive line in the spring and finished camp penciled in as the starter.
February, 8, 2013
2/08/13
11:33
AM ET
When Temple coach Matt Rhule arrived on campus two months ago, not only did he face the enormity of having his first job as a head coach, he all of a sudden had to recruit at warp speed.
Rhule had to re-recruit commits; he had to draw up a new list of players he wanted to go after; he had to start calling high school coaching contacts in the area, built during his years as a Temple assistant, hoping to find a few gems that had been ignored to that point. You can safely bet Rhule did not get much sleep over the past 60 days, but he did end up with a 23-man signing class Wednesday that will begin to lay the foundation for his program.
[+] Enlarge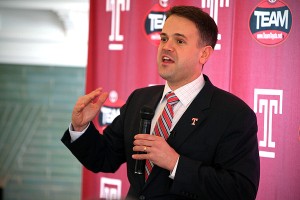 Patrick Rosenbaum, Temple UniversityTemple coach Matt Rhule speaks in Scranton, Pa., one of three cities he visited Thursday as part of Temple's signing day celebration.
Time for a deep breath?
Hardly.
On Thursday, Rhule embarked on a barnstorming tour of the Northeast as part of Temple's National Signing Day celebration, speaking with fans and alumni to build excitement for Temple football, and this class in particular. Rhule started his day with breakfast in Philadelphia; lunch in Scranton, Pa., and then cocktails in New York.
Before he even took the mic in New York, his voice had faded to a scratch. But his enthusiasm had not. To Rhule, an exhausting 13-hour day on the road was worth every second, and every bit of losing his voice. He wants fans to get to know these players for more than just their football exploits. He wants them to understand that he is more than a football coach himself. He is a representative of Temple.
To that end, he shared stories and anecdotes about each player he signed. Personal stories, not football stories.
Like the one involving a tabby cat.
Rhule and offensive line coach Allen Mogridge went for a home visit to see offensive lineman
Leon Johnson
out of Plainfield, N.J. Former coach Steve Addazio had not recruited Johnson, so Rhule was putting on the full-court Temple press.
Rhule and Mogridge sat in one room with Johnson and his uncle. Johnson's mother sat in the next room, watching "Jeopardy!" refusing to come out. Johnson kept calling, "Ma, are you coming in?"
Ma: "I'm watching Jeopardy!"
As the four men sat talking, a tabby cat walked into the room.
"Finally, the mom came out to meet us," Rhule said. "She told me, 'I don't come to to meet any coaches, unless the cat comes out to meet the coaches. Cats know people better than I know people."
Johnson signed.
So did a handful of other players who were not recruited by Addazio. That list includes running back
Zaire Williams
, previously committed to West Virginia; defensive lineman Brian Carter, defensive back
Todd Jeter
, and defensive lineman Julian Taylor. Rhule was able to keep commits from three-star linebacker
Buddy Brown
, who had offers from Penn State and Pitt; three-star linebacker
Jarred Alwan
; and from
Averee Robinson
-- Rhule recruited his brother, Adrian to Temple.
"I felt really strongly I could go into my old recruiting area and talk to the coaches I knew, secretaries I knew, and they would all say, 'Matt how ya doing?' Rhule said. "Under Al (Golden) and under Steve, I spent so many years recruiting Pennsylvania and built what I call a book of business, that when people say 'when Matt comes in here, he's going to deal with you straight, and treat the guys the right way.'"
Now he will have much more time to assemble his next recruiting class, something he already is working on. All those connections will help.
"If you want to play big-time college football, you can do it in Philadelphia," he said. "You can set yourself up professionally and football-wise. We had Bernard Pierce -- he came to Temple, he stayed really close to home to his mother and his family, and here he is a year a later playing in the Super Bowl. Rod Streater went to junior college out of South Jersey and he came to Temple and he was trained on how to be a professional football player, and here he is starting for Oakland Raiders.
"People see you can come to Temple and play great football, get a great education, and go chase your dreams at the next level. I'm really excited what we can do here in the future."