NCF Nation:

Avery Peterson
August, 25, 2014
Aug 25
10:00
AM ET
BATON ROUGE, La. --
John Diarse
chuckled when he described himself as a veteran. He realizes how silly that sounds since he has yet to play in a college game, but it's the truth.
The funny thing is, having participated in two sets of spring and preseason practices, Diarse is actually one of the longest-tenured wide receivers on No. 13 LSU's roster.
"Seeing that I am a redshirt freshman, in some ways it does [feel absurd]," admitted Diarse, whose team opens the season against No. 14 Wisconsin on Saturday. "But I think I'm a vet in my mind, mentally, because I've been through the program and I know what it takes and the hard work that has to be done on and off the field. So in my mind I'm a vet, but as far as stats-wise and playing time, not really."
[+] Enlarge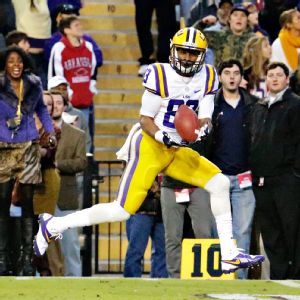 AP Photo/Bill HaberLSU's most experienced receiver is Travin Dural, who has all of seven career catches.
Take a gander at LSU's wideout depth chart.
Travin Dural
is the most experienced player, by far. He's a redshirt sophomore with all of seven catches for 145 yards to his credit. There is only one scholarship senior -- junior college transfer
Quantavius Leslie
-- on the roster. There are no scholarship juniors.
Once 2013 star juniors Odell Beckham and Jarvis Landry decided to enter the NFL draft, the Tigers' wideout depth chart now features that couple of inexperienced veterans and a host of guys like Diarse, who either redshirted last season or who will be enrolled in college for the first time this fall.
"We always joke about that in the receiving room about me being the oldest, but I take pride in being an older guy," said Leslie, who finished with one catch for 11 yards last season. "I just tell them what's right. I've been through this, so this is not my first year going through it."
But Leslie is unique in that regard at LSU. Many Tigers, like arguably the nation's top group of 2014 wideout signees, have only been on campus for a few months and still have plenty to learn.
Leslie and some of the older players like Diarse have learned all three wideout positions by now, but they only played one in their first seasons at LSU. That's a common trajectory for a newcomer, so a true freshman like
Trey Quinn
,
Malachi Dupre
or
D.J. Chark
-- all of whom are in the Tigers' plans for 2014 according to coach Les Miles -- would be well ahead of the curve if he becomes functional at more than one spot this fall.
"We've got a lot of smart guys," Diarse said. "Once these younger guys kind of catch the feel for it, they'll be able to do both inside and out."
Although he missed a portion of preseason practice, one skill that Dupre -- RecruitingNation's No. 1 wideout prospect for 2014 -- believes will help him contribute this season is his blocking ability. He played in a run-first offense at John Curtis in New Orleans, so clearing a path for running backs will be nothing new, even if the Tigers figure to put the ball in the air more frequently than what he's accustomed to seeing.
"I think that made me better coming into a situation like I am now where the ball will be in the air more," Dupre said. "But still remembering where I came from and thinking I had to make the best out of any opportunity I got in high school because I might not get another opportunity will definitely help now because I'll get more opportunities."
The greatest factor in the newcomers' development, though, will be time. They've had the summer and preseason practices to get a taste against all-conference-caliber defenders like
Tre'Davious White
,
Rashard Robinson
and
Jalen Collins
. Producing in games will be a different achievement.
That said, the freshmen have their veteran teammates excited about what they can accomplish in the future.
"All of them make plays. I was surprised at all of them," Leslie said. "They're not playing or practicing like no freshmen. They're practicing like they've been here."
And don't forget about Diarse's fellow redshirt freshmen
Avery Peterson
and
Kevin Spears
. Between those three and the Tigers' four true freshman wideouts, LSU has a huge group of pass-catchers preparing for their first college games on Saturday.
With that in mind -- plus the still-unannounced starting quarterback adding further uncertainty to the Tigers' passing game -- it would not be a surprise if offensive coordinator Cam Cameron plays it close to the vest on Saturday. But LSU's wideouts believe their summer practice time against a solid group of defensive backs has prepared them for this first test, even against a Wisconsin secondary that largely remains intact from a season ago.
"Everyone says that we're a young group and we have a young quarterback, whoever it's going to be, so it's like everyone says we're not going to be able to pass the ball," Dural said. "Being able to pass it in camp against our defense is exciting to us. We're moving the ball."
August, 18, 2014
Aug 18
9:00
AM ET
BATON ROUGE, La. --
Rashard Robinson
was in the middle of complimenting freshman receiver
D.J. Chark
when a reporter informed him that LSU coach Les Miles proclaimed Chark as possibly the fastest player on the team.
That's when Robinson's expression turned into a dismissive smirk.
"He's not the fastest," the sophomore cornerback said, shaking his head.
So who is?
[+] Enlarge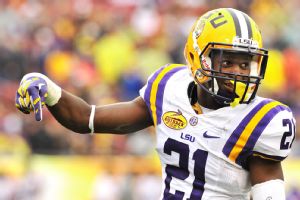 Al Messerschmidt/Getty ImagesRashard Robinson is one of at least four players who can claim to be LSU's fastest.
"I'm faster," Robinson chuckled. "[Or]
Avery Peterson
. But D.J., he's up there. He really is up there."
Since Miles made his initial statement about Chark's speed prior to preseason camp, he has revised his list of fastest Tigers a time or two. First it expanded to Chark and freshman tailback
Leonard Fournette
. Most recently, Miles said it could be any of at least four players.
After redshirt freshman receiver Peterson -- the younger brother of former LSU and current NFL speedster Patrick -- caught a touchdown pass in last Wednesday's scrimmage, Miles added Peterson to his list of candidates.
"It comes to mind that there are three fastest guys on our team right now and I just don't know which one really is the fastest guy on our team," Miles said. "So I think Leonard's pretty fast, I think Chark is pretty fast, I think Avery's pretty fast. I think I missed one. So maybe there's four fastest guys on the team."
Maybe it was Robinson that Miles was forgetting. Maybe it was freshman safety
Jamal Adams
, whom Chark included among the contenders. And it might have been someone like
Travin Dural
, who was a state-champion sprinter in high school.
On a roster that features as much athleticism as LSU's, it is no surprise that there is a contentious debate over which player is actually the fastest. For his part, Chark thinks Miles' initial assessment might actually be correct, but even he is willing to concede that the competition is close enough that the title could change hands frequently.
"Of course I feel like I'm going to win, but in reality it's all who gets the best takeoff at the start," Chark said, listing Robinson, Fournette and Adams as his top competition. "We have some pretty fast players here and I learned that from every day at workouts and sprints. We really have a fast team, so I think the fastest player is really who's having the best day that day."
Even Fournette, who outweighs the other contenders by at least 25 pounds, if not more?
"Yeah," Chark said, "Leonard can move."
August, 13, 2014
Aug 13
3:00
PM ET
BATON ROUGE, La. -- Les Miles didn't offer many specifics about LSU's first preseason scrimmage on Wednesday -- particularly about which quarterbacks completed the two touchdown passes -- but the Tigers' coach described the 26-play scrimmage as "pretty productive."
Miles confirmed that freshmen
Leonard Fournette
and
Malachi Dupre
are both dealing with injuries, adding that tailback Fournette ran a handful of times in "thud" drills (not full contact) and that he should participate in a greater role in Saturday's full scrimmage.
"He really could have been involved today, but [with] a little bruise, we decided not to," Miles said.
[+] Enlarge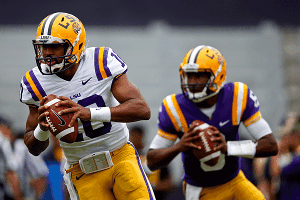 Derick E. Hingle/USA TODAY SportsCoach Les Miles said that QBs Anthony Jennings, left, and Brandon Harris are both grasping LSU's offense.
He made similar comments about wide receiver Dupre, who already missed a couple of practice days with an undisclosed injury.
"He's really nicked and on the heal and they don't think it's anything major in any way, but we've just got to continue to treat and get him going," Miles said.
He didn't say which quarterbacks threw the passes, but Miles did reveal that
Avery Peterson
and
Travin Dural
caught touchdowns in the scrimmage.
Speaking generally, he said that quarterback contenders
Anthony Jennings
and
Brandon Harris
are in command of the offense most of the time. The rest remains a work in progress.
"They're young, they're both engaged in leadership and want to have command of the offense -- and they do for the most part," Miles said. "They don't know what command is. They don't necessarily understand exactly what has to be communicated to make this thing go easy. They're learning.
"I'd say 70 percent of today was just very, very well done and 30 percent's probably not enough for anybody that sits in the stands to even notice. And yet that 30 percent we expect from our quarterbacks."
Miles said defensive tackle
Quentin Thomas
-- initially thought to be lost for the season with a torn bicep -- worked in individual drills on Wednesday and might still play this season.
"Today he went through individual and moved and used his hands. It's one of those things when you have a big old arm and you get it nicked, you can't quite tell what it is and what it isn't initially. Frankly he's as fortunate as he could be."
Miles added that the Tigers' occupational therapist, "looked at it and he says there's absolutely no reason to do anything else than rehabilitate and let him play."
Thomas' versatility:
One of the primary benefits of LSU's "Mustang" defense is that it's difficult to tell which rushers will attack the line of scrimmage on any given play. So perhaps it fits that one of the Tigers' key players in that package is
Dwayne Thomas
, since you never know where he might play.
Thomas said he has learned the duties of every position in the secondary, joining
Jalen Mills
as the only Tiger defensive backs who can do that.
"Corner, safety, nickel and dime -- I pretty much know the entire defense," Thomas said. "Wherever Coach [Corey] Raymond needs me, I just go fill in. It's a great opportunity to do that. Being able to be in the mix of any position is good for the next level."
Thomas said he added safety to his repertoire since the end of last season, having worked at the position throughout spring practice.
"Once I got safety down pat, that was like the last position I had to learn for the entire defense," Thomas said. "I had already been doing nickel and dime and corner. After the spring passed, getting all the safety reps down pat was just fantastic."
But it's that Mustang role where Thomas might make the biggest impact. Because of his speed off the edge -- aided by his ability to jump the snap count, work with assistant coach Brick Haley on the finer points of pass rushing and film study of former Mustang standouts Tyrann Mathieu and Ron Brooks -- Thomas could be even more valuable in that role this season.
"Dwayne really gives us what we're looking for at that position. He does a great job there," defensive coordinator John Chavis said when asked about who will play the rushing positions in the Mustang. "Jalen Mills has played a lot at that position. I'm not ready to say anything other than we expect Thomas to be one of those guys."
Kick returners:
Dural said one factor will probably determine who eventually wins LSU's kickoff and punt return jobs.
"We're battling every day to see who's going to drop the ball first," Dural chuckled.
Dural listed a half-dozen candidates who are contending for the return jobs when they catch balls before and after practice each day.
"It's just me,
Tre White
, Leonard, Jamal [Adams], Malachi,
Trey Quinn
. We're all back there battling for a spot," Dural said. "Everybody wants to be that dynamic player. Everybody wants to be the kickoff guy or [punt]."
LSU had one of the nation's best return men last year in Odell Beckham, who entered the NFL draft after winning the Paul Hornung Award as college football's most versatile player. Dural said it won't be easy to replace the explosive Beckham, but he believes the Tigers have plenty of promising candidates.
"It's hard to replace someone like that, but we have a lot of guys who have the ability to make those plays," Dural said. "Tre White, he's a guy that can return punts and return kickoffs as well as Leonard. Leonard's back there returning both of them. So as the season goes on, whoever that guy may be, you'll start to see him make those types of plays that Odell did."
March, 4, 2014
Mar 4
9:05
AM ET
Setting up the spring in the SEC West:

ALABAMA
Spring start:
March 15
Spring game:
April 19
What to watch:
Succeeding McCarron: The Crimson Tide must find the person who will step into AJ McCarron's shoes. There are several quarterbacks on campus: Blake Sims, Alec Morris, Parker McLeod and Cooper Bateman. The person most have pegged as the favorite, however, won't be on campus until the summer: Jacob Coker. A transfer from Florida State, Coker is finishing his degree before enrolling at Alabama. But new offensive coordinator Lane Kiffin will get a chance for a long look at the others this spring.
What's next for Henry?: Running back Derrick Henry has the fans excited after his Allstate Sugar Bowl performance (eight carries, 100 yards), and he brings great size to the position (6-foot-3, 238 pounds). T.J. Yeldon is a returning starter who is more experienced and battle-tested, and there are still other talented backs on the roster, such as Kenyan Drake. But plenty of eyes will be on the sophomore-to-be Henry.
Replacing Mosley: Linebacker C.J. Mosley was a decorated star and leader, so his presence will be missed. Alabama has plenty of talent in the pipeline; it's just not tremendously experienced. Watch for Reuben Foster and Reggie Ragland.

ARKANSAS
Spring start:
March 16
Spring game:
April 26
What to watch:
Keeping it positive: It's been rough around Fayetteville, Ark. The Razorbacks closed their season with nine losses in a row; coach Bret Bielema is a focal point in the unpopular NCAA proposal designed to slow down hurry-up offenses; and leading running back Alex Collins served a weeklong suspension last month for unspecified reasons. The Hogs could use some positivity.
A new DC: The Razorbacks will be working in a new defensive coordinator, Robb Smith. He came over from the NFL's Tampa Bay Buccaneers, where he was the linebackers coach. Smith made a significant impact at his last college stop, Rutgers, where he led the Scarlet Knights' defense to a No. 10 ranking in total defense in 2012.
Year 2 progress: Making a drastic change in scheme isn't easy to do, which is what the Razorbacks tried to accomplish in Bielema's debut season. In the second spring in Fayetteville for Bielema, things should come a little more easily as the Razorbacks continue to institute Bielema's brand of power football.

AUBURN
Spring start:
March 18
Spring game:
April 19
What to watch:
Picking up where they left off: The Tigers put together a memorable, magical 2013, and with eight starters returning on offense, keeping that momentum going is key. Replacing running back Tre Mason and O-lineman Greg Robinson won't be easy, but there is still plenty of talent on offense to aid quarterback Nick Marshall.
Marshall's progress: Marshall's ascent last year was impressive, but can he continue it? He's great with his feet and made some big-time throws last year. As he continues to progress as a passer, it should add another facet to the Tigers' explosive, up-tempo, multifaceted attack.
Improving the defense: The Tigers lost five starters from a group that was suspect at times last season. But defensive coordinator Ellis Johnson has a history of improving defenses from Year 1 to Year 2, and it should be interesting to see if he can do that at Auburn.

LSU
Spring start:
March 7
Spring game:
April 5
What to watch:
Jennings next at QB?: Anthony Jennings engineered a memorable, game-winning drive in the regular-season finale against Arkansas, leading the Tigers 99 yards downfield, capped by a 49-yard touchdown pass. His performance in the Outback Bowl was far from impressive, though, as he went 7-for-19 passing for 82 yards and an interception in the Tigers' win over Iowa. Still, he is considered the favorite to replace Zach Mettenberger. Competing with Jennings is Penn State transfer Rob Bolden and freshmen Hayden Rettig and Brandon Harris.
Starting over at WR: LSU loses two 1,000-yard receivers in Jarvis Landry and Odell Beckham, plus a senior (Kadron Boone). That's a lot of production to replace. Travin Dural, who made the game-winning catch against Arkansas, is back, as is Quantavius Leslie and Armand Williams. The Tigers have a host of redshirt freshmen joining the mix (John Diarse, Avery Peterson and Kevin Spears) and bring in several freshmen (Malachi Dupre, Trey Quinn, D.J. Chark) to compete for playing time. But replacing 72 percent of the 2013 receiving yardage will be challenging.
Finding safeties: Craig Loston has moved on, and the Tigers don't have a returning starter at safety. But they do have Jalen Mills, who slid from his cornerback spot to safety to start in the Outback Bowl. Corey Thompson, Ronald Martin and Rickey Jefferson all return, and ESPN 300 recruit Edward Paris Jr. is already on campus and will participate in spring practice.

MISSISSIPPI STATE
Spring start:
March 18
Spring game:
April 12
What to watch:
All eyes on Prescott: With some strong performances to close out the season in the Egg Bowl and in the AutoZone Liberty Bowl, quarterback Dak Prescott certainly played the part of an elite SEC quarterback. He'll enter the season with more national attention after putting together some gutsy performances while pushing through some personal adversity last season after the death of his mother.
Malone stepping in: Justin Malone was on pace to start at right guard last season, but was lost for the year with a Lisfranc injury in his foot in the season opener against Oklahoma State. With Gabe Jackson gone, the Bulldogs need another solid interior lineman to step up, and a healthy 6-foot-7, 320-pound Malone could be that guy.
Offensive staff shuffle: The Bulldogs added some new blood on the offensive coaching staff, bringing in young quarterbacks coach Brian Johnson, a former Utah quarterback. Billy Gonzales and John Hevesy were promoted to co-offensive coordinators, though head coach Dan Mullen will continue as the playcaller in games.

OLE MISS
Spring start:
March 5
Spring game:
April 5
What to watch:
Wallace's development: Coach Hugh Freeze believes quarterback Bo Wallace will be helped by having more practice this time around; last year, January shoulder surgery had Wallace rehabilitating most of the offseason, and Freeze believes it affected Wallace's arm strength later in the season. A fresh Wallace going into the spring can only help, and as he's heading into his senior season, the coaching staff will look for more consistency.
Status of Nkemdiche and Bryant: Linebackers Denzel Nkemdiche and Serderius Bryant were arrested last month and suspended. Ole Miss is investigating the situation, but their status remains undecided.
A healthy Aaron Morris: During the season opener against Vanderbilt, Morris tore his ACL and missed the rest of the season. The offensive guard was recently granted a medical hardship waiver to restore that season of eligibility. Getting Morris back healthy for 2014 is important for the Rebels as he is a key piece to their offensive line.

TEXAS A&M
Spring start:
Feb. 28
Spring game:
None (final practice is April 5)
What to watch:
Life after Johnny Manziel: Texas A&M says goodbye to one of the best quarterbacks in college football history and must find his successor. Spring (and fall) practice will be the stage for a three-way battle between senior Matt Joeckel, sophomore Kenny Hill and freshman Kyle Allen. Only one of those three has started a college game (Joeckel), and he played in just one half last August. Whoever wins the competition will be green, but all three have the ability to run the Aggies' offense.
Retooling the defense: The Aggies were pretty awful on defense last season, ranking among the bottom 25 nationally in most defensive statistical categories. They have to get much better on that side of the football if they want to be a real factor in the SEC West race, and that starts in the spring by developing the young front seven and trying to find some answers in the secondary, particularly at the safety positions.
New left tackle: This spring, the Aggies will have their third different left tackle in as many seasons. Luke Joeckel rode a stellar 2012 season to the No. 2 overall pick in the NFL draft. Senior Jake Matthews made himself a projected top-10 pick for this year's draft while protecting Manziel last season. This season, Cedric Ogbuehi gets his turn. Ogbuehi has excelled throughout his Texas A&M career on the right side of the offensive line (first at right guard, then at right tackle last season) and is looking to follow in the footsteps of Joeckel and Matthews.