April, 15, 2011
4/15/11
8:00
AM ET
Spring game:
4 p.m. ET on Saturday,
ESPN3.com
.
Questions answered:
After losing two starting linebackers, the position was a concern, but the young players had good springs. Telvin Smith, Christian Jones and Nigel Terrell each seemed more comfortable with the position, and the entire defense has grown entering the second season under coordinator Mark Stoops.
[+] Enlarge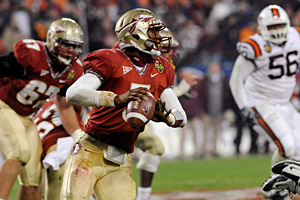 Sam Sharpe/US PresswireFlorida State is expecting big things from quarterback EJ Manuel this fall.
Questions unanswered:
The backup quarterback job is still a race between
Clint Trickett
and
Will Secord
. Offensive line issues still linger, particularly at center, where injuries have delayed progress. Three different players have rotated at the position this spring.
Spring stars:
Lamarcus Joyner has shown he can play safety at 5-foot-8, 192 pounds. It's more his natural position after playing cornerback. First-year starting quarterback
EJ Manuel
, who was healthy for spring practices for the first time, showed that he can run the offense, provide leadership, and the in-game experience has transferred over to his new role.
Of note:
Safety Avis Commack returned after missing last season with a broken leg he suffered while running hurdles with Seminoles' track team in February, 2010. The 6-foot-4 redshirt junior cornerback displayed good cover skills, has a big body, and adds some depth to the secondary as a backup. Offensively,
Jared Haggins
stepped in for
Taiwan Easterling
, who has been playing baseball. The converted high school quarterback made a seamless transition to the slot, was capable of playing the position, and earned the praise of coach Jimbo Fisher.
June, 4, 2009
6/04/09
3:02
PM ET
Posted by ESPN.com's Heather Dinich
It's only June, but Florida State's wide receivers are working with a sense of urgency and purpose not usually detected until August. They're lifting in the mornings, running in the afternoons, and participating in individual seven-on-sevens. They're catching about 100 balls from the JUGS machine every day.
And most importantly, they're trying to stay on their best behavior.
"It seems like the receivers are trying to get into trouble, and it's not like that," said walk-on Louis Givens, who is expected to be a major contributor this fall. "All of us are good guys, but we get caught in the wrong situation at the wrong time."
Rod Owens was suspended earlier this spring for a DUI charge, and Preston Parker was kicked off the team in February for multiple incidents. Richard Goodman, Bert Reed and Cameron Wade are all facing charges for their involvement in an on-campus fight last season. And to top it all off, Corey Surrency was denied an extra year of eligibility by the NCAA.
After making headlines for all the wrong reasons, this group is intent on cleaning up their image -- starting now.
"Our mentality is to set the right impression," said Reed, who added his priorities this offseason start with being accountable to his teammates and coaches. "That's what our main focus is right now. Coach wouldn't have recruited us if we weren't good guys. We're all good guys. We just made mistakes and we were making mistakes at the wrong time -- back to back to back.
"We're making too many mistakes and hurting our team, obviously. It's hurting us at the same time but it's building up so much it's starting to hurt our team. I really feel like it's got to be dealt with. The athletic department is dealing with things, and we're kind of putting them in a bind right now."
Both Reed and Givens insist, though, that the off-field incidents haven't put the Noles in a bind on it. They point to Jarmon Fortson, Avis Commack and freshman Josh Gehres as players who made significant progress this spring. Tight end Caz Piurowski should also have an increased role in the passing game, and it would help dramatically for FSU to get Taiwan Easterling back from a ruptured Achilles.
"I wouldn't say we really lost a step," said Givens. "All these guys who backed up the guys from last year are here now, and they could have played last year and not missed a step. The spring was really strong."
Plus, the Noles have Reed, whose 23 receptions last year leads all returning receivers, and Givens, who caught two passes for 33 yards against Wisconsin in the Champs Sports Bowl.
Reed has bulked up from 166 to 178 and has made the weight room a priority. He said part of the problem last year was that receivers weren't holding their blocks long enough to spring a big play.
"I've been working hard in the weight room," he said. "I want to block, I want to get in somebody's grill. That's been one of my main goals, if not my main goal, is just to put on some more weight, knowing you're going to take a little bit more pounding being in on every play, and playing outside receiver, I feel like guys can jam you, so I have to be prepared for that."
The receivers have also benefited from the steady progress of quarterback Christian Ponder, who is entering his second season as a starter.
"Ponder is putting it on the money," Reed said. "It doesn't really matter who the receiver is. That's what he's showing us -- it doesn't matter who it is out there running the route, he's going to put it in your chest. It's up to you to catch the ball, and all of us guys can catch the ball. We catch 100 balls a day from the JUGS. We have enough talent to play."
Their talent was never a question. Now they're out to prove discipline isn't one either.
Posted by ESPN.com's Heather Dinich
CHAPEL HILL, N.C. -- Sorry for the delay, but Spanky's on Franklin Street was calling my name for dinner.
Here's what happened throughout the league today, per the latest available report from each team:

BOSTON COLLEGE
The defense stole the show in the Eagles' second scrimmage, and that's not a surprise. But eight sacks and four interceptions?
The offense had 64 net rushing yards. Yikes.
Chris Crane completed 14-of-25 passes for 178 yards and a touchdown.
Junior Rich Gunnell led all receivers with three catches for 83 yards and a touchdown.
Sophomore Billy Bennett connected on field goals of 26 and 38 yards while senior Steve Aponavicius nailed a 29-yarder.
True freshman Ryan Quigley punted the ball three times for 104 yards (34.3 average) with a long of 36 yards while sophomore Billy Flutie punted once, a 33-yarder.
Quotable:
"The defense brought a whole lot of blitzes today," Crane said. "It's comforting to know this defense will be playing on our side of the ball this fall. It's a benefit to play against them every day."
---

FLORIDA STATE
Rodney Gallon confirmed today that he is no longer a part of the Seminole football team. He told the FSU sports information office he will be enrolled in school this fall and is excited to complete the final nine hours toward his degree. Football is just not part of his future right now but completing his college degree is a priority.
Preston Parker was held out of practice due to a cervical sprain. Tony Carter also suffered a cervical sprain and did not finish practice. Freshman Terrance Parks suffered a right knee contusion at the end of the session as well.
Highlights
---

GEORGIA TECH
Quarterback Josh Nesbitt didn't practice this afternoon with a shoulder injury and neither did Andrew Gardner, Sr., OT (also a shoulder). Both are day-to-day and neither is in jeopardy of missing the opener. Nesbitt got a "stinger" when a teammate fell on his shoulder.
Practices will be closed beginning Monday. It was good while it lasted.
Highlights:
The Yellow Jackets spent two periods this morning working on 3rd-and-5 situations. Back-up safety Troy Garside intercepted a Bryce Dykes passas.
Senior quarterback Calvin Booker connected with sophomore Demaryius Thomas on a 35-yard touchdown completion.
---

MARYLAND
The Terps worked on clock management and ended with two-minute drills.
There is still a battle at strongside linebacker where incumbent Moise Fokou is trying to hold off Adrian Moten for the starting nod. Regardless of who starts, both are likely to play extensively, including on special teams.
During the full-team drill, wide receivers LaQuan Williams and Torrey Smith caught touchdown passes.
Quotable:
"We came out today and they were tired and sore," coach Ralph Friedgen said. "This was a character practice. We had a pretty good practice. I had to push them, but that's my job. I told them I'm going to get every ounce of energy and every ounce of talent out of them."
---

MIAMI
The Hurricanes continued to stress special teams, and the defense focused on run blitzing drills with specific emphasis on red zone and run formations.
After five practices in the past three days, coach Randy Shannon is giving his guys Thursday off.
They'll scrimmage on Friday.
Quotable:
"The other day I didn't like the way we were practicing, but we came out this morning and this afternoon and finished up strong," Shannon said. "We had a lot of enthusiasm and we made a lot of plays on both sides of the football so we're excited about that. It was a big improvement from the other day."
---

WAKE FOREST
The Demon Deacons had their second two-a-day practice in preparation for tomorrow's scrimmage, which I will attend.
Highlights:
In the first practice, during 7-on-7 drills, quarterback Riley Skinner hit running back Josh Adams on a long pass down the left sideline on the first play of the drill.
Cornerbacks Chip Vaughn and Brandon Ghee each made a couple of nice pass breakups.
Quotable:
"I would like to see some improvement from the younger classes," said coach Jim Grobe. "We have older guys that are doing pretty much what we thought they would be doing at this point -- having good camps and making minimal mistakes. I think the key to a season is to have the younger guys step up. No matter how good your upperclassmen are, you are going to have to play young guys at some point, whether you are comfortable or not. So I would like to come back to the office after the scrimmage tomorrow and feel like our young guys made pretty good strides."