NCF Nation:

B.J. Anderson
April, 28, 2014
Apr 28
2:30
PM ET
In their two seasons together at Texas A&M,
Mike
and
Jake Matthews
had distinct roles and personalities.
Jake was the cagey veteran, a quiet leader and productive offensive tackle who helped anchor one of the best units in the country. Mike was the up-and-coming center, the younger brother was a little bit louder and "rowdy," according to a teammate.
[+] Enlarge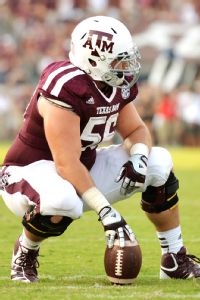 Thomas Campbell/USA TODAY SportsAs his brother Jake heads off to the NFL, center Mike Matthews is preparing to lead what looks to be another strong line at Texas A&M.
Now that Jake Matthews is preparing for his professional career as a projected first round pick in the upcoming NFL draft, Mike Matthews continues to make significant strides as the Aggies' center, finding a comfort level as he enters his junior season.
"I think I'm just a lot more comfortable with this offense and the guys here," Mike Matthews said. "I just enjoy it, go out here every day, I'm not nervous. ... Now I feel comfortable with what I'm doing -- I feel confident."
He should. Having played only part-time as a freshman in 2012, the 2013 season was his first as a full-time starter. Texas A&M coach Kevin Sumlin elected to have Mike Matthews serve as the backup center in his first season rather than redshirt behind then-senior Patrick Lewis so that Matthews would get a taste of SEC life: the travel, the opponents, the whole nine yards.
That helped prepare the younger Matthews for the starting role once Lewis graduated. While there were some bumps in the road in his sophomore season, he looks poised for a strong 2014 based on what Texas A&M offensive line coach B.J. Anderson saw in spring football.
"Mike has total control of the offense," Anderson said. "He's got as much freedom as any center I've ever coached. He's got it all. He can change whatever he wants to change and I trust him that much. Guys around him trust him."
For the Aggies, that's huge. In their uptempo, no-huddle offense, communication is critical, especially when it comes to protection calls for the offensive line. Anderson said Matthews can handle that responsibility well and on top of it, he continues to be a high-energy presence in all facets of the program.
"He's doing exactly what we need him to do," Anderson said. "He's really a leader for us up front. Great energy guy, outspoken guy, he brings the juice to practice, brings the juice to the game, brings the juice to the meetings. He's a big piece of that puzzle."
The 6-foot-2, 285-pound (depending on the day) Matthews is one of four returning starters on the Aggies' offensive line. Offensive tackle
Cedric Ogbuehi
and guards
Jarvis Harrison
and
Germain Ifedi
join him to bring plenty of experience as the Aggies look to match or exceed their performance from a season ago.
"I think just approach every day like it's our last day," Matthews said. "Go out there and work hard, not take any plays off. I think if we do that, we're going to have a good chance to be just as good as last year."
While Anderson praises Matthews' physical strength, he continues his effort to keep his weight up. Matthews hovered around 283 pounds during spring practice.
"You can get him up, but then he'll go into [the weight room] with [strength and conditioning coach] Larry Jackson and Larry will run him and lift him and do that stuff, and next time he weighs in, he'll be down," Anderson said. "The key is don't get too focused on the weight because he's one of the strongest -- if not the strongest guys -- in my room. He plays with great leverage. We're going to keep working on the weight, but we're not chasing number. He's very effective at the weight he's at."
Anderson said Matthews' energy is contagious to those around him and it's helpful. Since he arrived on campus, Jake Matthews has noted Mike's constant chatter, but as he continues to develop into a leader for the Aggies, it's a safe bet that those around him are listening and enjoying it.
"It's a job, but at the same time, you don't want to come in here and hate it," Mike Matthews said. "You want to have fun and on the field, [so I'm] just being loud and making noise and getting guys to run up to the ball after every play and staying on guys. That way we can have high energy."
October, 31, 2013
10/31/13
1:15
PM ET
COLLEGE STATION, Texas — In last Saturday's 56-24 victory over Vanderbilt, Texas A&M quarterback
Johnny Manziel
recorded a career-low 11 rushing yards.
Nursing an injured throwing shoulder, Manziel recorded only four official carries, which also was a career low. There were no designed running plays in the game plan for him, Manziel said, and coaches noted that they wanted to be smart about not putting the Heisman Trophy winner's shoulder in harm's way.
But throughout his college career, Manziel's scrambling ability has become a signature trait, something that has helped make him one of the most electrifying players in the country. His combination of speed, agility and decision-making have made him a challenge for opposing defenses, but it also took some adjusting for the Aggies' offensive line last season, when he rushed for 1,410 yards. (Manziel has 497 so far this year.)
[+] Enlarge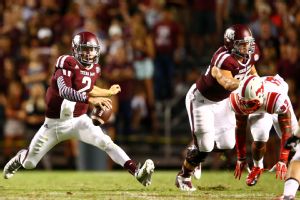 Mark J. Rebilas/USA TODAY SportsJohnny Manziel's unique abilities required a lot of adjustment for his offensive linemen at Texas A&M.
"It just takes a while," offensive line coach B.J. Anderson said. "We came in last season and -- it's not just the linemen, it's the coaching staff, too -- I've learned a lot. I remember the Florida game last year [to open the season]. If you look at our offense then as compared to our offense now, now it looks like it's built around our quarterback. Then it looks like it's built around Case Keenum. And that's just the truth of it."
Keenum was the record-breaking passer at the University of Houston, who enjoyed tremendous success under Kevin Sumlin and the Cougars' offensive coaching staff, many of whom followed Sumlin when he accepted the Texas A&M head coach job. Keenum, now starting for the NFL's Houston Texans, wasn't a statue in the pocket, but he wasn't quite the athlete that Manziel is. Few quarterbacks are.
Because of Manziel's ability to extend plays from a traditional three, four or five seconds, the Aggies' offensive linemen must block longer and be smarter, because they never know when or where Manziel might take off and run. Look at his signature play from the 2012 season: a 10-yard touchdown pass to Ryan Swope against Alabama. On that play, Manziel collided into
Jake Matthews
, who was playing right tackle, before gathering himself, recovering a near-fumble then scrambling away to throw the pass.
Even 21 games into his career, the veterans up front say it's still a process.
"There's still times where you feel like you're adjusting because you never know which way he's going to dart out of that pocket," offensive tackle Jake Matthews said. "Sometimes he's right behind you and you think he's going under you. It can get kind of confusing sometimes. But he makes so many plays for us that we're willing to go the extra mile and block that much longer for him. It's a little bit of a challenge, but you've got to love it."
And Manziel has helped matters by being open about what his preferences are when the play breaks down.
"He's such a football nut," Anderson said of Manziel. "He'll tell you, 'I don't want to run up in there [pointing to a specific area]. There's too much [going on] in there. It's not clear to me. I want to run around people.
"So that's why you've seen all these packages of us pulling everybody around and there goes Johnny. We're not geniuses, but what they're good at, we want to do."
Starting center
Mike Matthews
says he pays keen attention to where his defender is going, which is what many linemen do anyway because the defensive linemen are chasing after the quarterback. But when the defender takes off abruptly, it can get tricky.
"When [Manziel] rolls out sometimes, it's kind of hard because you're blocking a guy and next thing you know, he sprints straight to the sideline," Matthews said. "I'm assuming Johnny rolled out, so I just start running after him."
Anderson said he believes his group has made significant strides in learning and adapting to their quarterback based on film study and practice time. Opponents try several different tactics, but the Aggies seem to handle them well. The key, Anderson said, is to finish blocks.
"You've got to maintain blocks unlike you've ever done," Anderson said. "Most quarterbacks, you know where they are the whole time. Johnny, that's just part of his game.
"We work awfully hard at finishing blocks, putting pressure on guys -- A, so they don't jump and knock balls down; and B, in case he's right beside you, a guy can't yank him and bring him to the ground. We're going to get to our spots, our intersection points in the passing game, cover people up and apply pressure and let Johnny make us right."