August, 22, 2012
8/22/12
9:00
AM ET
One of the biggest frustrations for Louisville last season was its inability to stay healthy on the defensive line.
Defensive end Greg Scruggs was supposed to be one of the leaders of the group, but he was hobbled all year with a toe injury.
Marcus Smith
,
Brandon Dunn
,
Roy Philon
and
B.J. Butler
either missed time or played through various injuries. There was simply never consistency up front.
[+] Enlarge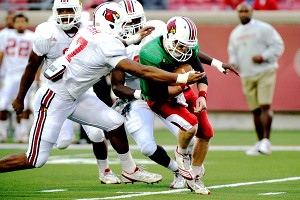 Jamie Rhodes/US PRESSWIREMarcus Smith, left, has had a "phenomenal camp," according to defensive line coach Clint Hurtt.
But that is all set to change headed into 2012. Though Scruggs has gone on to the NFL, Louisville returns three starters and a wealth of players with game experience. This could end up being one of the best groups in the Big East.
"This is the best group we've had since we've been here," defensive line coach Clint Hurtt said in a recent phone interview. "We have a solid two-deep where if the second unit had to go out on the field, I don't feel we'd miss a beat. We have eight, nine guys who can do stuff for us. They're taking the coaching, and listening to us. But it's the maturity of the group what you're starting to see."
Hurtt continues to sing the praises of Smith, saying he has had a "phenomenal camp." In addition to the returning players listed,
Jamaine Brooks
,
B.J. Dubose
,
Sheldon Rankins
and
Lorenzo Mauldin
are expected to be major contributors as well. Mauldin is back on defense after seeing some time playing tight end last year, and will be used as a pass-rushing specialist at the outset in a Bruce Irvin-type role.
The goal is for him to eventually be an every down player once he truly begins to learn the intricacies of playing the position. The goal for the entire group is to be able to just rush its four down linemen in pressure situations. Perhaps the best news of all is there are no seniors in this group.
"The future looks bright," defensive coordinator Vance Bedford said at media day. "Right now, we have a lot of depth. Our defensive line is moving around. For us to have a chance to be successful this year, we have to win up front. If we can do that and control the line of scrimmage up front with the guys we have, with the depth that we have, I am excited."
August, 29, 2011
8/29/11
1:14
PM ET
The Big East football coaches' call wrapped up a little bit ago. UConn coach Paul Pasqualoni was the only coach unable to make it because of disruptions from Hurricane Irene. Here are some news and notes from each coach:
Cincinnati
Coach Butch Jones confirmed that he has hired former West Virginia offensive line coach Dave Johnson as an assistant.
He also said Deven Drane is going to start at cornerback, with Dominique Battle right behind him. Jones also anticipates playing eight true freshmen.
On the makeup of the team this season: "I like the mentality of our football team. We've improved our toughness and mental state of mind."
Louisville
Coach Charlie Strong confirmed former Florida cornerback Adrian Bushell has enrolled in school. Bushell played at Coffeyville (Kan.) Community College last season and has only been on campus for two days, so it will take time for him to get up to speed before he can contribute.
Strong also said center Mario Benavides, defensive end B.J. Butler and freshman running back Corvin Lamb are out with injuries.
The Cardinals also plan on playing all three quarterbacks against Murray State on Thursday. Will Stein will start, but Teddy Bridgewater and Dominique Brown will get in as well.
Pitt
The only player out for the game is linebacker Dan Mason.
What is Todd Graham most eager to see about this team? "How we handle adversity. I'm anxious to see them get on the field and execute what we're doing. I feel good about where we're at. We've got an awful lot taught. I'm anxious to see how they respond and get them on the field in game day. I've told them I expect them to be better on game day than they were in the spring and summer."
At his news conference in Pittsburgh, Graham said walk-on freshman Trey Anderson would be the backup at quarterback and Shane Gordon would start at strongside linebacker.
Rutgers
Greg Schiano on playing N.C. Central: "I'm not worried about our team overlooking anybody. If you know about the type of season we had last year, we underachieved. We didn't meet expectations and our entire program can't wait to play a football game."
Schiano says running back Jeremy Deering should be able to play after missing practice time with a head injury. As for his running back rotation between Savon Huggins, DeAntwan Williams and Jawan Jamison, Schiano said, "Savon is definitely going to play. Depending on what we run the first play of the game, will it be Savon, DeAntwan Williams or Jawan Jamison? I don't know how it's going to go. Savon has done a good job in training camp. He's shown why he is the player that he is. He's a talented guy, very mature and worked hard to get ready."
Syracuse
Coach Doug Marrone said Phillip Thomas and Shamarko Thomas, and cornerback Keon Lyn are back at practice and would be able to play against Wake Forest on Thursday night.
Marrone threw out some stats in his opening remarks. Syracuse is 1-12 against ACC teams since 1996, including 0-8 at home.
He also addressed some of the problems with winning home games. Syracuse has not had a winning home record since 2004. The main thing is eliminating the distractions that come with playing at home.
USF
Skip Holtz talked a lot about the excitement of playing Notre Dame for his players, and the campus as well. Holtz spoke at a pep rally on campus and felt a buzz around the students, too. "There is a lot of excitement," he said. "It's fed by not only the way we finished the season last year, but the excitement to play Notre Dame on national television. These are big games for us."
Holtz also said he didn't expect any players to sit out with injuries.
West Virginia
Dana Holgorsen still has not decided on a running back rotation, but said all three freshmen -- Vernard Roberts, Andrew Buie and Dustin Garrison will play Sunday against Marshall.
On why he doesn't use a playbook: "The thought process is we don't want people staring at a piece of paper. We want them to understand it based on film, seeing how it's done right, how it's done wrong and doing it trial and error on your own. We put together a few mini-playbook stuff that's video related. It makes more sense to us."
Holgorsen also said Pat Eger is leading the race to start at right tackle. Quinton Spain is the backup to both tackles. He also expects Julian Miller to be cleared for Marshall.
On Bruce Irvin being an every-down player: "Whether he can be every down as good as he is on specific pass-rush things, I don't know. Time will tell. He set the bar pretty high being a third-down pass-rusher."
February, 4, 2010
2/04/10
10:00
AM ET
Analyzing the 2010 Big East signing classes ...
Louisville

View class
here.
Signees:
20
Heavy on:
Receivers (six).
Geographic trend:
New coach Charlie Strong used his Florida connections to land seven prospects from the Sunshine State.
Headliners:
DE
B.J. Butler
(four stars), LB
Deon Rogers
(four stars), WR
Michaelee Harris
(four stars)
Sleeper:
Lacy Coleman
, a rangy (6-foot-4, 220-pound) defensive end from Georgia.
Best potential for immediate impact:
Lots of players will likely get a chance to see the field early because of the Cardinals' talent shortage. Keep an eye on athlete
Marcus Smith
, who could be a playmaker at a number of spots.
Needs met:
More than anything, Louisville needed to rack up some high-level players and big bodies in the trenches. It looks like mission accomplished.
Analysis:
Strong did as well as he could have been possibly expected to do with only two months to work on this class. Given Louisville's poor on-field performance the past three years, the fact that Strong was able to get players to decommit from bigger schools (like Butler from Georgia's fold) and sign on was very impressive.
What Strong said:
"We want to get back on top of the Big East. With the players, the staff and the recruits that we have assembled here, we feel that we can make that run ... Our main needs were to get some linemen, and then we just went from there. ... With the time that we had as a coaching staff and with the guys that we were able to go get I would probably rank ou staff with a 'B.'"
Scouts Inc. grade:
B-minus