NCF Nation:

B1G debate 13
May, 7, 2013
5/07/13
9:00
AM ET
The Big Ten made news a little more than a week ago by
announcing its new division alignment
for the 2014 season, as well as a move to nine conference games beginning in 2016. We covered all the news
here
and
here
and
here
, but several components of the moves merit further analysis.
We're breaking down the divisions and the new conference schedule model, their impact now and in the future, as the College Football Playoff is just a year away. These aren't exactly Take Twos, but they're similar, as we'll both be sharing our thoughts on these big-ticket items.
Today's topic is:
How likely are these divisions to stand the test of time?
Brian Bennett
The Big Ten sometimes gets criticized for being too stodgy and stubborn, but the fact is the league is undergoing a serious football makeover for the second time since 2010. Yes, expansion played a major role in Legends and Leaders getting (thankfully) cast overboard, but the league didn't have to remake the divisions so drastically just to add Maryland and Rutgers. So no one ought to think that the new East and West formats will last forever, or even a mighty long time.
[+] Enlarge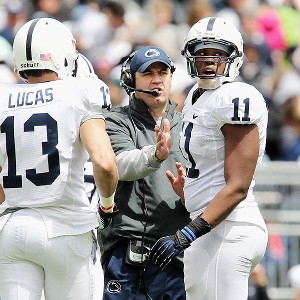 Matthew O'Haren/USA TODAY SportsIf Bill O'Brien's Penn State teams can recover from sanctions the Big Ten may need to re-examine its top-loaded East Division.
Yet the conference isn't going to make any quick knee-jerk reactions here, either. You can't properly judge competitive balance on just a few seasons, so I have little doubt that the Big Ten aims to let this play out over a number of years to see how it's working. If you're like me and you think the East has too much power, well, you'll have to wait and find out if that's actually true. A big key to all of this, I believe, is Penn State. As long as the Nittany Lions are on probation and dealing with sanctions, they are somewhat sidelined in the whole balance-of-power argument, even though they are eligible to win a division title. The scholarship reductions could have a major impact on the program beyond 2017. But if Penn State can regain its headliner status quickly, then the Big Ten may well have to re-examine whether it's right to have Michigan, Ohio State and the Nittany Lions all duking it out in the same division.
Of course, whether Michigan State can remain strong is also an issue, as is whether other West teams can consistently challenge Nebraska and Wisconsin for superiority. Again, this is something we're only going to learn over a long period of time, probably a decade or more.
But as we've seen, things can change rapidly. Who's to say there won't be further expansion that causes another reshuffling? Perhaps Michigan or Ohio State will get tired of finishing in the Top 10 nationally but only No. 2 in its own division. Maybe teams in the West will demand more exposure and recruiting opportunities in the East. The future, to quote Don Draper, is something you haven't even thought of yet. At least we know the Big Ten is adaptable.
"We're not foolish enough to think what we did today is what the Big Ten will look like for the next 100 years," Northwestern athletic director Jim Phillips said the day of the division announcement. "We've had a lot of change in the last 24 months. We've proven under commissioner Jim Delany's leadership that we'll adjust and make changes."
In other words, if you don't like the current alignment, just stick around a while.
Adam Rittenberg
The Big Ten can't be shuffling the divisions every 2-3 years, unless there's more expansion. But the league also can't bury its head in the sand and let a Big 12 North/South situation take place. The potential for that to happen exists with so much firepower in the East, but I also think the league will let things play out for a while before entertaining serious talk of another shuffle. Keep in mind that the Big Ten's recent expansion and, to a certain extent, its division realignment is about building the brand in a new region. So if there's more attention on the East than the West, at least initially, the league office can live with that.
You bring up some great points about Penn State, and it will be important for Bill O'Brien's team to prevent Ohio State and Michigan from separating themselves in the East (and in the entire league). But I think the key to staying power isn't necessarily the "No. 1 seeds," as league commissioner Jim Delany calls Michigan, Ohio State, Nebraska and Penn State. And while Wisconsin can't match those four programs for historic excellence, the Badgers have been just as good or a little bit better than Penn State since the Lions joined the Big Ten. They've also been a better program than Nebraska in recent seasons. Wisconsin will boost the West division.
The teams to watch here are Northwestern, Iowa and Michigan State. The West might not match the East in terms of strength at the very top, but it can match up with overall depth if Northwestern continues on its upward trajectory and Iowa gets back to the success it had in 2009. Northwestern has tremendous momentum right now with improved recruiting and a new facility coming soon. Iowa has shown the ability to rise up repeatedly under Kirk Ferentz. If both of those programs are winning eight, nine or 10 games in many seasons, the West should be fine even if Ohio State and Michigan create a bit of separation. Michigan State's role is to challenge the three traditional powers in the East and create at least some parity in the division. As I wrote last week,
Michigan State has a great opportunity in the East division
and shouldn't shy away from it. We're going to learn exactly who these Spartans are in the coming seasons.
As you mention, BB, there are a lot of unknowns out there. Ohio State and Michigan appear poised to separate themselves because of their recruiting efforts. But that might not be the case. Ultimately, it's up to teams like Northwestern, Iowa and Michigan State -- as well as Purdue, Minnesota, Indiana, Illinois, Rutgers and Maryland -- to create enough depth/parity in both divisions. Otherwise, we'll eventually see another change.
More B1G Debate
May, 1, 2013
5/01/13
9:00
AM ET
The Big Ten made big news Sunday by
announcing its new division alignment
for the 2014 season, as well as a move to nine conference games beginning in 2016. We covered all the news
here
and
here
and
here
, but several components of the moves merit further analysis.
During the next few days we'll be breaking down the divisions and the new conference schedule model, their impact now and in the future, as the College Football Playoff is just a year away. These aren't exactly Take Twos, but they're similar, as we'll both be sharing our thoughts on these big-ticket items.
Today's topic is:
How will the nine-game conference schedule affect the Big Ten's chances of getting into the College Football Playoff?
Brian Bennett
First and foremost, the Big Ten needs to play better. Period. The league likely would not have put a team into the four-team playoff in any of the past five seasons had the system been in place (though Ohio State would have made it last year if not for probation).
[+] Enlarge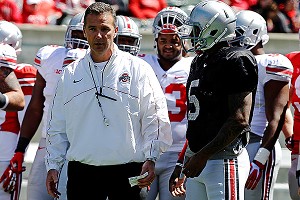 AP Photo/Al BehrmanWinning key non-Big Ten matchups will be especially critical in upcoming years for the league's potential national title hopefuls.
Yet a nine-game conference schedule, along with the Big Ten's commitment to not play FCS teams and add at least one respectable BCS opponent in the nonconference slate, will make the prospects of reaching the final four more difficult. Any Big Ten champion will likely have to go 13-0 or 12-1 to gain any realistic consideration, and that will mean navigating a challenging course of nine league games plus the conference championship game, not to mention any tough out-of-league contests.
There's a reason the SEC and ACC are sticking to only eight conference games, and the Pac-12 is mulling a scale back from nine to eight. It's a lot easier to buy yourself a guaranteed win than risk playing a conference opponent that knows you inside and out. Still, I applaud the Big Ten for raising the bar. The conference really needs to prove itself in key interleague play more than anything, whether that's games such as Michigan State playing Oregon, Wisconsin facing Alabama, Ohio State taking on Texas or Nebraska going up against Oklahoma. Win those, and a conference loss won't sign the death warrant on playoff hopes.
Running the table with a nine-game schedule is not impossible. Oregon did it in Pac-12 in 2010 on its way to the BCS title game. Would Ohio State have lost if it played another Big Ten game last year? Doubtful, since the Buckeyes had already beaten Nebraska, Wisconsin, Michigan, Michigan State and Penn State. A nine-game schedule rewards greatness, and a Big Ten team that goes undefeated in the league would have a great shot at the playoff even with a nonconference setback.
The nine-game schedule absolutely adds to the degree of difficulty for the Big Ten when it comes to the playoff. But the league hasn't exactly been racking up national championships over the past few decades, anyway. This is still the right move for a variety of reasons, and the best teams will show themselves to be deserving.
Adam Rittenberg
Although I love disagreeing with Mr. Bennett, he's spot on with his analysis here. The Big Ten's push for the College Football Playoff still has more to do with building enough depth at the top than how many league games it plays. As I've written for years, the Big Ten simply doesn't have enough programs that are equipped to compete for national titles year in and year out. Pinning your hopes on Ohio State to skate through a favorable schedule in a weak league every year isn't a sustainable formula for improving the conference.
Ultimately, the Big Ten wants to reach a point where a team
doesn't
have to run the table to make the playoff. The league should strive to create a reputation in which a one-loss Big Ten team that played a competitive nonconference schedule deserves consideration for the playoff. That's why I like the league-wide initiative to beef up the pre-conference slate. We're already seeing results from programs such as Wisconsin, which used to be averse to anything resembling a challenge in early September, as well as Ohio State and Michigan State. As Bennett points out, the Big Ten needs to start winning more of the major non-league tests.
So yes, a nine-game schedule creates a tougher path to the playoff, particularly for the teams in the loaded East Division. I liked the Big Ten's plan to keep an eight-game league schedule and add the Pac-12 partnership, but when that went kaput, a move to nine games seemed inevitable. There are too many good reasons to play each other more often -- TV, fan-friendly games, rivalries -- in an expanded conference.
It would be a major surprise if a Big Ten team that went 13-0 -- including 10 league wins -- is left out of the playoff. Running the table certainly becomes tougher, but the league's macro goal remains the same: to build greater depth at the top and create a reputation more like the SEC's, in which you don't need to be perfect to be one of the nation's top four teams. Remember, league champions should in some cases have priority in terms of playoff access. The Big Ten champion gains greater credibility, even with one loss, if it gets through a nine-game conference schedule rather than an eight-gamer.
More B1G Debate
April, 30, 2013
4/30/13
9:00
AM ET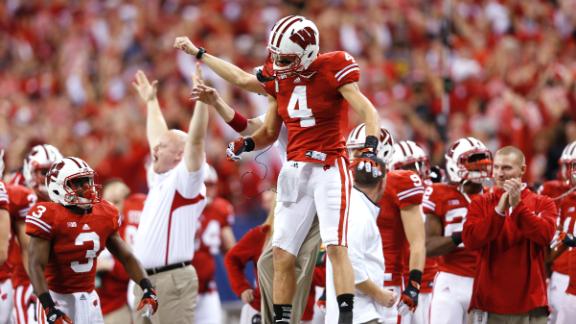 The Big Ten made big news Sunday by
announcing its new division alignment
for the 2014 season, as well as a move to nine league games beginning in 2016. We covered all the news
here
and
here
and
here
, but several components of the moves merit further analysis.
During the next few days we'll be breaking down the divisions and the new conference schedule model, their impact now and in the future, as the College Football Playoff is just a year away. These aren't exactly Take Twos, but they're similar, as we'll both be sharing our thoughts on these big-ticket items.
Today's topic is:
Balance in the new divisions (or lack thereof)
Adam Rittenberg
I get the complaints, I really do. At first glance, the divisions look lopsided with Ohio State, Michigan, Penn State and Michigan State on one side. Perhaps the East will dominate the Big Ten for years, relegating the West to Big 12 North type status. I understand the argument for moving Michigan State to the West, which may or may not have created more competitive balance, admittedly a lower priority for the Big Ten in the latest alignment. But I keep thinking how the divisions discussion would be different in 2010, or 2004, or 1998. In 2010, Iowa was coming off of an Orange Bowl championship, its second BCS bowl appearance in eight years. A division featuring Iowa, Nebraska and Wisconsin, plus a Northwestern program on the rise, would be perceived differently than the one the Big Ten revealed Sunday. In 2004, Purdue was pegged to win the Big Ten by many and had enjoyed a run of quality bowl games under Joe Tiller. Iowa also was surging back then, while Michigan State and Penn State were struggling.
My point is the landscape changes and most teams go through ups and downs. The Big Ten has had tremendous parity: nine different champions since 2000, seven different Rose Bowl participants since 1995. Wisconsin doesn't get enough credit in the discussion for being one of the nation's most consistently good (and sometimes great) programs for the past 20 years. Next to Ohio State, Wisconsin has been the Big Ten's most consistent winner in the past two decades.
[+] Enlarge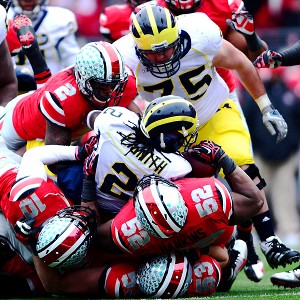 Andrew Weber/USA TODAY SportsDoes having Michigan and Ohio State in the same division tip the Big Ten scales unfairly?
I'd put Ohio State, Michigan, Nebraska, Penn State and Wisconsin in one group. After that, things get a bit murky. How much do you buy into Northwestern, which has transformed from perennial loser to consistent bowl game participant since the 1995 season? People view Michigan State differently now than they would have five years ago. That's a credit to Mark Dantonio, his assistants and his players, but will the MSU program continue its upward climb? It remains to be seen. Being the East division provides the true litmus test for the Spartans program.
Much of this comes down to if Ohio State and Michigan create significant separation from the rest of the league. If Penn State gets through the sanctions and joins the Buckeyes and Wolverines in most years, the Big Ten East could turn into the Big 12 South based on the attention/exposure it will generate. That's a problem, and the Big Ten then might have to reassess division alignment. The league needs Northwestern to keep winning, and both Iowa and Purdue to regain their old form, to create some balance from the West. So yes, the divisions appear unbalanced, but recent Big Ten history shows that things often don't turn out the way they first appear.
Brian Bennett
Of course the divisions are unbalanced. The Big Ten basically admitted this when Jim Delany said competitive balance was No. 3 on the list of priorities during the realignment. Geography and protecting rivalries were deemed most important, and on those two fronts, the league hit a grand slam.
But anytime you put Michigan and Ohio State -- the conference's two most dominant programs historically, and the two that really look poised to take off in the near future -- in one division, the scales of power are inevitably going to tip in favor of that division. Then you add in Penn State, another powerhouse with a 100,000-seat stadium, and the scale starts to really lean in one direction. Putting Michigan State with those three all but makes the scale tip over. The East really is, as Indiana athletic director Fred Glass called it, the "Big Boy Division" right now (has anybody called Frisch's about a possible sponsorship?)
Let's give the teams in the West some credit. Nebraska is on the same level with Ohio State and Michigan historically, if not necessarily in the past decade or so. And as Adam mentioned, Wisconsin has earned the right to be included in the list of Big Ten heavyweights. If you look at it in terms of BCS bowl appearances -- not the best measurement, but a decent indication of recent strength -- then the West has 12 compared to 17 for the East. Take away the top two in each division -- Michigan and Ohio State in the East, Nebraska and Wisconsin in the West -- and each side has three all-time BCS appearances.
Or how about Rose Bowl appearances since 1990? Again, it's not a perfect comparison, since the Rose Bowl hasn't always featured the Big Ten champ during the BCS era and Nebraska wasn't a part of the league until two years ago. Still, by that measure, the West has 10 Rose Bowl berths to 11 for the East. And that's not including the Huskers at all (though Ohio State's presence in other BCS bowls during that time skews things quite a bit).
So this could all work out, especially if Iowa and Purdue rebound, Minnesota continues to climb, Northwestern's 10-win season last year was an indication of things to come and Illinois ever turns potential into consistent results. Indiana, Rutgers and Maryland aren't exactly world-beaters, and Penn State will likely decline during the sanctions era. It's instructive to remember that when the SEC first went to division play in the early 1990s, the East was seen as the much stronger division with Florida, Georgia and Tennessee. That has now flip-flopped, with Alabama, LSU, Auburn and now Texas A&M making the SEC West that league's seat of power. These things are often cyclical.
But I also wonder if teams in the East who get more regular exposure in the new recruiting hotbeds along the Eastern seaboard -- not to mention Ohio -- will start to pull away some from those in the West. That's a concern, as is what will happen when and if Penn State truly returns to national power status. That would give the East three "brand-name" schools, along with a program in Michigan State that I don't think is going away anytime soon.
The West has a lot of work to do to make sure these divisions aren't as lopsided as they appear on paper. But, hey, at least it would make for a good underdog story in the Big Ten championship game.