NCF Nation:

B1G spring meetings 2013
May, 17, 2013
5/17/13
9:00
AM ET
CHICAGO -- Two years ago, Ohio State athletic director Gene Smith chaired the NCAA men's basketball tournament selection committee and had to explain why
UAB made it into the field and Alabama did not
.
Telling Alabama's basketball team it missed out on March Madness is a tough job. Telling Alabama's football team it missed out on the College Football Playoff is a much, much tougher job.
"Whoever it is," Smith said, "get that flak jacket ready."
It likely won't be Smith. When asked at the Big Ten spring meetings about participating in
Sports Illustrated's mock college football selection committee
last season, Smith joked, "Thank God it was mock."
Smith thinks there might be clarity in selecting the top two teams for the four-team playoff. But filling the final two spots from a pool of deserving teams will create "the same old debate" that currently exists with the BCS system.
That's why Smith thinks the committee needs crystal-clear guidelines for how to evaluate the teams vying for the Playoff.
"The reason in my view the basketball tournament has worked so well," Smith said, "and you can always argue the last four in, the last four out, but the policies and procedures and guidelines are solid. You've got to have that. And then you have to have people who are willing to watch the games."
Committee members can't just watch the final minutes of the fourth quarters of games. Wisconsin athletic director Barry Alvarez recalled a recent conversation he had with SEC commissioner Mike Slive, who served on the NCAA basketball selection committee from 2004-09. Slive talked about watching basketball games after he woke up in the morning, during lunch and late at night.
"He figured the time that he spent on that basketball committee took a year of his life," Alvarez said. "So if you're doing it right, you're going to spend a lot of time watching film. ... And you've got to know what the hell you're watching. Just watching film doesn't do any good, I used to tell that to my players. You've got to know what you're looking at and looking for."
The time commitment could deter those currently serving in college athletics from committee posts. Smith thinks Alvarez has what it takes to serve.
"He'd be the perfect pick," Smith said. "I'm promoting Barry."
May, 16, 2013
5/16/13
11:00
AM ET
CHICAGO -- The Big Ten reported another
record revenue total for the past fiscal year
, and although its members on average sponsor many more sports than their counterparts in the SEC, athletic directors say their football programs have the financial resources to compete at the highest level.
"We all make the investments necessary in football," Ohio State athletic director Gene Smith said at the spring meetings.
Smith cited the higher salaries Big Ten programs like Ohio State and Michigan are now paying top assistant coaches, a push that accelerated at Ohio State when head coach Urban Meyer arrived. Still, the Big Ten on average
pays assistants less than SEC programs
. Many of the nation's highest-paid assistants are also in the ACC and Big 12.
But according to Smith, who oversees 36 varsity sports at Ohio State, money isn't holding back Big Ten football. He instead looks to the league's other major sport, men's basketball, as a road map for greater success on the gridiron.
While Big Ten football took a beating on the field and in public perception last fall, Big Ten basketball enjoyed the label of "nation's best conference" during the 2012-13 season.
"What we need in our football programs is really what we endured this past year in basketball," Smith said. "We had huge stability among our basketball coaches."
Michigan State basketball coach Tom Izzo just completed his 18th year at the helm in East Lansing, while Wisconsin's Bo Ryan just finished his 12th campaign. Other coaches like Ohio State's Thad Matta, Purdue's Matt Painter, Michigan's John Beilein and Indiana's Tom Crean are no longer newbies at their schools.
Big Ten football, meanwhile, has only one coach -- Iowa's Kirk Ferentz -- who has been in his post longer than six seasons.
The second part of the football equation, according to Smith, is "strategic, high-level recruiting."
It's undeniable that more Big Ten basketball programs consistently recruit at a nationally elite level than Big Ten football programs. In basketball, it's not just the usual suspects -- Michigan State, Indiana, Michigan, Ohio State -- but others (Illinois, Purdue) that can rise up.
"Part of that is recruiting in geographies where, frankly, the people are," Smith said. "We do not enjoy the environment that we had in the '70s and the '80s in Michigan and even some parts of Ohio or Pennsylvania or Illinois. Families aren't there. We've got to go to where they are."
College football and college basketball are different sports with different challenges in recruiting, but comparisons are always made, as Smith did this week. If Big Ten football can regain greater coaching stability and spread out its recruiting reach, more success should come.
May, 16, 2013
5/16/13
9:00
AM ET
CHICAGO -- The Big Ten is steeped in history and tradition, but the conference needs something more to connect with the target audience of football recruits and regular students.
It needs to be cooler, especially on game days. And whether it's perception or reality, many don't view Big Ten football as very cool at the moment. Legends and Leaders certainly didn't help. Neither does the continued absence of November night games. The league still boasts amazing venues and plenty of pageantry, and programs have seemed more open to new marketing tactics, whether it's
alternate jerseys
(hated by some traditionalist fans, incredibly popular with recruits) or more prime-time games.
But something is lacking. Coaches, such as Ohio State's Urban Meyer, have noticed it. So have Big Ten athletic directors.
Whether it's more night games, night games in November, larger scoreboards, better Wi-Fi service, stronger acoustics or broader concessions, the Big Ten has to do more.
"Part of that is to make the league be perceived in reality what it is, and that's a little bit more hip, a little bit more cool," Michigan State athletic director Mark Hollis told ESPN.com. "I have three kids that are age 14, 18 and 20, and they're a great resource for me to bounce ideas off from a Michigan State perspective. But I think we need to take that as a league a little bit as well.
"It's not your grandfather's conference any more. There's so much greatness and so much tradition that needs to be continued and talked about, but also try to add a little unique freshness that's unique to young kids."
[+] Enlarge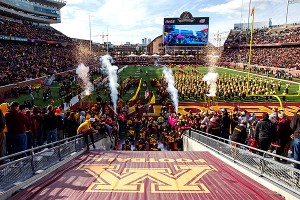 Brace Hemmelgarn/USA TODAY SportsEven Minnesota's TCF Bank Stadium, the Big Ten's newest football arena, isn't the gem planners intended when students don't show up.
Hollis is one of the most innovative athletic directors in the country, masterminding events such as outdoor hockey at Spartan Stadium and a basketball game on an aircraft carrier. Last winter, he proposed playing four simultaneous basketball games at Cowboys Stadium in Arlington, Texas, on Veterans Day.
And yet even Hollis has seen recent examples of young people tuning out on game day, such as last fall when Michigan State hosted Iowa on a dreary day in East Lansing.
"One of our biggest no-show rates in football was the Iowa game," Hollis said. "And I'd go out and walk the streets and start talking to kids, 'Why didn't you go?' And they said, 'We couldn't text because it was raining.' They couldn't have their phones out.
"That kind of hit me pretty hard."
Michigan State put in new massive video scoreboards at Spartan Stadium last year, but Hollis knows he needs to do more. Part of a
$20 million renovation to the stadium
will include some new restrooms and concession stands at the north end of the stadium. The addition also will include a recruiting room.
"We need to make sure we continue to deliver in our venues what's being delivered, and then some, on television," Hollis said. "What's that going to look like? A more comfortable place. It shouldn't be a hassle. … We're putting in more bathrooms, we're looking at a $2 million Wi-Fi system that allows more interaction. We're going to have to deliver wider seats, more comfortable seats. It's making our concession stands more presentable."
Student attendance for early kickoffs has been a problem at places such as Michigan and Wisconsin. Michigan AD
Dave Brandon this week called student turnout
"unacceptable," and coach
Brady Hoke is offering free doughnuts to all students who show up
before noon kickoffs this fall.
Minnesota has the Big Ten's newest stadium but still struggles to get students to show up in droves.
"They're the centerpiece of the fan experience," Minnesota athletic director Norwood Teague told ESPN.com, "so getting them there changes everything that goes on. We're a new stadium, so we have an unbelievable video board. A lot of the problems that plague other stadiums, we don't have. Our [public-address system] is perfect.
"We've got to do more and more, but our top priority right now is student attendance."
Teague had a group from Minnesota's Carlson School of Management study student attendance at the school. They found that students want a gathering place before games, so the school is providing an entire parking lot near the stadium, Teague said, which will be monitored.
The recruiting component also can't be ignored.
While many interpreted
Meyer's post-signing day comments to a Columbus radio station
as a direct shot at the recruiting efforts of other Big Ten programs, his fellow league coaches viewed it more as a
call to upgrade the game-day experience
during the fall.
"It was more, how can we continue to further our brand? How can we make our in-game experiences improve? How can we make our pregame experiences improve?" Northwestern coach Pat Fitzgerald said after the coaches met in February. "All those things in the vein for our fans, the game-day experience of Big Ten arenas and for recruiting."
Indiana athletic director Fred Glass has made football game days a priority since his arrival, adding more night games, a kids' area in the south end of the stadium and other features. Attendance is
on the rise
, but Glass is still seeking ways to make upgrades.
He
turned down Adidas' offer of new uniforms
for IU's men's basketball team in the NCAA tournament, but would be more open to a wardrobe shakeup for the football squad.
"More highlights, more scores, more fun, coloring outside the lines a little bit," Glass said. "We'll play to our strengths -- the band, the cheerleaders, the pageantry of college football, flags and color, engagement of students -- and spent a lot of time really trying to enhance that. That's not only a great thing for our fan experience, it translates into the cool factor for recruits who come in."
May, 15, 2013
5/15/13
3:40
PM ET
CHICAGO -- Indiana athletic director Fred Glass oversees a football program that has made one bowl appearance in the past 19 seasons.
The Hoosiers soon will take up residence in the Big Ten's East Division, which includes traditional powers Ohio State, Michigan and Penn State, as well as Michigan State. Like every other Big Ten team, Indiana also will begin playing nine conference games instead of eight beginning in 2016.
Although Indiana took a step last fall in Year 2 under coach Kevin Wilson, it has won six or more games just 11 times since 1967, when it shared the Big Ten championship and went to the Rose Bowl.
If given the choice between keeping the minimum wins requirement for bowls at six versus increasing it to seven, Glass seemingly has an easy decision.
"Perhaps the surprising answer is I'd probably favor going to seven [wins]," Glass told ESPN.com on Wednesday. "We're a program that's trying to build, and you might say it's in our best interest to stay at six, but there's something about enthusing your fan base with a winning season, being 7-5. Maybe that might help limit the number of bowls out there, too, so it's a real positive experience."
At last year's spring meetings, Big Ten commissioner Jim Delany came out in strong support of
increasing the bowl requirement from six wins to seven
.
"For us, it means redefining a successful year at 7-5 from the standpoint of a bowl season," Delany said last May. "We argued for 6-6. We've experienced 6-6. Now we're suggesting that it's in our best interest, the bowls' best interest as well as the other conferences that might benefit by these open slots to look at a 7-5 standard."
Ultimately,
other major conferences weren't on board
with the push to increase the requirement. The Big Ten had three 6-6 teams -- Michigan State, Purdue and Minnesota -- make bowl games in 2012 and four 6-6 teams (Ohio State, Illinois, Purdue and Northwestern) go in 2011.
"We think the bowl system would be better off with a 7-5 situation," Delany said Wednesday. "We thought for a while we were heading in that direction, but it's obvious that we're not."
The Big Ten's move to nine league games means a team would have to win at least three conference contests to reach the six-win minimum, giving it a little more credibility. Minnesota athletic director Norwood Teague said many coaches, especially "those building programs," are in favor of keeping the requirement at six victories.
But ADs still hope that seven can be the magic number some day.
"Seven wins is what you should have; always felt that," Ohio State AD Gene Smith said. "I still think we have too many bowls. I just think 6-6 is not the level, but I know that's not something that appears to be reversing at this time. I just don't want to be there again."
May, 15, 2013
5/15/13
2:09
PM ET
CHICAGO -- The man who many think gave life to realignment fever around college football three years ago isn't quite ready to give expansion its last rites.

Asked Wednesday whether expansion is dead in the Big Ten, league commissioner Jim Delany replied, "Dead is a strong word."
Delany never will close the door to more Big Ten expansion, but the topic didn't bring much if any discussion at the league's spring meetings of athletic directors. The ACC's recent
grant of media rights agreement through 2026-27
likely put the brakes on the immediate possibility of more Big Ten expansion, as the league had been rumored to be targeting other schools on the East Coast after adding Maryland and Rutgers in November. ACC members like North Carolina, Georgia Tech and Virginia had been mentioned as possible Big Ten additions.
Delany made it clear that the East Coast remains the Big Ten's priority, but the league is focused more on expanding its existing product, especially the Big Ten Network, and integrating its new members than pursuing new ones.
"I can't speak for others, but we've been focused on making a home in a new region, making new members feel at home in this region," Delany said. "Everything we'll do competitively and in television and in bowls is to bring, as quickly as we can, a level of comfort. The Eastern corridor is ... the richest corridor in the world from the standpoint of financial institutions, political institutions, media institutions, and we're new to it. So if we can build relationships, make friends and be impactful and relevant over time, that's the goal.
"We're not going to be changing the world, but we are looking forward to doing everything we can to build a presence in that place."
Many thought building a presence would include more members from the East Coast, but if the ACC is secure, and it appears to be, there aren't many if any attractive expansion candidates. Connecticut is looking for a home, but it's not a member of the AAU, a virtual must for future Big Ten members, league sources say. After that ... it's slim pickings.
Wisconsin athletic director Barry Alvarez said further expansion didn't come up in the meetings. Michigan State AD Mark Hollis joked that the Big Ten could pursue the University of Toronto, an AAU member and a favorite expansion possibility among Big Ten blog readers (also an unrealistic one).
There are potentially attractive candidates in other regions like Missouri, but adding a member from anywhere other than the East Coast doesn't seem to click with Delany's bi-regional vision. The Big Ten is in the process of looking for a space for an East Coast office, most likely in New York. Delany noted Wednesday that the Big Ten has 1.2 million alumni living between Northern Virginia and New York.
"Some people say they're tired of writing about [expansion], but they keep asking questions about it," Delany said. "From my perspective, we're inactive and we're focused on bringing [our] new members into the fold."
May, 15, 2013
5/15/13
9:00
AM ET
CHICAGO -- The Big Ten office has pledged to take a
more active role in scheduling
as it wants member schools challenging themselves more in nonconference play.

Schools are also helping each other at the spring meetings. Athletic directors swapped scheduling notes Tuesday as they all try to shape their nonconference structure for the future, particularly after the Big Ten goes to nine league games per season in 2016.
"We collaborate a lot," Penn State athletic director Dave Joyner said. "If we're looking for a game, does somebody know about one? Let's say somebody had a team on their schedule, but for whatever reason, they needed to move the game. Maybe you call Purdue and say, 'Hey, I've got X. You looking for a game?' And maybe you trade-off.
"It's kind of a co-op. We work together and try to help each other schedule."
Each school has a unique scheduling philosophy, although there are similarities, like the need of most Big Ten members to have at least seven home games per season. Purdue athletic director Morgan Burke on Tuesday reiterated that the seventh home football game provides the margin for the budget to stay in the black without significantly hiking ticket prices.
The fortunate thing for Big Ten fans is that schools are recognizing the value of more appealing nonconference games, whether it's for the gate, TV or to impress the College Football Selection committee.
"Football can be pretty boring in September if you've got all your teams playing down to competition," Michigan athletic director Dave Brandon said. "It's boring for the fans at the stadium and it's boring on television. We don't want to be boring, so we want to strengthen the schedule."
It can be a very tricky process with dates, contracts and rivalries. That's why it helps for the ADs to collaborate as much as they can.
"We're using [the spring meetings] as a sounding board to throw some things out there," Wisconsin AD Barry Alvarez said. "So if it doesn't fit you, it might fit someone else."
May, 14, 2013
5/14/13
4:40
PM ET
CHICAGO -- The Big Ten hasn't officially announced its bowl lineup for 2014 and beyond, but the pieces are starting to take shape.
Here's what we know so far:
[+] Enlarge

Joshua S. Kelly/USA TODAY SportsThe Big Ten's new bowl lineup will include at least three appearances in the Orange Bowl during the next 12-year cycle.

The Big Ten champion will be in the Rose Bowl unless the Rose Bowl is a national semifinal and a Big Ten team doesn't qualify for the Playoff or isn't placed in Pasadena. The Big Ten champion will appear in another major bowl (Fiesta, Sugar, Cotton or Chick-fil-A Peach) in years it's not at the Rose.

The Big Ten will make at least three appearances in the Orange Bowl during the next 12-year cycle. The ACC champion will face a Big Ten team, an SEC team or Notre Dame -- the highest-ranked squad of the three -- in years where it's not part of the Playoff.

The Capital One and Outback bowls are expected to remain part of the Big Ten's rotation. Colleague Heather Dinich recently reported that the ACC could take the Big Ten's spot in the Capital One Bowl in years where the Big Ten has a team in the Orange.

As colleague Brett McMurphy reported Monday night, the Big Ten and ACC will share tie-ins with the Gator and Music City bowls during a six-year span. So the Big Ten will make three appearances in Jacksonville and three in Nashville -- to face SEC opponents -- between 2014-19.

Other bowls expected to remain in the Big Ten's rotation include Buffalo Wild Wings in Arizona, Heart of Dallas in Dallas and Little Caesars Pizza in Detroit.

Likely additions to the lineup include the Pinstripe Bowl in New York and the Holiday Bowl in San Diego. Wisconsin athletic director Barry Alvarez said Tuesday that "everybody's in favor" of the Pinstripe Bowl and "all of us are very positive about the Holiday Bowl." Another bowl that could enter the mix is Kraft Fight Hunger in San Francisco. The Big Ten would face the ACC in the Pinstripe and the Pac-12 in the Holiday, although one or both bowls could be rotations like the Gator and Music City.

I've been told the Meineke Car Care Bowl of Texas won't be part of the next Big Ten lineup.
Got all that?
There are quite a few tweaks, a lot more flexibility and a lot more variety than
the Big Ten's current lineup
, which expires after the 2013 season. The league's athletic directors welcome the changes.
"We want to be national," Alvarez said. "We want to play at least two in Florida, we want to play in the desert, in Texas, in California, also New York and some place on the East Coast is an option. We want to spread our brand nationally."
There's also a stronger emphasis on creating more attractive matchups down the line and preventing teams and their fan bases from going to the same city or state year after year -- unless it's the Rose Bowl.
"The numbers don't lie," Michigan athletic director Dave Brandon said. "There's fan fatigue if you're going to the same area year after year. There just is. For many of our student-athletes, they would probably tell you the same thing. So one of the guiding principles that I support is the notion that we're going to try to move programs around and give you a chance to see other bowls, interact with other bowl committees, visit other venues, play other teams. To me, that's a healthy thing.
"We'd like to go to Pasadena every year, that's OK with us, but beyond that, the idea we can move around, go West, go East, go South, to me, is a good model and one that makes a lot of sense."
Brandon said an expanded bowl landscape helps the Big Ten recruit nationally and reach out to its alumni bases in all areas of the country.
The current lineup is very Florida heavy and very SEC/Big 12 heavy. The next lineup won't be.
"I like to play all the conferences," Alvarez said. "I don't necessarily want to play all SEC or all Pac-12. I'd like to have a mixture of all of them."
May, 14, 2013
5/14/13
3:23
PM ET
CHICAGO -- Michigan athletic director Dave Brandon didn't do the chicken dance when asked about Notre Dame's decision to stop the annual series with the Wolverines after 2014.
"I'm not sure I would have used the word chicken," Brandon told ESPN.com, referring to Michigan coach Brady Hoke's comments Monday about
Notre Dame "chickening out" of the series
. "That's kind of how football coaches would think about it, and that's OK. Brady's a pretty straightforward guy. I would just say Notre Dame had choices to make, and they chose to back away from a rivalry game we've had on our schedule for a long time."
[+] Enlarge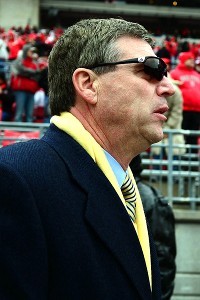 Andrew Weber/USA TODAY SportsDave Brandon said the next two Michigan-Notre Dame games "are going to be really exciting because it's going to be the end of the rivalry, at least for a considerable period of time."
Notre Dame athletic director
Jack Swarbrick informed Brandon in September
that Notre Dame would exercise a three-year out clause in the schools' contract, meaning the teams would stop playing annually after the 2014 game in South Bend, Ind. Michigan and Notre Dame had extended their contract through the 2031 meeting but on a three-year rolling basis, which gave one side a chance to back out.
Notre Dame's agreement with the ACC, which will include five games per season, prompted the move. Michigan has games with Arkansas, Virginia Tech, Oregon State, BYU and others scheduled for future seasons.
Although many would like to see Michigan and Notre Dame resume their series, Brandon says don't hold your breath.
"It's going to be a long time," Brandon said. "We've both been busily scheduling out into years into the future. And as I understood it from my counterpart at Notre Dame, they're making plans to go in a different direction. So the earliest we could schedule would be sometime post-2021, 2022, and when you start talking that far out, who knows. So it's going to be a while.
"The night game we have at Michigan Stadium this September, and then our last trip down to South Bend next year are going to be really exciting because it's going to be the end of the rivalry, at least for a considerable period of time."
Brandon used the word "disappointed" several times in discussing the end of the series, but Michigan is moving forward with a schedule model he hopes will position the Wolverines for the College Football Playoff. Although Brandon doesn't sound like he'll add another neutral-site game in the immediate future -- Michigan and Alabama opened the 2012 season in Arlington, Texas -- he recognizes the need to upgrade the schedule.
"We have a lot of work to do to regain our footing in terms of playing competition that's going to be attractive to our fans, help us build our programs and help us compete at the national level," Brandon said. "I'm a big believer that we should be strengthening our schedule and working hard to go out and fill those nonconference positions with the kinds of programs that are going to excite our fans, bring a lot of attention to us as we are broadcast on television and ultimately put in a position where we're going to have better football programs."
Brandon is trying to "take a negative and turn it into a positive" regarding Notre Dame and spread Michigan's wings more with new non-league opponents.
"At Michigan," Brandon said, "we want to compete for one of those four spots at the end of the season."