NCF Nation:

Badgers-Boilers-101312
October, 13, 2012
10/13/12
6:12
PM ET
WEST LAFAYETTE, Ind. -- Wisconsin flew back in a charter plane to Madison shortly after beating Purdue
38-14
on Saturday at Ross-Ade Stadium. But no one would have blamed the Badgers if they instead had decided to head an hour south to Indianapolis and camp out there for a couple of months. Maybe scrimmage the Colts to stay sharp.
Following Saturday's turn of events, there's really no way to envision anyone but Wisconsin representing the Leaders Division in the Dec. 1 Big Ten title game at Lucas Oil Stadium. Ohio State and Penn State can't play for the championship because of probation. Illinois, Indiana and Purdue are eligible but wildly inadequate.
That leaves the Badgers, who can afford to take a victory lap these next seven weeks. Yet, if Saturday's performance was a sign of things to come, they might actually earn their berth right.
"If we can continue to play the way we're playing, I think we can really compete with the top people in the conference," center
Travis Frederick
said.
For most of the first six weeks this season, this was a shell of the team that went to back-to-back Rose Bowls. The offensive line play fell off so dramatically that Bret Bielema fired position coach Mike Markuson after only two games, replacing him with then-graduate assistant Bart Miller. The offense took baby steps forward the past few weeks. Saturday brought a giant leap.
Wisconsin rolled up 645 total yards, the second-highest total in school history. The offensive line paved the way for 484 rushing yards; the team's previous high this season was 213. Senior running back
Montee Ball
finally resembled the guy who tied the Football Bowl Subdivision touchdown record and was a Heisman finalist last season. Ball got loose for 247 yards and three touchdowns on 29 carries. He hadn't had more than 139 yards in a game this season.
[+] Enlarge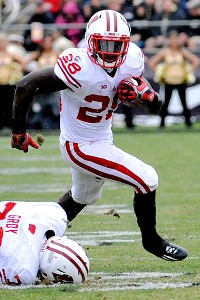 Sandra Dukes/US PRESSWIREMontee Ball rushed 29 times for 247 yards and three touchdowns against Purdue.
"Personally, I needed this," said Ball, who has suffered two concussions since late July. "I wasn't doing too well, and a lot of stuff wasn't going too well for me. But I stuck with it and overcame the adversity."
The difference, Ball said, was yards after contact. He focused this week on doing a better job after the initial hit, and he showed that early Saturday. Ball spun out of a would-be tackle by linebacker
Sean Robinson
in his own end zone and turned it into an 8-yard gain in a key first-half play. He spun through and around tackles all day, including a 67-yard touchdown run on which he broke outside, came to a complete stop and then burst back up the middle to daylight.
"It's no secret that last year I was untouched a lot of times," he said. "Coming into this game, I told myself that not everyone is going to be blocked, so I need better YAC. Don't get me wrong. There are still a lot of runs where I'm not getting touched. It's just my approach now is, don't expect it."
He might be able to expect that more going forward, actually. Wisconsin averaged 8.2 yards per rush against one of the supposedly better defensive lines in the Big Ten and did so despite losing left tackle
Ricky Wagner
to a leg injury in the first half. Guard
Ryan Groy
-- who took his first handful of snaps at tackle one day in practice late this week after reserve tackle
Robert Burge
was hurt -- shifted over to the blind side and helped keep the ground game rolling.
Frederick said new position coach Miller challenged the linemen at halftime to finish with 400 rushing yards after they piled up 190 in the first two quarters. Those kinds of goals were unthinkable even a few weeks ago, given how little push the line had been getting.
"In my mind, I wondered if we'd be able to get back to that, but I had faith in what we were doing and the guys we have," Frederick said. "It's just a matter of experience. Everybody is getting used to things, and our running backs are getting used to us. The holes aren't the same as they were last year -- they're in different places and in different angles."
When Wisconsin can run the ball like that, everything else falls into place. First-year offensive coordinator Matt Canada called a diverse game full of play-actions and misdirections along with the runs.
Jacob Pedersen
, who had struggled early in the No. 1 tight end role, broke out with four catches for 77 yards and a touchdown.
"We're getting there," Pedersen said. "I still think we need bigger pass-catching threats to step up, and I'm still not where I want to be. But guys were doubting themselves early, and now that we're having a little bit of success, guys are having fun again."
The fun should continue in Indianapolis, even if the Badgers stub their toes a time or two first. Purdue was viewed as the top threat to derail Wisconsin, especially after nearly beating Notre Dame in South Bend in Week 2. But the team with the train logo has careened off the tracks.
The Boilermakers have been outscored 85-20 in their first two Big Ten games, both at home. A defensive front that was supposed to be the strength of the team got manhandled by Michigan and Wisconsin to the tune of 771 combined rushing yards. After completing a 52-yard pass on the first snap Saturday, Purdue was outgained 598-119 until a meaningless long touchdown run against the Badgers' second-string defense.
Although coach Danny Hope received a two-year contract extension last December that runs through 2016, support for Hope among the Boilers' fan base is crumbling rapidly. There were large swaths of empty seats to start Saturday's homecoming contest. By the time Wisconsin grabbed a double-digit lead and rain started falling, the crowd thinned to the point of embarrassment. Purdue is staring at an 0-3 Big Ten start with next week's game at Ohio State and does not appear remotely capable of making up the virtual two-game deficit to the Badgers in the standings.
Wisconsin coach Bret Bielema, who preaches about going 1-0 every week, won't let his team look ahead to what seems inevitable. When asked about his team's status, he pointed to next week's rivalry game against Minnesota as the only focus.
"We don't live in a bubble," linebacker
Chris Borland
said. "We understand what we can do and that we control our own destiny. But I think we do a good job of taking it one game at a time."
In reality, the Badgers only need to take care of business to have a one-game shot at a third Rose Bowl. If they can play like they did Saturday, they might just earn their way back to Pasadena.
October, 13, 2012
10/13/12
3:16
PM ET
WEST LAFAYETTE, Ind. -- The Wisconsin-Purdue tilt was billed as a possible de facto Leaders Division championship game. The result proved that we probably weren't jumping the gun on that notion, but only one team played anywhere near a championship level.


Hint: it wasn't the home team. Wisconsin now has a commanding lead in the race to Indianapolis after its
38-14
victory at Ross-Ade Stadium, which wasn't even as close as the score suggests. Here's how it went down.
It was over when:
Montee Ball
used a jaw-dropping stutter step to break off a 67-yard touchdown run just 49 seconds into the second half. That gave the Badgers a 24-7 lead, and the way they dominated the line of scrimmage, it was more than enough.
Game ball goes to:
Ball. Regaining his 2011 Heisman Trophy finalist form for really the first time all season, the senior running back tore up the Purdue defense for 247 yards and three touchdowns on 29 carries. Ball torched the Boilers for 223 yards and three scores a year ago in Madison. The senior became the Big Ten's leading career scorer with his 72nd touchdown.
Stat of the game:
Purdue completed a 52-yard pass on the first snap of the game. From that point until
Akeem Hunt
's meaningless touchdown run with 1:39 left, Wisconsin outgained the Boilermakers 598 yards to 119. The Badgers had 467 rushing yards
.

Unsung hero of the game:
Wisconsin's
Jacob Pedersen
had a disappointing start to his season with only 10 catches for 111 yards coming into Saturday. The Badgers finally got him more involved in the offense, and Pedersen responded with four catches for 77 yards, including a 23-yard touchdown. He also gained 10 yards on a tight end rush.
What Wisconsin learned:
There's a whole lot of season left, but it's hard to imagine any team but Wisconsin representing the Leaders Division in the Big Ten championship game now. The Badgers have a virtual two-game lead over Purdue in the standings, and the Boilers haven't shown the ability to beat -- or even come close to -- upper-echelon Big Ten teams. The best news for the Badgers is that their offensive line and running game looked like the one we expected to see all season. Even if Purdue's defense played a role in that, there's no denying that this offense has made progress the past few weeks. And if Ball can keep playing at this level, Wisconsin is going to be more than just the default Leaders team in Indianapolis.
What Purdue learned:
This was supposed to be the breakthrough year for Danny Hope's team, but instead things just look broken. A season of great promise and opportunity has dissolved, as the Boilers have lost their first two Big Ten games (both at home) by a combined score of 82-27. With a trip to Ohio State next week, an 0-3 start in league play seems highly likely. Pressure will be rising on Hope from a disgruntled fan base -- which barely bothered to show up to Ross-Ade Stadium on homecoming and then left quickly once the rain arrived. Purdue is a mess on both sides of the ball right now, and Hope had better find some answers soon.
October, 13, 2012
10/13/12
10:49
AM ET
WEST LAFAYETTE, Ind. -- Greetings from Ross-Ade Stadium, where it's about 50 degrees and a little overcast. But the rain appears to be holding off.
How big is today's game between Wisconsin and Purdue? Boilermakers receiver
O.J. Ross
said on the Purdue pregame show that his team is approaching this as if it's "a championship game." And it basically is, in the Leaders Division. With Penn State and Ohio State ineligible for the Big Ten title game and Indiana and Illinois struggling, whoever wins this one will have a huge leg up on getting to Indianapolis in the first week of December.
So it's really a matter of which team shows up, for both teams. Will Wisconsin continue its slow but steady offensive progress and look like the team that has dominated the Boilers the past few years? (The Badgers have won six straight in this series). Or will Bret Bielema's offensive line struggle against a good Purdue defensive front, forcing redshirt freshman
Joel Stave
to make plays down the field? If that's the case and
Montee Ball
is not running wild, Purdue will like its chances.
Jared Abbrederis
is one of the best receivers in the Big Ten, but the Boilers' cornerback tandem of
Ricardo Allen
and
Josh Johnson
is as good as it gets in this league. That should be a fun matchup to watch.
And which Purdue will we see? The one that took Notre Dame to the wire in South Bend, or the one that looked like an FCS team against Michigan last week in a 44-13 loss here? Players and coaches all said this week that their spirits were still high despite the disappointing showing last week, and the word around the team is that this week's practices were crisp. But this remains an outfit under Danny Hope that has struggled with consistency and discipline in big spots.
The Boilermakers will have to unleash their varied offense, utilizing running backs
Akeem Hunt
and
Akeem Shavers
-- and
Ralph Bolden
. The senior is expected to make his season debut today after recovering from another torn ACL that he suffered in last year's season finale. How effective he will be remains to be seen. Maybe we'll see Bolden and quarterback
Robert Marve
in the same backfield, which we could call the ACL festival.
Caleb TerBush
should start again at quarterback, but Hope won't hesitate to pull the trigger on fan favorite Marve early if TerBush has trouble.
Wisconsin's defense is an underrated crew that's playing pretty well, though Nebraska's spread and speed gave it major problems in Lincoln. Purdue could follow a similar blueprint.
This is also a huge game for Hope, whose support among the Purdue fan base would dwindle if his team falls flat in this one. With a trip to Ohio State looming next week, the Boilers can't afford another Big Ten loss. This is a must-win situation, and Purdue needs to come out firing as if it is indeed a championship game. Because, in all reality, it is.
October, 13, 2012
10/13/12
10:33
AM ET

Brian Bennett previews Saturday's Wisconsin-Purdue game from Ross-Ade Stadium.