ESPN.com Big Ten blogger Adam Rittenberg talks with Wisconsin coach Bret Bielema.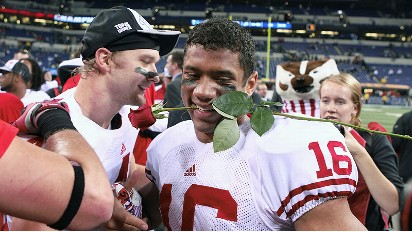 INDIANAPOLIS -- Russell Wilson had barely arrived in Madison this past summer when he shared his vision for the season."I want to be part of something special," the NC State transfer announced upon meeting his new Wisconsin teammates.
1238d
Adam Rittenberg and Brian Bennett
It's time to hand out helmet stickers from an unforgettable inaugural Big Ten championship game. Wisconsin QB Russell Wilson: The senior once again came up big in the fourth quarter, and this time his efforts led to a come-from-behind win.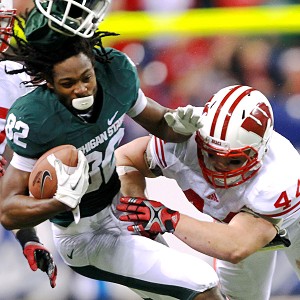 INDIANAPOLIS -- There would have been no qualifiers this time for Michigan State.No talk of Hail Marys or fortunate breaks or uncharacteristic mistakes from the opponent everyone assumed was better and more talented.
INDIANAPOLIS -- The first Big Ten championship game was an exciting, memorable event. Especially for Wisconsin fans.Despite getting outgained and often outplayed by Michigan State, the Badgers pulled out a 42-39 win to avenge an earlier loss this season and clinch a bid to the Rose Bowl for the second straight season.
INDIANAPOLIS -- We've got another good one brewing between No. 13 Michigan State and No. 15 Wisconsin here at Lucas Oil Stadium, where Michigan State leads 36-28 after three quarters of play.
INDIANAPOLIS -- Quick halftime analysis from a wildly entertaining first 30 minutes at the inaugural Big Ten championship game:Turning point: On the first play of the second quarter, Michigan State went for it on fourth down and 1 from the Wisconsin 30.
INDIANAPOLIS -- So much for the Big Ten championship game being a defense-driven contest.Both offenses are moving the football very well so far tonight at Lucas Oil Stadium.
INDIANAPOLIS --A couple of quick notes from pregame warm-ups: Walking around this city Friday and earlier Saturday, it seemed like there were more Michigan State fans here than Wisconsin backers.
INDIANAPOLIS -- Greetings from the inaugural Big Ten championship game, where No. 13 Michigan State will take on No. 15 Wisconsin for the right to face Oregon in the Rose Bowl Game presented by VIZIO.
Brian Bennett and Adam Rittenberg preview the Michigan State-Wisconsin game from Lucas Oil Stadium.