Adam Rittenberg talks to Michigan State safety Trenton Robinson about the Spartans' upset of Wisconsin.
Adam Rittenberg talks to Keith Nichol about his big catch to lift Michigan State over Wisconsin.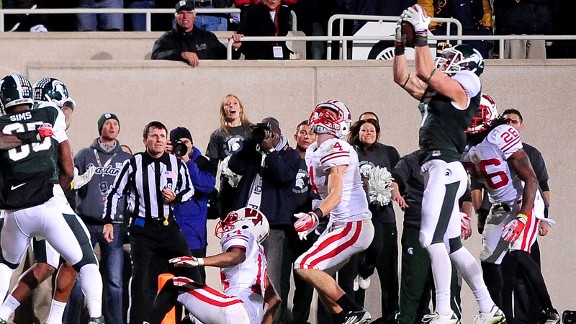 EAST LANSING, Mich. -- When Michigan State quarterback Kirk Cousins scanned the team's 2011 schedule, one stretch of games practically glared back at him.
EAST LANSING, Mich. -- Instant analysis from Spartan Stadium, where No. 16 Michigan State upset No. 6 Wisconsin 37-31 on a Hail Mary on the final play.
EAST LANSING, Mich. -- Some quick thoughts from a wild first half at Spartan Stadium, where Michigan State scored 23 unanswered points after finding itself in an early hole .
EAST LANSING, Mich. -- A few notes from warmups as we get set for No. 6 Wisconsin at No. 16 Michigan State. Wisconsin top wide receiver Nick Toon went through warmups and didn't seem limited.
EAST LANSING, Mich. -- Welcome to Sparta.We've got a big one on tap tonight as No. 6 Wisconsin visits No. 16 Michigan State in a potential preview of the inaugural Big Ten championship game.