NCF Nation:

Ball-Stays-At-Wisconsin
January, 5, 2012
1/05/12
5:46
PM ET
They're celebrating in Mad-town, as Wisconsin running back
Montee Ball
has
decided to stay in school for his senior season
. Ball based his decision heavily on a third-round grade he received from the NFL draft advisory committee in addition to other factors. I caught up with Ball, the Heisman Trophy finalist and 2011 Big Ten offensive player of the year, after his formal announcement.
Here's what he had to say:

Take me through the decision-making process and when you finalized your choice to return.
Montee Ball:
In early November, I obviously had the decision to leave or stay. I tried not to think much about it, because we had some games to finish and finish out the season right. But come last Saturday, I woke up in the morning, it was around 9, walked around, thought a little bit, looked myself in the mirror and made a decision. Around 10 o'clock, walked up, found Coach [Bret Bielema] and basically told him why I decided to come back, and I told him some factors that weighed heavily into my decision. Obviously, he was excited. He hugged me and welcomed me back.
When did you get your evaluation back from the NFL, and how big a factor was it?
MB:
I got it back two or three weeks ago, and obviously it weighed a lot on my decision. They came back, they said third round, and obviously I was a little disappointed. I felt like I was better than third round. Me coming back now, I'll be able to focus on my strength, my speed and all that stuff, and I believe I can better my stock.
Did they only give you a grade, or areas you can improve? Where can you get better in 2012?
MB:
Mostly it was just a grade, but listening to Coach and hearing some whispers here and there, I heard that they felt being a 205-, 204- [pound] running back, you've got to be blazing, blazing fast, so they want me to be up around 215, a physical back. That's really what I'm going to focus on.
What will that be like? You've been at 235, and now you're at 205, and then you're going to be 215. You'll be three different players in your career.
MB:
Yeah, I'm sure my body is a little confused with that, going from 230 to 205 and now I have to get back up to 215. But I know it's going to help me and help my game, and obviously it will better this team.
What do you say to those who think you can't get any better, that your stock can't get higher than it is right now?
MB:
I understand where they're coming from, because 1,900 yards, 39 touchdowns, it is hard to match that or do better than that, but if I would have told you I'd do that at the beginning of the season, you probably wouldn't have believed me. So you really can't say anything. You have no idea of what I'm capable of doing coming into the [2012] season.
What are some of the challenges for you going into your last year? Russell [Wilson] won't be there, Coach [Paul] Chryst and Coach [Bostad] won't be there.
MB:
Of course, losing the great players we are losing and the coaches we're losing, it's obviously a challenge, but I have faith in Coach B. that he's going to bring in some great coaches. And what he did a great job of last year was preparing the second- and third-string players for their time this year to shine. They're just as ready as the players that are leaving, so we're going to be just as good as we were last season.
When you sent in your forms to the NFL, what did you think they would say?

MB:
At the time, it was mainly just, 'Let's figure out where my grade's going to be and let's just see what they say.' I guess at the time they would come back second round or something like that, but they came back third. It weighed heavily with my decision, but there obviously were some other factors as well.
If you had received a second-round grade, would you have gone to the draft?
MB:
Obviously, a lot depends, but no, I believe I still would have stayed.
So it would have taken a first-round grade.
MB:
Yeah, if they came back with first round, for sure. You can't pass that up.
You made your decision before the Rose Bowl. Did the game itself have any effect on you, even if you guys had won?
MB:
I believe that's why I made my decision before the game. I didn't want the outcome of the game to weigh heavily with my decision. But a little bit of me staying was seeing some of the players' faces in the locker room after the loss, just how hard they worked and still to come up short again. I want to make sure this year [2012] no matter where we end up, hopefully we end up in a bowl game, and I'll make sure we come out with a victory this time.
You decided to tell the team you were coming back after the Rose Bowl. What was that moment like? You have some guys whose careers are over, you just lost a tough game and then you're announcing some good news.
MB:
Once Coach B said a few words, what he needed to say, he stepped back, asked if there were any questions or concerns. No one really said anything, and just to get it across to everyone's minds, I was like, 'This is my time. I've got to stand up and say something because I will be a leader of this team next year.' So I stood up and basically told the seniors, 'I'm sorry that you have to end your careers like this, and I'm really sorry that we fell short once again.' But what I told the juniors, sophomores and freshmen is, 'I cherish these moments, I'll cherish them for the rest of my life and that's one of the reasons why I will be joining you guys for the 2012 season.' Once I said that, they started clapping, and I just put it up on myself to try and uplift the spirit in the room.
What's still out there for you individually and for this team?
MB:
I need to become stronger and faster, and I believe I will get that done. Being a football player, you love individual awards, so I'm looking forward to making it back to Orlando [ESPN football awards] and New York [Heisman Trophy presentation], and maybe coming out with the awards this time. And from a team standpoint, we have to finish the season out right. Two years in a row we didn't, so I'm going to make sure we do it this year.
You'll be able to finish your degree now. How important was that for you and for your family?
MB:
Very important. It's very important for myself and my family. Being a running back, your life span in the NFL is very short compared to other positions. Once I'm done in the NFL, I'll be looking to have a family and start a career somewhere else, so I have to make sure I come out with my degree.
January, 5, 2012
1/05/12
4:27
PM ET
It has been a rough few days for the
Wisconsin Badgers
, who lost their second consecutive Rose Bowl on Monday and lost two more assistant coaches Wednesday.
[+] Enlarge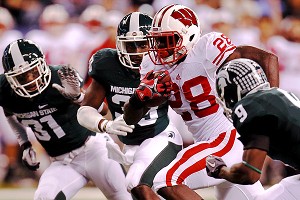 Gregory Shamus/Getty ImagesStandout running back Montee Ball is returning for another season at Wisconsin.
But the week is ending on a very good note: "MoneyBall" is waiting to cash in.
Translation:
Montee Ball
will remain at Wisconsin for his senior season.
Ball, the Badgers' star running back,
announced his decision
to stay at a Thursday afternoon news conference. Badgers fans have to be thrilled and also a bit surprised by Ball's choice.
While the Big Ten's NFL draft decisions so far have been as expected -- Illinois' Whitney Mercilus, Iowa's Riley Reiff and Michigan State's Jerel Worthy all were expected to forgo their senior seasons and did -- Ball raised a few eyebrows by opting to stay.
The biggest reason? His position. Running backs typically bolt for the NFL when their stock is high, and Ball's stock rose after a season when he led the nation in rushing (1,923 yards), matched Barry Sanders' NCAA single-season touchdowns record (39) and earned consensus All-America honors. Given the short span of pro careers for most running backs, Ball's choice to delay his NFL entry makes him unique.
On the other hand, Ball isn't projected to be a first-round pick, unlike the Big Ten's three early entrants. In fact, he received a third-round grade from the NFL draft advisory committee, which "really disappointed" him.
There have been concerns about his pass-blocking and even his size after he slimmed down considerably after the 2010 season. Ball said he plans to increase his weight to 215 on the recommendation of the NFL draft advisory committee.
"That's what I'm going to do this spring, see if my body can handle 215," he said.
It's hard to expect Ball to duplicate his 2011 performance in the fall, as star quarterback
Russell Wilson
departs and the team has major questions under center. The offense also will operate with a new coordinator and two new assistants after Paul Chryst, Bob Bostad and DelVaughn Alexander all departed for positions elsewhere.
"Obviously I'm taking a pretty huge gamble coming back," he said.
His decision is great news for Wisconsin and for those who love college football. He'll be the Big Ten's top Heisman Trophy candidate entering the 2011 season and one of the national front-runners. Ball's decision also solidifies Wisconsin as the Leaders division favorite in 2012, especially because Ohio State is ineligible to reach the Big Ten title game.
Ball also puts himself in position to finish as one of the greatest running backs in Big Ten history. He ranks fifth in the Big Ten in career rushing touchdowns with 51, 20 behind former Wisconsin star Ron Dayne, the 1999 Heisman Trophy winner. Although Ball won't catch Dayne on the career rushing list, he could move into the top five in the Big Ten with a strong senior season. He has 3,310 career rush yards -- former Michigan State star Lorenzo White is fifth with 4,887. And unlike most of the backs on the Big Ten's career chart, Ball won't be a four-year starter.
"These four years that I'll be here, I want to make sure I put a huge stamp on this university," he said.
It will take some time to know whether "MoneyBall" made a good business decision.
But Wisconsin fans have to be stoked. The rest of the Big Ten? Not so much.