NCF Nation:

Barrett Matthews
June, 14, 2012
6/14/12
11:00
AM ET
Texas' trio of safety
Kenny Vaccaro
, defensive end
Alex Okafor
and tight end
Barrett Matthews
are in the process of
receiving their punishment for an incident
at an Austin pizza parlor in May, but it won't include game suspensions.
That's no real surprise
for what equated to very minor charges, but still produced headlines that coach Mack Brown deemed unsavory. He told reporters Wednesday that the punishment is still ongoing and will be handled internally.
Vaccaro, Okafor, Matthews and former UT player Eryon Barnett were charged on May 7 with failure to obey, a misdemeanor, after declining a police officer's orders to leave the Roppolo's Pizza restaurant at 316 East 6th Street.

All charges against the three Texas players have been dropped, Brown said, and the seniors are working to regain their status as leaders in the program.

"They are paying hard for really being disrespectful to authority figures," Brown said. "It's our job to make sure we keep the respect of the authority figures we have. Our police department has a difficult job, and if they ask you to leave you should leave, and you should leave quickly."
Okafor and Vaccaro were pulled off Texas' travel contingent for Big 12 media days next month and won't represent the team until the fall, but can still be captains.
Is Brown's punishment too strict, too lenient or just right?
September, 18, 2010
9/18/10
11:32
PM ET
By
ESPN.com staff
| ESPN.com
Tied 14-14 at halftime, the Texas defense took control after the break, leading the Longhorns to a
24-14 win
in Lubbock, Texas.
The Longhorns held Texas Tech to just 144 yards of offense (158 passing and minus-14 rushing).
Texas got a 27-yard field goal from Justin Tucker in the third quarter and
Garrett Gilbert
hit
Barrett Matthews
for a 1-yard touchdown in the fourth to account for all the second half scoring.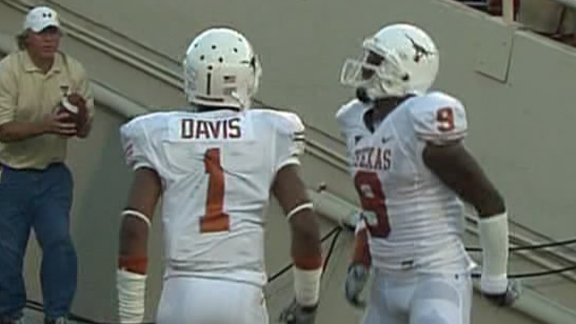 August, 17, 2010
8/17/10
9:50
AM ET
Three players from the Big 12 made the watch list for the Mackey Award, presented to the nation's best tight end at the completion of the season.
I'm going to take a leap of faith here and assume that unless one of these three players plays for your team, you've probably never heard of them. I say that because the three Big 12 players on the list combined for 32 receptions, 317 yards and no touchdowns last season. Also, Jones no longer starts for Missouri; fellow junior
Michael Egnew
has assumed that role.
It's worth noting that none of the three earned any sort of All-Big 12 distinction in 2009.
Here's a look at their numbers from 2009:
Biere: 14 rec, 183 yards
Deehan: 10 rec, 91 yards
Jones: 8 rec, 43 yards
I should mention, with a new quarterback, Biere is probably the most likely of the three to have a breakout year, but don't count on any of these three making the trip to Orlando for the awards ceremony as a Mackey finalist this winter.
Obviously, if a guy like Texas'
Barrett Matthews
or Egnew has a big year, they won't be excluded from contention for the award, but more than anything, what the list reveals is this: If the conference's figurative tight end talent pool were a literal pool, you wouldn't be able to buy enough "No Diving" signs to get your point across.
That's a big change for a conference used to big-time talent at the position. Just in recent years, Oklahoma's Jermaine Gresham, Missouri's Chase Coffman and Martin Rucker, Oklahoma State's Brandon Pettigrew and Texas A&M's Martellus Bennett have been dominant at the position. A quick look across the conference doesn't reveal anyone who touches that group.
If a tight end for any team wants to step up in 2010, they won't have to beat out much for people to take notice.
Egnew and Matthews look like the two most likely candidates to do it.
July, 29, 2010
7/29/10
2:45
PM ET
IRVING, Texas -- Solid three days here in Irving with a chance to visit with plenty of folks around the conference. Nobody really embarrassed themselves -- players or coaches -- this week, but I'd say I was most impressed with Texas' Mack Brown, Texas Tech's Tommy Tuberville and Paul Rhoads at Iowa State, though I'd suppose it's no surprise that those three are among the best in the conference at handling the media.
Honest, lean, insightful and slow with the cliches. All three follow that path pretty closely. On to more notes, thoughts and quotes from the final day of the conference's powwow outside Dallas:
[+] Enlarge

AP Photo/Mike FuentesMack Brown gave a poignant answer to a question about Nebraska's Red Out Around the World video.

Brown had a great response to a question about the now-edited Red Out Around the World video from Nebraska that caused a ruckus earlier this summer. It was pretty truthful, he stayed away from further inciting the Huskers, but still professionally incisive. If I'm a Nebraska fan, his words have to make me a little furious. Chalk this point up for Brown: "I really think that's a compliment to us, very honestly, for a program like Nebraska to be talking about Texas this time of year and they should be. They're good. They've gotten back. They're in the mix and on the national scene." I don't think he could have handled the issue more adeptly, and he followed it up with lavish praise for the Nebraska fans and way of life, including an often-used anecdote about the Nebraska fans chanting "Heisman! Heisman! Heisman!" at Ricky Williams as he left the field at Memorial Stadium after a Longhorns win.

I really think Stoops' comments about his offensive line are a big deal. He wasn't shy about criticizing the line last year, and if they still weren't up to his standards, he'd have no reason to stop. If Oklahoma's offensive line is as good as Stoops thinks it is...look out. "We have -- year in and year out -- a fairly good defensive line, and I thought they were toe-to-toe with them all the time and competed with them well," Stoops said. "So the way they finished the year a year ago. I think all of that together gives us an opportunity to be optimistic." Before that quote, he mentioned their work ethic in the offseason workouts and praised their efforts during the spring -- the exact opposite of what he said after the spring of 2009.

On the subject of Oklahoma's defensive line, it sounds like DT Adrian Taylor is right on schedule after suffering an unspeakably gruesome leg injury in the Sun Bowl. Stoops says they plan on him being cleared to play for preseason camp. I wouldn't have bet on that a day after the bowl game, but if Taylor can be healthy and return to his form from last year, Oklahoma's interior should be very, very good with Taylor and former blue-chip recruit Jamarkus McFarland.

Texas tight end Blaine Irby suffered a bad injury of his own -- to his knee -- two years ago, but Brown didn't sound too optimistic about him. I had heard he was progressing well and looking impressive in voluntary team 7-on-7 workouts, but Brown says he hasn't been cleared to practice yet with camp only a little over a week away. Brown praised up-and-comer Barrett Matthews, who you can read more about in our Texas Fresh Faces post from earlier this month.

Brown mentioned that Texas will schedule some more "Ohio State-type" games in the future. Not much more to say than this: good idea. Should serve as a nice replacement for the strength-of-schedule bump that traditionally came with the Big 12 championship.

Not media days related, but Texas A&M is apparently a bit uneasy after commissioner Dan Beebe's comments about the $20 million the Aggies were told they would earn by 2012-13. "A key part of Texas A&M's decision to remain in the Big 12 earlier this summer was the Commissioner's commitment that Texas A&M would receive a minimum of $20 million annually in future conference distributions," Texas A&M president R. Bowen Loftin said in a statement. "We remain committed to the conference and fully anticipate that the Big 12 will honor its commitment to Texas A&M." Texas A&M would have regretted leaving the Big 12 for the SEC on their own -- at the very least in the short run -- but I don't make much of his comments yet. All I see now is a concrete possible future spark for future realignment -- along with a theoretical invitation for Missouri from the Big Ten after the conference concludes its expansion study. That is, unless the appropriate amount of money is indeed there when they believed it would be."

One final note: Former Oklahoma running back Adrian Peterson has -- by far -- the strongest handshake of any athlete I've ever met, but I ran into a possible future contender on Wednesday: Texas defensive end Sam Acho. I'm not going to do any psychoanalysis, but you notice that sort of thing quickly, even when you're not looking for it.
February, 4, 2009
2/04/09
10:00
PM ET
Posted by ESPN.com's Tim Griffin
Back in the day, Mack Brown used to be called "Mr. February."
That nickname has fallen in public favor in recent years as the Longhorns have claimed five straight bowl victories and eight straight 10-win seasons.
But the key for Brown's recent dominance has been attracting top recruits. Wednesday's haul was no different.
The Longhorns attracted nine players on the ESPNU 150 list. The rest of the Big 12 attracted 10 top 150 recruits on the list combined.
And while the Longhorns missed out on Dre Kirkpatrick, the nation's No. 1 cornerback prospect according to Scouts Inc.'s national list, they still added several key players.
Kirkpatrick, a native of Gadsden, Ala., decided to stay close to home by choosing Alabama over Texas in an elaborate nationally televised news conference.
During questioning, Kirkpatrick professed his love for Brown and his coaching staff shortly after dismissing a Texas hat because it "had no swagger." But it wasn't a surprise that Kirkpatrick chose the Crimson Tide, despite a recruiting trip to Austin only 10 days ago.
Texas was beaten out Wednesday by USC for linebacker Jarvis Jones of Columbus, Ga.
Despite those out-of-state misses, the Longhorns dominated recruiting inside the state with three of the nation's top 29 players. Key players included quarterback Garrett Gilbert of Austin Lake Travis (Scouts Inc.'s No. 2 quarterback, ESPNU's 11th best player), center Mason Walters of Wolfforth Frenship High School (Scouts Inc.'s No. 1 center nationally, No. 27 on ESPNU's list) and tackle Paden Kelley of Austin Lake Travis (Scouts Inc.'s No. 2 tackle, No. 29 on ESPNU list).
Most of Texas' prime recruits decided long before national signing day they wanted to play for Brown's team.
"A lot of guys want to come to Texas," Brown told ESPNU. "We have been here now for 12 recruiting classes and most of these guys [who were recruited] were in the first grade when we got started. There are 350 guys in the state who are eligible. We just have to make sure we get the right 20 or 22 for us."
The Texas recruiting class also features in-state playmakers like running back Chris Whaley of Madisonville and tight end Barrett Matthews of Galena Park North Shore.
"It's a class that spans all the positions," Brown said. "Some of the guys fill immediate needs. We have guys who will be here for four years and who will get better once they get here. It's not who we got, but what they will become."