NCF Nation:

BCS national championship
January, 10, 2012
1/10/12
6:19
PM ET
With New Orleans hospitals, schools and basic infrastructure in dire need of rebuilding following Hurricane Katrina, many taxpayers wondered aloud why the Federal Emergency Management Agency would allocate $156 million for a renovation of the Superdome.
Sure, the stadium was eligible for FEMA funding because it was state-owned, open to the public, and it sustained damage during Katrina. Yet questions came, anyway.
But for Louisiana, it marked a "If You Build It, They Will Come" idea. Fast-forward six years, and note that the Mercedes-Benz Superdome -- on the heels of $336 million, multiphase renovation -- is in the midst of playing host to a string of the country's major sporting events.
[+] Enlarge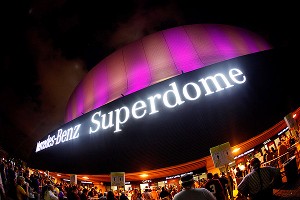 Chris Graythen/Getty ImagesThe Mercedes-Benz Superdome before the All-State BCS National Championship Game.
In addition to the annual Sugar and New Orleans bowls, the city that hosted the Allstate BCS National Championship Game on Monday night also has Saints playoffs games this winter, the SEC men's basketball tournament and men's Final Four this spring, the Super Bowl in February 2013, and the women's Final Four a few months later.
Landing such events was part of the post-Katrina recovery plan, says Mark Romig, chief executive officer of the New Orleans Tourism Marketing Corp., and a member of committees for the Super Bowl and Sugar Bowl. "We knew for us to come back and to lift ourselves up, we had to go through this process."
Romig says New Orleans annually ranks at or near the top of the list in hospitality jobs nationally, with between 70,000 and 80,000 positions. He says that number is "very close" to pre-Katrina levels and that there are more restaurants in New Orleans than before the hurricane, and hotel numbers are comparable.
John Williams, interim dean for University of New Orleans' College of Business Administration, attributes much of the city's jump from $4.3 billion in tourism spending in 2009 to $5.5 billion in 2010 to sports. Business travelers are staying an average of 2.2 days longer than their business plans, he says, often to attend sporting events.
Williams says studies also show fans visiting for sporting events are more likely to patronize local restaurants than other tourist segments, like day visitors or business travelers. It's why he thinks the city has seen a jump in restaurants from 805 pre-Katrina to 1,230 today. "Sports are really key to that," he says.
Williams says the city saw a 6.6 percent growth in tourism-related jobs in the first quarter of 2011 alone. While numbers have not yet been vetted for the remainder of 2011, he says the city has been experiencing a snowball effect since hosting Saints playoff games in 2009.
Romig says hosting events like the BCS game Monday essentially provide the city with immeasurable free advertising to help boost tourism unrelated to sporting events. ESPN logged more than 36 hours of programming on sets around New Orleans in the week leading up to the game, not counting the game itself, pre- or post-game shows or halftime shows.
Asked to estimate the value of the advertising New Orleans received around the BCS National Championship game, Malcolm Turner of Wasserman Media Group says, "There's no question we're talking in the tens of millions of dollars."
The projected economic impact from the recent Sugar Bowl and BCS National Championship games was $400 million. The R&L Carriers New Orleans Bowl played on Dec. 18 and the Saints playoff game last Saturday were expected to contribute another $45 million. But the Super Bowl is the big revenue generator, with estimates at about $900 million.
August, 9, 2010
8/09/10
9:00
AM ET
Boise State and TCU return most of the starters off their BCS teams from last season. So surely 2010 is the best chance yet for a non-AQ team to make history and bust into the BCS national championship game.

As our good friend Lee Corso would say right about now – not so fast my friend.

The Broncos and Horned Frogs do have specific advantages their past teams never had. For one, they are both ranked in the Top 10 in the preseason coaches' poll, the first time two non-AQ teams have been ranked so high to start a season. Boise State starts No. 5; TCU at No. 7.

"It doesn't matter if you're a non-automatic qualifier or a qualifying school -- the higher you start, the better chance you have to play for a national championship," TCU coach Gary Patterson said.

Both programs made history last season, the first time two non-AQ teams made it into a BCS game. Both are on the lips of most every college football fan in America. Both have gained respect, and both are living in a world where fans increasingly want to see the current BCS system torn up, if for no other reason than to expedite a playoff.

So yes, compared to 10 years ago, non-AQ teams are getting unprecedented consideration.

But for the incremental movements up the poll, there still is a glass ceiling between them and a spot in the coveted BCS national championship game. The preseason poll already shows some of the favor power schools have with voters -- Florida and Texas, with unproven quarterbacks, are ranked ahead of them.

Undefeated TCU has been the closest to the title game in the BCS era, finishing with a No. 4 ranking in the BCS standings last season. Boise State was No. 6. But if history is any indication, it is going to be just as difficult for any non-AQ team to play for a national championship.

For one, they must go undefeated. For another, going undefeated has meant nothing. Let us take a look back at the past six final BCS standings to 2004, when Utah became the first non-AQ team to make it into a BCS game.

2004: Undefeated Utah (AP preseason No. 20) finishes No. 6 in the BCS standings behind three unbeaten teams and two one-loss teams: Texas and California). The Utes beat Pittsburgh in the Fiesta Bowl.

2005: No non-AQ team in BCS bowls.

2006: Undefeated Boise St. (preseason unranked) finishes ranked No. 8 in final BCS standings – behind two 2-loss teams to boot (LSU and USC). The Broncos beat Oklahoma in the Fiesta Bowl in one of the greatest games in college football history.

2007: Undefeated Hawaii (AP preseason No. 23/coaches No. 24) finishes No. 10 in the BCS standings.

2008: Undefeated Utah (preseason unranked) finishes No. 6 in the BCS standings behind five one-loss teams (Oklahoma, Florida, Texas, Alabama and USC). The Utes beat Alabama in the Sugar Bowl. Undefeated Boise State finishes No. 9 and fails to make a BCS bowl game.

2009: Undefeated TCU (AP, coaches preseason No. 17) is No. 4. Undefeated Boise State (AP preseason No. 14, coaches No. 16) is No. 6. Boise State finishes ranked behind a one-loss Florida team. Interesting note: TCU and Boise State were ranked behind a one-loss Gators team in the computer average.

This season could be different, yes. Starting a year ranked in the Top 7 definitely helps. But even then, their schedules will no doubt be discounted because each team plays in a weaker conference – Boise St. in the WAC and TCU in the Mountain West.

So let us say Boise State is able to open its season with a win against Virginia Tech, beat Oregon State a few weeks later and run the table in the WAC. Will its high preseason ranking give it enough mojo to earn it a spot in the final two, ahead of a one-loss team from the SEC or Big 12 or Big Ten?

We can debate the same question with TCU, which plays Oregon State to open the season. Neither coach wants to hazard a guess, either.

"The last few years we've played well and had a lot of luck along the way," Boise State coach Chris Petersen said at WAC media days. "We try not to think in those big, broad terms, look down at the end of the schedule what our record might be."

Patterson: "We understand we've got quite a non-conference schedule ahead of us. If you win those kinds of games, for us to start as high as we'll start in the preseason rankings gives us the opportunity to reach the top of our pyramid. That's what our goal is."

If both teams lose to start the season, this story is meaningless. But if both teams continue to win, what happens next will be the biggest storyline in college football.
August, 1, 2008
8/01/08
12:00
PM ET
Posted by ESPN.com's Adam Rittenberg
Some of you probably saw the headline and spilled coffee all over your pants. He must have amnesia, you're thinking. Didn't he watch the last two national title games?
True, Ohio State was anything but clutch in back-to-back center-stage flops, especially after entering the 2006 championship as a heavy favorite. But I like to look at the larger picture, and in the last few seasons, no Big Ten team has consistently been better under pressure than Ohio State.
Since 2002, the Buckeyes are 25-7 in games decided by 11 points or fewer. The team's 2002 national championship run was defined by close victories, as quarterback Craig Krenzel & Co. claimed eight games by 11 points or fewer -- the final four contests by a touchdown or less. From Will Allen picking off Michigan's John Navarre near the goal line to seal a win in 2002, to Mike Nugent repeatedly connecting on pressure-packed kicks, to Krenzel's Fiesta Bowl heroics against both Miami and Kansas State, the Buckeyes have come up big over and over. Oh, and they've beaten Michigan four consecutive times and six times in the last seven years. Performances like those in what is always the biggest game on the schedule qualifies as clutch.
Ohio State's crunch-time poise has dipped a bit since 2003, and last season's home loss to Illinois raised some red flags. But Heisman Trophy contender Beanie Wells consistently makes big plays in big games. If quarterback Todd Boeckman solidifies his clutchness (is that a verb?) during a tough road schedule this fall, Ohio State will be back in the national title mix.