NCF Nation:

BCS reaction 062112
June, 21, 2012
6/21/12
11:20
AM ET
The good news out of the latest BCS meetings Wednesday: a
consensus has been reached
on a four-team playoff.
Finally.
But there is bad news, particularly for a conference like the Big East. Sources told ESPN.com that under the recommended model, a selection committee would pick the four teams to make the playoff. That committee would consider certain criteria such as conference championships and strength of schedule. Being a conference champion is not going to be a requirement.
As you already know, the Big East was
against a selection committee
, and wanted some sort of weight to be given to conference champions.
[+] Enlarge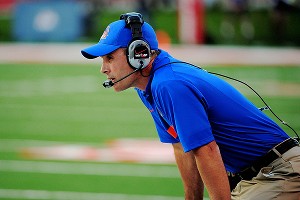 Kyle Terada/US PRESSWIREWill Chris Petersen and future Big East member Boise State be hurt by having a committee deciding if they're worthy of playing for a national title?
The honest truth is that the Big East was not in any position of power during these meetings, especially given all the recent talk from conference commissioners that there were only really five major conferences. Even if the Big East had a full-time commissioner at these meetings, the power brokers would not have been swayed from a different selection method.
Forgive me for my cynical skepticism here, but I fear for conferences like the Big East with a selection committee in charge. How do we know that the group of men charged with making the decisions are going to choose the best four teams while turning a blind eye to conference affiliation? Particularly when a league like the Big East has such a weak national perception.
Interestingly, the idea of a
selection committee seemed to be dead
-- even a month ago. At both the Big East and ACC spring meetings, neither coaches nor the commissioners even addressed the idea of a selection committee because it was not a real option at the time.
The idea only picked up steam in recent weeks, when it appeared to be one solution to all the different ideas for how to pick the teams to make a playoff. It also could be perceived to be a way for conferences like the SEC and
Big Ten
to try and protect their own interests.
Would anybody be surprised if the selection committee ended up picking a one-loss team from the Big Ten over an undefeated Boise State team for the final spot in a playoff? Particularly given all the national skepticism surrounding Boise State?
These are all pessimistic questions, but ones that surely must be asked. If strength of schedule is going to play a role in selecting a team from the Big 12/SEC/Big Ten/Pac-12 over a team from the Big East, you can probably guess which way the committee will go. What will make matters worse for the Big East in the strength of schedule argument is conference realignment.
Most conferences are moving to a nine-game conference schedule. The Big East is not. That means there are going to be fewer opportunities for teams from the Big East to beef up nonconference schedules in order to show any type of selection committee that it has played the toughest schedule possible. Let's not forget the Pac-12 and Big Ten have a scheduling agreement in place, making it that much harder to get a game with teams from that league.
You can look at what West Virginia did this year in its move to the Big 12 to see that teams with more league games are not going to play nonconference schedules that are deemed too tough. Or you can just look at the entire SEC.
A team like Boise State already has a hard enough time getting games against marquee opponents. How are the Broncos expected to pick up some tough nonconference games when 1) so few national powers want to play them and 2) there are fewer slots for marquee teams to schedule these games?
Even if Boise State wanted to play all four of its nonconference games on the road against Alabama, USC, Michigan and Texas, the likelihood of that happening is almost nil.
I still think a playoff is good for college football, because it gives two more teams a chance to play for a national championship. But I worry about the role of the selection committee and how conferences outside the "power structure" are going to do. Whether you think it is fair or not, the Big East is
going to be outside
the power structure.
My hope is the selection committee will make the right decisions and pick the four most deserving teams to make a playoff, regardless of conference affiliation. My fear is that conferences outside the power structure will continue to be locked out.
June, 21, 2012
6/21/12
10:54
AM ET
Not long after the BCS commissioners and Notre Dame's athletic director endorsed a seeded four-team playoff beginning in the 2014 season, the scorecards began rolling in.
There would be no Pacquaio-Bradley controversy at the Hotel InterContinental in Chicago.

The consensus victor: commissioner Mike Slive and the SEC.
Yahoo! Sports' Pat Forde: "If the long slog toward a college football playoff were the Tour de France, the only thing left would be the ceremonial victory lap down the Champs-Élysées. The guy in the yellow jersey, sipping champagne as he rides? That would be Mike Slive."
CBSsports.com's Dennis Dodd: "Get used to a world -- a new college football playoff world -- much like the current one. Tigers, Tide, Gators and Dawgs running loose and free over the landscape. There wasn't a bigger rubber stamp in the room when the playoff pack's 12 Angry Men (11 FBS commissioners and Notre Dame AD Jack Swarbrick) took their biggest step yet in this discussion."
SI.com's Stewart Mandel: "After a series of compromises, the SEC -- owner of six straight national championships -- can be declared the victor. Again."
If Slive and the SEC "won" with the agreed-upon postseason model, Jim Delany and the Big Ten must have lost, right? It fits the narrative, after all. It probably didn't help that Delany wore a bandage on his face during Wednesday's news conference, surely the result of a vicious right hook from Slive in the meeting room.
Many will interpret Wednesday's result as a setback for Delany, who vigorously supported the BCS system and helped shoot down the plus-one proposal Slive and ACC commissioner John Swofford brought up in 2008.
The truth is the Big Ten had to give up some of its potential desires for the playoff consensus to be reached. But so did every league. And the things the Big Ten gave up were nationally unpopular or not feasible.
Let's go through them:
Campus sites
While the Big Ten acknowledged campus sites could have benefits for its teams not currently present in the BCS structure, there was virtually no support for campus sites among the other leagues. There were concerns about staging these massive sporting events at smallish stadiums in remote areas. Again, not a Big Ten problem, but a problem elsewhere.
Did the Big Ten give up too easily on pushing for campus sites? Perhaps. Was there any chance campus sites would be approved by even a small majority of commissioners? No. Even the Big Ten's players and coaches said they preferred to have games at bowl sites to preserve the bowl experience.
Rose Bowl access
The new system, if approved by the presidents, will keep semifinals in the existing bowls, most likely on a predetermined, rotating basis. It's hard not to envision the Rose Bowl being a national semifinal every other year, at the very least. There's the Rose Bowl, and then there are the other bowls. It's not really close, and it's humorous to hear how some think the Champions Bowl will rival the Rose Bowl. These significant games should be in Pasadena more often than not.
Will there be years where the Rose Bowl features two teams not from the Big Ten or Pac-12? Yes. But that's
already happened
. Will the traditional matchup (Big Ten champion vs. Pac-12 champion) take place all the time? No. But it doesn't now. Here's all you need to know about the Rose Bowl in the BCS era: Ohio State has played in Pasadena a grand total of
one time
despite dominating the Big Ten. We've seen a lot of Big Ten vs. Pac-12, but the matchups rarely have featured the best teams from each conference.
There's a decent chance a Rose Bowl semifinal will feature at least one of the traditional participants. In years where the Rose Bowl isn't a semifinal, you'll likely see the Big Ten's No. 1 or No. 2 against the Pac-12's No. 1 or No. 2. Pretty much like it is now.
"That's been a core principle for the Pac-12 and the Big Ten throughout this whole process," Pac-12 commissioner Larry Scott said, "the preservation of heritage and the importance of the Rose Bowl, making sure in any system going forward, the Rose Bowl is going to have an important role to play, so that it's as relevant 20 years from now as it is today."
That might be wishful thinking on Scott's part, but the Rose Bowl shouldn't be dramatically different after 2014.
Plus-One
File this idea under "wildly unpopular." The Big Ten presidents stated a plus-one -- selecting the national title game participants after all the bowls are played -- as their preference ahead of a four-team playoff. Some Pac-12 presidents feel the same way. But the momentum and discussion always rested with a true four-team model. Delany knew it. Scott knew it. They had to relay what their presidents felt because that's their job. A plus-one will be discussed next week to appease folks like Nebraska chancellor Harvey Perlman, but it likely won't be seriously considered.
The likely death of the plus-one isn't really a loss for the Big Ten. It's simply acknowledging reality, which is a good thing.
Conference champion access
Delany reiterated Wednesday to ESPN.com, The Washington Post and The Wall Street Journal that he never endorsed a conference-champions-only model for a four-team playoff. He said he never felt a team like last year's Alabama squad should have been excluded from the postseason. Teams "at the margin," like No. 4 Stanford last year, are completely different cases.
Is he backtracking? Some will say yes. But find the quote where Delany said champions only. It doesn't exist.
What Delany wanted to ensure was a Big Ten champion at No. 4 or No. 5, according to a poll or a computer or just plain old perception, isn't excluded from the playoff in favor of a team that didn't win its league. And that's not going to happen.
If you're keeping score, the Big Ten's big win Wednesday was the virtual certainty that a selection committee will be used to pick the playoff participants. A selection committee with clear guidelines on how to value conference championships and strength of schedule. If a conference champion and a non-champion with comparable résumés are fighting for the last spot, the conference champion will get in. Mark it down.
That was Delany's idea, one he has pushed for since mid May. And while the hybrid model -- the top three rated league champions plus one wild card -- might not be set in stone, that's what you're going to see when this system begins. The
data backs it up
.
In the 14-year BCS era, 42 of the 56 teams that finished in the top four of the BCS standings won their conference championship. That's 75 percent, which is the same exact number a three-and-one system would guarantee. Only five times in 14 years would a top four team have been left out for failing to win its conference, and all five occasions involved flipping the No. 4 and 5 teams. There would never have been a No. 3 left out or a No. 6 let in.
Slive can appease his minions by having a playoff that selects the "best four." And if the SEC continues its dominance, expect to see two of its teams in the playoff every year. But not three. That's not happening.
Delany couldn't win on certain issues (campus sites, plus-one, perfect Rose Bowl access), so he needed to ensure the selection committee got through, conference championships are valued, and strength of schedule becomes a bigger part of the equation. Those items all should be adopted with the new format.
"Once I became convinced that the regular season was safe," Delany said, "that the bowls and the Rose Bowl in particular, had a place in the system, and once I was able to talk through all of the issues with my colleagues, we found a way to get to that consensus recommendation."
Be prepared to hear how the Big Ten and Delany lost on Wednesday. It fits a nice, easy and lazy narrative.
The truth is Delany adapted to a changing landscape. He might have to bring his presidents along, kicking and screaming.
But the new system should sit well with most Big Ten fans. It's not a total loss.
June, 21, 2012
6/21/12
10:47
AM ET
Now that we are really getting closer to a playoff in college football, we here at the SEC blog thought it would be interesting to take a look at past seasons in which the BCS standings would have determined a four-team playoff. You know, just to see if the SEC's dominance would have been hindered by an extra game added to the end of the year.

The good people at ESPN Stats & Information helped us out with the math and figures. AccuScore ran 10,000 four-team playoff simulations of the top four BCS teams entering the bowl games for the 2007-11 seasons. SEC teams came out with the highest winning percentages every year. So even in the simulated world ruled by the machines, the SEC still tops the college football world.

Here's a look at the four-team playoff winning percentages:

If college football was operating with a four-team playoff during the BCS era, the SEC might have more than its eight BCS national titles. During the first 14 years of the BCS, the SEC would have placed at least one team in a four-team playoff 11 times. Two teams would have been involved three times.

June, 21, 2012
6/21/12
9:27
AM ET
We finally (almost) have our college football playoff.
And the SEC couldn't be any happier.
After it seemed as if SEC commissioner Mike Slive might have to bend a little more than expected in a playoff compromise, according to reports, he exited Wednesday's BCS meetings with that big patented smile he owns.
When the BCS commissioners and Notre Dame athletic director Jack Swarbrick announced that they had endorsed a
seeded four-team playoff model for college football
that would begin for the 2014 season, they did so with the idea that those four teams would be selected under the "best four" method. A committee will select the four teams by considering certain criteria such as conference championships and strength of schedule.
So it won't be just conference champs. It's like that hybrid model people were talking about it. Regardless, it's something that if passed by the BCS presidential oversight committee, which meets June 26 in Washington, D.C., will give the SEC even more power than it already has.
Now, the SEC is almost guaranteed a spot in the four-team playoff with its conference champ. Period. Now, getting No. 2 in will be a little more difficult but the past tells us it can happen. Remember, the wording is that conference champs will be considered, so it isn't a given that all four will be champs every year.
Realistically, having two teams from the SEC, or any other conference, in this four-team playoff won't happen that often. According to ESPN Stats & Information, if a four-team playoff were determined by BCS standings, the SEC would have had two teams in a playoff three out of the 14 years under the BCS. So would have the Big 12.
But that was under the BCS, which is all but dead. If the oversight committee passes this model, the BCS will go away and a much more sensible committee will be formed to pick the best four teams to play for a national championship.
One hope some commissioners have is that conferences won't be grandfathered into a "wild-card" spot or spots. Picking the top four should be about the current season, not past accomplishments. But we can't sit here and think that most committee members won't struggle when it comes to pitting a No. 4 SEC non-champ against a No. 5 conference champ from, oh, let's say the ACC. Then, past body of work might outweigh a championship in a conference still trying to push itself to the big boy's table.
It might not happen every time that scenario occurs, but it could, and Slive has to like that.
But one way the league could help its argument for placing two teams in the playoff is to increase those schedule strengths. We could see teams ditch the cupcakes for some real meat more often.
I'm not suggesting that Alabama-Texas or Florida-USC will become the norm, but occasionally you might see it. You might even see more SEC teams travel outside of the Southeast to play games (gasp!). For fans of real competitive college football that's certainly a plus. And if you knock off one of the other major conference's top teams, that will only increase the SEC's chances of getting another playoff team.
Slive entered the BCS meetings holding the strongest cards and even when it seemed like he might have to give a little, he emerged on top. The SEC is all but guaranteed a spot in the playoff each year and now has increased its championship odds with the chance of getting two or maybe even three (which would be a rarity of rarities), leaving other conferences yet again looking up at him and his southern empire.
June, 21, 2012
6/21/12
5:00
AM ET
1. Why did the Football Bowl Association hire an executive director two weeks ago? According to two bowl officials, the FBA didn't feel that it got a bang from the reported $200,000 annually it spent on Ari Fleischer, the former presidential press secretary whose public-relations firm also represents the BCS. The FBA instead put that money toward hiring Wright Waters away from his job as Sun Belt Conference commissioner. Waters will be the voice/face of the entire (not just the BCS) bowl business.
2. Les Miles reminded me on the
ESPNU College Football Podcast

that LSU threw the ball well for much of last season. The Tigers finished second in the SEC in pass efficiency (147.53), a stat obscured by the memory of the offense's performance against Georgia and Alabama at year's end (combined 83 yards passing). "There were nine games where we didn't have to throw the ball in the fourth quarter to ensure victory," Miles said. "It's a very difficult way to be judgmental on a team that won 13 straight."
3. That said, Miles is confident that junior
Zach Mettenberger
, the Georgia transfer, will perform better than the senior tandem, Jordan Jefferson and Jarrett Lee, that he backed up a year ago. "We'll move the football more in the air with Zach than we did in the past. His strength is the ability to throw," Miles said. "Certainly we want to throw the football better. I think our quarterback's skill set will be such that we'll throw the football more and more efficiently than we did a year ago."
June, 20, 2012
6/20/12
10:00
PM ET
By
ESPN.com staff
| ESPN.com
A camel's nose traps moisture from its lungs and recycles it through the body, which is one way that camels survive in the desert. They also manage to breathe through their nostrils without inhaling sand. Wondrous organs, those camel noses.
Until they wedge under a tent flap.
Now that the FBS commissioners have agreed to recommend a four-team, seeded playoff to the committee of university presidents who will meet next week, the vigil must begin. For years, the presidents and BCS proponents have told us that it is a law of nature that playoffs expand, that four teams will become eight; eight will become 16. If you think this is a good idea, you haven't paid attention to the state of the college basketball postseason, which is, of course, the very problem with the health of the college basketball regular season.
The camel's nose has arrived, and what an exciting nose it is. In a shade under six months, the FBS commissioners abandoned their rigid stance against a playoff and came to a consensus that what college football needs is a four-team, seeded playoff. It is a remarkable turn of events and a remarkable event in the history of a game that has been played successfully for 143 seasons without a playoff.
Read more of Ivan Maisel's story here
.