NCF Nation:

BCS reaction 102112
October, 21, 2012
10/21/12
9:19
PM ET
»
BCS standings reaction
:
ACC
|
Big 12
|
Big East
|
Big Ten
|
Pac-12
|
SEC
|
Notre Dame
Here's an idea for Chip Kelly, to help the Oregon coach circumvent those pesky BCS computers that just keep shutting off at night.
Kelly should call Auburn coach Gene Chizik, who owes him one after the BCS title game a few years ago. Kelly should ask if Chizik would be willing to trade places. Oregon could go play in the SEC for a week until its Pac-12 schedule gauntlet begins Nov. 3 against USC. That way, the Ducks could benefit from the SEC's clout in the computer rankings, rather than continuing to be dragged down by its league affiliation. Chizik and his 1-6 Auburn squad could escape the SEC meat grinder and play 1-6 Colorado. A win for everybody.
Unfortunately, Kelly and the Ducks have to stay put in the Pac-12, even after dropping to No. 4 in the
latest BCS standings
despite their continued dominance on the field. Oregon has won over the human voters, who have the Ducks at No. 2 in both polls, but all the speed and style points sadly don't mean squat with the computers. Oregon remains No. 6 in computer average, even after it dismantled Arizona State on the road Thursday night. All the Ducks can do is be patient and hope No. 7 Oregon State, No. 9 USC and No. 17 Stanford -- three teams Oregon faces in November -- continue to win. If Kelly's squad continues to dominate, it should eventually be rewarded. Unless Kansas State and Notre Dame keep winning, that is.
Week 8 seemed to bring out the best in all the national title contenders. Florida crushed South Carolina in The Swamp to strengthen its position at No. 2 in the BCS standings. Kansas State, now No. 3, recorded its second signature road win, dominating West Virginia in Morgantown behind new Heisman Trophy frontrunner
Collin Klein
. Alabama cruised past Tennessee in Knoxville to retain the No. 1 spot. There's not much to nitpick about the top four.
Kansas State, the new No. 3, might be the biggest threat to join an SEC team at the BCS title party. Bill Snyder's team is No. 2 in computer average, plays two ranked teams (No. 14 Texas Tech and No. 23 Texas) the rest of the way and won't play in a league title game.
Although the weak closing slate could hurt the Wildcats in a debate with Oregon, it's time to embrace the very real possibility of a perfect season for K-State.
Notre Dame didn't dominate its Week 8 opponent, but the Irish didn't need to. With Notre Dame, it's all about the two marquee road games, the first of which arrives this week at Oklahoma. If Notre Dame wins in Norman, it heads to USC on Nov. 24 to play for a spot in the title game. Given Notre Dame's computer clout (No. 3 average) and the schedule it has played, if it wins out, it deserves to be in.
The SEC continues to dominate the standings with three of the top six teams and five of the top 11. Although it's conceivable to see Alabama, Florida, LSU, Georgia or even unbeaten Mississippi State at the title game, several will suffer late-season losses, usually the kiss of death in the final BCS standings. LSU, rated a spot ahead of Oregon State despite the Beavers' perfect record, still has the best chance among the 1-loss teams to make it to Miami, followed by Oklahoma and USC. An All-SEC title game remains a possibility, but only if all other unbeatens stumble.
The Big 12, SEC and Pac-12 all have impressive contingents in the standings, while the ACC and Big East each have two entries. The Big Ten, shut out of the initial BCS standings, made an appearance Sunday with No. 22 Michigan and No. 25 Wisconsin. MAC unbeaten Ohio also entered the mix at No. 24.
Week 9 should provide more clarity. In addition to Notre Dame-Oklahoma, Alabama hosts Mississippi State, Kansas State hosts Texas Tech and Florida and Georgia meet in Jacksonville.
As for Oregon? The Ducks get Colorado. Another thrashing will take place. And potentially another drop in the BCS standings.
Right now, it's not easy being green.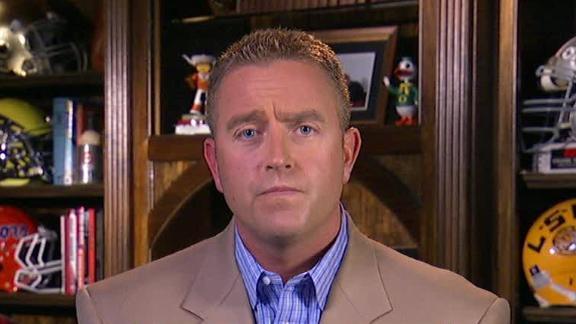 October, 21, 2012
10/21/12
9:15
PM ET
»
BCS standings reaction
:
ACC
|
Big 12
|
Big East
|
Big Ten
|
Pac-12
|
SEC
|
Notre Dame
Despite being ranked second in the human polls, Oregon is fourth in the second iteration of the BCS rankings.
Man the battle stations! Launch preemptive attack on East Coast bias!
Easy now. Do not fret. Lots of football left.
And if Oregon finishes 13-0, it still remains a good bet the Ducks would play for the national championship, even if there are three unbeaten teams.
First of all, the SEC title game takes care of one team: Alabama and Florida, ranked Nos. 1 and 2 in the BCS standings, cannot both finish unbeaten. If they end up 12-0, they will meet in the SEC title game. And, no, a 1-loss SEC team won't eclipse an unbeaten team from another AQ conference.
As for No. 3 Kansas State and No. 5 Notre Dame, both have plenty of work ahead, particularly the Fighting Irish, who play at Oklahoma on Saturday. That game is a win-win for Oregon. If Notre Dame wins, Kansas State's best win will tumble in the rankings. If Notre Dame loses, there is one less unbeaten team to worry about.
Kansas State has a number of tough games ahead, including Texas Tech on Saturday. And, folks, the simple reality is Kansas State ran away from a schedule game with Oregon, which is why the Ducks ended up with such a weak nonconference schedule. It's hard to believe pollsters, knowing that, would consider in appreciable numbers ranking 12-0 Kansas State ahead of a 13-0 Oregon.
But Oregon has a far more arduous slate: No. 9 USC on Nov. 3, No. 17 Stanford on Nov. 17 and No. 7 Oregon State on Nov. 24. Then the Ducks would play what figures to be a ranked team in the Pac-12 title game.
That schedule should make up considerable strength of schedule ground for the Ducks. And if they stay ranked No. 2 in the human polls, which is two-thirds of the vote, the odds are strong they will finish ahead of Kansas State or Notre Dame, even if they both remain unbeaten.
Of course, there are variables. What if one or more of these presently highly-ranked Pac-12 teams face plants? Kansas State and Notre Dame have the same issue, by the way.
The bottom line: It's too early to know how this plays out. And, really, Oregon needs to focus on the only thing it can: winning.
As for the rest of the BCS standings: Oregon State is seventh overall and fifth with the computers. The Beavers most certainly are not out of the national title picture if they finish unbeaten. Truth is, the Beavers' strength of schedule ranking could end up better -- far better, in fact -- than Oregon's.
USC is ninth in the standings, behind two one-loss teams: No. 6 LSU and No. 8 Oklahoma. The Trojans are not out of things, particularly if there is only one unbeaten team at season's end.
October, 21, 2012
10/21/12
9:15
PM ET
»
BCS standings reaction
:
ACC
|
Big 12
|
Big East
|
Big Ten
|
Pac-12
|
SEC
|
Notre Dame
Notre Dame
held steady at No. 5 in this week's BCS rankings
, though its computer ranking did slip from No. 2 to No. 3.
No difference to Brian Kelly, as the coach re-iterated earlier Sunday on a teleconference.
"Not really," he said of paying attention to BCS standings right now. "I know it's good for our fans and they like to see it, and we're fine with that. We'd rather be part of the conversation than not. As it relates to my day-to-day operations with our football team and preparing them, it has no significance in terms of what we do.
"I understand the big picture of it, our players do, it's great for our university, but it's not going to change the way we prepare and how we go to work each and every day."
With four undefeated teams ahead of the Irish -- and with three holding the potential to run the table -- Kelly was asked earlier if it is maddening that his team cannot control its own destiny in the truest sense.
"Well, I think clearly that's why there's going to be a new BCS," Kelly said. "They don't want anybody left out. That's not going to be the case this year, and if it ends up that there's three teams undefeated, only two are going to play. I think everybody knows the rules of the game going in, and that's why they're going to be changed moving forward. That's why we'll just control what we can control."
October, 21, 2012
10/21/12
9:15
PM ET
»
BCS standings reaction
:
ACC
|
Big 12
|
Big East
|
Big Ten
|
Pac-12
|
SEC
|
Notre Dame
Kansas State doesn't have to worry about waiting for dominos to fall anymore. The Wildcats officially leapfrogged Oregon in this week's BCS rankings and sit behind only Alabama and Florida, two undefeated SEC teams who will meet on the first Saturday in December in the SEC title game if neither loses the rest of the season.
The Wildcats laid waste to West Virginia in Morgantown on Saturday night and impressed voters and computers enough to give them the edge and put the Big 12 in position to place a team in the national title game for the first time since the 2009 season.
It won't be easy for K-State, who hosts No. 14 Texas Tech this weekend, but the Wildcats should be favored the rest of the way. K-State sits in fourth in both of the human polls, but is No. 2 in the computer polls, including a pair of No. 1 rankings in two of the six computer polls factored into the BCS rankings.
The strength of the Big 12 should allow the Wildcats to maintain their position at No. 3 and slide up to No. 2 in the last BCS rankings of the season.
Granted, there's a lot of football left to be played and a lot of possible losses ahead, but if Kansas State keeps playing the way it's playing, there's almost certainly a spot in the BCS title game waiting.
K-State already has three road wins against ranked teams this season, and Oregon still has No. 9 USC, No. 17 Stanford and No. 7 Oregon State let on its schedule, but the Wildcats have done their heavy lifting and got the two most difficult wins of the season -- at Oklahoma and at West Virginia -- officially on their resume.
No. 23 Texas waits at the last weekend of the season, but if Kansas State can get to that game without a loss, it's a safe bet that they'll be playing for a chance at the school's first national title.
Amazing.
Here's where the Big 12 sits in this week's BCS rankings:
3. Kansas State
8. Oklahoma
14. Texas Tech
19. West Virginia
23. Texas
October, 21, 2012
10/21/12
9:15
PM ET
»
BCS standings reaction
:
ACC
|
Big 12
|
Big East
|
Big Ten
|
Pac-12
|
SEC
|
Notre Dame
Florida State is moving up in the world, just not up high enough to where it might matter in the national title picture.
The Seminoles are ranked No. 12 in this week's BCS standings, which were released tonight, and Clemson inched up one spot to No. 18. In order to have a shot at two BCS bowl bids, the ACC needs Clemson to sneak into the top 14 -- the cut-off for teams to receive at-large BCS bids. The best-case scenario right now would be for Florida State to represent the league in the Discover Orange Bowl as the ACC champ, and have a one-loss Clemson team play in another BCS bowl.
It's still a possibility and one ACC fans shouldn't give up hope on yet, but a lot still has to happen. The only thing the ACC can do about it is hope FSU and Clemson win out, and that a few other teams ranked above them lose.
The bright side? Clemson is finally ranked ahead of West Virginia.
October, 21, 2012
10/21/12
9:15
PM ET
»
BCS standings reaction
:
ACC
|
Big 12
|
Big East
|
Big Ten
|
Pac-12
|
SEC
|
Notre Dame
Another weekend of football, and everyone continues to look up at the SEC.
The second batch of
BCS standings came out Sunday
, and for the second straight week Alabama is No. 1 and Florida is No. 2. This makes it 12 straight weeks that an SEC team has been the top-ranked team in the BCS standings, and it's becoming increasingly obvious these two teams control their national championship destinies.
If these two meet in Atlanta for the SEC championship game undefeated, this game will serve as a semi-final for the Discover BCS National Championship Game.
A close game in Atlanta, and we could see two SEC teams in the BCS title game again, but that will only happen if undefeated teams like Kansas State, Oregon, Notre Dame and Oregon State all lose at least one game.
LSU, which sits at No. 6, is very much in the national title hunt and might be in the best spot of all the one-loss teams. With Alabama and No. 11 Mississippi State still on the schedule, LSU could gain some major ground on the teams in front of it with wins. Plus, the more Florida wins (LSU's only loss), the better for the Tigers.
If LSU beats Alabama (Nov. 3) and finds itself with just one loss in Atlanta, a win there should catapult the Tigers right into the national championship game. This team is fighting for a chance to be either No. 1 or No. 2 in the BCS standings before the final standings come out.
Georgia is also still alive. The Bulldogs are currently No. 10 and if they win out, which means beating Florida Saturday and the West champion, they could make it to Miami. Georgia would likely need a couple othe other non-SEC unbeatens in the top 10 to lose, but beating Florida and winning in Atlanta will go a long way in the computer rankings and could erase that ugly loss to South Carolina.
While South Carolina (No. 13) and Texas A&M (No. 20) are all but out of the mix, Mississippi State still has a legitimate shot, but must win out. Taking down Alabama, LSU, Texas A&M and the East champ would certainly be enough for the Bulldogs.
October, 21, 2012
10/21/12
9:15
PM ET
»
BCS standings reaction
:
ACC
|
Big 12
|
Big East
|
Big Ten
|
Pac-12
|
SEC
|
Notre Dame
Rejoice. The Big Ten is no longer without a team in the BCS standings. In fact, now it has two.
Getting shut out of the initial standings was a stain on the league's reputation, but one that was easily blotted out. After all, Ohio State would be in the top 12 of the BCS standings if not for probation, and Michigan was right on the cusp of entering. And so, too, was Wisconsin.
The Wolverines debuted at No. 22 in the standings this week after beating Michigan State 12-10. They are No. 20 in both the USA Today coaches' and the Harris Poll, which comprises two-thirds of the BCS formula. Wisconsin jumped into the No. 25 spot of the standings, which is the same place they occupy in the coaches' poll. The Badgers are 26th in the Harris Poll.
Michigan is 19th in the computer rankings average, while Wisconsin is 25th.
What does it mean? Still not much. There's a chance that, if both teams were to win out from here and then stage a very close Big Ten championship game, then the loser could finish in the Top 14 with a 10-3 record. That would make the title-game loser eligible for at-large selection, and any BCS game would have to think long and hard about taking a team with such a recognizable brand name and passionate fan base. At 10-3 with losses to Alabama and Notre Dame, Michigan would have a strong case for inclusion. Wisconsin will have to hope that Oregon State keeps winning to make that earlier loss look as good as possible, while also helping the computer rankings.
But the Big Ten's reputation is such that it's hard to see any team moving high up the standings by beating conference competition, unless teams elsewhere in the country fall apart. So for Michigan, Wisconsin and every other Big Ten team, the goal remains simple: Win a division title and the league championship game and get to Pasadena for the Rose Bowl.
Everything else is wishful thinking at this point.
October, 21, 2012
10/21/12
9:15
PM ET
And then there were two.
An unchanged two.
Rutgers and Louisville remain the only undefeated Big East teams remaining, and the only two Big East teams ranked in the
newest BCS standings
. But they stayed put in the latest rankings over a week ago -- Rutgers at No. 15, and Louisville at No. 16. Both remain long-shots to get into the national championship game with an undefeated season.
That is evidenced by what happened this week. There was an opportunity to move up, with No. 13 West Virginia losing. But instead, Texas Tech (6-1) jumped three spots into No. 14 -- leapfrogging the two Big East teams, based on its superior computer strength. That strength is a direct result of playing in the Big 12 conference, and beating two ranked teams (West Virginia, TCU).
Rutgers' best win is over Arkansas, and that has contributed to its No. 11 ranking in the computer average. Louisville's best win is over North Carolina. The Scarlet Knights did open up more of a lead on the Cardinals, with a 0.0507 edge in the rankings, compared to a point differential of 0.0022 points last week.
Cincinnati, ranked No. 21 last week, moved out of the rankings following its loss to Toledo on Saturday night.