NCF Nation:

BCS reaction 111013
November, 10, 2013
11/10/13
9:16
PM ET
The time-share for the No. 2 spot in the
BCS standings
has been canceled. Florida State can unpack its bags now, and after its latest dominating victory, it looks more than capable of living there for a while.
A week ago, Florida State had a tenuous grasp on the second position, as Oregon was poised to reclaim it with a road win against Stanford. The Ducks instead were completely outclassed at Stanford Stadium, and Oregon's loss created clear separation for the top two spots in the
latest BCS standings
.
[+] Enlarge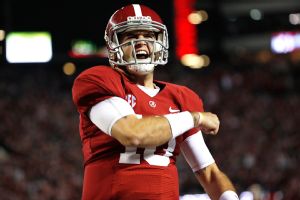 AP Photo/Dave MartinAJ McCarron and Alabama continued to create a gap from the rest of the field in the BCS standings with their win over LSU on Saturday.
The new standings show Alabama on top, followed by Florida State. A sizable gap exists between the Crimson Tide and Seminoles and the rest of the contenders. If Alabama and Florida State continue to win, there will be no drama Dec. 8 when the final standings are released.
In fact, the weekly BCS standings checkup could get rather boring from here on out, barring a significant upset.
Sunday's most intriguing subplot pointed to the teams pursuing Alabama and Florida State. While Oregon's loss Thursday night fundamentally changed the BCS title landscape, Baylor's impressive win hours earlier against Oklahoma didn't make much of an impact. Art Briles' team moves up one spot to No. 5 but remains behind a one-loss Stanford team, which checks in at No. 4. Although Baylor is ahead of Stanford in both human polls, the Bears' weak computer numbers -- they're No. 5 in average, compared to Stanford averaging No. 3 in the computer rankings -- hurt their cause. Texas Tech's recent slide hurts Baylor, although upcoming games against No. 12 Oklahoma State and No. 24 Texas should provide the boost the Bears need.
No. 3 Ohio State remains ahead of Stanford in the BCS standings, but for how long? Stanford's strong computer numbers, combined with Ohio State's weak remaining schedule, could lead to another shakeup if the Cardinal make up ground in the human polls. While Stanford still has games against USC and either Arizona State or UCLA, Ohio State's only opportunity for a signature win would come in the Big Ten championship against No. 16 Michigan State, which still has some work left to win its division. Urban Meyer's crew thought it could count on Michigan to be a résumé booster, but the Wolverines are in a tailspin following consecutive losses.
Ohio State, Stanford and Baylor all need help and have to look to Alabama's remaining schedule for assistance. The Tide still must visit No. 7 Auburn on Nov. 30 and then take on No. 9 Missouri or No. 10 South Carolina in the SEC championship.
There's much less hope for a Florida State stumble, as the surging Seminoles simply must get past Syracuse, Idaho, a crumbling Florida team and then an average Coastal Division foe (Georgia Tech, Duke or Virginia Tech) in the ACC title game.
Elsewhere, potential BCS busters Fresno State and Northern Illinois both move up in the standings, but No. 14 Fresno State has a bigger lead on No. 15 NIU after tying the Huskies in computer average. Northern Illinois can strengthen its case this week as it hosts 9-1 Ball State, but it might not be enough to catch Fresno State.
The SEC, Pac-12 and ACC all remain in good shape to send two teams to BCS bowls. The Big Ten, meanwhile, faces an uphill climb as Wisconsin -- likely the league's best bet for an at-large berth -- moves up just two spots to No. 22. The Badgers still need a major surge to become eligible.
Week 12 lacks the marquee games of its predecessor, as both Alabama (Mississippi State) and Florida State (Syracuse) face middling opponents. Baylor's home game against Texas Tech has lost its luster, and the most significant showdown has Stanford traveling to USC, which has won three straight.
A month before Selection Sunday, Alabama and Florida State have Pasadena, Calif., in their sights. Everyone else is looking at their taillights.
November, 10, 2013
11/10/13
9:15
PM ET
Feel free to thank Stanford, ACC fans.
Stanford's 26-20 win over Oregon on Thursday night changed the postseason picture for the ACC and dramatically increased Florida State's chances of playing in the national championship game. With Oregon's loss, Florida State maintained its stranglehold on No. 2 in the
BCS standings this week
, setting a clear path to Pasadena, Calif., for the Seminoles. With Syracuse (5-4), Idaho (1-9) and Florida (4-5) still on the schedule, there's no reason Florida State should lose again.
Despite Miami's loss to Virginia Tech on Saturday, the ACC still has three teams in the BCS standings, and two teams in the top 10 in Florida State and No. 8 Clemson. The Tigers, who have fallen under the radar since their Oct. 19 loss to Florida State, still have a terrific chance of playing in the Orange Bowl and giving the ACC two BCS bowl teams. A win at South Carolina, though, is a must for the Tigers, who have lost four straight to their in-state SEC rival.
Miami dropped to No. 23 in the standings and deservedly so after a poor performance at home against the Hokies. The Canes' loss was also a loss for the ACC because now it's unlikely Florida State will face a ranked opponent in the ACC championship game. The Coastal Division race is still open, but Virginia Tech has edged Miami as the lead candidate.
A Florida State-Miami rematch was the ideal scenario for the ACC's title game, but the conference championship appears merely a formality for the Seminoles this year.
Thanks to a little help from Stanford, Florida State should be playing for even bigger things this season.
November, 10, 2013
11/10/13
9:15
PM ET
Baylor continues to do all it can to insert itself into the BCS title game. Yet the Bears need plenty of help from opponents and pollsters to move up
in the BCS standings
.
The key for Baylor could be its rise in the human polls, not necessarily the computers. At No. 5, Baylor (.862) is still behind one-loss Stanford (.869), which is No. 4, but the slim margin means the Bears should surpass the Cardinal with No. 12 Oklahoma State and No. 24 Texas remaining on their schedule, allowing their focus to transfer to No. 3 Ohio State (.893) down the stretch. BU currently ranks No. 4 in the Harris poll and coaches' poll behind Ohio State (No. 3 in Harris and coaches') and will need to pass the Buckeyes if it hopes to be in position to sneak into the BCS title game if No. 1 Alabama or No. 2 Florida State loses.
That's why it is important the Bears continue to win impressively, and ideally they'd like to see Oklahoma State knock off Texas this weekend. A road win over a top-15-ranked Oklahoma State squad in two weeks could be likelier to impress human voters than a home win over Texas in early December.
The Bears have already taken drastic steps forward in the pollsters' minds, but the margin for error is minimal if Ohio State continues to win impressively. Even though Baylor's schedule is better than the Buckeyes', it would be tough to convince human voters that the Bears deserve to jump a Big Ten squad that hasn't lost a game in two seasons unless the Bears are so dominant that they are impossible to ignore.
So the marching orders are simple: Baylor must continue to win impressively because any subpar performances could give the human voters the ammunition to ignore an undefeated Big 12 titleholder and BCS title hopeful from Waco.
November, 10, 2013
11/10/13
9:15
PM ET
COLUMBUS, Ohio -- Without even scoring a point, Ohio State picked up one of its most significant victories of the season.
Now it's within one spot of a berth in the national championship.
Sitting at home on the second bye week of the season, resting and recharging for the final three weeks of the regular season and a likely appearance in the Big Ten title game, the Buckeyes finally received some of the help they've been waiting for from around the country. They didn't get everything they needed, but Oregon's loss allowed them to move up to No. 3 when the
latest BCS standings
were released on Sunday, putting the Buckeyes one step closer and one step away from a chance to play for the crystal football.
"The chase is on, man," Ohio State coach Urban Meyer said last week with an eye on the weekend. "It's real. Our goal is to get to November and be competing for something.
"So, absolutely, it's on."
The Buckeyes have been in the middle of the race all along, and in some ways they remain in the same position they were in before the Ducks fell on the road against Stanford.
There is still no margin for error for Ohio State, and one loss would be a knockout blow for its title hopes as it tries to keep pace with top-ranked Alabama and Florida State. It still isn't getting much help from around the Big Ten, though No. 22 Wisconsin and No. 16 Michigan State both moved up in the latest standings. The bump for the Badgers continues to make Ohio State's win in September look better with each passing week, and if the Spartans continue to rise, they could set up a huge showdown in Indianapolis with the conference crown on the line.
But despite moving up a spot, the Buckeyes have a couple teams starting to breathe down their necks with No. 4 Stanford and No. 5 Baylor both notching impressive wins and building strong cases of their own, keeping it important to not only win but do so in eye-catching fashion when Ohio State takes on overmatched teams like Illinois on Saturday.
November, 10, 2013
11/10/13
9:15
PM ET
Nothing shocking here. The Oregon Ducks slipped from the No. 3 spot in the
latest BCS standings
following their 26-20 loss to No. 5 Stanford, leaving the Pac-12 without a chair if the music were to stop today.
But the music hasn't stopped. And with its victory over the Ducks, Stanford retains its spot as the highest-ranked one-loss team -- slightly ahead of undefeated Baylor -- moving up from fifth to fourth. Oregon falls to sixth.
Stanford has a BCS average of .8689, which is just ahead of Baylor's .8618. The Cardinal, though fifth in the human polls, are third in the average computer rankings.
Alabama (.9958) retains the top spot, followed by Florida State (.9619) and Ohio State (.8926).
The best-case scenario for the Pac-12 is to have two of those teams lose, because it's unlikely Stanford will be able to jump an undefeated team. In fact, it's more probable that Baylor, which still has games against two teams ranked in the BCS top 25 (Oklahoma State and Texas) would jump the Cardinal. Pittsburgh didn't do Stanford any favors by beating Notre Dame. That took a ranked team off the board for the Cardinal, who, if they hold out to win the North, will likely be playing a top-20 ASU or UCLA in the Pac-12 championship game.
Right now the 2013 postseason projects to play out much like 2012. Considering the recent history of close games between USC and Stanford, we're not going to assume anything when they meet this week. Or in The Big Game next week, for that matter. But for the sake of argument today, let's say Stanford holds on to win the North. The winner of the Pac-12 championship game goes to the Rose Bowl and Oregon likely goes to a BCS bowl as an at-large team if it finishes with just the one loss.
But if one of those three undefeated teams ahead of Stanford loses, then things become a lot more interesting. If two of them lose, look out, because it's going to get ugly. And, if somehow all three lose, it will be your run-of-the-mill November BCS chaos.
UCLA enjoyed a nice bump in the standings after winning in Tucson, Ariz. The Bruins jumped from No. 19 to No. 13. This is of note because being in the top 14 qualifies the Bruins (7-2) for a potential at-large bid if they can reach nine wins.
Arizona State also moved up three spots, going from No. 22 to No. 19, giving the league four teams in the top 20.
November, 10, 2013
11/10/13
9:15
PM ET
No surprise: Alabama is still No. 1 in the
latest BCS standings
.
One notable aspect of the newest BCS standings is that the Crimson Tide have increased their lead. They moved back to No. 1 in the average computer ranking (the Tide were no. 2 in that area last week) on the strength of their 38-17 win over LSU on Saturday.
It's the fourth straight week the Tide check in at No. 1 in the BCS standings. Their average is .9958, up from last week's average of .9797. As it did before, Alabama controls its own destiny from here on out and has a pretty good stranglehold on the top spot, with Auburn and the SEC championship game (if the Tide beat Auburn) being the last obstacles between it and an appearance in the VIZIO BCS National Championship Game.
The SEC has four teams in the top 10 of this week's standings and seven in the Top 25.
Auburn took a nice jump up from the ninth spot up to No. 7. The Tigers continue their magnificent turnaround season under Gus Malzahn and continue to build momentum as the Iron Bowl nears. But first, the Tigers must get by No. 25 Georgia.
Despite a decisive win over Kentucky, Missouri took a slight dip in the standings. The Tigers are now No. 9 in the BCS after sitting at No. 8 last week. Certainly the Kentucky win doesn't help strength of schedule. Two tough games remain, though, a road game at Ole Miss and a home game against No. 11 Texas A&M.
South Carolina jumped back into the top 10 at No. 10, and Texas A&M rose four spots after being No. 15 last week. LSU's loss to Alabama sent the Tigers on a tumble all the way to No. 21 (they were No. 13 last week), and Georgia is back in the standings, checking in at No. 25 in advance of its showdown with Auburn.
With Oregon's loss to Stanford last week, the Ducks are now sixth in the standings. There are four undefeated teams in the BCS top five, meaning that if Alabama falters, it could be tough for the SEC champion to find itself in the national championship game unless a few more undefeated teams tumble.