NCF Nation:

Bearcats-Bulls 10152009
October, 16, 2009
10/16/09
1:47
AM ET

Posted by ESPN.com's Brian Bennett
TAMPA, Fla. -- As South Florida's players trudged silently off the field and into their locker room, defensive lineman Leslie Stirrups turned to no one in particular and voiced his frustration.
"The main people they talked about didn't even do [expletive]," Stirrups said.
That is the major marvel of Cincinnati, which
downed the Bulls 34-17 Thursday night
at Raymond James Stadium. The Bearcats can bludgeon you with their best, and they can beat you with guys you've never heard of.
| | |
| --- | --- |
| | |
| | AP Photo/Mike Carlson |
| | Cincinnati coach Brian Kelly, left, was forced to call on backup quarterback Zach Collaros in the Bearcats' win Thursday night. |
They won this much-hyped Big East showdown despite losing Heisman Trophy contending quarterback
Tony Pike
early in the second half and with star receiver
Mardy Gilyard
mostly contained. Head coach Brian Kelly simply plugs and plays, this time with backup quarterback
Zach Collaros
and some no-names on defense.
"That's what all the coaches talk about: just find a way to win," safety Aaron Webster said. "When a guy goes down, it's next man in. We preach that all the time, and it showed today."
The Bulls came into the game undefeated and ranked 21st, had the fourth-largest crowd in program history egging them on and made the nation's No. 3 offense huff and puff. Still, they couldn't slay the defending Big East champs. So it's time to raise the question: Who will?
Even if Pike misses significant time with an injured left arm, Cincinnati (6-0) should be favored in all of its remaining games. The next three -- Louisville, at Syracuse and Connecticut -- provide an easy road map to 9-0. A visit from West Virginia on Nov. 13 and a season-ending trip to Pitt might be all that stands in the way of perfection.
The eighth-ranked Bearcats have already won at Rutgers, at Oregon State and now at South Florida. Who or what is going to keep them from crashing into the BCS title game?
"We're starting to build a little bit of a résumé," Kelly said.
Kelly remains the team's greatest asset, coaching circles around the rest of the Big East, while closing in on his third straight league coach of the year trophy. His on-the-fly adjustment Thursday night will only add to his legend.
When Pike went down, the Bearcats completely revamped their entire philosophy. They abandoned their shotgun spread, pass-happy attack for a zone-read option scheme to befit Collaros. The sophomore ripped off a 75-yard touchdown run in the third quarter, silencing the crowd and allowing Pike to safely change into a red sweat suit.
| | |
| --- | --- |
| | |
| | AP Photo/Chris O'Meara |
| | Tony Pike was injured late in the first half and played only one series in the third quarter. |
Much was made before the game of former Kelly assistant Joe Tresey's familiarity with the Bearcats from his days as Cincinnati's defensive coordinator. But even Tresey couldn't have game-planned for the Collaros wrinkle; the Bearcats gained more yards behind Collaros (235) than they did with Pike (166).
"You're reaching back and doing some things," Kelly said. "I don't want to bore you with details, but I've been down this road before. We have some things in a worst-case scenario, and we got it done, in an environment where you don't want to have to do that."
South Florida's hyper-athletic defense, led by future NFL draft pick Jason Pierre-Paul at defensive end, harassed Cincinnati all throughout the first half. Other than an 84-yard touchdown drive -- which got going after Pike barely avoided getting sacked for a safety to make a great roll-out throw -- the high-scoring Bearcats had only 49 yards by halftime. Kelly called the Bulls "the best defense I've seen in a long time."
His own defense continues to defy all expectations after replacing 10 starters from a year ago. The Bearcats chased scrambling quarterback
B.J. Daniels
in the 80-degree heat all night. Yet, other than a touchdown set up by a Collaros interception, they shut the Bulls down in the second half, yielding just 118 yards.
"They're used to running in this heat, and we're coming from the cold, so it was tough," said Webster, who had a momentum-changing 83-yard interception return to start the second quarter. "After the interception, I don't think I caught my breath the rest of the game."
The rest of college football better take a deep breath. Cincinnati looks like it can't be stopped.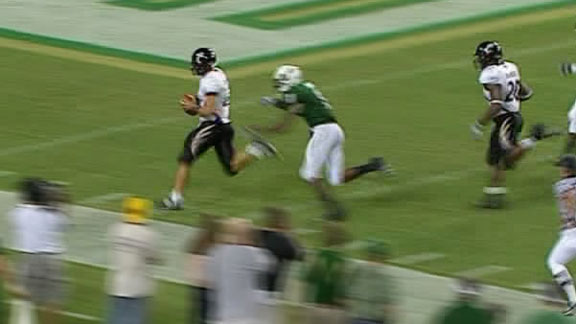 October, 16, 2009
10/16/09
12:50
AM ET

Posted by ESPN.com's Brian Bennett
TAMPA, Fla. -- For the past two years,
Zach Collaros
has run the scout team for Cincinnati. He impersonated South Florida quarterback
B.J. Daniels
last week in practice. His favorite player to mimic, though, was injured Bulls star
Matt Grothe
.
On Thursday night, Collaros found himself under center for real in the second half against South Florida after Bearcats star
Tony Pike
got hurt. And the sophomore ran the ball as well as Grothe ever has.
Collaros rushed for 132 yards and two touchdowns and threw for another 72 yards as the No. 8 Bearcats
stormed past the No. 21 Bulls
34-17. This from a guy who had no major scholarship offers other than Cincinnati, despite going 30-0 as a starter at Steubenville (Ohio) High School.
| | |
| --- | --- |
| | |
| | AP Photo/Chris O'Meara |
| | Zach Collaros filled in for Tony Pike and rushed for 132 yards and two touchdowns. |
"We liked his moxie and savviness," Cincinnati coach Brian Kelly said. "Sixty-thousand [fans], on the road, you just lost your star quarterback, and your No. 2 guy comes in and does what he does. And it's because of his makeup and because of his intangibles."
Collaros might be needed for a while. Pike, the senior Heisman Trophy candidate, sprained his left wrist late in the first half, then aggravated it on his first series of the second half. A plate still in his left arm from last year's fracture has shifted, and he'll have to see a specialist Friday, Kelly said. The coach has already ruled Pike out for next week's game against Louisville.
Cincinnati has been through this before, playing five quarterbacks last year because of injuries, yet winning the Big East.
"We're kind of accustomed to it, which isn't a good thing," Collaros said. "When me and [fellow backup] Chazz [Anderson] are on the sidelines, we don't hope to go in. We're cheering for Tony."
Collaros was one of the five last year but only attempted four passes. The 6-foot, 209-pounder is a well-rounded athlete who played 36 games on the Cincinnati baseball team this spring.
Things looked bleak on his first series. He faced third-and-11 from his own 25 and then missed a signal from the sideline, forcing a timeout. After some chewing out from Kelly, he ran the same called play: a quarterback draw up the middle.
He went untouched for 10 yards, then broke a tackle and kept on going for a 75-yard touchdown run. That made it 24-10 Cincinnati, and Kelly could rest easy with Pike sidelined.
"I can throw the ball, too" Collaros said. "But I can do some of that zone-read stuff."
Just like the guys he used to imitate.
October, 15, 2009
10/15/09
11:26
PM ET

Posted by ESPN.com's Brian Bennett
TAMPA, Fla. -- A thoroughly impressive performance by Cincinnati, considering that
Tony Pike
barely played in the second half and South Florida's players and fans were fired up for this one.


The
Bearcats improved to 6-0
and the question has to be asked: Who will beat them?
South Florida falls to 5-1 and once again sees a great start to the season dissipate with a Thursday night game in October.
More to come after interviews ...
October, 15, 2009
10/15/09
10:20
PM ET

Posted by ESPN.com's Brian Bennett
TAMPA, Fla. -- Wow. Just wow.
Zach Collaros
came in for the injured
Tony Pike
, and things looked bleak for Cincinnati. After a timeout, though, on third-and-11, Collaros ran the ball up the middle. He broke a tackle, and kept on going until he had a 75-yard touchdown.
That stunned the jacked-up crowd of 63,976 into silence. What a great call by Brian Kelly and a game-changing moment.
Collaros is a great athlete, by the way. He also plays on the Bearcats baseball team.
South Florida needs something out of its offense, which has gone three-and-out the first two series of the second half.
October, 15, 2009
10/15/09
10:07
PM ET

Posted by ESPN.com's Brian Bennett
TAMPA, Fla. -- You can tell how valuable
Tony Pike
is by how many people are surrounding him on the sideline.
Pike took a couple of shots on Cincinnati's first series, including a Craig Marshall sack, and walked off the field with his wrapped left arm hung low, in obvious pain. He's had about seven people around him on the bench, including trainers, players, assistant coaches and head coach Brian Kelly.
Zach Collaros
is getting loose on the sideline with his helmet on. I'd say there's a good chance we might see him.
UPDATE
: Collaros has come in. Pike has ice on his left arm.
October, 15, 2009
10/15/09
9:56
PM ET

Posted by ESPN.com's Brian Bennett
TAMPA, Fla. -- It looks like old times for Cincinnati's
Tony Pike
.
The quarterback played much of the 2008 season with a soft cast protecting his left arm. Pike came back in the second half here with a familiar black wrap on his left arm. He has a sprained left wrist but is expected to keep playing.
Pike hurt the wrist while being hit late in the first half. He was called for intentional grounding on the play.
October, 15, 2009
10/15/09
9:46
PM ET

Posted by ESPN.com's Brian Bennett
TAMPA, Fla. -- A quick review of the first half at Raymond James Stadium, where No. 8
Cincinnati leads No. 21 South Florida 17-10
:


Turning point:
Cincinnati had a third-and-17 inside its own 10. George Selvie nearly sacked
Tony Pike
in the end zone. Instead, Pike rolled to his left and fired a pass to the sideline to
D.J. Woods
for a 25-yard gain. The Bearcats turned that into their first sustained drive of the half, scored a touchdown and went ahead 17-7.
Stat of the half:
Cincinnati had 84 yards on that touchdown drive. But the Bearcats had only 49 yards the rest of the half combined for a total of 133. South Florida's defense has been great, but the Bulls have failed to capitalize on their offensive opportunities.
What South Florida needs to do:
The Bulls' defense is doing its job. Cincinnati scored after a long interception return set it up at the South Florida 3, and thanks to two great catches on the one long drive. The Bulls just need to finish off drives and maybe let
B.J. Daniels
scramble even more.
What Cincinnati needs to do:
The Bearcats need to get
Mardy Gilyard
more involved. He had only one catch until the long touchdown drive, when he got free on a crossing pattern and a throwback screen. South Florida is double-teaming him when he's split wide, so Brian Kelly has to continue to find different ways to get the team's most dynamic playmaker open.

Posted by ESPN.com's Brian Bennett
TAMPA, Fla. -- Cincinnati quarterback
Tony Pike
went to the locker room with about one minute remaining, and the early word is that he has an injured left wrist. This could be huge news, although since Pike is right-handed and played through a broken left arm last year. Unless it's really serious, you'd expect him to return.
If not,
Zach Collaros
would get the call for Cincinnati.
South Florida got some momentum back at the end of the half when Eric Schwartz hooked in a 50-yard field goal. Everyone in the stadium was stunned that Schwartz actually made it, given the Bulls' kicking woes.
October, 15, 2009
10/15/09
6:49
PM ET

Posted by ESPN.com's Brian Bennett

TAMPA, Fla. -- Greetings from Raymond James Stadium, site of tonight's Big East game of the year (for now).

It's 84 degrees, and with the humidity feels like it's about 90. There were some intermittent showers earlier this afternoon, but we're expected to stay dry tonight. Cincinnati had been practicing in temperatures around the 40s and 50s the last week or so, and the Bearcats will have to handle the climate change.

South Florida is expecting nearly 15,000 students at the game, which would be a program record. The crowd is expected to approach a sellout and exceed 60,000. This place gets pretty rowdy for night games, probably not unrelated to the fact that they sell beer here.

I'm expecting a terrific game, and I'll be back with updates throughout the night.