NCF Nation:

Bearcats-Knights 090509
September, 7, 2009
9/07/09
10:15
PM ET

Posted by ESPN.com's Brian Bennett
PISCATAWAY, N.J. -- Call off the search for a favorite in the Big East. The team to beat is the same team that almost nobody in the league could beat last year.
Yes, Cincinnati has a new look this season, but it's not just because of the revamped defense. The Bearcats are much more explosive on offense.
Their
47-15 beatdown at Rutgers
was a clinic of offensive efficiency and balance, especially during an opener. Last year's Orange Bowl team never scored that many points in a game, and the 47 points were exactly twice as much as Cincinnati averaged during league play in 2008.
| | |
| --- | --- |
| | |
| | AP Photo/Mel Evans |
| | Brian Kelly's offense was running on all cylinders Monday. |
"We thought we could get it going last year," coach Brian Kelly said. "But we had all those quarterback injuries, so we had to go manage the game. Today, we could let [quarterback] Tony [Pike] manage the game. I told the kids, I didn't do a lot of heavy lifting today from the sidelines."
It's scary to think that Kelly, the reigning two-time Big East coach of the year, just now feels like he's got all of his pieces in place at Cincinnati. But this is the first time he's had a returning, veteran quarterback and the depth he wants at receiver and running back. Combine that with eight months to prepare for Rutgers, and the results were awe-inspiring.
A lot of teams lack sharpness in their openers. Kelly believed in his veterans so much that he had them come out in the no-huddle and throw all over the field from the start. Cincinnati committed only two penalties all day.
"I thought it was important early on for us to do something a lot of college football teams aren't doing in the opener, and that's be really aggressive," he said.
The Bearcats scored on six of their first seven possessions. Their first four scoring drives all lasted under two-and-a-half minutes. A team that struggled at times running the ball last year piled up 168 yards on the ground while averaging 4.9 yards per carry. Ten different players caught at least one pass. Against a blitz-loving defense, they surrendered just one sack.
"Offensively, we're light years ahead of where we were this time last year," Pike said. "We have weapons at several positions, and I'd put ours up against anybody in the country."
New threats included sophomore running back
Isaiah Pead
, who scored his first two career touchdowns. He took one screen pass 41 yards, juking a defender onto the ground with a stutter step on his way to the end zone.
And Kelly got to play mad genius by putting backup tight end
Travis Kelce
under center near the goal line. The 6-foot-5, 247-pound Kelce, a former quarterback who'd never played a snap before, ran the ball three times and scored two touchdowns.
"Florida has been running this package very well with
Tim Tebow
," Kelly said. "We went down to study with Florida, and we stole it from them. I don't mind saying that."
This team's supposed No. 1 question was its defense, which replaced 10 starters from last year, switched to a 3-4 base and had to adjust to a new coordinator. The Bearcats held Rutgers to 15 points and took two of those back with a safety. They were no doubt helped by the Scarlet Knights' offensive ineptitude, but they still managed five sacks and three interceptions, one of them by former Notre Dame quarterback
Demetrius Jones
, another successful Kelly project.
"We're hungry, and we always want to try to prove people wrong," safety Aaron Webster said. "We feel that the only people who believe in us are in this locker room."
That should change now, as Cincinnati proves it deserves to be the first Big East team to crack the Top 25, and is once again the team to beat.
"If people from the outside start believing in us, that's good," Webster said. "But if they don't we're going to play the same way."
Or maybe even better.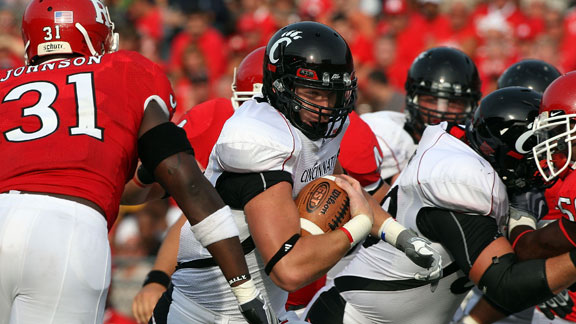 September, 7, 2009
9/07/09
9:15
PM ET

Posted by ESPN.com's Brian Bennett
| | |
| --- | --- |
| | |
| | Jim O'Connor/US Presswire |
| | Tony Pike was nearly flawless against Rutgers on Monday. |
PISCATAWAY, N.J. --
Tony Pike
played almost all of last year with a soft cast covering his broken left arm.
He admitted he felt a little different facing Rutgers without the cast. The Cincinnati quarterback, in fact, had nothing restraining his performance. In any way.
Pike showed why many think he's the Big East's best quarterback with a commanding opening act, completing 27-of-34 passes for 362 yards and three touchdowns in just three quarters of
the Bearcats' 47-15 statement victory
.
"Pike was on point today," Rutgers cornerback Devin McCourty said. "It seemed like he completed every pass."
The last time Pike played a game, he threw four interceptions in the Orange Bowl loss to Virginia Tech. But the senior said last season was mostly a blur, having to come in at Oklahoma after Dustin Grutza was injured and then battling his own injury problems all year. A full offseason of preparation and film study readied him to wreck Rutgers' defense.
"Once you've had that time to reflect, the game slows down a little bit," he said. "The level of comfort out there was good for me tonight."
And why wouldn't it be? He only really got hit once, a sack at the end of the first quarter that he blamed on himself for not sliding the protection over. The rest of the time, he directed the no-huddle offense with extreme precision and simply took his choice of open receivers.
"It got a little easy for him at times," said Cincinnati coach Brian Kelly, who let Pike manage the calls much more than he did last year.
Pike had a few of these types of games last year, though not one this good in such an important road conference game. The trick will be to keep it going.
"Tony's got to do it consistently," Kelly said. "He has to answer the bell week after week. Talk to me in about six or seven weeks, and if he's still doing this, then he's going to be a guy you need to pay attention to."
September, 7, 2009
9/07/09
5:57
PM ET

Posted by ESPN.com's Brian Bennett
PISCATAWAY, N.J. -- Boos rained down on the home team from Rutgers fans as the first half came to a close. Yeah, it has not been a good day so far for the Scarlet Knights.
Best player in the half:
Cincinnati quarterback
Tony Pike
. He's done just about everything right, except for a broken screen pass that turned into an interception. But Pike is 20 of 25 for 286 yards and two scores. I feel pretty good about picking him as my Big East offensive player of the year. (Not so good about picking Rutgers to win the league).
Stat of the half:
Three. That's how many interceptions Dom Natale has thrown already. Unacceptable from a guy whose main job was to manage the game. I don't see how Rutgers can do anything but play
Tom Savage
in the second half.
Best call:
Take your pick. Brian Kelly has been masterful. My personal favorite were the two Wildcat-like runs by
Travis Kelce
for a touchdown. Totally unexpected, and very effective. That had to take the wind out of the Scarlet Knights' sails, watching an unknown backup tight end run over them.