NCF Nation:

Bears-Aggies-101511
October, 15, 2011
10/15/11
6:06
PM ET
COLLEGE STATION, Texas -- Baylor quarterback
Robert Griffin III
was wrapped up, all but down on fourth down deep in Texas A&M's red zone.
Somehow, he found a way to lob the ball to tight end
Jordan Najvar
. The ball fluttered over the hands of two Aggies defenders and Najvar, setting off a celebration on the way back to the sidelines and firing up the 87,361 comprising the fourth-largest crowd ever at Kyle Field.
Baylor didn't score again, and Texas A&M rolled to
a 55-28 win
over the Bears.
"Unstoppable. That's really what we thought," defensive end Spencer Nealy said.
Nealy led the team with seven tackles and 1.5 tackles for loss.
"After the fourth down stop, honestly, you look at every guy running off the field, jumping up and down. We really uplifted our confidence," he said.
Sometimes all it takes is one play to change the course of a game and perhaps a season. The Aggies led by 13, and if the Aggies hadn't made the stop, the odds of a third second-half nightmare in four weeks becoming a reality would have quickly risen.
"We knew it was big," said linebacker Jonathan Stewart, who had one of five sacks for Texas A&M. "We just knew we needed to grit our teeth and just get the stop."
The mistakes were there. Griffin torched this wrecked crew for a school-record 430 yards, the third quarterback in four weeks to write his name in the school record book at the Aggies' expense.
A few costly offside penalties in the first half extended Baylor drives.
"I'm sure we'll probably get yelled at for that during Monday morning film, but we had to get pressure on him," Nealy said.
Twice the defense got beat over the top for touchdown passes of 77 yards and 43 yards, and Griffin set up another touchdown with a 50-yard bomb to
Tevin Reese
, who drew pass interference on the play, too.
After the game, Sherman stopped Griffin.
"If you're III, I don't want to meet I and II," he told him.
[+] Enlarge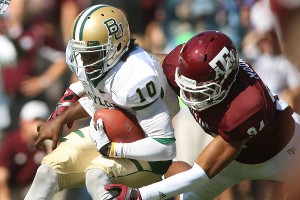 AP Photo/Jon EiltsTexas A&M's defense contained Robert Griffin III and the Baylor offense when it counted in the fourth quarter.
But for Texas A&M, it can focus on the day's biggest number: Baylor's gaping zero on the scoreboard in the fourth quarter.
"We're not going to shut this team out," Texas A&M coach Mike Sherman said of the Bears, who entered Saturday's game third nationally in total offense with the most efficient passing game in college football. "They will move the ball against anyone and everyone."
Except, apparently, Texas A&M in the fourth quarter.
"In the end, it came down to that fourth-down stop," Nealy said.
The stop allayed at least a few fears that this experienced team loaded with as much talent as any in the Big 12 can't perform in the second half.
This was a game complete with the end of a 22-quarter drought without a turnover. The Aggies did it with pressure on a previously unflappable quarterback in Griffin. He'd thrown just one interception with 19 touchdowns in 143 attempts entering Saturday's game, but the Aggies pressured him and he threw it up for grabs. Dustin Harris took advantage.
"We're taught to get takeaways. That's the first thing on our list," Harris said. "It was on our backs to get that pick or a turnover on defense and it happened on that play. Our offense went down and converted."
The last part was nothing new for the Aggies, who didn't punt in the second half. With the kind of firepower Texas A&M fields on offense, the defense's margin of error is only slightly wider than the separation
Ryan Swope
got on opposing defenders throughout Saturday's game.
Swope finished with a career-high 206 yards on 11 receptions and four of
Ryan Tannehill
's six touchdown passes.
"Our offensive line really set the tone of the game," Swope said. "People were just making plays. Coach strives on winning 1-on-1 matchups, and I feel like we did that."
Said Tannehill: "It was fun watching him play today."
The first-team offense scored on every possession in the second half, scoring 52 points in the game's final 39 minutes. The second-half failures that had become the team's defining trait through the first half of the season had, for at least an afternoon, disappeared.
Sometimes, all it takes is one play.
October, 15, 2011
10/15/11
3:42
PM ET
COLLEGE STATION, Texas -- What a day from
Ryan Tannehill
and
Ryan Swope
.
The quarterback-receiver combo hooked up 11 times for 206 yards and four touchdowns, and Tannehill tied the school record with six touchdown passes.


Texas A&M gets another much-needed win after a frustrating 2-2 start, and with just one loss in conference play, don't count the Aggies out of the Big 12 race just yet.
The Aggies fans let the Baylor faithful know their displeasure earlier this fall by unleashing an S-E-C chant after a fourth-quarter touchdown run from
Christine Michael
.
Baylor quarterback
Robert Griffin III
was fantastic today, but the defense didn't give the Bears much of a chance. Tannehill, Swope and the Aggies' running game were too much.
We'll have plenty more from Aggieland today.
October, 15, 2011
10/15/11
3:32
PM ET
COLLEGE STATION, Texas -- One fourth-down stop was all it took.
Texas A&M's offense has scored points on all four of its possessions this half and opened up a
48-28
lead midway through the fourth quarter.
The defense let Baylor get to the 4-yard line before making a stop to get the ball back.
It took just seven plays to go 96 yards and add another touchdown.
For Texas A&M's defense, it's pretty obvious that it doesn't need much to win games like this against teams without elite defenses.
The offense has been outstanding throughout, and one defensive stop in the entire half meant a 20-point lead. The defense also ended its 22-quarter streak without a turnover when Dustin Harris intercepted a
Robert Griffin III
jump ball.
This is what Texas A&M can be.
The defense doesn't have to be great for the Aggies to rescue this season. It just has to be better.
In the second half, it has been.
October, 15, 2011
10/15/11
3:01
PM ET
COLLEGE STATION, Texas -- Texas A&M's pass defense should be better than this.
There's no reason for the struggles.
But it continues to be a weak link and continues to let teams back into games.
Baylor quarterback
Robert Griffin III
has 110 yards on 7-of-10 passing with a touchdown in the third quarter to bring the Bears back to within striking distance.
Griffin has 333 yards and three scores on 23-of-32 passing.
The Aggies have one of the most experienced defenses in the league, littered with juniors and seniors loaded with letters. Terrence Frederick and Dustin Harris are solid, even though one of the league's top cornerbacks, Coryell Judie, is banged up and out of this one with a recurring hamstring injury.
Trent Hunter has plenty of experience and is one of the league's best safeties.
The defense is getting tons of pressure.
Yet it hasn't helped, and Griffin marched his team down the field twice, trimming
a 17-point lead to just six
and letting thoughts of another comeback at Kyle Field creep in.
The Aggies' offense has been good, especially
Ryan Swope
and the running game. Swope caught his fourth touchdown pass of the day -- his second 68-yard score today -- putting Texas A&M up 41-28 late in the third quarter.
Swope has 11 catches for 206 yards with his fourth score this season, the fifth 200-yard receiving game in school history.
A strong second half in this game last year helped the Aggies turn the corner for the rest of the season.
We'll see if anything similar emerges, but smart money is on Texas A&M's offense being pressured to outscore Baylor.
October, 15, 2011
10/15/11
2:25
PM ET
COLLEGE STATION, Texas -- Texas A&M played two of the most memorable games in the Big 12 this season.
The Aggies, though, did it by blowing gigantic second-half leads of 17 and 18 points against Oklahoma State and Arkansas.
Oklahoma State opened the second half of its win over A&M with a touchdown.
Against Arkansas, the Aggies went three-and-out and gave up a field goal to kick off the second half.
No such struggles against Baylor.
Texas A&M marched 77 yards in 13 plays and
Ryan Tannehill
threw his fourth touchdown pass of the day and third to
Ryan Swope
. Both of those are career highs.
Swope has nine catches for 133 yards with his touchdowns.
There's no guarantee Texas A&M closes this one out against a dangerous offense, but the Aggies got exactly the start they needed in the second half.
October, 15, 2011
10/15/11
2:00
PM ET
COLLEGE STATION, Texas -- Weird end to the half when
Robert Griffin III
appeared to throw what would have been a game-changing pick-six, but the ball hit the ground before it was kicked.
Griffin delivered a big hit at the end of the play, but the Bears were fortunate and
only trail 24-14 at halftime
. The Bears have plenty of offense for a comeback, and we all know Texas A&M's history in the second half this season.


Now, for a little analysis:
Turning point:
Ryan Tannehill
hit
Ryan Swope
for a 68-yard touchdown pass that started a string of scoring and turned the game into a stereotypical Big 12 track meet. Baylor answered and Texas A&M did the same, and we saw three touchdowns in less than two minutes, and the Aggies had two of them to take control of the game.
Stat of the half:
Baylor is averaging just over two yards per carry (20 carries, 42 yards), compared to 5.6 (18 carries, 101 yards) for Texas A&M. The Aggies have essentially reduced Baylor's offense to one with a single dimension in the first half. Running back
Terrance Ganaway
had 200 yards and three scores against Iowa State last week. Stopping Griffin is one of the most difficult tasks in college football, but if you're going to do it, that's a great place to start.
Best player in the half:
Griffin III. I'll include a nod to Texas A&M's offensive line and Swope, but outside of one overthrown deep ball to
Kendall Wright
, Griffin has been outstanding. He's completed 17-of-22 passes for 223 yards and two scores. The first was a pinpoint TD with a tiny hole in the defense to Wright. The second was a 77-yard rainbow to
Terrance Williams
for a score.
What Baylor needs to do:
Keep trying to establish the run game. The Bears offensive line is solid, and they have a pair of good backs in Ganaway and
Jarred Salubi
. Baylor can't let the Aggies, who had the second-most sacks (21) in FBS, tee off with their pass rushers throughout the second half. Baylor can't win this game without balance.
What Texas A&M needs to do:
Don't let the foot off the gas. I don't think that approach happened or was to blame for Texas A&M's past second-half disasters, but the Aggies have to continue to open up the offense, test a suspect Bears secondary deep and give the ball to
Cyrus Gray
and
Christine Michael
. Texas A&M has used a lot of misdirection, and Gray has his spin move working. The Aggies can't go conservative on offense. Baylor is fully capable of scoring a ton of points in a hurry, just like Oklahoma State did when it erased a 17-point halftime lead before the third quarter had even ended.
October, 15, 2011
10/15/11
1:24
PM ET
COLLEGE STATION, Texas -- You knew it was only a matter of time.
Baylor and Texas A&M both rank in the top 15 nationally in total offense.
Both rank in the nation's bottom half in total defense.
I picked 79 total points to be scored into today's game, but through almost half of the second quarter, we'd only seen 10.
Finally, the track meet is on. Texas A&M's
Ryan Tannehill
hit
Ryan Swope
for a 68-yard score over the top of the defense.
On Baylor's first play the next drive,
Robert Griffin III
hit
Terrance Williams
for a 77-yard score over the top of the defense to
take a 14-10 lead
.
We expected fireworks today.
Finally, we're getting them. Expect plenty more before this game -- or even this half -- is over.
October, 15, 2011
10/15/11
1:18
PM ET
COLLEGE STATION, Texas -- Texas A&M's defense isn't doing itself any favors.
Twice, it's been called for an offside that resulted in a shorter third down for Baylor.
Both times, the Bears converted.
Then, on a play when it sacked Baylor's
Robert Griffin III
for a seven-yard loss, it got called for another. Griffin hit
Tevin Reese
for a 10-yard gain and a first down on the next play.
The Bears missed a field goal later in the drive, letting the Aggies get away with the drive-extending flag.
The Bears entered today's game ranked third nationally in total offense, and Griffin has 20 touchdown passes to just one interception.
Baylor's offense is good enough without needing any help.
Texas A&M's defense, though, is giving them plenty. That can't continue.
October, 15, 2011
10/15/11
12:45
PM ET
COLLEGE STATION, Texas -- Texas A&M needs its pass defense, which ranks last nationally, to improve as the season progresses and the Aggies continue to meet some of the best passing offenses in the country.
We haven't seen much improvement early.
There's no question that
Robert Griffin III
has gotten the best of the Aggies through two drives. He flicked a pinpoint pass in between two defenders for a six-yard touchdown pass to
Kendall Wright
that has the Bears up,
7-3
.
He's 9-of-11 for 66 yards already, and has 13 yards on three carries, highlighted by an 11-yard run to convert a third down on the opening drive. He spun out of one tackle, broke another, hurdled a defender and raced down the sideline before drawing a late-hit penalty.
Texas A&M's defensive backs have backed off Baylor's receivers early, and the Bears are taking advantage with their precision screen game. Wright,
Tevin Reese
,
Lanear Sampson
and
Terrance Williams
are all excellent in space, and Griffin has gotten them the ball there in the first quarter.
Don't expect that to stop, but if Texas A&M's corners creep up, they've got maybe the nation's best deep-ball passer.
That's what makes Baylor so tough to stop, and that's the task ahead of the Aggies' defense the rest of the day.
It won't be easy, and the offense needs to be productive for A&M to get the win.
October, 15, 2011
10/15/11
11:30
AM ET
COLLEGE STATION, Texas -- Texas A&M fans won't have to rack their brains much to remember today's honorary captain.

Former Aggie linebacker Von Miller made a surprise appearance at Midnight Yell last night, and will be back at Kyle Field today to be recognized as the honorary captain.
Miller, a rookie for the Denver Broncos, won the Butkus Award last season as the nation's top linebacker, and set a school record with a nation-leading 17 sacks in 2009.
His Broncos are on a bye this week.
Miller was also the biggest reason for the rise of the Aggies' defense last season and the late-season revival of the Wrecking Crew.
Expect him to get a big welcome before today's games from a fan base planning to wear white and wave maroon towels, rather than its usual maroon shirt and white towels.
The move is to support wildfire relief throughout Texas.
One final note: I'll be
chatting right here until kickoff, so come by and say a last-minute hello
.
October, 15, 2011
10/15/11
10:14
AM ET
COLLEGE STATION, Texas -- It looks like everybody in Aggieland remembered to set their alarm clocks for an early wake-up call.
The tailgates were getting fired up a full 150 minutes before kickoff this morning and it's a gorgeous morning as the Corps of Cadets marched through a few of them.
A crisp morning will progress into a warm afternoon for the noon ET kickoff. The sun's out and there's not a cloud in sight from the press box at Kyle Field.
The season hasn't gone as A&M (3-2) would have liked, but they've got a chance for a satisfying victory today. A&M is headed to the SEC next year, and every fan in maroon and white today would love a win over the
school that tried the hardest to stop it
.
The good news for the Aggies: Receiver
Jeff Fuller
has been officially cleared to play after suffering a concussion in last week's 45-40 win over Texas Tech.
Fuller practiced Tuesday and Wednesday without contact, but was cleared for contact on Thursday and is good to go today. One player who isn't: Receiver/punt returner
Kenric McNeal
.
He has a sprained foot, and is a game-time decision. He'll come out to the field today and work out before coaches decide if he's ready to go. If not, cornerback Dustin Harris is expected to replace him as punt returner.