NCF Nation:

Bears-Eers-092912
September, 29, 2012
9/29/12
8:48
PM ET
MORGANTOWN, W. Va. -- When quarterback
Geno Smith
and the rest of the West Virginia offense stop to think about how they rewrote the school record book in their Big 12 debut, let's hope they remember that they wouldn't have done so without
Nick Florence
and the Baylor offense.
A generation ago, Affirmed won the 1978 Triple Crown because Alydar pushed him in all three races. Magic had Larry. Jack Nicklaus had Tom Watson. And on Saturday, Smith and the No. 9 Mountaineers put up video game stats because they needed every single one of their 10 touchdowns to beat the No. 25 Bears,
70-63
.
The West Virginia senior completed 45-of-51 for 656 yards and eight touchdowns with no interceptions. Smith passed like a quarterback who stopped at Milan Puskar Stadium on his way to pick up a Heisman Trophy. He passed as if he were the best quarterback in the joint, which is saying something, given that Andrew Luck watched the game with his father, West Virginia athletic director Oliver Luck (the Colts are off Sunday).
"I think I've had better games," Smith said afterward. "Statistically, it's my best game."
West Virginia head coach Dana Holgorsen, who arrived last season and unleashed Smith's talent on an unsuspecting world, worries that Smith's perfectionism will be a detriment. He read Smith's stats aloud to answer a question and asked, "Can you please tell me how you can improve that?"
Smith is reluctant to say any game is his best. "I got a lot of football left in my career," he said. "The limit is the sky."
For Ivan Maisel's full column, click
here
.
September, 29, 2012
9/29/12
4:06
PM ET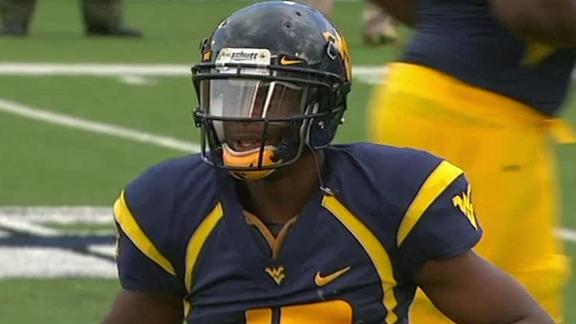 Are you like me? Do you like points? I hope you watched what I just watched. West Virginia and Baylor cleared the game's over/under of 84 midway through the third quarter of this one and nearly hit triple digits by the end of the third quarter.


West Virginia emerged as a
70-63 winner
, coming just three points short of the NCAA record for combined points in a non-overtime game in FBS history.
You won't see this many points very often, but let's take a closer look at the Mountaineers' first Big 12 game as a league member:
It was over when:
West Virginia converted a pair of third downs with a one-handed
J.D. Woods
catch and an
Andrew Buie
run to ice the game.
Game ball goes to: Geno Smith, QB, West Virginia.
If Geno had any Heisman doubters before today, he shouldn't anymore. Sure, he'll face tougher defenses, but not many quarterbacks could do against air what Geno did today against Baylor. He finished with 656 yards on 45-of-51 passing with eight touchdowns, and didn't have a turnover. That's not a typo. This thing got silly.
Stat of the game:
The teams combined for 1,511 yards of offense and two (!) players topped 300 yards receiving. Six players had at least 100 yards receiving.
Unsung hero of the game:
Baylor WR Terrance Williams.
Yes,
Stedman Bailey
and
Tavon Austin
were outstanding, but even in a losing effort, Williams might have been better than both of them. He broke the school record with 17 catches for 314 yards, and caught a pair of touchdowns for the Bears. Both were game highs. West Virginia will get all the headlines for this one, but Williams helped the Bears keep a dizzying pace. The future NFL first-round pick lived up to his billing today.
Second guessing:
Baylor seemed all too content in rushing just three or four men and daring Geno Smith to find receivers. For one, it wasn't covering guys over the top, and Smith made the Bears pay. Second, Baylor's defnsive backs and linebackers couldn't cover West Virginia's speed underneath, either. Baylor had to change it up and make a clearer effort to get some pressure on Smith. So what if you get burned? The Bears were getting burned for quick touchdowns anyway. If you get pressure, you might force a turnover and turn the game around. Instead, Baylor continued to give up score after score, and if Geno can sit back there and watch plays develop, he's going to make good decisions and deliver accurate balls very, very often. Maryland didn't exactly "rattle" Geno Smith, but it forced his worst statistical game of the season because it pressured him often.
Third guessing:
Down 70-63 with three minutes to play, Baylor kicked the ball off instead of trying to go for the onside and get possession. It didn't work. The Bears never got a chance to tie the game. Does anyone really think Baylor had a higher probability of stopping WVU's offense vs. recovering an onside kick? Why would you kick it back to the WVU offense, which had been a buzzsaw the entire game? A baffling decision by the Bears, no doubt.
What West Virginia learned:
Its defense needs plenty of work, too, but Geno Smith is a bona fide Heisman contender who's ready to make a big impact in the Big 12. His stat line's absurdity says plenty, but too many people who just see that stat line won't see some of the throws he made against Baylor's defense. Yes, the Bears left holes in a lot of places, but Smith was stretching the field all day and making picturesque throws on drive after drive, even on the occasions in which his receivers were covered.
What Baylor learned:
Its defense has major, major problems. Yes, West Virginia probably has the best offense in the Big 12. Yes, Baylor's isn't far behind and gives the defense a big margin for error. Still, some of those errors we saw today were inexcusable. Bailey and Austin are as good as any receivers in the country, and on several occasions, at least one of them was running free, completely uncovered in Baylor's secondary. The worst was Baylor, fresh off a TD that cut the deficit to 56-49, leaving Bailey wide open downfield for an 87-yard TD pass. This kind of stuff can't happen if Baylor expects to keep winning at an acceptable level in the Big 12. At some point, you can't just keep depending on your offense to go out and win every game for you.