NCF Nation:

Beau Blankenship
October, 2, 2012
10/02/12
5:00
AM ET
1. Alabama is a unanimous No. 1 for a reason but injuries have just about used up the margin of difference between the Crimson Tide and the rest. The season-ending (and non-contact!) knee injuries suffered by wideout
DeAndrew White
and tailback
Dee Hart
Saturday bring to five the number of backs, receivers or safeties lost for the season to injury. The impact will come down most heavily on special teams. I'm guessing Nick Saban will use the off week to shore up the depth chart of his kicking game.
2. If you want a top running back to make the Heisman race, you're going to have to take a workhorse, not a showhorse. Two of the top FBS rushers, Nevada junior Stephon Jefferson and Ohio junior
Beau Blankenship
, average more than 31 carries per game. If you're looking for a tailback who plays a tougher schedule, keep an eye on Oklahoma State junior
Joseph Randle
, who ripped through Texas for 199 yards on 25 carries. Still, as the Heisman race goes, none of the rushers is keeping pace with the quarterbacks.
3. NCAA stats are reliable, even if they continue to list Oklahoma State quarterback
J.W. Walsh
as a sophomore instead of a redshirt freshman. But I digress. According to the NCAA, Nebraska junior
Taylor Martinez
, who is 12th in the FBS in passing efficiency, is the only Big Ten quarterback in the top 40. By contrast, the Big 12 has four of the top five and seven of the top 17. You can't pin that on Big 12 defenses, the West Virginia-Baylor game notwithstanding. Conference play really hasn't kicked in yet.
June, 9, 2010
6/09/10
10:00
AM ET
You heard about Oklahoma's
Landry Jones
and his backup earlier this morning, but here are the most irreplaceable players for the rest of the conference.
Robert Griffin III, QB, Baylor:
This one's pretty simple. Griffin means more to his team than any player in the conference. The 2008 Big 12 Newcomer of the Year helped the Bears win their 2009 season opener at Wake Forest before a season-ending knee injury in the third game. He'll come back for 2010 still a sophomore. But his injury last season now means his backup,
Nick Florence
, is surprisingly experienced.
Alexander Robinson, RB, Iowa State:
Robinson rushed for 1,195 yards in 2009 and is by far the Cyclones' best player. His yards per carry average is almost 1.5 yards higher than his backup last season. This year, the battle for No. 2 is ongoing, with
Beau Blankenship
and freshmen
James White
and
Jeff Woody
trying to earn any spare carries not soaked up by Robinson.
Nate Solder, OT, Colorado:
This season will be Solder's third as starting left tackle, the key position on the offensive line. He's proven to be one of college football's premier linemen, but his durability and experience have meant very little playing time for backup Ryan Dannewitz, a redshirt freshman.
Jake Laptad, DE, Kansas:
Laptad is a force in the backfield and racked up 6.5 sacks and 12 tackles for loss last season. His backup is junior college transfer Quintin Woods, but with just four career tackles, there's a clear dropoff in both production and talent.
Blaine Gabbert, QB, Missouri:
In just his second year as starter, Gabbert could be poised for a big jump like his predecessor, Chase Daniel. The Tigers earned a North title in Daniel's second season and No. 1 ranking after the regular season. But Gabbert needs to stay healthy. His backup is former walk-on
Jimmy Costello
, who's never played a meaningful snap, but behind him are a group of untested freshmen with potential in
Ashton Glaser
,
James Franklin
and Gabbert's younger brother,
Tyler Gabbert
.
Eric Hagg, S/LB, Nebraska:
The central figure of the Huskers' Peso defensive scheme (Hey!
Remember that
?) gives the Husker defense the teeth that helped them nearly upset Texas and blow out Arizona. His backup is Austin Cassidy, who has plenty of on-field experience after appearing in all 13 games last season. Like Hagg, Cassidy has the ideal size for the position at 6-foot-1 and 210 pounds, and notched nine tackles as a sophomore in 2009.
Markelle Martin, S, Oklahoma State:
Martin's sophomore season was overshadowed by big-hitting senior Lucien Antoine, but he'll be one of the team's leaders as a junior in 2010. He's the team's leading returning tackler, and should join Orie Lemon and Ugo Chinasa as the anchors of a defense replacing its four leading tacklers from 2009. His backup, Mathies Long, played in the last six games of 2009, but has just three career tackles.
Sam Acho DE, Texas:
The better known of Texas' Acho brothers, he played in 24 games before taking over as starter last season. He notched 63 tackles and four fumble recoveries, tied for most in college football. He was also a semifinalist for the Lott Trophy. But at Texas, there's always a pretty narrow gap between starter and backup. Acho's backup should be either Russell Carter
or
Alex Okafor, who will also play behind opposite defensive end Eddie Jones. Carter played in nine games last season and notched five tackles. Okafor played in all 14 games last season and tallied 22 tackles.
Jerrod Johnson, QB, Texas A&M:
No backup will be able to reproduce Johnson's impressive numbers from 2009 (38 touchdowns, 4,085 total yards). But Johnson's backup
Ryan Tannehill
does have plenty of experience--at a different position. He got plenty of reps this spring with Johnson sidelined from live action after minor shoulder surgery, but he's the team's active leader in receiving, with 1,418 career yards. He's thrown just nine passes in two seasons with the Aggies.
Colby Whitlock, DT, Texas:
Should assume the role of nose tackle in Tech's new 3-4 scheme under coach Tommy Tuberville and defensive coordinator James Willis. Though it's a new position, Whitlock's experience will be tough to replace. Of his 46 tackles in 2009, 8.5 came behind the line of scrimmage. His backup is a mountain of a man, Myles Wade. The 6-foot-2, 340-pound junior college transfer made just two tackles in limited action last season, but he still has two years of eligibility left, and could plug plenty of holes in the middle of the defense after Whitlock graduates.
April, 15, 2010
4/15/10
4:00
PM ET
AMES, Iowa --
Alexander Robinson
walks and speaks softly.
"I'm not the type of teammate that's going to get in your face and yell at you and scold you and tell you 'this is wrong, that's wrong,'" Robinson said. "What I'm going to try to do is go out there and try to work hard every day and lead by example."
[+] Enlarge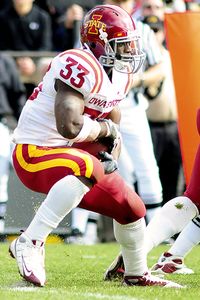 Icon SMIIowa State's Alexander Robinson rushed for 1,195 yards as a junior.
Robinson saves his intensity for the field and opposing linebackers. He rushed for 1,195 yards for the Cyclones as a junior last season, but Iowa State coach Paul Rhoads needs him to to step outside his comfort zone this spring and during his senior season.
"He's automatically a leader because of his production and his credibility with his teammates," Rhoads said. "So they'll look to him for that. He's got to provide verbalization to his teammates to give them that leadership."
Rhoads knows part of that is leading by example, a quality that comes natural to his running back. Even if he has to change how that example looks. Robinson's natural running style out of pads makes him look like what Rhoads called a "strider," and can sometimes give off the appearance that he isn't running full-speed during conditioning.
"I talked to him and said, 'this stuff is about quickness,'" Rhoads said. "You've got to show you're expending yourself [during workouts]. Out on the field, it's precision."
On the field, Robinson's progression has been rapid entering his final season, even since the Cyclones' bowl win over Minnesota. Rhoads has seen Robinson grow significantly quicker and faster, and with his experience last year, his vision and feel for finding holes in the defense could pay off next season.
"You combine that vision with the improved quickness, you've got quicker cuts, sharper lines," Rhoads said. "And it's hands on him instead of bodies on him."
One of the reasons for Robinson's breakout year was understanding how his talents fit into Rhoads' system.
"There are certain aiming points in the line we want, by doing that, he helps the O-line. It took him a little bit to understand that," Rhoads said.
This spring, he's passed on what he's learned to a clustered group of running backs behind him, including
Beau Blankenship
,
Jeff Woody
and
James White
.
"He's not going to make too many mental errors," White said. "If there's something I don't know, I'll ask A-Rob instead of Coach and he'll tell me."
July, 28, 2008
7/28/08
9:35
AM ET
Posted by ESPN.com's Tim Griffin
A ticking clock on the Waco Tribune-Herald's home page reminded me that football season is just around the corner. As of Monday morning, it's only 31 days and counting until the Big 12's openers on Aug. 28 when Wake Forest travels to Baylor and South Dakota State faces Iowa State.
I bet most of my readers are as excited as I am. As such, here's a few Big 12 links to feed their college football appetite on this fine Monday morning.
My take -- I basically agree with most of Tramel's rankings, although he might lean just a tad too much to tradition. Texas-Arkansas isn't going to be as good as he thinks -- unless Bobby Petrino is the second coming of Frank Broyles to the Ozarks.
My take -- An even bigger story is that Shatel's bosses at the Omaha World-Herald finally have jumped into the current century. Finally, they will allow his must-read columns about the Cornhuskers to be read for free by Internet viewers. Stop the presses!
My take -- Stoops remains the major reason why Oklahoma is the overwhelming favorite in the Big 12 in the eyes of most observers.
My take -- These fans better be careful what they ask for -- particularly if Nebraska's defense is torched for pinball-type numbers again this season.
My take -- Hey Nebraska fans. I can't wait for the season to begin, either.
My take -- Maybe the new surroundings will help Szymanski, who never seemed to recover from his ill-advised decision to enroll in college a year early. SMU sounds like a fresh start, but what does a kicker/punter really have to do around June Jones?
My take -- Gundy is right on this one. And maybe a slew of talented junior-college players might reduce how many freshmen have to play this season -- particularly on defense.
My take -- Backup Roy Helu Jr. must be a stud. Because I still think that Marlon Lucky is one of the most valuable players in the Big 12, even though he tends to mope more than my 3-year-old when things don't go his way.
My take -- Quite frankly, I'm surprised Callahan is even mentioned that much.
My take -- Bob Stoops better hope that Bradford didn't watch "Speed Racer."
My take - Was Calhoun reading my blog post about dream non-conference rivalries the other day? I only hope that DeLoss Dodds of Texas and Mike Garrett of USC were doing the same.
My take -- Iowa State coach Gene Chizik will make sure the 5-foot-8, 207-pound Blankenship's defensive forays are limited once he gets to college.
My take -- Considering Kivisto has only paid a quarter of his $12 million gift for the football center, Kansas athletic director Lew Perkins has got to be sweating just a little.
My take -- If Sherman is successful in Aggieland, they'll do more than just post his commercials on the Internet. More like naming buildings after him.