NCF Nation:

Beaver Stadium
July, 19, 2010
7/19/10
1:00
PM ET
Of all the great Big Ten fan traditions, Penn State's White House might be my personal favorite.
Although fairly new, Penn State's coordination of fan attire for the big-ticket matchup at Beaver Stadium creates visual images like
this
and
this
, which are impossible to forget. The White House asks all Penn State fans to wear white for a game, differentiating it from a whiteout (just students). Last September's
White House game against Iowa
in a steady downpour served as my favorite game setting of the 2009 Big Ten season.
[+] Enlarge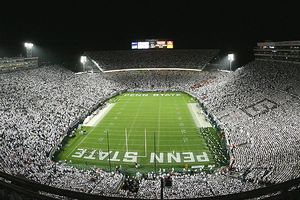 Matthew O'Haren/Icon SMIThe next White House game is slated for Sept. 10, 2011, against Alabama.
So you can understand why I was
disappointed to see this
.
After dropping the 2009 White House game to Iowa, Penn State will have to wait for 2011 to seek redemption before 110,000 white-clad fans, Paternoville President Alex Cohen said. Cohen, citing a high-ranking official within the athletic department, confirmed in a text message that the next White House game will be Sept. 10, 2011, against Alabama.
There had been some confusion about the White House situation after tickets for this season's matchup against Temple suggested the game would serve as a White House. The Temple game tickets included the words "Whitehouse, All-University, and Varsity 'S' Day" and encouraged all fans to wear white. But
it was a misprint
.
Good thing, too.
The opponent and the significance of a game play major roles in when the White House should be scheduled. These are not just games, but events, and they need to be special.
A late September matchup against Temple doesn't move the needle. To be honest, none of Penn State's home matchups this fall get me too jazzed, which is why postponing the White House until 2011 is the right call.
"The game has to have significance and the date has to work," [associate athletic director Greg] Myford said. "There's a number of factors that go into it."
Penn State's home slate consists of games against Youngstown State (Sept. 4), Kent State (Sept. 18), Temple (Sept. 25), Illinois (Oct. 9), Michigan (Oct. 30), Northwestern (Nov. 6) and Michigan State (Nov. 27). The Michigan game jumps out as a potential candidate for the White House, especially since an 8 p.m. ET kickoff on ABC, ESPN or ESPN2 already has been announced.
But Michigan's recent slide has decreased the buzz around such a matchup, as Jared Shanker writes in
The (Harrisburg) Patriot-News
:
The Penn State Athletic Department is making the right move by refusing to designate any of the 2010 home games as a "White House" game. A quick glance at the schedule and it becomes clear there isn't a team worthy of earning the distinction of the "White House" opponent. Before Rich Rodriguez took over the Michigan program, it would have been an easy choice to promote a "White House" for the night game against the Wolverines on Oct. 30. But with the Wolverines struggling mightily (8-16 since 2008), Penn State would really be stretching the boundaries of what should be considered a "White House" game.
That's a knock against Michigan, but it's hard to argue right now. While I wouldn't mind seeing the White House policy re-examined in early October -- say, if both Penn State and Michigan are ranked and undefeated -- I understand the logistical issues of making a decision so close to kickoff.
The Alabama game at Beaver Stadium seems a long way away, but I have a feeling the White House will be worth the wait.
February, 25, 2009
2/25/09
9:55
AM ET
Posted by ESPN.com's Adam Rittenberg
Love and hate are the themes of the day around these parts, so I figured I'd chime in about the Big Ten. There are many reasons why I love covering football in this conference, and a few things I'm not so crazy about.
Let's begin with five good things.

Big stadiums --
Size matters in the Big Ten, which boasts three of the nation's four largest stadiums at Michigan, Penn State and Ohio State. Ohio Stadium, Beaver Stadium and Camp Randall Stadium are on the short list of toughest places to play, and other Big Ten venues (Kinnick Stadium, Spartan Stadium) add their own charm. The game-day experience is truly captured where Big Ten teams call home.
The Game (and other rivalries) -- The Big Ten lays claim to quite possibly the greatest rivalry in all of sports, between Ohio State and Michigan. No series has produced more colorful figures and memorable moments. The league also features exciting annual matchups like Michigan-Michigan State, Penn State-Ohio State and Minnesota-Wisconsin. At stake are coveted items like a bronzed pig, a giant ax, a brown jug and an ancient bucket.
Regent Street and the Beaver Stadium grounds -- They are two of the nation's prime tailgating spots, and they both belong to the Big Ten. Tailgating at Wisconsin or Penn State is an experience every college football fan should enjoy. You get beer and brats in Madison, and elaborate set-ups and daylong debauchery in State College. As a college football fan, you can't go wrong at either place.
Legendary coaches -- The Big Ten has produced legendary coaches through the decades. From Fielding Yost and Bob Zuppke to Bernie Bierman and Fritz Crisler to Woody and Bo to Hayden Fry and Duffy Daugherty to Barry Alvarez and Jim Tressel, the Big Ten has been at the top of the coaching ranks. The arrival of Penn State's Joe Paterno in 1993 has only added to the league's rich coaching tradition.
Night games in Columbus, Madison and State College -- Noon kickoffs are generally the norm in the Big Ten, which sort of blows but makes the rare night game all the more special. Ohio State will host only the ninth night game in team history this fall against USC, and the atmosphere will undoubtedly be electric. Same goes for any game under the lights at Camp Randall Stadium -- there were two last year -- and at Penn State, which thankfully welcomes night football more than any other Big Ten team.
October, 17, 2008
10/17/08
10:53
AM ET
Posted by ESPN.com's Adam Rittenberg
Ten things you don't want to miss this weekend in the Big Ten.
1. Javon vs. Beanie -- We're on a first-name basis with these two superstar running backs, who match up Saturday at Spartan Stadium (ABC, 3:30 p.m. ET). Michigan State's Javon Ringer remains in the Heisman mix and can help his cause with a big game in the national spotlight. Chris "Beanie" Wells has been solid since his return from injury, but with Ohio State's passing game struggling, his workload likely will increase. Wells has been at his best in big games, and he needs another strong effort against the Spartans.
2. The scoreboard at Beaver Stadium -- How bad will it get for Michigan? No. 3 Penn State enters Saturday's game (ESPN, 4:30 p.m. ET) on a nine-game losing streak to the Wolverines, and the Lions undoubtedly have the ability to run up the score. Michigan's defense needs a big performance to keep things close, but the Lions could be looking for revenge. Wolverines quarterback Steven Threet could be limited with a bruised elbow, and the offense likely will struggle against the league's top defense.
3. The man taking snaps for Wisconsin -- Badgers head coach Bret Bielema opened up the competition at quarterback this week, and it seems likely that junior Dustin Sherer will replace Allan Evridge against Iowa. The Hawkeyes allow fewer than 100 rushing yards a game, and Wisconsin will need its quarterback to make some plays. Bielema and offensive coordinator Paul Chryst liked the spark Sherer provided in mop-up time against Penn State. They might make a switch after seeing too many mistakes from the quarterback spot.
4. Terrelle Pryor and the passing game -- There was some grumbling this week in Columbus about a punch-less passing attack, and it will be interesting to see how Pryor responds against Michigan State. Pryor has taken too many sacks in recent weeks, and he needs to make some quicker decisions and get wideouts Brian Robiskie and Brian Hartline more involved. Ohio State has slipped to 108th nationally in pass offense (143.6 ypg).
5. C.J. Bacher vs. Curtis Painter -- Both senior quarterbacks have struggled this season, ranking eighth and ninth in the league in pass efficiency. Northwestern is 10-0 in games when Bacher starts and throws fewer than two interceptions and 3-10 when he throws two or more picks. Painter hasn't thrown a touchdown pass this month and needs to inspire confidence in his teammates with a strong performance at Ryan Field.
6. Juice and the record books -- Illinois quarterback Juice Williams has set stadium records for total offense in each of his last two games. That's 934 yards of offense in eight quarters. Mercy. He now takes aim on an Indiana defense that has allowed 42 points or more in three of its last four games. Williams already has eight completions for 50 yards or more this season -- the most for any FBS quarterback -- and Indiana's secondary is susceptible to the big play.
7. Jim Tressel vs. Mark Dantonio -- Tressel and his former defensive coordinator square off for the third consecutive season, and though their teams are the bigger story this time, it will be interesting to see the two coaches match wits. Both men admit they don't enjoy facing one another, but Dantonio and Michigan State can take a major step forward by beating Tressel and the three-time defending Big Ten champions. "I sort of enjoy playing Ohio State," Dantonio said. "I always did when I was here before. I don't enjoy playing people that are close friends, I guess, but I enjoy playing against a football team that is from where I grew up."
8. Indiana's quarterback situation -- Kellen Lewis sat out practice this week and is listed as questionable for the Illinois game with a high ankle sprain. Indiana trusts sophomore Ben Chappell, who has shared the field with Lewis at times this season. But Lewis remains Indiana's biggest threat, and the Hoosiers will need more playmakers to develop if the junior is limited or unavailable against the high-powered Illini.
9. Penn State and the trap game -- Lions players insist they're not concerned about the losing streak to Michigan or the psychological effect such a slide could have on Saturday. But if Michigan somehow jumps ahead, it will be interesting to see how Penn State responds. These teams aren't comparable on paper, but college football always has some surprises and Penn State has a huge game next week at Ohio State. As Penn State coach Joe Paterno said recently, "I don't know what an upset is any more."
10. Do-it-all backs in Evanston -- Tyrell Sutton and Kory Sheets don't get the same attention as Ringer, Wells, Shonn Greene and Evan Royster, but there aren't two more versatile running backs in the conference. Sutton is quietly averaging 100.5 rush yards per game and ranks third on the team with 24 receptions. Sheets ranks second in the Big Ten in all-purpose yards (156 ypg), accounting for 34 first downs (29 rushing, 5 receiving) this season.
September, 26, 2008
9/26/08
11:27
AM ET
Posted by ESPN.com's Adam Rittenberg
When the forefathers of tailgating conceived the great American pastime, they had Big Ten football in mind. The cool autumn weather, the country's three biggest stadiums and the Midwestern cultural pillars of beer and meat have made tailgating a natural fit from State College to Iowa City.
Big Ten fans don't let those pesky noon or 11 a.m. kickoff times get in their way of grilling, eating, drinking and socializing. And while each Big Ten fan base puts its own flavor on the tailgate, two stand out.
When Penn State plays a home football game, State College turns into the third-largest city in Pennsylvania. The grounds outside Beaver Stadium fill with RVs, TVs and tens of thousands of fans, many of whom remain there while the game is being played. The sheer size of the stadium and the tailgating territory make Penn State a tailgater's paradise. As for food, one Penn State tailgating Web site includes recipes for something called sub slop and a snack mix nicknamed heart attack in a blue bowl. Good stuff.
Not far behind Penn State is Wisconsin, which never lets the weather get in the way of brats and beers. Madison is a metropolitan city, so tailgating becomes a bit cozier, but Badger fans don't mind. Walk along Regent Street before a game and you'll find full bars, brats, cheese and plenty of Badgers having a blast.
Other Big Ten tailgating hot spots: Hineygate at Ohio State, the tennis courts at Michigan State, the golf course at Michigan. Unfortunately, Olive Court at Iowa is no longer being used.
August, 14, 2008
8/14/08
10:05
AM ET
Posted by ESPN.com's Adam Rittenberg
WEST LAFAYETTE, Ind. -- Purdue's media day begins later Thursday morning, and I'll be there to check in with Heisman candidate Curtis Painter, coach-in-waiting Danny Hope and the rest of the Boilers.
First, I give you the links on the other 10 teams.
"The most overpaid coach is Iowa's Kirk Ferentz, who made $3.4 million last year despite lackluster results on the field, for a score of 71. Just how lopsided is Ferentz's deal? During the last three years he's pocketed $10 million, including a record $4.7 million in 2006, but has led the Hawkeyes to just a 19-18 record."
Posted by ESPN.com's Adam Rittenberg
By now you know that Ohio State tops the list, but which Big Ten team comes next? Here's a look at the league's most hated to least hated teams and some of the reasons why (or why not). Honestly, after the top two or three, it gets a bit fuzzy. But keep in mind, being on the bottom isn't necessarily a good thing.
1. Ohio State -- Several factors fuel the Buckeye hate, including lots of winning, the Sweater Vest, Maurice Clarett, some riotous fans, the "dotting the i" tradition, an inhospitable home field and the team's recent BCS flops.
2. Michigan -- The Wolverines remain college football's winningest program (869 victories), a source of pride for a fan base often branded as arrogant. The Michigan Man ideal reinforces the perception, and Michigan's constant TV exposure annoys many. Former coach Lloyd Carr was viewed as a complainer and a curmudgeon, and new coach Rich Rodriguez arrives amid some bad p.r.
3. Penn State -- People are sick of the constant attention on Joe Paterno, but there are other reasons for the Penn State hate. As a longtime independent with a national following, the school suffers from a milder case of Notre Dame syndrome. The "We Are, Penn State" chant and the roaring Nittany Lion at Beaver Stadium don't help matters.
4. Iowa -- The program's recent decline had tapered the hate, but all the off-field problems since April 2007 might have triggered it again. Some Iowa fans are seen as obnoxious, and the pink visitors' locker room at Kinnick Stadium still gets attention.
5. Wisconsin -- The team's success after the arrival of Barry Alvarez moved it up the list. Camp Randall Stadium is one of the league's most raucous environments, and some Wisconsin fans aren't overly popular around the league.
6. Illinois -- Ron Zook's arrival and the recent recruiting surge move Illinois up the list. Zook remains somewhat of a lightning rod, and Illinois is quickly forming a rivalry with Ohio State.
7. Michigan State -- Several cocky players and a memorable post-game celebration at Notre Dame in 2005 heightened the hate for Michigan State. But the program's string of traumatic losses has inspired more sympathy than bile.
8. Minnesota --The Gophers have the potential to be higher, with a loud and inhospitable home stadium and fans who have rioted before (2003 Frozen Four). But it's hard to hate a team that hasn't won a Big Ten title since 1967.
9. Purdue -- There's not much to hate other than the pioneering spread offense Joe Tiller implemented in 1997. Boilers fans are generally harmless, and Ross-Ade Stadium isn't overly intimidating.
10. Northwestern -- A snooty fan base and cut-blocking lineman can be irritating, but the team's losing history (pre-1995) and half-full home field doesn't spark much hate.
11. Indiana -- The Hoosiers soon could climb the list after their first bowl appearance since 1993, but the program usually isn't relevant enough to be hated.