NCF Nation:

Beavers-Bruins 092212
September, 22, 2012
9/22/12
9:57
PM ET
PASADENA, Calif. -- It's campaign season. And while the Oregon State defense was busy laying demo to another Heisman campaign for the second consecutive game, coach Mike Riley looked like he was launching a campaign for some kind of office. Clinching his grandson, "Baby Eli," Riley laid a long, deep kiss on his wife, Dee, that would make Al and Tipper Gore blush.
"Yeeeaaahhhhhh, Mike," came a shout from the crowd that surrounded the Oregon State locker room following the Beavers'
27-20 victory
over No. 19 UCLA.
The win, Riley's 74th, ties him with Lon Stiner for most as an Oregon State head coach.
"It's great," said Riley of his team's 2-0 start. "... We get to start fresh and we get to make our own bed. So we'll see how we do. We're off to a good start."
Given the quirky beginning to the Beavers' season, folks were wondering whether Oregon State was for real after knocking off No. 13 Wisconsin. The Beavers were on bye last week and the Badgers hadn't looked all that impressive since. But Riley cautioned against taking anything away from his squad.
"You should never do that to teams," he said. "You should never try to quantify a win or downgrade an opponent because of something else that happened. That's really unsafe to do. We thought Wisconsin was a good team and we played them and beat them, and we thought these guys [UCLA] were a good team and played them and beat them and that's where we are."
The last time the Beavers defeated ranked teams in back-to-back games was during the 2000 season (No. 8 OSU defeated No. 5 Oregon 23-13 on Nov. 18, and then No. 5 OSU beat No. 10 Notre Dame on Jan. 1 in the Fiesta Bowl). This was the first time in school history, however, the Beavers have beaten ranked teams consecutively in the regular season.
If Oregon State's defense needed any motivation to stay focused during its bizarre, hiatus-heavy opening to the 2012 season, all the players need to do is close their eyes and think back to last year's 12-week train wreck.
[+] Enlarge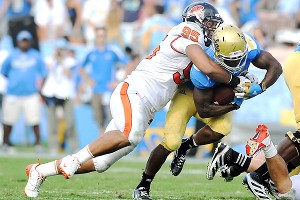 Jayne Kamin-Oncea/US PresswireDefensive end Scott Crichton had six tackles and both of Oregon State's sacks against UCLA.
"We learned from being 3-9 last year," said cornerback
Jordan Poyer
. "The season sucked. The guys don't want to go through that again. We have a good attitude. This is the best attitude we've had as a team since I've been here."
And the defense played with a bit of an attitude as well. UCLA (3-1) entered the game with the nation's No. 2 offense, averaging 622 yards per game. OSU held it to 444. Perhaps more importantly, the Beavers contained the nation's leading rusher, UCLA running back
Johnathan Franklin
, to just 45 yards on 12 carries. He had been averaging 180.3 yards per game. This on the heels of limiting Wisconsin's
Montee Ball
to 61 yards on 15 carries two weeks ago. Ball was considered a preseason Heisman finalist and Franklin had gained Heisman steam through the first three weeks.
"They don't matter to us," said OSU defensive end
Scott Crichton
, who had six tackles, three tackles for a loss and both of OSU's sacks. "Whoever we go against, we just want to beat them. ... We know Franklin is an explosive running back. We just tried to slow him down and we did a pretty good job today."
The Beavers also got a fantastic performance from outside linebacker
Michael Doctor
, who notched a team-high nine tackles -- including eight solo and a tackle for a loss. Doctor's job was to spy ultra-athletic UCLA quarterback
Brett Hundley
. Riley pointed to one specific play late in the game when Hundley started to scramble and Doctor chased him down and limited the third-and-6 dash to just 3 yards. Hundley (32 yards rushing, 27-of-42 passing for 372 yards and a score) looked like he had some daylight, but Doctor was able to smother him before a big gain. Trailing 27-17, that forced the Bruins to attempt a 42-yard field goal, which
Ka'imi Fairbairn
missed wide right.
"That one play was probably a game winner. It might have been," Riley said. "Michael Doctor can run. In this day and age, to have two linebackers that can run like Doctor and
D.J. Welch
is a good thing for your defense with as spread out as everybody is."
Offensively, the Beavers got explosive performances from wide receivers
Markus Wheaton
(9 catches 150 yards and a touchdown) and
Brandin Cooks
(6 catches, 175 yards and a touchdown) while totaling 501 yards of offense. Quarterback
Sean Mannion
was 24-of-35 for 379 yards with two scores and an interception.
Storm Woods
netted 96 yards on the ground with a touchdown.
But it was the Beavers' defense that made the bigger statement.
"Our expectations of ourselves are pretty high," Poyer said. "We know we're a good defense. We know there are going to be people out there doubting us. We know if we stick together as a team, the sky is the limit for us."
September, 22, 2012
9/22/12
7:10
PM ET
PASADENA, Calif. -- With only one game under their belt, the
Oregon State Beavers
traveled south to face the No. 19
UCLA Bruins
. Both had already scored out-of-conference home victories against ranked opponents, so the expectation was that this would be a tight game. It didn't disappoint. Here's how it all went down at the Rose Bowl.


It was over when
: With a little more than 11 minutes left in the game and Oregon State leading 24-17, quarterback
Sean Mannion
dumped a 2-yard pass to
Brandin Cooks
on third-and-4. Cooks spun out of one tackler at his knees, broke another in the open field and went 46 yards to the UCLA 1. Despite a stout goal-line stand from the Bruins, the Beavers'
Trevor Romaine
hit a chip-shot field goal to put the Beavers ahead by 10. The Bruins cut it to
27-20
with 1:47 left, but failed to recover the onside kick.
Player(s) of the game
: Oregon State wide receivers Cooks and
Markus Wheaton
share the honors. Cooks caught six balls for 175 yards and a score and Wheaton had nine catches for 150 yards and a touchdown.
Player(s) of the game take 2
: Oregon State's defense -- especially in the front seven -- was solid (see stat of the game below).
Michael Doctor
had a great game.
Stat of the game
: Oregon State held UCLA's offense, which averaged 622 yards through the first three games (second nationally), to 444 yards. The Bruins were just 2-of-15 on third downs. The Beavers held
Johnathan Franklin
, the national leader in rushing (180.3 yards per game), to 45 yards on the ground.
What it means for Oregon State
: Welcome to the top 25, OSU. The Beavers scored their second consecutive win over a ranked opponent for the first time in school history within the regular season. With a rush defense that has shut down two Heisman-hopeful running backs, the Beavers are trending up in the national and conference power rankings.
What it means for UCLA
: The Bruins will tumble out of the top 25. Growing pains were expected for a team with a young offensive line and a young quarterback.
Brett Hundley
looked much more like a redshirt freshman than he had in the previous three games. Franklin's Heisman campaign takes a serious hit.
September, 22, 2012
9/22/12
2:07
PM ET

Kevin Gemmell previews Oregon State-UCLA from the Rose Bowl.