NCF Nation:

Beavers-Ducks 120309
December, 4, 2009
12/04/09
2:26
AM ET
EUGENE, Ore. -- The games couldn't have been more different, but for the second consecutive year Oregon State isn't going to the Rose Bowl because it lost the Civil War.
It hurt in 2008 when the Ducks rolled over them 65-38. And it hurt Thursday night when the Ducks outlasted them
37-33
.
"It is never easy," Beavers linebacker Keith Pankey said. "We fought all season for this and it slipped through our fingers. We played our hearts out today."
It came down to a couple of plays. It always seems to in tight games.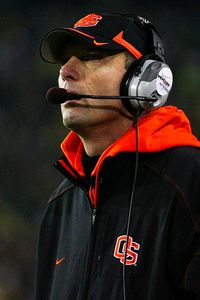 Tom Hauck/Getty ImagesOregon State coach Mike Riley has seen his teams' Rose Bowl chances plucked away by Oregon in each of the past two seasons.
Both offenses mostly had their way, but the Ducks made the critical conversions in the fourth quarter and the Beavers could not.
Oregon State jumped ahead 30-21 after driving 75 yards for a touchdown on their first possession of the second half, but the Beavers wouldn't reach the end zone again.
There were two contrasting, critical fourth-quarter drives that told the final story.
Down by four, the Beavers had a first down on the Oregon 22-yard line as the clock wound down in the fourth quarter. But three plays later, they faced a fourth-and-15 with 6:16 left.
Coach Mike Riley looked at the clock and thought about the Ducks offense. He decided he needed to go for it.
"On 4th and 15, we did not know if we would get another opportunity and if they scored a touchdown it would be over," he said.
But
Sean Canfield
, the most accurate passer in the Pac-10, couldn't connect with
James Rodgers
.
The Ducks took over and wouldn't give the ball back, twice converting on fourth down during the game's gutsy, poised final drive.
One team made plays in the fourth quarter, one team couldn't.
The Beavers, who last played in a Rose Bowl in 1965, now may likely fall all the way to the Las Vegas Bowl, based on how the bowl-selection process will go, despite tying for second in the Pac-10. The Holiday Bowl will select the winner of the USC-Arizona game on Saturday, while the Sun Bowl likely will exercise a "no-repeat" clause and choose a team other than the Beavers, who were in El Paso last year.
"We cannot sit here and sulk," Pankey said. "It did not go our way, but we have one game left."
Canfield was outstanding in a losing effort. He completed 24 of 36 passes for 306 yards with two touchdowns and no interceptions. It likely will be between him and Oregon's
Jeremiah Masoli
as to who is named first-team All-Pac-10 quarterback.
"Sean Canfield is the real deal," Oregon coach Chip Kelly said. "He's the first guy I've seen come into Autzen Stadium and not get rattled."
The Beavers (8-4, 6-3) didn't seemed rattled in the least. They just got beat.
"They were the best tonight," Riley said. "Our conference this year was one of the strongest and most balanced it has ever been."
Each Civil War loss -- a humiliating blowout in 2008 and a what-might-have-been in 2009 -- hurts in its own way.
The Beavers have nothing to be ashamed of this go-around. But that won't be much consolation when they watch the Ducks take the field opposite Ohio State in the Rose Bowl and they think, "That could have been us."
December, 4, 2009
12/04/09
2:15
AM ET
EUGENE, Ore. -- Every season is a journey and most are bumpy, but it would be hard to imagine many teams have started so poorly but ended with such euphoria as the 2009
Oregon Ducks
, who overcame a nine-point third quarter deficit to beat rival Oregon State
37-33
in the Civil War for the Roses.
On Sept. 3, the Ducks were either a joke or a cautionary tale, depending on how seriously one saw a humiliating defeat at Boise State and a post-game meltdown by
LeGarrette Blount
, whose punch of a Broncos player became the endlessly replayed highlight of a team on the brink with a first -year coach who looked like he was in over his head.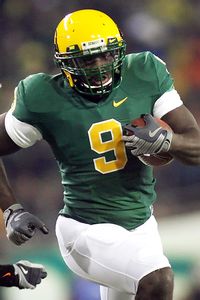 Craig Mitchelldyer/US PresswireLeGarrette Blount returned to the Oregon lineup for the first time since being suspended following a season-opening loss to Boise State.
On Dec. 3, precisely three months later, the seventh-ranked Ducks won the Pac-10 championship and earned a spot in the Rose Bowl opposite Ohio State, and coach Chip Kelly is almost certain to earn Pac-10 Coach of the Year honors.
"We were always capable of greatness but we definitely had some hardships along the way," Ducks quarterback
Jeremiah Masoli
said.
The Ducks will play in their first Rose Bowl since the 1994 season.
Want full circle? Blount, whose suspension ended three games ago, saw his first action since Boise State in the third quarter. He rushed for 2 yards on his first carry. On his fourth, he went 12 yards for a touchdown to close the deficit to 30-28.
Kelly said it wasn't any grand plan. That moment, with the Ducks trailing by nine, just seemed like the time to reintroduce Blount to the world and see if he could give his teammates a spark.
"He did give us a spark," Kelly said. "It wasn't a plan. He worked himself back in."
So Blount, who wasn't made available to reporters after the game, got his redeeming moment.
But the starring roles belong to the two men who stepped up after Blount was forced to step aside -- redshirt freshman running back
LaMichael James
and quarterback Jeremiah Masoli.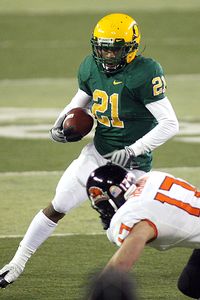 Craig Mitchelldyer/US PresswireOregon running back LaMichael James (21) rushed for 166 yards and three touchdowns against Oregon State
James rushed for 166 yards and three touchdowns, more than making up for a second-quarter fumble in Ducks territory that set up an Oregon State field goal. He moved into second place on Oregon's single-season rushing list with 1,476 yards this season, which only increases his Pac-10 freshman record.
Masoli rushed for 40 yards and completed 14 of 21 passes for 201 yards with a 73-yard touchdown toss to
Jeff Maehl
. But Masoli's value isn't about pure numbers. It's about playmaking in pressure situations.
Take the Ducks final possession, which burned the final 6:09 off the clock.
On fourth-and-3 from the Beavers 33, Kelly opted to go for it. The called pass play broke down. Masoli sprinted out of the pocket to his right. He turned the corner. Oregon State safety Lance Mitchell saw Masoli make his move, so Mitchell made his.
About a yard in front of the first-down marker, Masoli met Mitchell head-on. And Mitchell lost the battle. Masoli exploded through him for the first down.
"I think Jeremiah, for what we do, is the best quarterback in the country," Kelly said.
The Ducks would convert another fourth down on the drive -- they were 3 for 3 on fourth down on the evening -- this time Kenjon Barner rushed 5 yards on a fourth-and-2 with 1:43 left, which basically iced the game.
By the way, anyone notice how precisely Kelly and Masoli managed the game at the end?
The Ducks outrushed the Beavers 288 yards to 83, but the Beavers passing game had the Ducks on their heels much of the night.
Sean Canfield
completed 24 of 36 passes for 306 yards with two touchdowns.
Still, the Ducks defense had just enough. The Beavers scored a touchdown on their first possession of the third quarter. They wouldn't see the endzone again.
Just like this season, the Ducks started the Civil War slowly, gifting 10 points to the Beavers. But they finished fast and with poise.
Kelly, who immediately inspired doubters after the Boise State debacle, kept a firm hand on his team's steering wheel, preaching a simple philosophy of winning the day.
"They never doubted themselves," Kelly said. "They never flinched."
And the Ducks won this very important day -- perhaps the biggest in the history of the rivalry -- which means they're going to the the Rose Bowl.
December, 4, 2009
12/04/09
12:25
AM ET
EUGENE, Ore. -- It was a game befitting the biggest Civil War in the 113-year history of the series.
And when the back-and-forth tumult at frenzied Autzen Stadium ended, Oregon was on top of a
37-33 final score
.
The Ducks are going to the Rose Bowl to face Ohio State on Jan. 1.


It's come full circle for Oregon, from the disaster at Boise State to perhaps the biggest win in team history.
Full circle?
LeGarrette Blount
, whose meltdown at Boise further humiliated the Ducks on the opening week, scored on a 12-yard touchdown run, seeing his first action since he was suspended.
But this one was more about his replacement, redshirt freshman
LaMichael James
, who scored three touchdowns and rushed for 166 yards, and quarterback
Jeremiah Masoli
, who ran over Beavers safety Lance Mitchell to convert a fourth-and-3 play from the Beavers' 33 with 3:41 left, perhaps the biggest play of the game.
While it won't feel like much consolation, the Beavers certainly showed up. This one was a far cry from the 65-38 whipping last year.
Obviously, I'll have more later when I get through in the postgame locker rooms.
December, 3, 2009
12/03/09
11:42
PM ET
EUGENE, Ore. -- Remember this note from ESPN Stats & Information?
Only three times has an opponent gained at least 20 yards on a running play against Oregon State's defense in 2009. Oregon running back
LaMichael James
leads the country with 18 rushes of at least 20 yards
James has two runs for more than 20 yards in the game, including that 52-yard scamper that gave the Ducks the lead back at 34-33.
James has 19 rushes for 129 yards and three touchdowns. And that includes his fumble that lost 19 yards.
The redshirt freshman certainly shook off that mistake.
December, 3, 2009
12/03/09
11:26
PM ET
EUGENE, Ore. -- Welcome back
LeGarrette Blount
.
Blount rushed four times for 21 yards on that drive, including a 12-yard touchdown scamper that closed the Oregon State lead to 30-28.
Those were Blount's first four carries -- or action, period -- since he was suspended for punching a Boise State player.
Interesting timing for Chip Kelly there.
Interesting and successful.
December, 3, 2009
12/03/09
10:51
PM ET
EUGENE, Ore. -- Forget about 65-38. So far, this Civil War for the Roses is living up to its pre-game hype.
The Beavers lead 23-21 after five first-half lead changes.
How tight is this one? Oregon has outgained Oregon State by one yard, 254-253.
Stat of the half
: 2-0. That's Oregon State's advantage in turnovers, and those Oregon turnovers -- a fumble and interception in Ducks territory -- led directly to 10 points.
Best player in the half
: Both quarterbacks are doing their thing, but
Sean Canfield
earns the nod because he didn't throw a pick like
Jeremiah Masoli
did. Canfield completed 16 for 21 for 208 yards, none bigger than the 28-yard TD strike to
James Rodgers
with 14 seconds left before the half.
What Oregon needs to do, What Oregon State needs to do
: Oregon first needs to take care of the football. In a game like this, you can't gift an opponent points. It also needs to get
LaMichael James
into the offensive flow -- he showed sparks late in the half. For Oregon State, it had just 45 yards rushing in the first half, with
Jacquizz Rodgers
mostly muted. The Beavers will be much better if they are balanced. While the Ducks are giving the ball away, the Beavers need to be more disciplined. They've been flagged for eight penalties for 55 yards.
December, 3, 2009
12/03/09
9:43
PM ET
EUGENE, Ore. -- Explosion plays kill you. Even more so on third-and-long.
Just when Oregon State seemed poised to gain a good dose of early momentum, Oregon struck with a 73-yard touchdown pass from
Jeremiah Masoli
to
Jeff Maehl
on a third-and-9 play.
Maehl just flat out beat cornerback James Dockery's press coverage at the line of scrimmage.
So, instead of forcing a three-and-out and getting the ball back with a 10-7 lead, the Beavers now trail 14-10.
The Beavers responded with a three-and-out and shanked the ensuing punt 15 yards.
The momentum swings to the Ducks.
December, 3, 2009
12/03/09
9:25
PM ET
EUGENE, Ore. -- Should we buckle up for a shootout?
The Ducks, showing no ill-effects from the turnover on their first possession, quickly answered with a 73-yard touchdown drive to tie things at 7-7.
That's one thing that's been clear about quarterback
Jeremiah Masoli
in his two years as a starter: He's unflappable. He passed for 23 yards and rushed for 23 on that drive.
So far, the offenses are winning.
December, 3, 2009
12/03/09
9:21
PM ET
EUGENE, Ore. -- If Oregon State needed confidence, it got it early in the first quarter.
An interception off a tipped pass from
Jeremiah Masoli
gave the Beavers the ball on Oregon 22, and the Beavers took advantage, scoring on a fourth-and-1 run from
Jacquizz Rodgers
to take a 7-0 lead.
The key: Two nice third-down plays and a successful fourth down conversion.
The Beavers were tops in the Pac-10 this season in third-down and fourth-down conversion percentage.
After last season's debacle, getting out of the gate early was key for the Beavers. Mission accomplished.
December, 3, 2009
12/03/09
7:49
PM ET
EUGENE, Ore. -- It's going to be crisp and dry for the biggest Civil War ever.
By now, everyone with even a middling interest in college football knows the stakes: The winner goes to the Rose Bowl and plays Ohio State.
Suffice it to say, the recession in Oregon recently ended for purveyors of roses and fine rose products.
The Ducks, 9-2 overall and 7-1 in the Pac-10, are ranked seventh in the BCS standings. The Beavers (8-3, 6-2) are 16th. This is just the third time in the 112-game series that both teams are nationally ranked.
The second time was last year, when the Beavers needed a victory over the Ducks to earn their first trip to the Rose Bowl since 1965. They didn't get it. In fact, they got whipped 65-38 and gave up nearly 700 yards in front of their home fans in Reser Stadium.
"It was very disappointing," Oregon State coach Mike Riley said. "We're on to a new year. Hopefully we can gain some thoughts about that game and use them for the preparation for this game both strategically and mentally."
The other time both teams were ranked was 2000, a banner year for Northwest football. That season, the No. 8 Beavers prevented the No. 5 Ducks from playing in the Rose Bowl with a 23-13 victory in Corvallis. The win earned the Beavers a berth in the Fiesta Bowl, where they dismantled Notre Dame, and sent the Ducks other bitter rival -- Washington -- to the Rose Bowl.
Despite that unhappy result for the Ducks, Oregon went on to beat Texas in the Holiday Bowl, the Huskies beat Purdue in the Granddaddy and three teams from the Northwest finished ranked in the top-seven of the final AP poll.
Ah, but the dusty pass is not relevant, as both coaches will tell you.
Things like this are: Only three times has an opponent gained at least 20 yards on a running play against Oregon State's defense in 2009. Oregon running back
LaMichael James
leads the country with 18 rushes of at least 20 yards (that's courtesy of ESPN.com's Stats & Analysis).
So if James breaks a long one -- or two -- know that the Ducks are winning that battle of trends.
The redzone is also an issue. Oregon is lethal when it reaches the redzone, and that is where a generally good Beavers defense has faltered this season. The Ducks have scored 34 touchdowns in 46 redzone opportunities, and that 73.9 TD percentage is ninth-best in the nation. Meanwhile, the Beavers have allowed opponents to score TDs on 26 of 33 redzone penetrations, and that 78.8 TD percentage is worst in the nation -- 120th.
On the plus side, Oregon State is outstanding on third down, ranking ninth in the nation and first in the Pac-10 with a 48.4 conversion percentage.
So the Beavers best defense might be just stringing together first downs and keeping Ducks quarterback
Jeremiah Masoli
and running back LaMichael James on the sidelines.
In 1983, the Ducks and Beavers both entered the Civil War with losing records and no national respect. That rain-soaked game, soon to be known as the "Toilet Bowl," ended in a 0-0 tie and featured 11 fumbles, five interceptions and four missed field goals.
Obviously, this one is much different. One set of players will walk out with roses clenched between their teeth.
And the losing team will feel worse than it ever has in the rivalry.