NCF Nation:

beginnings-110831
August, 31, 2011
8/31/11
10:31
AM ET
He might be the most hyped player to come into the SEC in a long time, and that's saying something when you think about how anointed most of these five-star prospects are before they ever play a snap of college football.
[+] Enlarge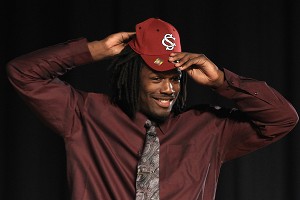 Photo by Streeter Lecka/Getty ImagesJadeveon Clowney has made a great early impression on the South Carolina coaching staff.
South Carolina's
Jadeveon Clowney
makes his much anticipated debut on Saturday night in Charlotte, N.C., just a short drive north of where he carved out a legendary high school career in Rock Hill, S.C.
It wouldn't matter whom the Gamecocks were playing in the opener. Much of the focus still would be on No. 7.
Clowney is a 6-foot-6, 254-pound freak of an athlet who by all accounts will be one of the SEC's next great pass-rushers.
But he's only a freshman, and even the most talented freshmen endure their share of growing pains in this league.
Who knows?
Maybe Clowney will skip that part.
Either way, South Carolina is good enough on its defensive line that Clowney won't need to be be the savior right away. He has talented players around him, and while South Carolina coach Steve Spurrier is as eager as anyone to see what Clowney can do, the Head Ball Coach is also realistic.
"I think he's done about what we all expected," Spurrier said. "What surprised us is he's a little bit of a power rusher also. He can knock those guys backward when he needs to. He's not just a fast guy coming around the edge.
"Jadeveon has had an excellent attitude. Coach [Brad] Lawing is working him in with all the other guys. He's done well. He'll be in early and often, and we'll let him earn his way as he goes through the season."
In a lot of ways, Clowney has already earned his scholarship before playing his first game Saturday against East Carolina.
Spurrier said there's no way to measure the value of getting the No. 1 player in the country, especially when that player is from your state.
"We appreciate Jadeveon coming here," Spurrier said. "A kid who could have gone anywhere in the nation picked a school with a really not great football tradition, but he believes we can win big. Signing guys like him gives us hope that something good can happen for us. He was a huge sign for us, that the No. 1 guy thinks South Carolina can win big."
Lawing, the Gamecocks' defensive line coach, said Clowney has been unbelievably coachable and that his rock-star status during the recruiting process didn't go to his head.
"It's very impressive to me that he wants to learn," Lawing said.
It's almost as impressive as Clowney's burst and the way he explodes off the line of scrimmage.
"When he mentally sees what he needs to see, he can really accelerate to the football," Lawing said. "I haven't taught him that. That is God-given. He has tremendous acceleration, and he will play physical, too."
August, 31, 2011
8/31/11
10:00
AM ET
You have heard all the hype, and now it is time for Dana Holgorsen to make his debut as West Virginia head coach.
His is one of the most highly anticipated debuts not only in the Big East but in the nation as well. The big question, of course, is whether he can transition from mavericky offensive coordinator to successful head coach.
Holgorsen has never been a head coach, but his offenses have produced gaudy numbers. And generally, gaudy numbers get you national attention. In six years as an offensive coordinator at three different schools, his teams averaged 39.8 points and 520 yards a game. He coached Heisman contenders Graham Harrell,
Case Keenum
and
Justin Blackmon
.
Can he do the same at West Virginia?
Holgorsen has maintained a low-key approach since he was elevated to head coach a year earlier than expected when a nasty divorce between Bill Stewart and West Virginia dominated the headlines for a time this summer. Since then, Holgorsen has downplayed his inexperience as a head coach. When asked about how he felt about finally stepping onto the field for the first time as the face of a program, he offered little more than this: "Well, I'm fired up about that. That's exciting obviously. It's been a long time since that spring game."
Buzz has been building since that spring game. West Virginia enters the season ranked No. 24 in The Associated Press poll and was the preseason media pick to win the Big East. Much of that has to do with seeing what Holgorsen can do with the talent already in place in Morgantown.
So let the anticipation die down and the games begin.
August, 31, 2011
8/31/11
10:00
AM ET
We're taking a look around at the biggest debuts in college football today, and although Missouri's Week 1 opponent doesn't jump off the marquee,
James Franklin
's debut will have a profound impact on the Big 12 race.
Miami (Ohio) will be our first long look at the Tigers quarterback charged with replacing NFL first-round draft pick Blaine Gabbert.
Since taking over as the starter after Tyler Gabbert's post-spring transfer, his teammates have lauded the sophomore's touch passing, ability to pick up the offense and growing leadership.
[+] Enlarge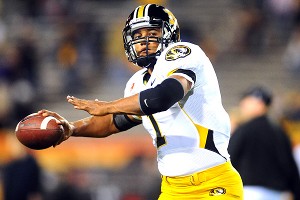 Mark J. Rebilas/US PresswireAll eyes will be on James Franklin when the Tigers open their season on Saturday.
"I feel really prepared," Franklin told ESPN.com in a recent interview. "I know the offense a lot better; now it's just learning the other team's defense and adjusting to what they run and the things they do so we can execute."
Franklin has the advantage of more talent around him than any other new quarterback in the league, which means more responsibility.
"Quarterback transitions are always the focal point, it always has been and it always will be," Missouri coach Gary Pinkel told reporters on Monday. "Especially at our level with the quality of quarterbacks we've had here."
Blaine Gabbert, Chase Daniel and Brad Smith didn't have the luxury of a more complete team, offensively and defensively, waiting for them when it was their turn to lead the Tigers.
Missouri will open the season in the top 25 but with the potential for a whole lot more.
How much more? That's ultimately up to Franklin. Helping him along are his two top pass-catchers, juniors
T.J. Moe
and
Michael Egnew
.
Miss a throw?
"Don't worry about it, James," they tell him.
Make a bad read or have a pass picked off?
"Forget about it," they tell him.
The real message is getting through.
"It meant a lot, because I know they're trusting in me and encouraging me. They want me to get to greater heights," Franklin said. "We have a really good squad this year, and I think we can go far. That's something they see that as well and they want it to happen and they want to move along faster so we can get there."
The ride starts Saturday.
August, 31, 2011
8/31/11
10:00
AM ET
ESPN.com is looking at potential "Sweet Beginnings" -- players who are about to make highly anticipated debuts -- and our Pac-12 selection is Oregon freshman running back
De'Anthony Thomas
, who's "Sweet Beginning" started on Twitter.
How so? Well, if your Twitter feed included people watching the Ducks practice this preseason, what you got was "De'Anthony Thomas just did this," "De'Anthony Thomas just did that" and "I can't believe what De'Anthony Thomas just did" over and over again.
Neither The Oregonian's Ken Goe nor Rob Moseley of the Eugene Register-Guard are known for hyperventilating over young players with lots of flowery talk of certain greatness, yet Goe called Thomas a "flash of electricity," and Moseley simply said Thomas was "phenomenal throughout camp."
The 5-foot-9, 173-pound native of Los Angeles, who
notoriously spurned a commitment to USC
to sign with Oregon, is not listed on the Ducks two-deep depth chart in advance of the marquee matchup with LSU in Cowboys Stadium for a pretty good reason:
LaMichael James
and
Kenjon Barner
are one of the better running back tandems in the country. But you can be certain Thomas get at least a few touches against the Tigers. And more as the season wears on.
"De'Anthony definitely is a great, great football player," Ducks running backs coach Gary Campbell told The Oregonian. "He's going to be able to help us early, I believe. And one day he's going to be an outstanding football player."
Thomas, nicknamed "The Black Mamba" at Crenshaw High School, was rated the nation's
No. 16 overall prospect last year by ESPN Recruiting
. His senior season, he rushed for 1,306 yards -- averaging 11.4 yards per carry -- and caught 16 passes for 349 yards and totaled 27 touchdowns.
More than a few folks have compared his speed and ability to change direction to Reggie Bush.
While football is a game of doing, not talking, Thomas appears fully capable of walking the walk in 2011.
August, 31, 2011
8/31/11
10:00
AM ET
In other leagues, fans may be anxiously awaiting the debut of star players. While the Big Ten has some newcomers everyone wants to see (
Russell Wilson
and
Braxton Miller
leap to mind), the most anticipated beginning revolves around a team.

Nebraska was invited to the Big Ten last summer and will play its first football game as an official league member Saturday against Chattanooga. Fans, players and coaches from Lincoln to State College can't wait.
"I think it's going to be huge shot for Big Ten football," Purdue coach Danny Hope. "Nebraska is certainly one of the most storied programs in college football."
This Saturday's game might not feel too different for the Cornhuskers. They're playing an overmatched FCS opponent at home, after all. The real welcome to the Big Ten moment will arrive when they travel to Wisconsin on Oct. 1 for their first-ever league game. Still, this is the beginning of a historic season for the program.
"There's a sense of new," Nebraska coach Bo Pelini said. "It seems like it was a long time ago we were invited in, and I think everybody's excited about it. And now there's a sense of, wow, it's finally here."
How smoothly will the Huskers' transition go? Many are predicting that Pelini's team will win the Legends Division in its inaugural season despite all the unfamiliarity with opponents. Nebraska has won 10 games in each of the past two years. However, the team lost in the Big 12 title game the past two years. It's hard to believe for a program of this stature, but the Cornhuskers haven't won a conference crown since 1999.
"We're not where we want to be," Pelini said. "We haven't won a championship, and that's what we're all about. We got close, but we didn't quite get there. We've still got a ways to go to get over the hump. I think our players are hungry and looking forward to the challenges ahead, because it will be a challenging year for us."
Pelini said Saturday's game will be "business as usual" and he won't do anything to commemorate the official Big Ten beginning.
That's up to the rest of us. It's a start everyone who follows the league is anticipating.
August, 31, 2011
8/31/11
10:00
AM ET
Once again, the expectation is for Virginia Tech to win the Coastal Division.
Once again, the Hokies have the potential to work their way into the national title conversation.
But buried amid the preseason prognostications is the fact that quarterback
Logan Thomas
has yet to start a game and has thrown just 26 passes in his collegiate career. Virginia Tech coach Frank Beamer enters his 25th season as head coach of his alma mater with a new, highly anticipated beginning at his quarterback position. How Thomas fares in his first season will go a long way in determining whether the Hokies can return to the ACC championship game and possibly contend for more, or if they'll make way for a new champion.
[+] Enlarge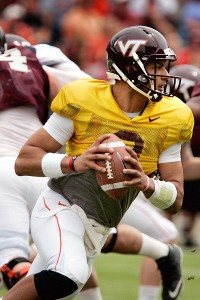 Mark Dolejs/US PresswireLogan Thomas will get his first collegiate start Saturday against Appalachian State.
There have been times this summer when Thomas has looked spectacular -- like on the clutch 24-yard pass that came on a third-and-16 at Miami last year. But there have also been times when he has looked like he's never started a game before, and missed open targets.
That's what Virginia Tech fans should expect this fall -- a little bit of both.
Thomas is going to experience some growing pains, but those within the program are confident in his abilities both as a leader and as a player. In addition to a favorable nonconference schedule to start the season, one of the biggest assets Thomas has working in his favor is the experience around him – veteran offensive linemen, senior receivers, a senior tight end, and a dynamic running back in
David Wilson
.
With the talent around him, there shouldn't be much pressure on Thomas to win the games alone.
Nor should Hokies' fans expect him to.
The Tyrod Taylor era is over. Thomas and Taylor are different in stature and style, and that will be reflected in the Hokies' offense. If it looks any different, it's not because Mike O'Cain is calling the plays instead of Bryan Stinespring, it's because Thomas is a 6-foot-6 quarterback instead of the six-foot Taylor. It's because Thomas won't be scrambling like Taylor did, but he'll be able to make passes Taylor couldn't.
It will only be a matter of time before the comparisons between them disappear.
Ready or not, Logan Thomas is now the face of Virginia Tech's offense.