NCF Nation:

Belk Bowl 2012
December, 27, 2012
12/27/12
10:49
PM ET
Cincinnati dug out of an early 16-0 hole Thursday night and defeated Duke in a thrilling Belk Bowl,
48-34
. Here's how it went down:
It was over when
:
Brendon Kay
hit
Travis Kelce
for the longest touchdown in Belk Bowl history, 83 yards, as the tight end went untouched for the deciding score with 44 seconds remaining. On Duke's ensuing possession,
Maalik Bomar
drilled
Sean Renfree
and
Nick Temple
came up with the pick, returning it 55 yards for the touchdown with 14 seconds left to make it 48-34.


Game ball goes to
: Cincinnati had a number of offensive players who put up huge numbers and are more than worthy of this honor, but in the end you have to go with the man who orchestrated the attack. Kay completed 17 of 25 passes for 332 yards with four touchdowns, and he added 76 rushing yards on 10 carries.
Stat of the game
: Pretty simple: Duke turned the ball over four times, including twice in the red zone. Cincinnati never turned it over, giving the Bearcats just enough in a game it ended up being outgained by a slim 560-554 margin.
Unsung hero of the game
: With Duke facing a second-and-goal from the Cincinnati 5 with less than 2 minutes to play in a tied game,
Brandon Mills
forced a
Josh Snead
fumble, with
John Williams
recovering it. Kay hit Kelce for the game-winner four plays later.
Greg Blair
also deserves credit for forcing -- and recovering -- a
Jela Duncan
fumble in the second quarter right before Duncan broke the goal line. A touchdown there would have added to Duke's early 16-3 lead.
What Cincinnati learned
: These Bearcats deserve plenty of credit. Playing under interim coach Steve Stripling, following the departure of Butch Jones to Tennessee, Cincinnati fell behind 16-0 early to a team playing close to home. The Bearcats could have easily folded. Instead, they recovered to take the lead before halftime, forced timely turnovers and walked away with their 10th win of the season, their fifth 10-win campaign in the past six years, marking an unprecedented stretch in program history.
What team Duke learned
: The Blue Devils made it to a bowl game for the first time in 18 years, but they could not snap their 52-year streak without a bowl win, despite starting off hot and having a number of opportunities to put Cincinnati away. The loss means the ACC cannot finish with a winning record this season against the Big East, which leads the season series 5-4 with one game remaining between the conferences. (Virginia Tech-Rutgers in Friday's Russell Athletic Bowl.)
December, 27, 2012
12/27/12
11:30
AM ET
Here are three keys to watch for Duke against Cincinnati in today's Belk Bowl (6:30 p.m. ET, ESPN):


1. Stop the run
. It's the priority, as Duke's rushing defense is No. 102 in the country, allowing almost 200 rushing yards per game (199.83) -- and Cincinnati is averaging 199.75 on the ground. Bearcats running back
George Winn
leads the team and the Big East with 1,204 yards and 12 touchdowns. In each of Duke's four losses to end the regular season, the Blue Devils allowed an average of 294.5 rushing yards, and Georgia Tech and Clemson both surpassing 300.
2. Throw the ball downfield.
Quarterback
Sean Renfree
is going to have to stretch the field and utilize his top two targets,
Jamison Crowder
(70 catches) and
Conner Vernon
(75 catches). Duke will need to try to exploit some weaknesses in Cincinnati's secondary. The Bearcats are No. 72 in the country in pass defense, allowing 243.5 yards per game.
3. Don't get overwhelmed by the spotlight.
This is a major milestone for Duke, as the program hasn't been to a bowl game since 1994, and it hasn't won a bowl game since 1961. A victory over Cincinnati would not only snap a 51-year drought, it would also be a huge confidence-booster and springboard for the program heading into the offseason. Young specialists must continue to be solid, the passing game must continue to flourish, and Duke can't get rattled or awestruck by the moment.
December, 27, 2012
12/27/12
11:30
AM ET
Three keys for Cincinnati in tonight's Belk Bowl matchup against Duke:


1. Establish the run
:
George Winn
led the Big East in rushing yards with 1,204, and he averaged more yards per game this season (100.3) than Isaiah Pead did last season when the latter was named the conference's offensive player of the year. The redshirt senior keyed the Big East's No. 2 rushing attack, and the Bearcats would be smart to ride that in the early going against a Duke defense that has surrendered 269.8 yards per game on the ground over the season's final six games.
2. Limit the big pass
: The Blue Devils had three players top the 600-yard receiving mark this season and boast the ACC's career receiving yards leader in
Conner Vernon
, though
Jamison Crowder
(70 catches, 1,025 yards, eight touchdowns) is actually the team leader in receiving yards. Cincinnati led the Big East in pass efficiency defense this season, and the Bearcats have held their past four opponents to fewer than 17 points, with three scoring just 10. Their 14 interceptions were good for second in the Big East.
3. Find Travis Kelce
. The first-team All-Big East tight end did his best work down the stretch of the season with
Brendon Kay
under center, catching 17 passes for 285 yards with three touchdowns over his past three games. He also threw a 39-yard touchdown pass to Kay in the regular-season finale at Connecticut. For the season, Kelce led all Big East tight ends with 599 receiving yards, a school record for a tight end.
December, 27, 2012
12/27/12
11:00
AM ET
Cincinnati (9-3, 5-2 Big East) vs. Duke (6-6, 3-5 ACC)
WHO TO WATCH
: Duke receiver
Conner Vernon
is the ACC's all-time leader in receiving yards following his 75-catch, 955-yard, seven-touchdown season. The Blue Devils have benefited from strong quarterback play from
Sean Renfree
, who has completed better than 66 percent of his passes for 2,755 yards with 18 touchdowns and eight picks. For Cincinnati, quarterback
Brendon Kay
's play is worth keeping an eye on, as the fifth-year senior was recently granted a sixth year of eligibility by the NCAA but will be walking into an open race next year under new head coach Tommy Tuberville. Kay replaced
Munchie Legaux
and started the Bearcats' final four games, finishing the season with 966 passing yards, 230 rushing yards and eight total touchdowns.


WHAT TO WATCH
: How does Cincinnati respond after the departure of head coach Butch Jones to Tennessee? Tuberville was hired immediately after from Texas Tech, but assistant Steve Stripling will serve as interim head coach for this game. Stripling was Central Michigan's interim coach for its GMAC Bowl win in 2009 … again replacing Jones as head coach. The Bearcats are going for their fifth 10-win season in the past six years, an unprecedented stretch for this program.
WHY TO WATCH
: Duke is playing in its first bowl game since the 1994 season and has not won a bowl game in 52 years, when it beat Arkansas in the Cotton Bowl after the 1960 season. Since that last win, according to ESPN Stats and Info, the Blue Devils have won 94 games in the NCAA men's basketball tournament. Duke is also looking to avoid its 18th straight losing season. This is also the first of two ACC/Big East bowl matchups, after the conferences split their eight regular-season meetings.
PREDICTION
: Cincinnati 35, Duke 20. Despite the unpredictability factor with the Bearcats, they simply have too many threats that play right into what has doomed the Blue Devils so often during their four-game slide to end the regular season.
December, 26, 2012
12/26/12
2:00
PM ET
Cincinnati tight end
Travis Kelce
had a breakout season, leading the Bearcats with 32 catches for 599 yards and seven touchdowns en route to Big East first-team honors.
Former coach Butch Jones has said no player on the team showed more growth than Kelce this year. Indeed, Kelce has seen his name shoot up draft boards as he prepares to play his final game for Cincinnati, against Duke in the Belk Bowl on Thursday. I had a chance to catch up with Kelce and ask him about his performance this season and what is up next for him after the bowl.
Here is a little of what he had to say.
What went into your breakthrough performance this year?
TK:
First of all, my dedication to trying to get to the next level, the fact that I knew I wasn't getting very much publicity, I hadn't done anything that I had dreamt of or thought I was going to be able to do in college football. I came in as a quarterback, but once I switched to tight end, I thought I was going to blow up the charts right away and that didn't happen. It was definitely the pressure of having one more year to go and just put that extra dedication in. I made a lot of sacrifices off the field to get in the weight room more, to get more focused on the year and a lot of things have paid off for me.
[+] Enlarge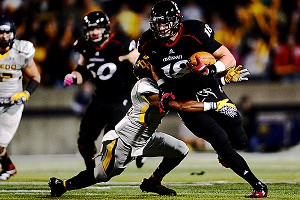 Andrew Weber/USA TODAY SportsExtra weight room work and a better diet helped Travis Kelce become a force at TE for Cincinnati.
Why do you think that you were not as successful as you wanted once you made the switch?
TK:
First things first, I had a couple surgeries. I'm not going to be the one to say that's the reason I didn't do anything but the surgeries held me back from getting in the weight room and being able to be a blocker. That's the first thing you've got to do as a tight end. Being locked in 24/7 and buying in to what the coaches were saying -- once I did that, once I understood how everything worked related to football, it clicked for me. As the year progressed, everything slowed down for me and I got better. This is only my second year playing tight end, so to come out and have a year like this, I really think it was an accomplishment.
Did you set out to be the first-team Big East tight end?
TK:
Definitely that was one of the goals. I had a couple other higher-end goals, but definitely that goal was reachable and I knew with the offense we have and the accountability the coaches were going to put on me, it was something I had to take as a senior. That accolade, to be the best at your position in your conference, you want that on your résumé. That was definitely one of the goals I had coming into the season.
What types of extra work did you do to improve yourself?
TK:
First off, the weight room helped me out tremendously. I started getting to eating right, so that my body would be able to withstand lifting twice a day and still on top of that being able to get conditioning in. It definitely started with eating right, getting the right supplements and nutrition into your body and hitting the weight room as much as possible without actually killing your body.
How much did your brother, Eagles center Jason Kelce, help you out?
TK:
I couldn't have a better resource than my brother. He's one of the smartest guys you'll have a conversation with. He knows so much about so many different things. For him to be there for me every step of the way, he helped me out with the nutrition, he helped me out with the lifts, he helped me out with everything football-wise, knowledge-wise. For him to already go through this whole process and be able to get to the NFL and start for a whole season his rookie year, that was huge. I knew I was going to be able to take advantage of that.
What have you heard from people in terms of your draft prospects?
TK:
I haven't necessarily talked to scouts. All I can do is look at the scouting websites. I've definitely risen up the board all the way up to No. 3 among the senior tight end class, which I think is a down statement. That just tells you how confident I am. It's a process and I think hopefully being able to get into the Senior Bowl and going to the combine will really boost my stock up even more. It's something you just have to focus on getting better every single day and that's all I can do at this point.
What do you want to work on to help your draft stock?
TK:
First things first, my upper body strength and my lower body strength. It would be good to get into the weight room to show them I can be that dominating blocker. The footwork on the film hasn't been what I want it to be, but that just comes with developing and getting reps and stuff like that. I have made huge strides, but I think running the 40 and just being more consistent on the techniques of route running. Just being an all-around tight end to show them I can be a force no matter where I go.
December, 26, 2012
12/26/12
10:30
AM ET
There is little doubt that the Duke receivers are one of the biggest keys for the Blue Devils headed into the Belk Bowl against Cincinnati on Thursday.
But what has turned into a position of strength was actually a huge question mark back in July, following the tragic jet ski accident that seriously injured
Blair Holliday
and also involved
Jamison Crowder
. All of a sudden, Duke had one proven player at the position in
Conner Vernon
.
More than that, though, receivers coach Matt Lubick worried about how the accident would impact Crowder, whose jet ski collided with the one Holliday was riding.
"Those two were the best of friends, and Jamison, I can't say enough about the type of person he is, and the type of family he comes from," Lubick said in a recent phone interview. "I was more worried -- not necessarily about football -- but how he was going to overcome the accident, and just being able to cope and just to get on with his life. We really didn't know, there were so many uncertainties. The comforting thing that helped the transition because it was a horrific accident, was that he was involved in saving his life. He pulled him out of the water, and making sure that he knew that.
"The biggest thing that helped that process was Blair's parents being unbelievable and taking Jamison and giving him a big hug and telling him how much that meant to him, and how important it was that he understood that and how they love him. That was huge. You could see him go from a kid who was completely broken to someone who got life put back into him."
[+] Enlarge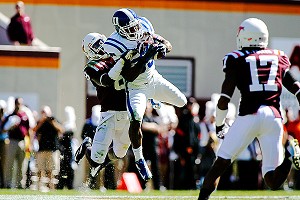 Peter Casey/USA TODAY SportsUnder coach Matt Lubick's guidance, Desmond Scott moved from RB to receiver this season and finished with 61 catches.
The accident served as a great motivation -- to work harder for Holliday, who has since had a near miraculous recovery.
"Jamison worked like a possessed person on a mission and it was easy to point out. It was obvious the way he attacked every single rep. It was something special," Lubick said. "It was an increased intensity, an increased awareness. He was a machine. He was our best effort guy, our most valuable player coming out of camp and I think a lot of what was driving him was his focus on football and competing so hard and being successful helped him block some of the negative aspects of the accident out of his head."
With Holliday recovering, Duke had to find another receiver. The Blue Devils decided to move starting running back
Desmond Scott
to the position just before camp opened, hoping his athleticism would allow him to make a smooth transition.
Scott took to the position right away, and the result surprised outside observers. To complement Vernon -- a first-team ACC selection with 75 catches for 955 yards and seven touchdowns -- Crowder had a career year with 70 catches for 1,025 yards and eight touchdowns. Scott ended up with 61 catches for 606 yards and two scores.
The result -- these three players form the only trio in the nation with more than 60 catches each. Lubick got some national recognition for his work, as he was named one of three finalists for the AFCA Assistant Coach of the Year award.
"He made it that much easier to transition from running back to receiver," Scott said. "He let me be experimental, trying things that work for me. He's very into football and the people that he coaches. You couldn't ask for a better coach."
A coach that nearly became a dentist.
Lubick, the son of legendary Colorado State coach Sonny Lubick, initially tried to stay away from coaching. His father encouraged him to seek out another profession, given all the volatility associated with this one. Matt Lubick played at Western Montana College, then transferred to Colorado State to take chemistry and physics classes he needed for his degree. He had internships at dentists offices and seemed all set to travel down that career path.
But his last year, he got burned out from school. Coaching lingered in his mind.
"I said I would take a year off and coach, and dental school would always be there," Lubick said. "Now I'm on my 15th year off."
He began working for his dad's coach, Dave Baldwin, at Cal State Northridge. His career eventually landed him on the same staff as his father for four seasons at Colorado State, followed by stops at Ole Miss and Arizona State before landing in Durham. His work this season has been among the finest of his career. Another fine day by his receivers would put an exclamation point on it all.
And you know who will be there watching in Charlotte: Holliday.
December, 17, 2012
12/17/12
4:00
PM ET
The goal today for Cincinnati is the same goal it was two weeks, when coach Butch Jones was still in the building.
Win 10 games.
No coaching change has deterred what these Bearcats have set out to do in the Belk Bowl against Duke on Dec. 27 in Charlotte, N.C. Are they down several assistants? Yes. Are they missing their offensive, defensive and special teams coordinators? Yes. But that has not seemed to faze anyone now that bowl practices are underway, with interim coach Steve Stripling in charge.
Stripling does plan on joining Jones in Tennessee after the bowl game.
"It's hats off to Coach Stripling," tight end
Travis Kelce
said in a phone interview Monday with ESPN.com. "All the guys love him to death. For him to still be in Cincinnati, being our head coach and leading us to this last bowl game, it's huge for us. We're really short-handed right now. For Coach Strip to be a big man for every single player on this team is huge. It's going way better than expected, I can say that."
Kelce has some experience to compare that to, having been on the team when Brian Kelly left in 2009.
"I believe it's going way better than the Kelly year," Kelce said. "Just the amount of energy during practices, and guys being locked in and actually focused on doing the right things, not straying and being distractions."
Kelce says there is no extra motivation in trying to show their former coaches what they are missing, but they are more focused than ever on getting 10 wins for the fifth time in six seasons -- a huge accomplishment the senior class wants to achieve.
"It's definitely making us lock in a lot more," Kelce said. "The chemistry on the team is so good, and so high. The young guys really love the old guys, the old guys are making sure the young guys are getting better during this process. They don't want to let us down so everybody is focused on getting 10 and that makes us lock in even more, knowing the whole coaching staff isn't here. It's been a rough transition, but we're handling it the best we possibly can."
December, 2, 2012
12/02/12
10:26
PM ET
Cincinnati Bearcats (9-3) vs. Duke Blue Devils (6-6)
Dec. 27, 6:30 p.m. ET, Charlotte, N.C. (ESPN)
Cincinnati take by Big East blogger Andrea Adelson:
Per the usual rite of the preseason, Cincinnati was not picked to win the Big East.

Per the usual rite of the season, Cincinnati won a share of the Big East.
The Bearcats, it seems, exceed expectations every season. But this one may have been Butch Jones' best coaching job at Cincinnati when you consider just how much talent he lost off a 10-win team that finished 2011 in the Top 25. Jones had to replace his starting quarterback, running back, half his starting offensive line, his starting defensive tackles and his starting middle linebacker. Just to name a few.
Without them, he was left 65 first- and second-year players to try and carry on the tradition that has been established. They were able to do that, despite losing their team leader in defensive end
Walter Stewart
(back) and switching quarterbacks for the final month of the season.
Brendon Kay
delivered wins in three of the final four games of the season after replacing
Munchie Legaux
, but the true story centered around the running game.
George Winn
emerged as one of the biggest surprises in the Big East, rushing for 1,204 yards and 12 touchdowns.
He averaged more yards per game (100.3) than Big East Offensive Player of the Year Isaiah Pead did a year ago, and was a big reason why the Bearcats ran for nearly 200 yards per game.
Travis Kelce
was a huge surprise at tight end, too, leading the team in receiving yards (599) and touchdown receptions (7).
Defensively, Cincinnati played extremely well despite losing JK Schaeffer, Derek Wolfe, John Hughes and Stewart.
Greg Blair
was a huge presence in the middle, and finished second in the Big East in tackles (123). All of these standout performances added up to yet another Big East title, and a shot at a 10-win season for the fifth time in six years.
---
Duke take from ACC blogger Heather Dinich
: The Blue Devils finally got over the hump in the fifth season under coach David Cutcliffe, who was named the ACC's Coach of the Year after leading the program to its first bowl game since 1994.

For the first time in decades, Duke football was relevant in November, as the program had a legitimate chance to win the Coastal Division. Despite the achievement of reaching the six-win mark, most within the program would concede they let an even bigger opportunity slip away.
With a 33-30 win over rival North Carolina on Oct. 20, Duke became the first team in the Coastal Division to become bowl eligible this year. Problem was, the Blue Devils didn't do a thing in the win column in the following weeks. After beating UNC, Duke ended the season with four straight losses, dropping out of the ACC race for good with a 42-24 loss at Georgia Tech on Nov. 17. Duke had the misfortune of an unforgiving cross-over schedule that included back-to-back games against Atlantic Division leaders No. 12 Florida State and No. 13 Clemson. The Blue Devils were humbled in those games and outscored 104-27. They still had a chance to win the division, but the defense had no answer for Georgia Tech's spread option offense.
Still, it was a milestone season for Duke that included receiver
Conner Vernon
asserting himself as the ACC's all-time leader in career receiving yards. The Blue Devils are ecstatic to be playing in any bowl, but to have the opportunity to stay in-state and continue practicing will be the biggest rewards. Duke is making its ninth bowl trip and has a 3-5 record in postseason games. The Blue Devils' last bowl trip was a 34-20 loss to Wisconsin in the Hall of Fame Bowl Game in Tampa, Fla. The game marks the first appearance by the Blue Devils in a bowl game in North Carolina.