June, 24, 2011
6/24/11
1:30
PM ET
The preseason position rankings march on with the offensive lines. Team rankings are below, and we'll take a look at the individual rankings for tackles, centers and guards early next week.
Looking at the league landscape, offensive line could be a major strength throughout the Big Ten this season. Although standout players such as Outland Trophy winner Gabe Carimi and All-American Stefen Wisniewski depart, I see improved depth for several teams as well as quite a few multiyear starters.
Honestly, there
aren't any bad lines in the league
; just some with more question marks than others.
Let's get to the rundown.
1. Wisconsin:
Talk about an ability to reload. The Badgers lose All-Americans Carimi and John Moffitt, plus the versatile Bill Nagy, and they still shouldn't take any steps backward. Injuries have allowed Wisconsin to build depth the past few seasons, and four of the five spots look extremely solid. Tackle Ricky Wagner, center Peter Konz and guard Kevin Zeitler lead a group that will block for the league's top running back tandem. Wisconsin's track record up front is impossible to ignore, and this year's line should continue the trend.
[+] Enlarge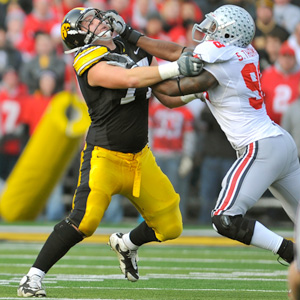 David Purdy/Getty ImagesWill arm length be an issue for former Iowa left tackle Riley Reiff in the NFL?
2. Iowa:
The line is undoubtedly Iowa's biggest strength and should be one of the nation's elite units in 2011. Iowa returns starting experience at all five positions and should have decent depth. Left tackle Riley Reiff, projected as a first-round pick in the 2012 NFL draft, will enter the fall as a leading candidate for the Outland Trophy. James Ferentz is one of the league's top centers, and Markus Zusevics is poised for a big year at right tackle.
3. Ohio State:
Depth is the only reason the Buckeyes' line isn't higher in the rankings. Ohio State boasts arguably the nation's top center in Mike Brewster, and first-team All-Big Ten tackle Mike Adams will be back after a five-game suspension to begin the season. The Buckeyes need big things from tackle Andrew Norwell during Adams' absence, and tackle J.B. Shugarts must play like a veteran. After struggling to put two sets of capable linemen on the field this spring, Ohio State has to find more depth in preseason camp.
4. Michigan:
This is another group that could climb up the rankings by season's end. Center David Molk is a terrific piece to build around, and if gifted players like Taylor Lewan and Patrick Omameh continue to develop, Michigan's line will be a major strength. The concerns are Molk's ability to stay healthy and an adjustment to a new offensive system under Al Borges. The line did an excellent job of protecting
Denard Robinson
in 2010, allowing a league-low 11 sacks.
5. Illinois:
The Illini flat-out punished opponents at the line of scrimmage on several occasions last season, and I really like the potential for the front five in 2011. The biggest reason? Left tackle Jeff Allen, one of the Big Ten's most experienced linemen. Allen and center Graham Pocic will contend for All-Big Ten honors, and if Corey Lewis gets healthy, this should be one of the league's top offensive lines.
6. Purdue:
Expectations are high for a line that coach Danny Hope thinks will be Purdue's strength in 2011. Left tackle Dennis Kelly is an All-Big Ten candidate with NFL potential who has started the past 24 games. Center Peters Drey and tackle Nick Mondek help anchor the group. The big question is whether mammoth guard Ken Plue, a multiyear starter, can get out of Hope's doghouse to help lead the way. Plue will be pushed by James Shepherd this summer. The combination of experience up front and the return of running back
Ralph Bolden
bode well for the Boilers.
7. Northwestern:
The Wildcats boast the nation's second most experienced line (137 combined career starts), but experience must start translating to production. This group still must prove it can spark a decent rushing attack after several years of decline. Left tackle Al Netter is an All-Big Ten candidate and center Ben Burkett enters his fourth season as the starter. If Northwestern gets more consistent play from right tackle Patrick Ward and others, it should be a solid group.
8. Penn State:
This is a big year for Penn State's O-line, which has heard the criticism and has vowed to erase it in 2011. The tackle spots look solid with Quinn Barham and Chima Okoli, but Penn State needs to shore up the interior after losing Wisniewski, a mainstay for the past four seasons. If veterans like Johnnie Troutman and DeOn'tae Pannell step up and turn in consistent performances, the line should hold up nicely.
9. Nebraska:
The Huskers ranked ninth nationally in rushing last season but have quite a few question marks up front. Center Mike Caputo is a building block and sophomore tackle Jeremiah Sirles is a returning starter, but Nebraska has little proven experience. The Huskers will benefit from a healthy Marcel Jones at right tackle, and Yoshi Hardwick adds depth. This could turn out to be a decent group, but the experience issue combined with a scheme change creates some uncertainty.
10. Michigan State:
Not to put too much pressure on the line, but arguably no position group will have more influence on Michigan State's season. The Spartans must replace both starting tackles and their starting center, never an easy task. All-Big Ten guard Joel Foreman returns to lead the group, but Michigan State needs immediate contributions from unproven players. The coaches feel they've upgraded the athleticism up front by moving players like Dan France and Blake Treadwell over from the defensive side.
11. Minnesota:
The Gophers boast a mix of veterans and youth, and it'll be interesting to see whether the group comes together this fall. Hopes are high for young tackles Eric Olson and Jimmy Gjere, but they'll need help from seniors like Ryan Wynn and Chris Bunders on the interior. Minnesota needs to regain its swagger as an elite rushing offense, and it starts up front this fall. This is a group that certainly has a chance to make strides.
12. Indiana:
I like some of Indiana's individual pieces, but as a group, the Hoosiers must show they can create space for the running backs. Indiana switched to the pistol offense in hopes of sparking the ground game but produced barely 100 rushing yards a game in 2010 (112th nationally). The line allowed only 12 sacks and must continue to protect its unproven quarterbacks this fall, but getting the run game going is paramount. Returning starters Will Matte, Justin Pagan and Andrew McDonald give Indiana hope.
April, 4, 2011
4/04/11
9:00
AM ET
EVANSTON, Ill. -- Streaks have long been a sore subject for Northwestern.
The program worked for years to rid itself of the stigma brought on by a NCAA-record 34-game losing streak between 1979-82. Three Big Ten titles and eight bowl appearances since 1995 and only one losing regular season since 2002 have helped the Wildcats distance themselves from their pitiable past.
But another streak has attached itself to Northwestern. It's not nearly as embarrassing as the 34-game slide. Ironically, the streak has had a chance to increase because of the program's historic stretch of success. Yet this streak, like its predecessor, is just as unwanted.
[+] Enlarge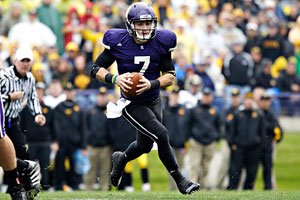 AP Photo/Nam Y. HuhDan Persa and the Wildcats will try to end the school's winless bowl streak.
"I'm tired of it," Northwestern center Ben Burkett said. "It's an old feeling."
Burkett and his fellow seniors have had the feeling for past three seasons as they exited fields in San Antonio, Tampa and Dallas. They've participated in three consecutive bowl games -- a first in program history -- but they've lost them all, each by seven points or fewer.
Northwestern's past three defeats are part of an eight-game bowl losing streak. The Wildcats haven't won a bowl since the 1949 Rose, a drought some have compared to the World Series lull hovering over a certain baseball team that makes its home about eight miles south of Northwestern's campus.
So it's understandable that even in spring practice, Northwestern players aren't shy about stating their top priority for the 2011 season.
"The attitude on the team is going to a bowl game is not a goal; it's an expectation," Burkett said. "We fully expect to be in that situation with the opportunity to win a bowl game next season, wherever that may be. It's time for the program to take that next step. We feel the program has been increasing, we're getting better and better over time.
"Frankly, it's about time we win a bowl game."
Pat Fitzgerald isn't worried about December or January right now. Northwestern's fifth-year coach is a die-hard White Sox fan, so he doesn't believe in curses or get consumed by losing streaks.
Fitzgerald admits the the bowl slide gets brought up a lot and calls it "one of those final negatives that we need to get rid off in our program." But to get back to a bowl, the Wildcats must fix several areas, including their attitude.
Fitzgerald saw the attitude slip in the final three games of the previous season, in which Northwestern was outscored 163-88. The team lost All-Big Ten quarterback
Dan Persa
for the closing stretch with a ruptured Achilles', but it lost other things, too.
"We just lost that edge," Fitzgerald said. "When we turned it over, we didn't get off the field. When we were taking care of the football, maybe we gave up an explosion play. When we got off the field on third down, we'd turn it over. We just weren't playing well as a team."
After Northwestern fell to Texas Tech in the TicketCity Bowl, Fitzgerald challenged his juniors (now seniors), saying, "If we want to win championships and we want to win these kinds of football games, that class has got to step up."
Ten of Northwestern's 16 returning offensive or defensive starters are seniors. The Wildcats bring back a team-record 56 letter winners from 2010. Experience should be a strength, and Fitzgerald's post-bowl challenge hit home for veteran players.
"We have a lot of leadership, something that we didn't have a strength in last year," senior safety
Brian Peters
said. "The senior leadership is going to be huge this year. We're working hard, pushing each other and teaching the young kids, too. We're going to be a good football team as long as this continues."
Northwestern will have one of the Big Ten's most seasoned offenses this fall. Persa, expected to be fully recovered by June, leads a unit boasting depth at the skill positions and four offensive linemen with 105 career starts between them.
Expectations are elevated for the line. Persa wants to reduce his rushing attempts after leading the team with 164 in 2010. If the Wildcats revive a run game that has struggled since 2005, they'll be even more dangerous in the pass attack.
"Any time I've been around a really, really good team, they've had a really, really good offensive line and a quarterback who was starting before," offensive coordinator Mick McCall said. "It's huge."
The bigger questions come on defense. Although last season's unit was statistically better than its 2009 predecessor through the first 10 games, Peters admits the group struggled to control momentum as it blew leads against Michigan State and Penn State.
"The way we finished," Peters said,"it's regretful."
The Wildcats seniors' want to have no regrets when they walk off the field the final time.
"What does that mean playing in a bowl game if you're not going to win it?" Burkett said. "I tell everybody, 'Fast-forward to December or January, and we're on the other side of the ball, being team that's jumping up and down while the fireworks are going off.'
"To know that our class ended in a bowl game win, hundreds of guys have gone through here and can't say that, so it would be something extremely special."
October, 9, 2010
10/09/10
10:53
PM ET
How about them Boilers? What an effort from a banged-up Purdue team Saturday night against Northwestern.
Some quick thoughts:


Purdue 20, Northwestern 17:
Sometimes, a bye week comes at the perfect time, and it certainly did for Purdue. Ravaged by injuries on offense and down to its third-team quarterback, the Boilers went on the road and beat an undefeated Northwestern team just asking for a loss.
Redshirt freshman
Rob Henry
showed impressive poise in his first career start, but the real story was a Boilermakers' defense that kept
Dan Persa
and the Wildcats out of the end zone.
Although Northwestern did a decent job on Ryan Kerrigan most of the night, others stepped up. This is a demoralizing result for Northwestern, which had all the advantages heading into the game. But let's face it: Northwestern didn't deserve to be 6-0, not with its penalties and its inconsistent rushing game and its continued special-teams mishaps.
The Wildcats appeared to be going in for the game-winning touchdown after a great call on third-and 4, but a holding penalty on veteran center Ben Burkett negated a long
Jacob Schmidt
run. That set up Stefan Demos' second missed field goal of the fourth quarter. Demos, a preseason Lou Groza Award candidate, is having a nightmarish senior season. Northwestern was flagged eight times for 60 yards, continuing a disturbing trend. You get what you deserve in football, and Pat Fitzgerald's team had this coming. Northwestern has a bye week to sort itself out.
August, 19, 2010
8/19/10
9:11
AM ET
The position rankings move to the offensive side of the ball, and the offensive lines are first up. Several Big Ten offensive lines are among the nation's best, while other units boast experience but must step up.
[+] Enlarge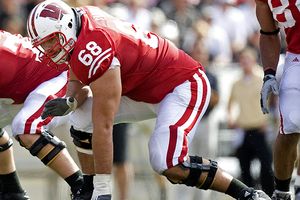 Jeff Hanisch/US PresswireThe Badgers' Gabe Carimi is entering his fourth season as a starter.
1. Wisconsin:
If this group stays healthy, I don't believe there's a better offensive line in college football this season. Left tackle Gabe Carimi is a bona fide NFL prospect who enters his fourth year as a starter. The Badgers boast another All-Big Ten selection at guard in senior John Moffitt, who can play both guard and tackle. Josh Oglesby should be ready to take the next step at right tackle. All the injuries last season forced Wisconsin to use a lot of linemen, and Peter Konz's return makes this one of the league's deepest units.
2. Ohio State:
The talent always has been there, and the physical play finally showed up late last fall. Ohio State's line finished 2009 on a very strong note and returns pretty much everyone for 2010. First-team All-Big Ten guard Justin Boren leads the group along with fellow guard Bryant Browning. Center Michael Brewster enters his third season as a starter, and right tackle J.B. Shugarts came along last year. If gifted left tackle Mike Adams effectively protects
Terrelle Pryor
's blind side, the Buckeyes will be extremely tough to stop.
3. Michigan:
The Wolverines boast one of the Big Ten's best interior line tandems in guard Stephen Schilling and center David Molk, who returns from an ACL injury. When Molk was healthy in 2009, Michigan consistently moved the football. His return is a major boost. The Wolverines need to solidify the tackle spots but have experienced options in Perry Dorrestein and Mark Huyge. Michigan's offensive line recruiting also should pay off as redshirt freshmen like Taylor Lewan solidify the depth.
4. Penn State:
The line had an average performance in 2009 and struggled against elite defensive fronts, but things should improve this fall. Stefen Wisniewski, who moves back to guard from center, is one of the nation's most experienced and polished offensive linemen. He leads a group that also features veterans Lou Eliades and Johnnie Troutman. Penn State needs big things from new starting left tackle Quinn Barham.
5. Northwestern:
All five starters return from 2009, but there's competition at three spots in camp. I see this as a testament to Northwestern's strong O-line recruiting the past four seasons. While experience is great, the Wildcats need to be more physical in run blocking and could benefit from some new faces (or some old ones hardened by competition). Left tackle Al Netter and center Ben Burkett are All-Big Ten candidates, and watch out for Patrick Ward, a heralded 2009 recruit who steps into the spotlight at right tackle this season.
Up next:
Running back/fullback
More rankings ...
June, 2, 2009
6/02/09
4:13
PM ET
Posted by ESPN.com's Adam Rittenberg
Prognostication guru Phil Steele released his preseason All-Big Ten teams Tuesday, and fans of Penn State and Ohio State undoubtedly will be pleased.
Although both teams lost sizable and decorated senior classes, Penn State put six players on Steele's first team, while Ohio State has four. The big surprise is that Penn State quarterback Daryll Clark, widely considered the league's best signal-caller, slipped to the third team behind Illinois' Juice Williams and Ohio State's Terrelle Pryor.
Steele also released his preseason All-America teams, and here's the breakdown for the Big Ten:
First team -- Illinois WR Arrelious Benn, Michigan P Zoltan Mesko
Second team -- Penn State RB Evan Royster, Iowa LT Bryan Bulaga, Minnesota WR Eric Decker, Penn State LB Sean Lee
Third team -- Michigan DE Brandon Graham, Penn State DT Jared Odrick, Penn State LB Navorro Bowman, Ohio State PR Ray Small
Fourth team -- Ohio State LG Justin Boren, Northwestern DE Corey Wootton, Illinois LB Martez Wilson, Michigan State LB Greg Jones
Getting back to the Big Ten list, which was generally pretty solid but had some interesting notes and surprises:
There are clearly two elite wide receivers in the Big Ten in Benn and Decker. After that, it's a crapshoot. Purdue's Keith Smith was the third wideout named to Steele's first team. Unproven players like Minnesota's Hayo Carpenter (second team), Ohio State's DeVier Posey (third team) and Northwestern's Andrew Brewer (fourth team) also earned recognition.

I was a little surprised to see Purdue's Jaycen Taylor listed as a second-team running back ahead of Iowa's Jewel Hampton. Taylor comes off an ACL injury and never beat out Kory Sheets for the starting job when he was healthy. Hampton filled in very well behind Shonn Greene last year.
Michigan State running back Edwin Baker was the only incoming freshman to make Steele's list as a fourth-teamer.
Illinois defensive tackle Josh Brent, who was suspended for spring ball after receiving a DUI in February, is listed on the first team next to Odrick. Brent is a talented player, but Purdue's Mike Neal might have been the safer pick here.

The offensive line selections were interesting. Experience beat out potential as Wisconsin's John Moffitt earned the second-team nod over Ohio State's Mike Brewster. I was very surprised not to see Northwestern linemen Al Netter or Ben Burkett on the list. Indiana had two linemen selected (Cody Faulkner and Rodger Saffold) despite really struggling in that area a year ago, and Iowa surprisingly only had tackles Bryan Bulaga (first team) and Kyle Calloway (second team) on the rundown.

December, 17, 2008
12/17/08
6:07
PM ET
Posted by ESPN.com's Adam Rittenberg
One of the most respected college football analysts has released his All-Freshman teams for the first time, and 10 Big Ten players made the list.
Phil Steele included four Big Ten players on his first team All-Freshman squad. One was from Ohio State. The surprise? It wasn't Terrelle Pryor.
Here's the rundown of Big Ten freshmen to earn recognition from Steele.
FIRST TEAM
Ohio State center Mike Brewster
Michigan State guard Joel Foreman
Northwestern cornerback Jordan Mabin
Wisconsin kicker Philip Welch
SECOND TEAM
Indiana punter Chris Hagerup
THIRD TEAM
Ohio State quarterback Terrelle Pryor
Northwestern center Ben Burkett
Illinois tackle Jeff Allen
Michigan defensive tackle Mike Martin
Iowa safety Tyler Sash
The list looks pretty solid to me, though I'm surprised that Pryor, with all the hype he received, didn't make Steele's second team.
Brewster did an admirable job at center after Buckeyes head coach Jim Tressel shuffled an underperforming line. Foreman helped create lanes for the nation's most durable back, Javon Ringer. Mabin is a budding star in the Northwestern secondary with three interceptions this fall, and Welch proved to be a capable replacement for All-Big Ten kicker Taylor Mehlhaff.
It's also telling that Michigan only had one selection despite playing a ton of freshmen this fall.