September, 25, 2013
9/25/13
8:33
PM ET
SOUTH BEND, Ind. -- Word was that
Jaylon Smith
clocked in a 4.4 40-time at the Best of the Midwest camp two winters ago in Indianapolis. By the time he completes his freshman year at Notre Dame, that number might very well be re-told as a 4.2 or 4.3. By the time he finishes his college career, presumably to fulfill expectations at the next level, his legend might just reach comical proportions.
[+] Enlarge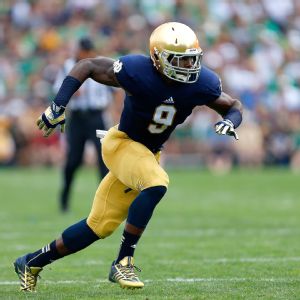 AP Photo/Scott BoehmFormer five-star recruit Jaylon Smith has lived up to the hype thus far, starting immediately as a freshman.
"I'm not sure how accurate it was," Mike Ledo, Smith's trainer at AWP Sports Performance in Fort Wayne, Ind., said with a laugh. "Then he went out to face a top lineman there and was rushing off the edge and killing the lineman. Then he ran over to 1-on-1s with receivers and defensive backs, and he was shutting down the top receivers there as a corner.
"It was pretty evident there: To dominate bigs, and then go over and play cornerbacks at his size, was impressive."
For the record, Smith, ESPN's No. 7 overall prospect last year, was credited with a 4.59 40-time upon completing his prep work at Bishop Luers. And he has since started all four games for the Fighting Irish this season at Dog linebacker, perhaps the most complicated position in coordinator Bob Diaco's 3-4 scheme.
The precocious 6-foot-3, 230-pounder has tallied 11 total tackles, including one for loss, to go with a pass breakup and a pass defended, illustrating downfield skills that helped him rally from No. 3 to No. 1 on the depth chart over the course of preseason camp.
"He always trained with my DBs, so I helped him develop great cover skills," Ledo said. "He texted me in camp thanking me so much for helping him cover; apparently that was the difference to get on field: His ability, at 6-3, to cover in space, kind of like a safety. That was the expectation."
Starter
Danny Spond
's early retirement because of migraines left Smith battling 6-foot-5, 254-pound redshirt sophomore
Ben Councell
. Ledo, apparently, was the one who informed Smith that he was No. 1 on Notre Dame's initial depth chart heading into the opener against Temple.
Smith, meeting the media for the first time on Wednesday, said any butterflies he had disappeared after the first series against the Owls.
"After the first series, really," Smith said. "I was really pumped up. I knew all the fighting songs and things like that. I went to about every home game last year, so I was really just anticipating everything and it was fun."
The football part has, in some ways, been the easiest part of Smith's transition. He did not enroll until June, and he said that learning how to balance his time off the field has been the biggest adjustment.
"He's impressive. He can come in and do all the things he's done, obviously as a freshman, and he's a very mature guy, very physically mature guy," safety
Matthias Farley
said. "So I think he's gotten a lot more comfortable in his role throughout the last couple weeks and he's continued to improve each and every week, so the sky's the limit for him and he's obviously playing very well."
Spond, who has remained with the Irish as a student-coach, announced his retirement to the team after an Aug. 17 practice. Smith said the only thoughts that hit him at that time were for Spond and his long-term health. Exactly two weeks later, Smith was taking the field with the Irish for their first defensive snap of the season.
Mistakes have followed since, Smith said, but thoughts of the future and its promise have helped him put minimal gaffes behind and allowed the freshman to press on toward a career as promising as any of the Brian Kelly era.
"I have a long way to go but I think I'm on the right track, and really just worried abut tomorrow and just getting out on the field, continuing to stay healthy," Smith said. "It's a 12-13 week season, so it's something that I've been quite used to, winning four state championships. But it's a different level. You have to go hard every play here."
September, 15, 2012
9/15/12
7:32
PM ET
EAST LANSING, Mich. -- Greetings from Spartan Stadium, where No. 20 Notre Dame and No. 10 Michigan State are about an hour away from kickoff.


We already know what's at-stake here for the Irish, who begin a six-game stretch in which they face five ranked opponents. They are 0 for their last 9 against top-10 teams, losing by an average margin of 15 points per game. A 2005 victory at then-No. 3 Michigan was Notre Dame's last victory over a top-10 opponent, and the Irish will hope to replicate that performance again tonight in the Mitten.
A couple travel items: USC running back transfer
Amir Carlisle
did not make the trip after being cleared for action two weeks ago. Carlisle suffered a broken ankle before the spring and has yet to play for the Irish, who bring back former starter
Cierre Wood
for his first game of the season.
Defensive end
Chase Hounshell
did not travel with the team, either. Brian Kelly has said that Hounshell not playing through two games is a matter of having too many players in front of him, though. Tackle
Tate Nichols
(right knee subluxation) did not travel, either, as he has yet to play this season.
One player who did make the trip is linebacker
Danny Spond
, who is expected to appear in his first game of 2012 after suffering a preseason head injury. Spond will likely see time at the dog spot with
Ben Councell
, moving the
Dan Fox
/
Carlo Calabrese
tandem back to the will spot. Calabrese was at the will last week in his first game back from suspension, but Fox was moved outside, as Kelly wanted Councell to see a traditional offense from the sideline before stepping in.
The student section is full and the rest of the crowd is beginning to file in, with Spartans players heading over beforehand to greet their classmates. We'll be back with any breaking news throughout the game and to recap the night's events here,
with in-game observations coming from Twitter
. We'll also have a
live chat going throughout the game
, with yours truly chiming in during the second and fourth quarters.
If history's any indication, it will be a fun one. Looking forward to it.
September, 10, 2012
9/10/12
10:46
AM ET
Here's one last look back at Notre Dame's
20-17 win
over Purdue:
The good
: Notre Dame is 2-0 for the first time since 2008. Remember, the Irish were 0-2 a year ago. They are Nos. 20 and 19 in the AP and coaches' poll, respectively. They overcame a number of injuries to pull out a tight win that, frankly, they probably don't finish last season.
Tommy Rees
proved he wasn't rattled by the offseason, or outside distractions, either.
The bad
: Those injuries made things difficult. Among those to leave the game were
Kapron Lewis-Moore
,
Sheldon Day
,
Ishaq Williams
,
Jamoris Slaughter
,
DaVaris Daniels
and
Tyler Eifert
.
Manti Te'o
got banged up, too, and
Nick Tausch
missed the game with a groin injury. All should be good to go Saturday.
The ugly
: Eight penalties after a flag-less performance against Navy was not what anyone had in mind. Notre Dame having to burn all of its timeouts with more than 11 minutes left in the fourth quarter was probably not part of the plan, either.
Biggest personnel change not involving a QB
:
Carlo Calabrese
returned from suspension and played inside, with
Dan Fox
, who usually starts there, moving to the dog, where
Ben Councell
would be. Coach Brian Kelly said afterward that he wanted Councell "to see the game from the sideline," adding that the game plan for Navy was different a week earlier.
Next up
: Notre Dame travels to East Lansing, Mich., to face rival Michigan State. We all know what happened last time the Irish walked into Spartan Stadium. And we all remember how the Irish took care of business last year. As will be the case with most games this season, the spotlight will be on each quarterback and the Irish's offensive line play, as Sparty brings in a very talented defensive line.
March, 29, 2012
3/29/12
9:00
AM ET
Our breakdown of Notre Dame's 2012 roster continues today with the defensive side of the ball.
DEFENSIVE LINE
The players:
Aaron Lynch
,
Louis Nix
,
Stephon Tuitt
,
Kapron Lewis-Moore
,
Tony Springmann
,
Chase Hounshell
, Sheldon Day,
Tyler Stockton
,
Kona Schwenke
The incoming:
Jarron Jones
,
Romeo Okwara
[+] Enlarge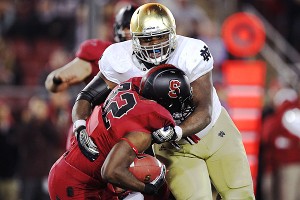 Ezra Shaw/Getty ImagesTackle Louis Nix is a key cog in what should be a strong, experienced defensive line for Notre Dame.
The breakdown:
Injuries forced all three current starters — Lynch, Nix and Tuitt — to play much more than expected last season, and none disappointed. They are all second-year players now, and their pass-rushing ability should have opposing offensive lines and quarterbacks on their heels. Lewis-Moore has been cleared for spring following a season-ending knee injury in 2011 but might not start, though he will likely see plenty of playing time as the line rotates. Hounshell (shoulder surgery) is not cleared yet, but he will likely see significant time this fall after playing as a true freshman last year as well.
LINEBACKERS
The players:
Danny Spond
,
Manti Te'o
,
Dan Fox
,
Prince Shembo
,
Kendall Moore
,
Ishaq Williams
,
Anthony Rabasa
,
Carlo Calabrese
,
Jarrett Grace
, Justin Utopo,
Connor Little
,
Ben Councell
,
Joe Schmidt
The incoming:
None
The breakdown:
As we said with
Tyler Eifert
yesterday, everyone knows what Te'o is capable of, as he likely would have been a first-round NFL draft pick had he left school following his junior year. Fox and Calabrese shared the other inside role last year, and their experience should prove valuable. Shembo has been working at the cat spot this spring, and up-and-coming talents like Williams and Spond figure to see extensive playing time.
SECONDARY
The players:
Bennett Jackson
,
Jamoris Slaughter
,
Zeke Motta
,
Lo Wood
,
Josh Atkinson
,
Austin Collinsworth
,
Dan McCarthy
,
Jalen Brown
,
Cam McDaniel
,
Eilar Hardy
,
Chris Salvi
,
Joe Romano
, Will Salvi,
Connor Cavalaris
,
Matthias Farley
,
Blake Breslau
The incoming:
Elijah Shumate
,
Nicky Baratti
,
C.J. Prosise
,
John Turner
The breakdown:
The loss of
Tee Shepard
really stings this group, which is down to four scholarship corners with a combined zero career starts. Jackson and Wood are in position to take over as the new starters, and playing time last season should help with the transition. At safety, Slaughter and Motta saw plenty of time the last two seasons, and Slaughter in particular has shown a nose for the ball and the capability of providing a leadership force that
Harrison Smith
is leaving behind. Collinsworth will likely also see plenty of snaps after playing last year.