October, 6, 2014
Oct 6
10:00
AM ET
SOUTH BEND, Ind. -- Pat Eilers snuck in through the back of the postgame interview room, cellphone in-hand, ready to put
Cole Luke
in touch with his high school coach.
"I'm just watching you guys from over here and hope you guys finish the season off strong," Luke said on a voicemail left for Hamilton (Ariz.) High coach Steve Belles, a reserve quarterback on Notre Dame's last title team.
"He's doing you proud," added Eilers, Belle's teammate on that 1988 Irish squad.
Eilers had been the latest addition to this year's still-unbeaten outfit, a 48-year-old private equity firm director-turned-quality control assistant once graduate assistant Kyle McCarthy was diagnosed with cancer. Luke was fast-tracked as a sophomore starter once Notre Dame's academic probe sidelined cornerback
KeiVarae Russell
.
The Irish got to 5-0 Saturday by the skin of their teeth, outlasting Stanford, 17-14. A reeling North Carolina squad is on deck Saturday before an Oct. 18 trip to face defending national champion Florida State, where a meeting awaits between two possible 6-0 teams with playoff hopes. Notre Dame has put itself in this position because of the little things, which have been on display through the way head coach Brian Kelly has handled his team's academic suspensions to the contributions from unsung newcomers like Eilers and Luke, who was given a game ball Saturday for his efforts.
This seemed plausible
way back when
, if you forecasted this slate from a week-to-week standpoint and noticed that a young team would not be playing a true road game through the entire first half of the season. It seemed improbable as the season approached, when news came down that the Irish may be (and still are) without
Everett Golson
's only proven threat in the pass game, and without a pair of starters from a defense that was already dealing with tons of personnel losses while adjusting to a new coordinator.
Golson has thrived anyway, overcoming hiccups against the Cardinal to lead the game-winning touchdown drive against the nation's top defense. The Irish defense
might just be the biggest surprise
of the five-year Kelly era, trotting out seven new starters from a year ago Saturday and waking up Sunday tied for third nationally in lowest scoring average (12 points per game).
Luke kept the surprises coming, picking off two of
Kevin Hogan
's passes, sacking the quarterback and forcing a fumble.
"I think what I was most pleased with, it was a bounce back game in a sense," Kelly said of Luke. "He gave up a couple of big plays against Syracuse. I thought he tightened down his coverage in the fourth quarter against Syracuse when they went right back at him, and he continued to tighter coverage in the fourth quarter against Stanford.
"Two interceptions, he got the game ball from us. Could have had a couple of others if balls were thrown with more accuracy. So I would say that he's really picked up his game."
[+] Enlarge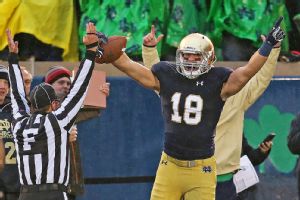 Jonathan Daniel/Getty ImagesBen Koyack's winning touchdown was the difference in Notre Dame's win.
There are others who have risen to the occasion, too, most notably
Ben Koyack
and his game-winning, fourth-down touchdown catch, a rare highlight for the senior who has thus far flown mostly under the radar.
"It was huge," Kelly said. "We were struggling with some of his blocking assignments. [Koyack] is so central and critical to what we're doing in our read-zone option stuff. And he had a lot going on there. We made some mistakes. And so it was great to see him get a big catch late."
These are the pieces that so often get overlooked when trying to pick apart what's right or wrong with a unit each incoming season. It's a highly successful guy approaching 50 and deciding to join his alma mater in a moment of need. It's a second-year corner rebounding from a rut to make key plays in the biggest game to date. It's a senior tight end answering the call when the game is on the line despite little else going his way.
It's also a coach who deserves some kind of a medal for the way he has handled an academic arm that's at 52 days and counting now without a decision on five of his players, a process that has left him as the lone public voice of information despite not exactly providing him all that much of it.
Few would look at this roster or even its performances through five games and say in a nutshell that it is one of the four best in the nation. But with five of the AP Poll's top eight teams falling Saturday, the Irish are rising, up to No. 6 (No. 5 in the coaches poll).
"It's obviously great copy for me on Monday when I talk to the team again about winning and how important it is to just stay in the moment, work on your preparation and enjoy every win as they come because they're so difficult," Kelly said. "Great opportunity for me to continue on that message that we've been on all year about how difficult it is to win and how important it is for us to keep moving in the right direction."
No one is ready to declare this 2012 just yet, not unless Tallahassee brings out the best in these Irish the way Norman did two years ago. But the fact that conversation can be had in early October is a testament to how the Irish have dealt with matters outside the hedges.
October, 4, 2014
Oct 4
10:36
PM ET
SOUTH BEND, Ind. -- Let's begin with The Moment because
Everett Golson
-- after a wet, windy, mostly maddening day -- deserves that much.
If Golson goes on to win the Heisman Trophy or Notre Dame goes on to reach the College Football Playoff or both, the seminal moment could be a 23-yard touchdown strike from Golson to tight end
Ben Koyack
on fourth-and-11 against the nation's No. 1 defense. Golson evaded the Stanford rush and found Koyack inexplicably alone in the northwest corner of the end zone for the score with 1:01 remaining.
[+] Enlarge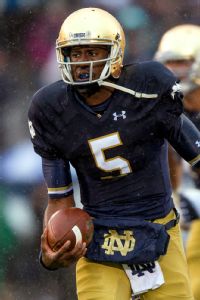 Matt Cashore/USA TODAY SportsEverett Golson delivered in the clutch and got plenty of help from his defense on Saturday against Stanford.
Forget Golson's two turnovers earlier in the day. Forget that Stanford coach David Shaw, when asked to describe the coverage on the doomed play, simply responded, "There was no coverage." When it mattered most, Golson delivered, lifted Notre Dame to a
17-14 win
and improved his record as the Irish starter to 15-1, the highest win percentage for a quarterback in team history.
"The kid's a winner," coach Brian Kelly said.
"That's big-boy time," Golson said.
This was a big-boy game in nasty conditions. Before kickoff, the press box announcer said there was a "wall of water" over South Bend with another wall behind it. The game's longest play turned out to be a 39-yard return after a botched Notre Dame field-goal attempt.
While Golson played hero, the Irish won the big-boy game by playing man ball on defense, and a unit with glaring questions entering the season is growing up right before our eyes.
Koyack's touchdown catch occurred in the same end zone where Notre Dame stuffed Stanford in overtime two years ago. But the Irish defense has gone through several facelifts since then.
Notre Dame lost six defensive starters from 2013 to graduation. Another returning starter, cornerback
KeiVarae Russell
, has been suspended in the university's investigation into possible academic fraud. Lineman
Ishaq Williams
, also among the suspended players, had been pegged to start.
And yet here they were, holding Stanford's once-feared power offense to 3.0 yards per play -- its lowest average since 2006 -- and 1.5 yards per rush. Stanford finished with 47 rush yards and converted just two of its first 13 attempts on third down. Two Notre Dame sophomores -- linebacker
Jaylon Smith
(14 tackles, 2.5 for loss) and cornerback
Cole Luke
(two interceptions, forced fumble, sack) -- led the defensive charge, but many others contributed.
"It's all about now," Luke said. "We can't get 'em back, we can't play with one player down or anything, so it's all about how you step up."
And whom Notre Dame stepped up against, a Stanford offense that provides a "measuring stick," according to linebacker
Joe Schmidt
.
"It's great for our confidence," Schmidt said. "Any time you want to get in 22, 23 personnel and you want to run the ball, it's going to be fun for us and, hopefully, very few yards for you."
Stanford's offense came in struggling, particularly in the red zone, but it still brought the beef up front and the objective to overpower its opponent. But Notre Dame subdued the Cardinal, who failed to hit the 50-yard rushing mark for the first time since Oct. 27, 2007, under first-year coach Jim Harbaugh.
"Our quarterback got hit a lot today," Shaw said. "Counting for the guys they lost, they did an outstanding scheme on the defensive side, and their guys played hard. They played fast. And you can tell they're very well-coached."
First-year defensive coordinator Brian VanGorder has Notre Dame's defense playing near 2012 levels, despite the new faces. VanGorder's plethora of pressure proved too much for Stanford's retooled line, and quarterback
Kevin Hogan
spent much of the game on the run.
Fittingly, the game ended with a harried Hogan intentionally grounding the ball, which resulted in a 10-second runoff. Stanford's once-promising playoff hopes are likely dashed.
"Grin and bear it, I guess," running back
Remound Wright
said. "It is what it is."
By all accounts, Notre Dame's defense shouldn't be here, bullying the bully with a bunch of underclassmen. Or perhaps it should. Maybe it's all part of Kelly's master plan.
"We should be here in five years," Kelly said. "Year 1, we got knocked around. I mean, physically."
Notre Dame allowed 37 points, 166 rush yards and 25 first downs to Stanford in 2010, Kelly's first year.
"This is where you should be going into Year 5 of your program," Kelly repeated. "Even though you lose [Stephon] Tuitt and you lose [Louis] Nix and you lose [Prince] Shembo and you lose [Dan] Fox and [Bennett] Jackson, all these guys playing on NFL teams, you bring in the next batch of guys, and they're physically able to compete with one of the more physical teams in college football."
Maybe Notre Dame is right on schedule, ready for another run at a championship. On a weekend when most of the top-5 lost, the No. 9 Irish found a way to maintain their perfect record.
They needed their quarterback to deliver. And he needed his defense to give him a chance to deliver.
"Holding those guys to 14 points, it's pretty hard," said Golson, who has surpassed his touchdown pass total (now 13) from 2012 (12). "We didn't always capitalize on the things we should have, when they gave us the ball and great field position. "I definitely felt like I owed it to them."
Notre Dame still needs work. Golson has six turnovers in his past two games. The offensive line play is spotty.
If Stanford had won, many would point to Notre Dame's two botched field-goal attempts, and the trials of holder
Hunter Smith
.
"We found a revolutionary idea that will probably be now the biggest thing in college football," Kelly said. "We're going to put gloves on the holder. That seemed to be the way to accomplish greatness in this game. Unbelievable."
Fortunately for Kelly, Notre Dame fans were shouting the same word after the game, but for different reasons. Their perfect season continues. So does Golson's comeback story.
The Florida State showdown is two weeks away.
"There's nobody walking around feeling like we can't win every game we play," Kelly said.
Especially the Irish defenders.
October, 4, 2014
Oct 4
7:21
PM ET
SOUTH BEND, Ind. -- Ninth-ranked Notre Dame topped No. 14 Stanford
17-14
on Saturday. Here's how it went down:
How the game was won:
Ben Koyack
caught a wide-open 23-yard touchdown pass on fourth-and-11 with 1:01 left to give the Irish a 17-14 lead. A game in which points were hard to come by featured two touchdowns in the final 3:01, with
Everett Golson
directing the winning drive.
Game ball goes to:
Cole Luke
had two interceptions, becoming the first Irish player with two picks in a game since Manti Te'o did against Michigan two years ago. The sophomore also forced a fumble and has been a huge piece for the Irish in
KeiVarae Russell
's absence.
What it means:
Notre Dame's perfect season is alive at 5-0, as the Irish survived their first true test of the season against the nation's No. 1 defense. The Irish's young defense continued to impress and will only get better as the season moves along.
Playoff implication:
At 5-0, Notre Dame's College Football Playoff hopes remain alive, with a huge test awaiting in two weeks at reigning national champion Florida State. Two-loss Stanford isn't completely eliminated, as this was a nonconference game, but the Cardinal essentially need to win out to have a chance, something that looked more possible with Oregon's struggles Thursday but less possible with Stanford's offensive ineptitude Saturday.
What's next:
Notre Dame has what is essentially a tuneup for Florida State as it takes on reeling North Carolina next Saturday. Stanford hosts Washington State on Friday before it travels to Arizona State for a Pac-12 title game rematch on Oct. 18.
August, 22, 2014
Aug 22
10:30
AM ET
»
More team previews:
ACC
|
Big 12
|
Big Ten
|
Pac-12
|
SEC
Previewing the 2014 season for the
Notre Dame Fighting Irish
:
Key returners:
QB
Everett Golson
, RB
Tarean Folston
, RB
Cam McDaniel
, RB
Greg Bryant
, TE
Ben Koyack
, LT
Ronnie Stanley
, C
Nick Martin
, RG
Christian Lombard
, DT
Sheldon Day
, LB
Jaylon Smith
, LB
Joe Schmidt
, S
Matthias Farley
, S
Max Redfield
, S
Austin Collinsworth
Key losses:
QB Tommy Rees, RB
George Atkinson III
, WR
TJ Jones
, TE
Troy Niklas
, LT
Zack Martin
, LG
Chris Watt
, DE
Stephon Tuitt
, DT
Louis Nix
, LB
Dan Fox
, LB Carlo Calabrese, CB
Bennett Jackson
Most important 2014 games:
Sept. 6 vs. Michigan, Oct. 4 vs. Stanford, Oct. 18 at Florida State, Nov. 8 at Arizona State, Nov. 29 at USC
[+] Enlarge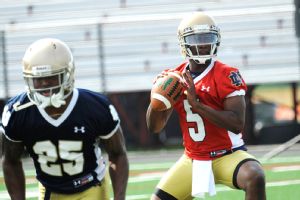 AP Photo/Joe RaymondEverett Golson returns as the starting quarterback at Notre Dame after missing all of the past season due to issues related to academics.
Projected win percentage (from Stats & Info):
0.538 (pre-suspensions)
Over/under Vegas odds:
7.5 (pre-suspensions)
Instant impact newcomer:
Redshirt senior cornerback
Cody Riggs
did enough this summer and in fall camp to earn a starting job after transferring from Florida. But Riggs' role has become even more important after
KeiVarae Russell
(and three others) were suspended amid an academic probe. Riggs is a physical, versatile corner who brings along plenty of SEC experience and has proven to be a stabilizing force in light of Russell's suspension. He will likely prove to be one of the bigger fifth-year pickups in college football this season.
High point from 2013:
It certainly didn't look like it at the time, but a
17-13 victory
over Michigan State on Sept. 21 proved to be a huge win for the Irish and one that might have ended up changing the landscape of the national title race. The game was ugly, with poor offensive play all afternoon. Little did anyone know the Spartans would win the rest of their games, finish 13-1 and win the Rose Bowl. How much MSU learned from that defeat is anyone's guess, but it's not a stretch to think a 13-0 Spartans squad could have been No. 2 at the end of the regular season and facing Florida State in the BCS title game. Instead, one-loss SEC champion Auburn earned the shot.
Low point from 2013:
A Nov. 9 loss at Pitt was a huge letdown, as the Irish entered the game with just two defeats and BCS bowl hopes still alive. Turnovers and mental mistakes in the Steel City did them in, though -- characteristics unbecoming of a Brian Kelly team in November. When Kelly said after the season that 2013 was a good year that could've been great, it is safe to assume the Panthers game was the one at the top of his mind. A Week 2 loss at Michigan also hurt -- because a loss to Michigan always hurts. But the ramifications of the Pitt defeat were bigger.
Best-case scenario for 2014:
The optimistic view sees a young Notre Dame team that does not play a true road game until Oct. 18 at Florida State. Until then, Golson and the Irish take care of business early and race to a 4-0 start before stumbling into Stanford. A back-loaded schedule makes even a confident team trip into a few road blocks, but Notre Dame manages to finish 9-3 and heads to one of the better ACC bowl games. All in all, it's a very strong season for a team facing so much uncertainty on the defensive side of the ball, especially given the camp suspensions. (We could see 10-2 and an access bowl as a best-case scenario with all of the currently suspended players on board.)
Worst-case scenario for 2014:
This is a tough one to project, given the uncertainty surrounding the currently suspended Russell,
DaVaris Daniels
,
Ishaq Williams
and
Kendall Moore
, but the weight of those players' losses might actually be more than the sum of their parts. Yes, three are starters, and Notre Dame will struggle to replace them, but if the academic probe lingers far into the season, it creates one more obstacle for a young team that faces a very difficult schedule. Notre Dame is favored in most of its games, but it has zero cakewalks. A worst-case scenario has the Irish scrapping for bowl eligibility.
They said it:
"You never want to lose any of your players, so that's always difficult. To lose any of your players, especially given the circumstances, that's always difficult. But I'm responsible for not just four players [but] 105-plus [and] over 30 support staff [members]. I've got to get going. I've got to move immediately to getting better as a program and as a football team. I don't spend much time on the past [and] don't mortgage the future. I try to stay in the present." — Kelly, on moving forward as four players serve an indefinite suspension amid Notre Dame's academic probe
January, 22, 2014
Jan 22
9:00
AM ET
For three years, Brian Kelly had success like few others in recruiting players back to school. Sure, Kyle Rudolph left after Year 1 of the Kelly era, but since then the Notre Dame coach had successfully gotten Michael Floyd, Manti Te'o, Tyler Eifert, Louis Nix and
Zack Martin
to come back to the Irish for their fourth (and, in Martin's case, fifth) seasons of college ball.
That changed drastically this season. With several highly projected underclassmen on their roster, the Irish figured to say goodbye to one or two underclassmen early. And even when Kelly said in late December that he had submitted paperwork to the NFL advisory board for
Stephon Tuitt
,
Troy Niklas
and
George Atkinson III
, few expected all three to leave school early.
Then January came along, and within one week's span, all three players declared for the draft, choosing to avoid the recent trend and skip their final seasons. Each had his reasons, so here's a look at the trio and a look at who on the Irish roster will be tasked with filling the big shoes in 2014.
(Worth noting: Nix, who had a fifth season of eligibility available to him in 2014, is not included in this group, because he graduated in December.)
Leaving:
Stephon Tuitt
Replacement:
Isaac Rochell
The outlook:
It is worth noting that
Justin Utupo
will return for a fifth year
and that veterans
Tony Springmann
(ACL, infection) and
Chase Hounshell
(shoulder) are expected to be back at full health next fall after both missed the 2013 season. Together, all will be counted on to replace the production of Tuitt, who was one of the best pass-rushers in school history. Still, if the Irish are looking for a youngster to step up, they will turn to Rochell, who ended up seeing much more playing time as a true freshman than initially expected this past fall, given the injury bug that affected the Irish in the trenches. ESPN's No. 139 overall player from the class of 2013 played in 11 games, recording 10 total tackles. The 6-foot-3.5, 280-pounder is a far cry from the 6-foot-6.5, 312-pound Tuitt physically, but most typically are. The bottom line is Tuitt will be the hardest of Notre Dame's early departures to replace, but Rochell will probably see his role increase the most in his sophomore season. Junior
Sheldon Day
, entering his second year as a starter, will be counted on even more this coming fall as well.
[+] Enlarge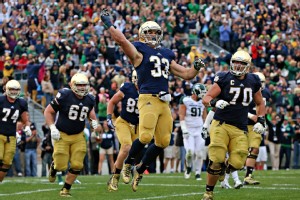 Jonathan Daniel/Getty ImagesCam McDaniel (33) led the Irish with 705 rushing yards in 2013.
Leaving:
George Atkinson III
Replacement:
Cam McDaniel
,
Tarean Folston
,
Greg Bryant
The outlook:
Atkinson should be the easiest of the early departures to replace, as his playing time and production took a big dip late during this past season. He was ultimately suspended for the New Era Pinstripe Bowl for what Kelly called a violation of team rules, a violation that Atkinson later tweeted (and then deleted) consisted of him texting during a team meal. Still, the Irish have the always-reliable McDaniel back for another year, and the Coppell, Texas, native actually had more carries (152-93) and rushing yards (742-583) than Atkinson in 2013 while helping with kick-return duties as well. The most important developments to keep an eye on, though, are those of Folston and Bryant, both of whom came to Notre Dame as highly touted four-star backs expected to deliver immediate boosts. Bryant had trouble gaining playing time early and ultimately suffered a knee injury that forced him to take a medical redshirt, but Folston came on strong late in the season, finishing with 88 carries for 470 yards and three touchdowns. Things will be tougher next season with a rebuilt offensive line, and all of these backs need to improve as pass-catchers, but there remains plenty of promise in the fold. Let's not rule out redshirt junior
Amir Carlisle
, either.
Leaving:
Troy Niklas
Replacement:
Ben Koyack
The outlook:
Niklas, who began his career at linebacker, played tight end at Notre Dame for just two years, coming on this past fall after the departure of Eifert, as he hauled in 32 passes for 498 yards and five touchdowns. He was improving as a blocker and was on track to become one of the best tight ends in the country next season. Now Koyack will be tasked with a bigger workload in his senior season. He, too, came on strong late last season, finishing with 10 catches for 171 yards and three touchdowns, though he often played in two-tight-end sets with Niklas and gave the Irish plenty of offensive flexibility.
July, 24, 2013
7/24/13
9:00
AM ET
Watch list season came and went, and if the releases are any indication, Notre Dame is in serious trouble at quarterback, running back, center, defensive back and punter.
Well, not really. But those positions are notable considering the Irish did not land anyone on the watch lists for the Davey O'Brien, Doak Walker, Rimington, Jim Thorpe or Ray Guy awards.
(Never mind that cornerback
Bennett Jackson
made the watch list for the Bednarik Award, given to the nation's top defensive player.)
Still, it was quite a run for the Irish, and particularly for
Louis Nix
, who made six different watch lists. (
Stephon Tuitt
wasn't too shabby himself, making five.)
Below is a roundup of the dozen different Irish players who made watch lists in the past two weeks. Notre Dame is the only school with multiple defensive players on the watch list for the Maxwell Award and the only school with multiple defensive players on the watch list for the Walter Camp player of the year award. The Irish's four Bednarik watch listers are the most in the nation, and their three players on the Butkus watch list are tied for the most in the nation.
Maxwell (best player)
: Louis Nix, Stephon Tuitt
Bednarik (defensive player)
: Bennett Jackson, Louis Nix,
Prince Shembo
, Stephon Tuitt
Mackey (tight end)
:
Ben Koyack
,
Troy Niklas
Lou Groza (kicker)
:
Kyle Brindza
Nagurski (defensive)
: Louis Nix, Stephon Tuitt
Outland (interior lineman)
:
Zack Martin
, Louis Nix
Butkus (linebacker)
:
Carlo Calabrese
,
Dan Fox
, Prince Shembo
Rotary Lombardi (offensive/defensive lineman, linebacker)
: Zack Martin, Louis Nix, Prince Shembo, Stephon Tuitt
Biletnikoff (receiver)
:
DaVaris Daniels
,
T.J. Jones
Walter Camp (best player)
: Louis Nix, Stephon Tuitt
May, 21, 2013
5/21/13
12:00
AM ET
Notre Dame does not have quite as many question marks heading into the 2013 season as it did last summer. For one, the Irish have their quarterback of the future. They also have a coach who proved during a perfect 2012 regular season that he is the right man for the job. And they have -- for the next 24 years, at least -- erased questions about their relevancy within the college football landscape.

But no teams are perfect (seriously, it hasn't been done since Auburn in 2010-11). So, with 100 days standing between us and the college football season -- and 102 standing between the Irish and their Aug. 31 opener against Temple -- we will take a look at three things the program needs to cross off its checklist this summer.
1.
Find offensive playmakers:
George Atkinson III
bulked up this offseason and did not run for the track team to focus on adding to his workload. He is the most experienced man in an Irish backfield that lost its top two rushers from a season ago, but he will be pushed by redshirt sophomore
Amir Carlisle
, redshirt freshman William Mahone, junior
Cam McDaniel
and incoming freshman Greg Bryant and Tarean Folston, both of whom are four-star prospects. The three-man battle to replace Tyler Eifert at tight end, meanwhile, will be waged among
Troy Niklas
,
Ben Koyack
and
Alex Welch
.
2.
Integrate incoming freshmen
: Bryant and Folston are two of the incoming freshmen who appear ready-made for the college level. Linebacker Jaylon Smith and safety Max Redfield figure to see time as freshmen, too. Early enrollee receivers such as Corey Robinson and James Onwualu, both of whom saw added time following the spring departures of Davonte Neal and
Justin Ferguson
, also may see playing time.
3.
Stay levelheaded
. This really shouldn't be much of a problem for a program and players who seemingly always have the bull's-eye on their back, regardless of the win-loss record. Still, a renaissance 2012 campaign and a return to college football's elite will only up the ante for this group to do similar things this fall, especially with so many pointing to Alabama's title-game rout as a sign that 2012 may have been a fluke.
April, 10, 2013
4/10/13
9:00
AM ET
SOUTH BEND, Ind. -- The expectations for the next-in-line at Tight End U. are as basic as can be for three relatively untested faces. What
Alex Welch
,
Ben Koyack
and
Troy Niklas
have done in two-plus years hardly registers when measured against the legacies
Tyler Eifert
and others before him have left behind.
So yes, Niklas concedes that, just more than halfway through spring ball, there is still a feeling-out period among Notre Dame's tight ends, a trio that will bear large responsibility in one way or another on an offense that returns upward of seven starters but only two of its top six pass-catchers from last season.
"That's a tough question to answer," Niklas said. "But I would say the expectation for our group is just to block when we need to block, catch passes when we need to catch passes and just be as dynamic and aggressive and open to new things as we can and just be really flexible with what we do."
All is up for grabs at tight end, where Eifert re-wrote the school record books in grabbing 140 passes for 1,840 yards during the past three seasons.
[+] Enlarge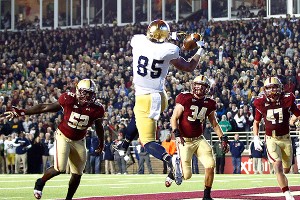 Mark L. Baer/US PresswireTroy Niklas counted this touchdown against Boston College among his five catches last season.
There is Niklas, a converted linebacker entering his third season with the Irish and second at tight end after grabbing five passes for 75 yards and a score in 2012. There is the junior Koyack, the most seasoned of the three despite grabbing just four balls the past two years while being limited to mostly blocking. And there is the redshirt junior Welch, who missed all of last season after an anterior cruciate ligament tear in his right knee suffered during fall camp ruined any hopes of becoming Eifert's No. 2 in 2012.
The distinction of succeeding a likely first-round pick in Eifert -- and NFL players Kyle Rudolph, John Carlson and Anthony Fasano before him -- is not lost on this group.
"I wouldn't say it's a pressure, it's kind of like a prestige," Welch said. "You feel good about yourself to be a part of the tight ends at the University of Notre Dame, but at the same time we're not trying to be any of those tight ends; we're going to be ourselves. We lost Tyler Eifert, he's a great tight end. He'll be playing in the NFL. But none of us are trying to replace him. We're just trying to be ourselves and go out there and help the team."
For Welch, that means getting back up to speed after a dream season spent on the sideline. Holding his own in winter workouts was the first big hurdle cleared, and now he is hoping to use the spring to make up for what was lost in a year off the field, with fall camp later serving as the true barometer among his peers.
"You don't really forget, just when you're out there on the field you take for granted certain things," Welch said. "When you get 15 practices under your belt you feel much more comfortable, especially after I got my knee done."
Emerging from the unit as the next future pro is currently off the radar. For now, this spring is simply a start toward filling out one of the offense's biggest holes.
"[Tight ends] coach [Scott] Booker always has high expectations in general," Koyack said, "but I feel like as long as we just do what we're coached to do, we may not be put in the same exact situation as Tyler was put into, but as long as we do well in the situations that we are put into I think that's pretty much the expectations of the group at this point."
April, 20, 2012
4/20/12
9:00
AM ET
SOUTH BEND, Ind. -- Chuck Martin received a late Christmas gift after he moved from safeties coach to offensive coordinator. The gift, former linebacker
Troy Niklas
, received a chance to play with an All-America tight end. That tight end,
Tyler Eifert
, received more responsibilities after he decided to return to Notre Dame.
Just how much more the tight ends will be utilized in the Irish's offense remains to be seen. But don't bother asking Martin if he can make it work with multiple tight ends, as the abundance of talent at the position --
Alex Welch
and
Ben Koyack
are also capable options -- presents a good problem for the offense to work out.
[+] Enlarge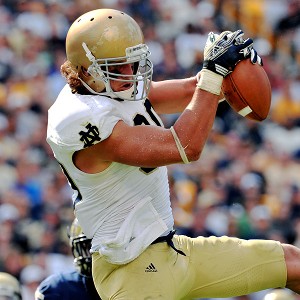 Matt Cashore/US PRESSWIREAll-America tight end Tyler Eifert is spending the offseason learning every receiver position.
"Everyone's like 'Are you going to go two tight ends?' I don't even think in those terms," Martin said. "When I learned offense from Coach [Brian] Kelly back when I was an assistant the first time, it was like, personnel's for fans and media. Like, if Eifert's flexed out is he a Y or a Z? I don't know, you can call him whatever you want. He's just playing there, you know? And [he has] pass-catching ability, which we all know is unbelievable. So they can think you're in two tight ends, let them think we're in two tight ends.
"Eifert could be at Z or X or W, he could be a running back. We've got a package where Eifert can play running back. I don't know if we'll hand him the ball ever, but he could be our running back and throw the ball to him."
A junior season that featured more catches (63) and receiving yards (803) than every other FBS tight end has only led to a bigger challenge for Eifert, who is charged with learning every receiver position for his senior year.
It is not quite the intensive pre-draft process Eifert could have been undergoing this spring had he declared for the NFL, but it is not exactly the typical spring for a returning senior starter, either.
"All last year I knew what I was doing pretty much every play, and I knew what most of the guys were doing," Eifert said. "But it's been a little challenging having to learn, first time I've had to learn some stuff in quite a while, as far as concepts go."
Another addition to those duties has been helping with the transition of Niklas, nicknamed "Hercules" for his 6-foot-7, 252-pound frame. The former high school tight end actually started one game last season as a freshman outside linebacker before the offseason move, which he believes presents him with a higher upside.
Mastering in-line blocking has been his first course of duty.
"The biggest thing about the transition is that I guess I know what the defense is trying to do," Niklas said. "So of course I've played that outside linebacker position, I know coverages, I know different defensive philosophies that I think will help me in film study and getting open and all that kind of stuff."
New tight ends coach Scott Booker has been open to both the possibilities and the number of tight ends Notre Dame could put on the field at the same time. Seeing teams such as Stanford and the NFL's Patriots have successful offenses revolve around the tight end position has certainly presented workable models.
And that could mean the good problem of Notre Dame's offense turning into a bad one for opposing defenses.
"It's one thing if the guy's a blocker and this guy's a catcher. They're kind of 'That guy's a tight end, he becomes a wideout,' I get that," Martin said. "But if they can both block and catch, which I think we have the ability to do that, then it causes major issues for the defense, because they don't know what personnel we're in. We do everything defensively based on personnel. Twelve personnel, two tight ends on the field. Eleven personnel, one tight end.
"In our whole game plan, we have our 12 game plan and our 11 game plan, not only do you come in and say Eifert and Koyack are out at the same time and we're actually running 12 formations and 11 formations, then what do you do as a defense? As a guy who thinks he knows a little bit about defense, it's not fun, picking basically [a] game plan for 12 because you have to, and then they come out in 11 and you're not really in what you want to be in."
April, 18, 2012
4/18/12
9:00
AM ET
SOUTH BEND, Ind. --
Gunner Kiel
got under center Saturday and immediately blanked.
Hoping against hope to make something happen, the freshman quarterback took the snap and tried to gain as many yards as possible, firing into crowded territory near
Ben Koyack
and nearly costing the tight end his head in the process.
Back on the sideline, Kiel confessed before coach
Brian Kelly
could even ask what he was thinking.
"He goes, 'I just, I just blew it. I blew it. I blanked. I can't believe it,' " Kelly said, imitating Kiels' deer-in-the-headlights look.
"I go, 'Well next time you blank, let's try doing something else, like running outside and throwing the ball away.' He goes, 'That's a great idea.' "
Kiel can be forgiven had his mind not been in the right place just yet, as his uncle, former Notre Dame quarterback Blair, died unexpectedly at the age of 50 only six days earlier.
The early-enrollee missed Wednesday's practice to attend Blair's funeral but turned down Kelly's offer to take as much time as he needed to mourn his loss, returning for Friday's practice and Saturday's scrimmage to honor his uncle.
"He's probably with me right now in this interview telling me what to say," an emotional Kiel said Saturday. "He's going to be there every step of the way of my career and the rest of my life. And thank God for him and always being there for me and pushing me. It's hard, but that's life. I love my Uncle Blair. I've got a picture of him in my locker now, so I leave there to go to every practice, and I'm thinking of him."
Kiel said he has relied on his family -- arguably the first family of Indiana football -- to get through the difficult time. His brothers Drew and Dusty played at Illinois State and Indiana, respectively, and his father Kip played at Butler.
His uncle, who started all four years with the Irish, was always supportive of Kiel growing up. Kiel said that during his last trip home to Columbus, Ind., before Easter break, Blair saw him wearing Notre Dame gear, hugged him and told him how proud he was.
"He was always there for me and my brothers, and he made things a lot of fun," Kiel said. "And knee football was probably the funnest thing I remember doing with him -- just him tackling us and chipping our knees and running around. It was a good time."
Coaches and teammates were impressed with how locked in Kiel was upon returning to campus, and Kelly said the broken play in Saturday's practice illustrated how much fun Kiel is to coach.
"He's a great, great player, a great kid, a great person -- you hate to see something like that happen to him and his family," fellow quarterback
Andrew Hendrix
said. "But he bounced back so well. He's asking [if] maybe he should take home like a weightlifting thing to do when he's home, he's so bought in to this. And it's cool to see. Glad to have him back, glad to have him at practice, but he's responded so well and it's just good to have him back."
March, 28, 2012
3/28/12
9:00
AM ET
With Notre Dame a week into spring practice, the fifth-year players officially returning and the 2012 recruiting class finalized (we think), let's break down the Irish's complete roster, position-by-position, as it gears up for Year 3 under Brian Kelly.
We'll start with the offense today and delve into the defense tomorrow, with special teams coming Friday.
QUARTERBACK
The players:
Tommy Rees
,
Andrew Hendrix
,
Everett Golson
, Gunner Kiel
The incoming:
None
The breakdown:
Experience is the only real way to rank these guys, as Rees has 16 starts, Hendrix has played in five games, Golson has sat a year learning the offense and Kiel arrived on campus just two months ago. Nonetheless, that likely won't matter as Kelly goes to a square-one approach, opening the playbook from the beginning to allow for a fair chance for everyone. The decision -- which will likely be up in the air deep into the summer -- may prove to be Kelly's biggest so far with the Irish.
RUNNING BACK
[+] Enlarge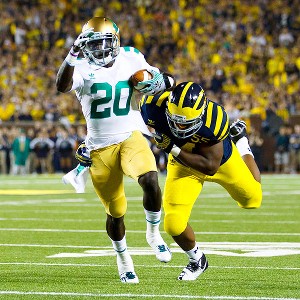 Rick Osentoski/US PresswireCierre Wood is still the clear favorite in Notre Dame's backfield, but the Irish have other running backs ready to vie for playing time.
The players:
Cierre Wood
,
Theo Riddick
,
George Atkinson
,
Amir Carlisle
, Cam Roberson,
Tyler Plantz
The Incoming:
Will Mahone, KeiVarae Russell
The breakdown:
Wood is the clear No. 1, as he was heading into last season as well. Riddick broke off a pair of huge runs toward the end of Saturday's scrimmage, and Kelly wanted both him and Atkinson to see more time back there as Wood rested with a minor quad injury. (Kelly said Wood did go in the rodeo drill earlier.) Both Riddick and Atkinson are capable of playing in the slot, and may end up seeing more time catching balls this season than taking handoffs, though Tony Alford will coach both regardless.
Carlisle, the USC transfer, is eligible to play in 2012 but out for the spring with a broken ankle. Where he fits in will be interesting, as carries may be hard to come by if Atkinson really progresses this spring in the backfield. The 5-foot-10, 185-pound Carlisle was featured on kickoffs last season with the Trojans, and there, or on the punt return team, may prove to be the fastest way on the field for him.
WIDE RECEIVER
The players:
John Goodman
,
T.J. Jones
,
Robby Toma
,
DaVaris Daniels
,
Daniel Smith
,
Luke Massa
,
Eric Lee
,
Nick Fitzpatrick
,
Ryan Liebscher
The incoming:
Justin Ferguson, Davonte Neal
The breakdown:
Goodman has talked about making the most of this last chance, and the coaching staff would not have invited him back for a fifth year had it not believed in him. Whether he can be a top target is up in the air, but he should bring some stability and leadership to a group loaded with youth. Jones has been solid through two years and Kelly has said he is on the cusp of breaking out. Toma has done everything asked of him and then some in the slot when replacing the oft-injured Riddick, and he may have the position to himself this year.
Daniels has the complete package physically, but he has yet to take a snap after redshirting last season. He was seen running with the 2s to start spring, but that could easily change with a strong showing. Smith, too, ran with 2s to open spring, but he must stay healthy first. Ferguson has the tools to compete for playing time upon arrival, but that could likely depend on how the incumbents step up in front of him. Neal is pegged as an athlete, but Kelly said there are no plans right now to play him at corner upon his arrival. He could possibly be a playmaker at receiver or on special teams.
TIGHT END
The players:
Tyler Eifert
,
Troy Niklas
,
Alex Welch
,
Ben Koyack
,
Jake Golic
,
Arturo Martinez
The incoming:
None
The breakdown:
We all know what Eifert can do, which is why he almost entered the draft this year. Niklas is the big question mark. And by big, we mean it literally. A switch from linebacker -- where he started one game last fall as a freshman -- to tight end for the 6-7, 252-pounder has many excited to see what the offense can do with a potential two tight end set. Everyone saw what the
New England Patriots
did last year with
Rob Gronkowski
and
Aaron Hernandez
.
It would be foolish to expect that much so soon -- both without
Tom Brady
as the Irish's quarterback and without Niklas having played the position since high school. How quick Niklas can master the playbook and blocking could go a long way in seeing some of these sets come to fruition. The move does leave some to wonder what this means for Welch and Koyack, but the duo is young and, according to tight ends coach Scott Booker, up for the challenge.
OFFENSIVE LINE
The players:
Zack Martin
,
Chris Watt
,
Braxston Cave
, Mike Golic,
Tate Nichols
,
Christian Lombard
,
Bruce Heggie
,
Jordan Prestwood
,
Matt Hegarty
,
Conor Hanratty
,
Nick Martin
,
Brad Carrico
,
Matt Tansey
,
Dennis Mahoney
The incoming:
Mark Harrell, Ronnie Stanley
The breakdown:
Cave will not be playing much, if at all, this spring as he recovers after injuring his foot last season. Golic, who started in his place, is the center with Cave out, but it would not be surprising to see Golic move to right guard upon Cave's return. Right now Lombard is manning the right guard spot, with Nichols at right tackle. How the second unit gets shuffled upon Cave's return to the starting unit remains to be seen, but to open spring, it consisted of Heggie, Prestwood, Hegarty, Hanratty and Martin.
April, 4, 2011
4/04/11
5:00
PM ET
SOUTH BEND, Ind. -- How will Notre Dame's offense operate if star receiver
Michael Floyd
is gone for a significant portion or even all of the 2011 season? Maybe like the New England Patriots.
[+] Enlarge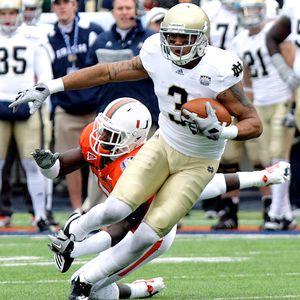 AP Photo/El Paso Times/Mark LambieNotre Dame plans to run more tight end sets if receiver Michael Floyd is out for an extended period of time.
Without Floyd, who was suspended following a recent DUI arrest, the Irish could lack a wideout who can truly stretch the field. The good news is they have plenty of players who can catch the ball and a tight end corps that head coach Brian Kelly says can go five deep.
"When you lose a player like Michael Floyd, I don't know if you replace him without an issue," Kelly said. "But you can do certain things with our personnel groupings where we change our look a little bit. I really believe that our go-to would be more tight end sets. We'd be a little more like the New England Patriots team that used multiple tight end sets but still could spread it and use ball control."
Kelly is excited about what the Notre Dame tight ends can do, led by
Tyler Eifert
and
Mike Ragone
. He said
Jake Golic
has made great progress in the offseason, and incoming recruit Ben Koyack could be a weapon right away.
As far as downfield threats, that's a different story. Physically speaking, the 6-foot-4
Daniel Smith
might have the closest attributes to Floyd. But Smith has been slowed this spring by a hamstring injury and lacks experience. It remains to be seen if
John Goodman
can develop into a No. 1 target, and
Theo Riddick
is more of a slot guy. Kelly said incoming freshman DaVaris Daniels could make an immediate impact. But the Irish may have to rely on the short passing game and running the ball more than explosive plays downfield.
"We can still win football games and score points without having four wide receivers on the field," Kelly said.
Floyd's future will first be determined by the school's Office of Residence Life, and Kelly said Friday that a decision from that group could come soon. Whatever punishment it doles out, Kelly said the senior receiver still must meet the coach's own guidelines before being reinstated on the team. Without divulging specifics, Kelly said Floyd has taken steps toward meeting those goals.
Kelly said Floyd -- who has had other alcohol-related problems in his past -- would be better served to remain a part of the program.
"He needs help," Kelly said. "I think I fail if I read about him in the NFL in two years doing something like that. He's looking for help and we're going to be there for him."
June, 2, 2010
6/02/10
11:52
AM ET
There was some concern among Notre Dame fans about whether Brian Kelly could attract elite talent. After all, Kelly's previous stops at Grand Valley State, Central Michigan and Cincinnati didn't exactly allow him to mine five-star prospects from around the country.
It may be time to retire those concerns, however. Kelly and his staff are now working on their first full recruiting season in South Bend, and by the looks of the initial
2011 ESPNU 150
, they're off to a strong start.
The Irish have commitments from three of the nation's top 150 players, as rated by ESPN's Scouts Inc. They are: offensive tackle
Matthew Hegarty
(No. 24); tight end
Ben Koyack
(No. 79) and offensive tackle
Jordan Prestwood
(No. 129). The three prospects show Notre Dame's national reach, as Hegarty is from New Mexico, Koyack is from Pennsylvania and Prestwood hails from Florida.
Kelly and his staff will have to prove they can continually bring in top-flight talent on the defensive line, which has been a sore spot for Notre Dame. But at least the Irish are off to a solid start on the recruiting trail.