October, 26, 2013
10/26/13
7:07
PM ET
MINNEAPOLIS -- Play calls in football have unusual names. Coaches assign the words to ensure clarity in the language barked at the line of scrimmage, to offer a reminder of the formation or personnel.
Rarely does their strategy involve the opponent. This one did: Shift Husker Bob Y-Go.
Minnesota offensive coordinator Matt Limegrover called it for the first time on Saturday as the Gophers opened their second drive of the third quarter.
Ahead by four points, they sent 6-foot-6, 302-pound freshman Ben Lauer wide like a receiver. He settled into a stance at the snap, providing a distraction just long enough for tight end Drew Goodger to flash open and snag a pass from Philip Nelson that gained 21 yards.
Four plays later, Nelson scored. Minnesota went back to the 6-5, 265-pound Goodger twice more in the third quarter for a total of 68 yards -- more than double his receiving yardage total in six games this year prior to Saturday.
[+] Enlarge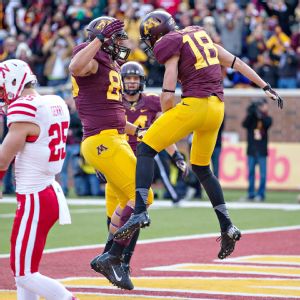 Jesse Johnson/USA TODAY SportsMinnesota took a page out of Nebraska's playbook to pull out the victory against the No. 24 Huskers.
Yes, Minnesota went big against 24th-ranked Nebraska in this 34-23 victory at TCF Bank Stadium. The Gophers beat the Huskers at their own once-dominant game, punishing the Blackshirts in a way Nebraska has for 50 years trounced Minnesota.
The Gophers rushed for 271 yards, the most allowed by Nebraska in an already disappointing defensive season, and they did it by running downhill. Few big gains; just a consistent, powerful, deflating attack that stung Nebraska in ways the Huskers never imagined might happen at this venue.
You see, Minnesota has long served as a Nebraska doormat, like an out-of-conference version of Kansas or Iowa State before the Huskers' 2011 Big Ten entry. The victory on Saturday snapped a 16-game Nebraska winning streak in the series.
Minnesota last beat the Huskers in 1960. Nebraska won the past 12 games by an average of more than 40 points.
"Those games have no meaning to us," said Tracy Claeys, the Gophers' acting coach and defensive coordinator under Jerry Kill before the Minnesota coach took a medical leave to undergo treatment for his epileptic seizures.
Kill watched again on Saturday from the press box. He attended practice last week and spoke to the Gophers before the game. He came to the locker room again at halftime and told the other coaches to leave him with the players.
Claeys said he's never spent time around a coach as competitive and caring as Kill, a rare mix.
"To have him around just means so much," Claeys said. "We want to make sure we do him well."
They sure did, storming back from a 10-0 deficit with 17 straight points in the first half, then burying the Huskers with a late defensive stand and a 34-yard touchdown march to ice it in the final minute.
Minnesota completed just eight passes. But it controlled the line of scrimmage. It forced two turnovers and committed none. It sacked Nebraska quarterback Taylor Martinez four times.
A small army of Huskers limped off the field.
"We know who we are," Minnesota running back David Cobb said, "and we know what we like to do."
Cobb rushed for 138 yards on 31 carries. The junior from Killeen, Texas, talked to the Huskers in the recruiting process, he said, but Nebraska didn't offer a scholarship.
"If you're going to win Big Ten football games," Claeys said, "you've got to run the ball and stop the run."
It stings for Nebraska, because that plan, for decades, epitomized Nebraska. So much of what happened on Saturday stings for the Huskers. The name of the jumbo formation, the method through which Minnesota inflicted misery.
And then there's this: Limegrover said the Gophers pored over film of Wisconsin's 70-31 victory over the Huskers last year in the Big Ten championship game. Some of Minnesota's misdirection and sweep plays came straight from that film.
You mean, the Huskers haven't fixed that yet?
"This game comes down to blocking and tackling," Nebraska coach Bo Pelini said, "and we didn't do that very well."
Really, it's about more than that for Nebraska. It's about a painful loss on Saturday that harkened images of an era in this program that began a decade ago with defeats to programs like Kansas and Iowa State and ended with the 2007 hiring of Bo Pelini that was supposed to stop such madness.
Claeys said after the game that "there are bigger wins out there for us."
Painful words again for Nebraska, but the coach is right. Minnesota, after consecutive Big Ten wins for the first time since 2010, is bowl eligible in October and plays Indiana and Penn State before a tough finishing stretch against Wisconsin and Michigan State.
The Gophers celebrated Saturday on the field with Minnesota students, but they're not ready to rest on this success.
"Whatever we're doing right now is working," sophomore quarterback Philip Nelson said, who replaced starter Mitch Leidner after three possessions.
It's an odd mix, for sure, the quarterback rotation and uncertain coaching situation.
"On the inside, as a staff, we could see it getting better," Claeys said. "But the kids needed something to give them belief."
Saturday gave them belief.
Claeys said he was a freshman in high school when Nebraska visited Minnesota 30 years ago and won 84-13. Some old-timers at Minnesota bitterly remember that game. None of the current Gophers, of course, were alive.
The Huskers also played UCLA and Wyoming out of conference in 1983, winning by a total of 68 points -- opponents that combined to outscore Nebraska by 17 points this season.
It's a new age at Nebraska.
At Minnesota, too, and for the better here.
July, 31, 2012
7/31/12
9:00
AM ET
Offensive linemen are usually a pretty anonymous bunch by nature, but Minnesota has taken that to another level in recent years.
You won't find any names from the Gophers' O-line on the Outland or Rimington trophy watch lists this preseason, or on any preseason All-Big Ten teams, for that matter. That's just continuing a recent trend. No Minnesota offensive lineman has been named a first-team All-Big Ten performer since Outland winner Greg Eslinger and Matt Setterstrom both did so way back in 2005.
That's an awful long time for a program that used to produce outstanding linemen on a regular basis, and the current players know all about the drought.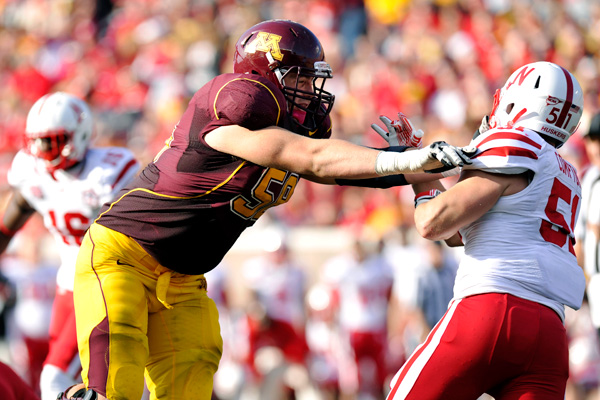 Cal Sport Media via AP ImagesMinnesota linemen, such as left tackle Ed Olson, have focused on bulking up this offseason.
"All offseason, we've been saying we've got to get a name for ourselves," tackle
Ed Olson
said. "We haven't had the best name for Minnesota football in the past few years, not since Matt and Greg."
One could understand why the Gophers have struggled to produce, say, All-American defensive tackles or first-round quarterbacks. But their roster should seemingly be chock full of burly linemen, given their location and the demographics of their state. After all, the flagship programs in neighboring states Wisconsin, Iowa and Nebraska all consistently field strong lines anchored by pro prospects.
"There's no question that you've got to do a good job in your state, and with where we're at, we've got to be able to get the big, strong physical kids," second-year Minnesota coach Jerry Kill said. "That's who you are. That's the state of Minnesota -- hard-working, lunch-pail type people -- and we need to recruit and develop a football team with the mentality of our state."
Kill has always had physical teams known for running the ball at his previous four head-coaching stops, and that's what he's hoping to build with the Gophers. It all starts with recruiting, and that's why Kill is excited about two in-state, incoming freshmen the Gophers signed in February:
Jonah Pirsig
, a 6-foot-8, 300-pounder who was offered by Wisconsin and Iowa; and
Ben Lauer
, a 6-6, 260-pound tackle.
"Wisconsin made a pretty good living on our side [of the border] there for a while, but we've been able to keep some of those players in-state," Kill said. "And you once get length and size, you've got to build it in the weight room."
Minnesota has been trying to do that with the current players, and Kill said last week that the offensive linemen have put on an average of 15 to 20 pounds per man this offseason. Olson is a great example; the fourth-year junior weighed 290 pounds last season but said Friday that he's up to 320 now.
The starting left tackle might be the Gophers' best chance for a breakout star on the line this season. He was recruited by Iowa and Michigan but chose to follow in the footsteps of his father, also named Ed, who played for Minnesota in the early 1980s. His younger brother, Tommy, is one of three freshmen who started games on the line a year ago.
"We were young last year, but I think all that experience is making us all push each other more in the offseason," Ed Olson said. "[Offensive coordinator] Matt Limegrover always tells us that everything starts up front, and we take pride in that."
This much is for sure: Minnesota will need to start churning out standout offensive linemen again if it wants to finish higher in the Big Ten standings.