NCF Nation:

Ben Strickland
February, 6, 2013
2/06/13
2:19
PM ET
Gary Andersen's roots are on the defensive side of the ball, which came in handy the past six weeks. Andersen's first priority as Wisconsin's new coach was to defend and retain the team's verbally committed players from other potential suitors. He and his staff also had to add a few pieces to their first recruiting class. They did a good job of achieving both objectives as Wisconsin on Wednesday finalized a
class of 17 scholarship players
, headlined by ESPN 150 running back
Corey Clement
and junior college quarterback
Tanner McEvoy
.
ESPN.com caught up with Andersen on Wednesday to discuss his first recruiting haul.
What are some of the challenges you faced coming in when you did, trying to keep the committed guys, and then trying to go out and get some new guys?
Gary Andersen:
I think the biggest challenge first of all was getting a staff put together. Thomas Hammock and Ben Strickland did an unbelievable job of really calming the waters when the transition took place. Once I was able to retain them on the staff, it took off from there. They had the parents settled, the coaches settled, the young men settled to say, 'Hey, let's just wait and see what happens here.' So that was a big first step. Secondly, it was getting the [remaining] staff hired, and thirdly, it was getting into their homes and presenting who we are as a program. The positive thing is you didn't have to go out and talk about education or a great program or facilities. What you had to do is go in and lay the groundwork of who we are as coaches, and work to start the trust factor that's really built over a period of six or seven months in the recruiting process, and try to get that down in three weeks. That's very difficult. But those were the major challenges. Most of our young men, except for the four we signed once we came here, had already taken [recruiting] trips, so we did have a little bit of a convenience there, being able to be out on the road some of those weekends. For me, there are 17 total kids, and the goal is to get into 17 homes in a very short period of time. We started with the commits we had and sort of went from there. There's a lot to it, but I'm very pleased with the coaches and grateful to the mentors, the parents, the kids and the coaches who hung in there with us and gave us a chance. It all ended very well.
[+] Enlarge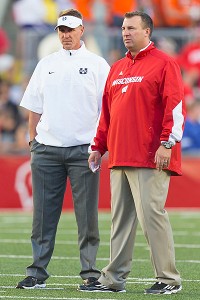 Jeff Hanisch/USA TODAY SportsGary Andersen, left, who replaced Bret Bielema as Wisconsin's coach, said his staff worked hard to earn the trust of recruits and their families in a short amount of time.
How were you received by those players and their families? Did it surprise you one way or another?
GA:
We were received at first cautiously, which I would expect. You get somebody walking into your living room or picking up the phone that is brand-new. They want to get to know you. They're people who have been through this recruiting process, and have great care for each one of the young men. So everybody's going to be guarded when they first get into that scenario. I'm never a guy who walks in and says, 'Hey, trust me right now.' I want to be able to earn your trust. But we got that done in a short period of time. They understood the direction we're headed. My big push, and it always is and always will be, is to let them understand that we're going to take care of the kids first. As we went through that process and they understood who we were. When we walked out of those homes, they felt very comfortable with us.
You inherited a roster that has three quarterbacks with starting experience (Joel Stave, Curt Phillips and Danny O'Brien). Why did you feel the need to bring in another quarterback, and why did Tanner appeal to you?
GA:
You're right, there is great competition at the quarterback spot here. Last year, we had three young men start and play in games, and [they] have done some good things. But for us, just like every position, the key is to create as much competition as we possibly can. We had some injuries at the quarterback position. There were a couple young men who had injuries, a couple young men recovering from injuries. All of them look good, but there's still that question mark of 'are we healed and can we really get through a season in the Big Ten the correct way?' That played a factor into it. The next thing is Tanner's a tremendous athlete, a tremendous quarterback, and he does a lot of things that we like at that position. He strengthens our competition for next fall, and he has three years left. That was another thing that was very intriguing to us.
The other thing I liked is Tanner has had to fight his way here. He started off strong and got himself in a Division I school [South Carolina], and then he had to go back into the junior college and fight his way through there for a year. The story he tells about going through that process and making his decision in about four days to hop on an airplane to Yuma, Ariz., where he'd never been before. That builds toughness. It builds commitment to the sport of football. It helps him grow as a young man, which I think will continue to make him be a very good quarterback going forward. And he brings a lot of athleticism to the position. As we move forward, we'll see how that all filters out, but the best players are going to play, bottom line, and we have great competition there.
January, 3, 2013
1/03/13
7:40
PM ET
New Wisconsin head coach Gary Andersen on Thursday announced five assistant coaches for the 2013 season.

Several of these names have already been reported but
they're now official
. Here's the rundown:
Andy Ludwig, offensive coordinator/quarterbacks
Dave Aranda, defensive coordinator
Bill Busch, secondary
Chad Kauha'aha'a, defensive line
T.J. Woods, offensive line
Andersen is retaining two assistants from the previous Badgers staff: running backs coach Thomas Hammock and Ben Strickland, who coached the secondary in 2011 and will assist Busch.
Andersen worked with Ludwig at Utah, and Kauha'aha'a worked on Andersen's staff at Utah State before joining Utah's last year. The other three assistants -- Aranda, Busch and Woods -- served on Andersen's staff at Utah State this past season.
The notable absence here is Bart Miller, who coached Wisconsin's offensive line this season after being promoted from his graduate-assistant role to replace the fired Mike Markuson. Miller fostered improvement with the line and
gained the respect of the players
, but Andersen opted to go with Woods, who coached four first-team All-WAC selections the past two seasons, as his line coach. Miller mentioned before the Rose Bowl that he could be auditioning for a spot on Andersen's staff. Ironically, Woods helped tutor Miller at New Mexico as an offensive graduate assistant there.
Andersen still has two assistant coaches to hire, so we'll see if Miller ends up filling one of those spots. Tight ends/H-backs coach is a possibility for Miller.
"I have previously worked with the five coaches we are bringing in and I have gotten to know Thomas and Ben in the last few weeks so that familiarity will be beneficial," Andersen said in a prepared statement. "Both on offense and defense, these coaches have shown a lot of flexibility within their systems, and their main goal is to get the best 11 players on the field and build around their strengths. Our style on offense will be very familiar to Wisconsin fans while on defense I am confident that we can continue the great tradition of tough and physical units that has been established here."
Although most of the new additions spent most of their careers on the West Coast, Busch has ties to Wisconsin after serving as a graduate assistant for former Badgers coach Barry Alvarez in 1993-94.
Thoughts on Andersen's staff additions?
January, 2, 2013
1/02/13
1:00
PM ET
PASADENA, Calif. -- After he'd finished all his Rose Bowl postgame media obligations, Barry Alvarez took one last stroll through the Wisconsin locker room to talk to some players. He embraced redshirt freshman
Derek Watt
and told him, "You're going to be the best fullback in America next year."
Another year, another painful Pasadena memory for the Badgers, who lost 20-14 to Stanford on New Year's Day. But as Alvarez scanned that locker room, he saw enough returning talent to think that Wisconsin can get to a fourth straight Granddaddy.
"We have a very good nucleus coming back next year, a lot of juniors, and they have a chance to be an outstanding squad again next year," he said.
Of course, Alvarez heads back to his athletic director's office today, and it will be up to new coach Gary Andersen to mold that talent for another run. Andersen should have a pretty good idea of the team's strengths and weaknesses after attending some of Wisconsin's bowl practices and then watching Tuesday's game from the sidelines.
Yet transitioning to another new coaching staff might remain the team's biggest challenge for 2013. Andersen has retained running backs coach Thomas Hammock and defensive backs coach Ben Strickland and may keep offensive line coach Bart Miller to oversee tight ends. But other than that, the staff will be entirely new, with two new coordinators. In that regard, it will be like last year's offseason, when Wisconsin lost six assistants, then dumped offensive line coach Mike Markuson for Miller after Week 2.
"Obviously, it's frustrating to lose coaches and have to learn a new offense," quarterback
Curt Phillips
said. "But I think our guys responded well to that this year. We didn't start off the season like we would like, but I thought rebounded really well and hopefully we can do the same thing next year."
Andersen's job should be made easier by a wealth of experience returning. The Badgers' two-deep against Stanford included nine seniors, but two of them -- Phillips and defensive end
Brendan Kelly
-- will return for a sixth year next season, assuming the NCAA does the right thing with Phillips' waiver request. Four juniors -- center
Travis Frederick
, linebacker
Chris Borland
, receiver
Jared Abbrederis
and guard
Ryan Groy
-- submitted paperwork to the NFL draft advisory board, but Borland told ESPN.com after the game that he was definitely returning to school.
Wisconsin returns its top eight players on the defensive line and all but one offensive lineman (Ricky Wagner) if Frederick and Groy stick around. After battling quarterback depth issues for a couple of years, the Badgers should have their fiercest offseason battle there in some time. Phillips,
Joel Stave
and
Danny O'Brien
all started games this year and will return, while redshirt freshman
Bart Houston
should be healthy and thrown into the mix and
Jon Budmayr
will give it another go.
The team's biggest star, touchdown king
Montee Ball
, is moving on to collect paychecks. But there's little worry about the running back position, not with
James White
back as a senior and budding superstar
Melvin Gordon
should start receiving many more carries.
The two biggest concerns are at wide receiver, where Wisconsin never established a another threat to complement Abbrederis, and in the secondary, which loses three starters. But the Badgers will have a senior-laden team and one that former coach Bret Bielema predicted would be his best before he bolted for Arkansas.
"We're going to have one of the biggest senior classes coming out next year since I've been around," departing senior cornerback
Devin Smith
said. "A lot of underclassmen were big contributors this year. So I think it's going to be a great team with a chance to get back here next year."
Of course, the Badgers won't benefit from Ohio State being on probation next season, and they'll have to go to Columbus. But they trade Nebraska and Michigan State as crossover division games for Iowa and Northwestern, the latter of which is at Camp Randall Stadium. They will have to solve the riddle of why they lost so many close games in 2012 (six by a combined 25 points).
"We've got to look at it as a learning experience," Frederick said, "and try to figure out what was the same in all those games and what troubled us."
If they can do that, make a successful transition and deal with the monster Urban Meyer is building, then maybe Wisconsin will go for a fourth Rose petal in four years. The Big Ten and the rest of America might not like that, as the Badgers run the risk of becoming college football's version of the 1990 Buffalo Bills.
Ball is the only player to score a touchdown in three straight Rose Bowls, but he understood that his legacy will also include those three straight losses.
"Hopefully, they can come here next year and win it," he said, "which was something I couldn't do."
December, 21, 2012
12/21/12
12:30
PM ET
Gary Andersen got his first taste of Wisconsin earlier this year. He spent the summer preparing his Utah State team to play the Badgers in Madison on Sept. 15. During game week, he had "Jump Around" play in the Aggies auditorium and told his players to pretend it wasn't on.
"I had one receiver who just couldn't do it," he said.
Now Andersen doesn't have to worry about his players dancing to House of Pain before the fourth quarter. He was formally introduced as the new Wisconsin head coach on Friday morning and spoke about how much respect he gained in a short time for the Badgers program. After a strong performance at the podium, he probably has gained some respect from Wisconsin fans in a similarly rapid fashion.
Here are some of the key takeaways from Andersen's news conference.
-- Andersen confirmed one assistant he plans to have on staff: current Badgers secondary coach Ben Strickland. "He is Wisconsin, if you will, when it comes to recruiting." He said he's interested in retaining other coaches on the current staff and that it's vitally important that he has assistants who know how to recruit Wisconsin and the Midwest, where Andersen has no previous ties. Andersen said he plans to bring along "three or four" assistants from Utah State and also will look for a couple of coaches currently at other schools.
[+] Enlarge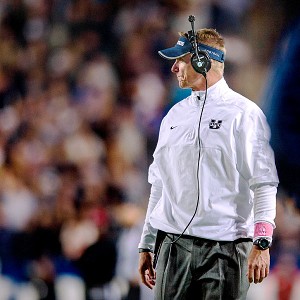 Douglas C. Pizac/USA TODAY SportsGary Andersen says he plans to continue to run the ball at Wisconsin.
-- The hire people will be most curious about is offensive coordinator. Not surprisingly, the first question Andersen got was about his offensive philosophy. He ran a spread system at Utah State, though it had power run elements.
Andersen said his first priority is to run the football, and he'll use Wisconsin's tradition of mammoth offensive linemen. He also wants to add "a touch of option" to the offensive attack. We'll have more on Andersen's comments about the offense coming up in a bit on the blog.
-- Andersen said he planned on attending the Rose Bowl but didn't want to be a distraction to the team as it prepares for Stanford. He has met with the linebackers and a couple of other players but mostly just to introduce himself. He said he'll focus on securing Wisconsin's current commitments and recruiting new players once the NCAA clears him to start talking to prospects as the Badgers coach.
"These kids need to go win a Rose Bowl," he said. "The last thing they need from me is to hang around them. I'm going to be a fly on the wall"
-- Recruiting will start in state. Andersen noted that Utah State only had 18 kids from Utah on the team when he took the job but had 55 in-state players this year on the roster. He planned to call all the Wisconsin high school coaches right away and vowed to lock down the recruits in the state. But Andersen also said that the Badgers were a big enough brand to recruit nationally.
"We should be able to get in any recruiting fight we want to get ourselves into," he said.
-- Andersen drew some criticism for issuing a statement a couple of weeks ago saying that he was staying at Utah State after interviewing for a few jobs. He said he was ready to stay there and told his players he wasn't leaving but at that time, "Wisconsin was nowhere to be seen for me." Once the Badgers job came open and athletic director Barry Alvarez contacted him, Andersen didn't have to give it much thought.
"When coach offered me the job, I just said yes," he said. "I think I shocked him. I didn't ask any questions."
Andersen did call every one of his players Tuesday night to tell them of the decision. It wasn't easy, since the players had already left campus, and he worked the phones until 2 or 3 in the morning.
"It was probably the most difficult thing I've ever had to do in my college career," he said. "It was emotional, 106 times."
-- Andersen coached for one year under current Ohio State coach Urban Meyer at Utah. He said he reached out to Meyer when considering the job, and the first thing Meyer told him was that Wisconsin was a great job. "But then in the next text, he shot back, 'But you've got to come and play us.'" He said Meyer never got mad at him when they worked together because the Utes didn't lose a game in his one season as a Meyer assistant.
-- He has spent most of his life in the Utah area, so Andersen was asked about the cultural differences in coming to Wisconsin. He joked that he shoveled snow in Logan, Utah, before flying to Madison, where he was greeted by a snowstorm. "Snow is snow," he said. "Cold is cold."
-- Alvarez said he first noticed Andersen when Utah State nearly upset Auburn on the road in 2011. He liked the way Andersen handled himself on the sidelines and how his team played with no fear. After that, he said, he began following Andersen's career closely and got to see him in person in September.
Alvarez said Andersen was the only coach to whom he offered the job, though he said he met face to face with three candidates. During the interview process, the two found their philosophies to be in line. Alvarez said that after talking with Andersen, an associate who was in the room told him, "If I would have had a blindfold on, I would have thought that was you answering the questions."