NCF Nation:

Benardrick McKinney
July, 14, 2014
Jul 14
2:30
PM ET
The opening of SEC media days isn't the only news of the day. Two more college football award watch lists debuted Monday, and the SEC is a major player on both.
Thirteen of the 123 watch list honorees for the Lombardi Award, which is given annually to the top lineman or linebacker, are from the conference. Likewise, nine of the 51 nominees for the Butkus Award, which goes to the top linebacker, are SEC players.
Here are the full lists of SEC nominees:
Lombardi
G
A.J. Cann
, South Carolina
OT
La'el Collins
, LSU
C
Reese Dismukes
, Auburn
DE
Trey Flowers
, Arkansas
LB
Leonard Floyd
, Georgia
LB
A.J. Johnson
, Tennessee
DT
Chris Jones
, Mississippi State
OG
Arie Kouandjio
, Alabama
LB
Benardrick McKinney
, Mississippi State
DT
Robert Nkemdiche
, Ole Miss
OT
Cedric Ogbuehi
, Texas A&M
DE
A'Shawn Robinson
, Alabama
LB
Ramik Wilson
, Georgia
Butkus
Trey DePriest
, Alabama
Leonard Floyd, Georgia
Kris Frost
Jordan Jenkins
, Georgia
A.J. Johnson, Tennessee
Benardrick McKinney, Mississippi State
Braylon Mitchell
, Arkansas
Reggie Ragland
, Alabama
Ramik Wilson, Georgia
April, 2, 2014
Apr 2
9:00
AM ET
STARKVILLE, Miss. -- When Dan Mullen first took over as Mississippi State's head coach before the 2009 season, the goal was very simple: Make it to bowl games.
For a program that lacked the historical success of the SEC's big boys, a bowl game here and there was something Mississippi State was more than happy with.
But those were simpler times in Starkville.
Now, as Mullen enters his sixth season with the Bulldogs, just becoming bowl eligible isn't good enough. When you make it to four straight, it's time to take the next step, and the overwhelming feeling around the program is that the time is now for Mississippi State.
"When we got here, we talked about winning a championship," Mullen told ESPN.com last week. "And guys thought that was good talk and was something they wanted to do, but they weren't sure that it could [happen]. There's still that hesitation of 'Well, it sounds great, but how real is it?'
"You look at this team, and our guys expect to compete for the SEC West championship this year."
And this isn't just an up-and-coming team puffing smoke about the place. This is a team that returns 20 of 22 defenders who were on last season's bowl roster. It has a potential All-SEC quarterback and lost five total starters from a 2013 team that finished on a three-game winning streak that included an overtime victory over archrival Ole Miss and a bowl blowout of Rice.
When Mullen approached his team shortly after the Bulldogs' 44-7 drubbing of Rice in the AutoZone Liberty Bowl, he found an anxious group. Players wanted back on the field. The months before spring practice were too long, and they couldn't even comprehend the thought of not smashing into someone not dressed in maroon for another nine months.
The momentum this team got from the tail end of the 2013 season has fueled players like no other season has, veteran linebacker
Benardrick McKinney
said. Center
Dillon Day
said there's a lot more trust throughout the roster with the improved depth at just about every position.
[+] Enlarge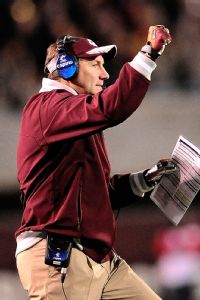 Stacy Revere/Getty ImagesDan Mullen says Mississippi State has big goals this season: "Our guys expect to compete for the SEC West championship this year."
There's a familiarity within this team that has players salivating over improving on a 7-6 season that brought Mullen one win away from tying for second all-time at Mississippi State. The theme of this spring is gaining even more ground on the perceived SEC front-runners.
"We aren't really given a shot with those types of teams, but this year I definitely feel like we're going to be a factor to deal with," Day said. "We definitely can beat those teams.
"This year, we have all the factors; we have every position filled up."
Mullen understands that confidence alone won't take the Bulldogs to their second SEC title game. Games have to be played and wins have to appear. Mullen might own the program's highest winning percentage for a coach (36-28, .563) since the late Darrell Royal in 1954-55 (.600), but he has yet to even sniff the SEC West crown.
During his impressive 9-4 season in his second year, he finished just 4-4 in SEC play. He hasn't eclipsed that many conference wins in a season since and has had losing conference records three times.
Mullen has had four straight winning seasons but hasn't hit the double-digit mark for wins. On paper, the Bulldogs are a blip on the SEC's radar, but to Mullen, he's seen growth, development and an incredibly inspired team.
For a program littered with former two- and three-star high school prospects, the Bulldogs could prove to be a formidable opponent this season with so much experience coming back. Mullen sees it, players see it and fans are expecting more wins in the treacherous SEC West.
"I want those expectations," Mullen said. "I want our fans to have those expectations; I want our people to have those expectations. I like it on the national level, having those expectations."
It's hard not to blame the Bulldogs' for being confident. Quarterback
Dak Prescott
, who has already earned the dark-horse Heisman moniker from national pundits, ended last year with two very gutty performances against Ole Miss and Rice and returns his top-five receiving targets, including senior
Jameon Lewis
, who registered 923 receiving yards last year.
Running back
LaDarius Perkins
is gone, but Mullen said he's pleased with the talent and depth he has at running back, which starts with potential breakout candidate
Josh Robinson
.
Then there's that defense that finished 2013 fourth in the SEC and 18
th
nationally in total defense. The Bulldogs, which lost just two defensive starters from last year, held their final four opponents to 20 or fewer points and allowed an average of 296.3 yards during that span.
Mississippi State won't get much real national championship talk, but the SEC title isn't out of the question. With the unknowns surging throughout the league, the Bulldogs are set up to rub shoulders with and maybe push around the SEC's elite.
"I've had a good year here and there at Mississippi State, but never consistency," Mullen said. "I'm proud that that's what we've been able to do. Yeah, at some point we'll win a championship here. Maybe this year."
August, 29, 2013
8/29/13
9:00
AM ET
STARKVILLE, Miss. -- An iPhone App said that it was 84 degrees on Mississippi State's campus Tuesday afternoon, which could only be true if Starkville was located at the bottom of a lake. It's only a few minutes into the start of practice and you can see the players struggling with the humid, sapping conditions. Coaches shout at the medical staff to "Water the O-line!" as if the assembly of 300-pound men were a patch of wilting dandelions.
One of the team doctors takes issue with the readout. Robert Collins, a white-haired holdover from the Jackie Sherrill era, says it's at least 5-6 degrees warmer on the practice field most days, and that's not counting the radiant heat, a measurement he argues is a much more accurate gauge of how hot it actually feels. Inside the players helmets, it's a good 20 degrees warmer, he says.
[+] Enlarge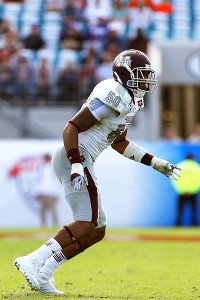 AP Photo/Don Juan MooreThe Mississippi State defensive coaches hope to see more "juice" out of Benardick McKinney and the rest of the Bulldogs defenders.
It
feels
hot watching the Bulldogs run through individual and team drills. There's no shade for onlookers and even less relief for the players trying to catch their breath. Rick Ray, the school's basketball coach, wears a oversized bucket hat to keep from burning. He's here to watch 6-foot-5 freshman wideout
De'Runnya Wilson
, who came to school this summer with intentions of playing both sports, though it looks like football will keep him from doing so.
"They're killing the sled," said Ray, craning his neck to the far side of the field where the defensive linemen are working. "You can hear it all the way over here."
A few minutes later, players break from their position groups and begin to practice live action. What happened next should have looked familiar to Ray. It wasn't basketball, but the tempo sure looked like it. All that was missing was the high pitch of sneakers screeching on hardwood floor.
Mississippi State has long been a team that likes to run the football and control the clock, but today both sides of the ball are working at a full sprint. The NASCAR offense, as coaches call it, is in full effect. There's almost no break between plays. The first series is over before there's even time to measure it by hand. Ready for the second series, the average time between the blow of the whistle and the snap clocks in at roughly 19 seconds.
Players aren't the only ones running. Coaches are, too. Defensive coordinator Geoff Collins waves his hands like a man possessed and screams at his cornerback to, "Crank your a-- up!" before he's dropped to the scout team.
Time, you see, is of the essence.
Oklahoma State and its high-octane offense await Mississippi State on Saturday. The Cowboys, who finished seventh nationally in passing a year ago, averaged one play every 20.3 seconds. Fifty-eight of their 69 offensive touchdowns came on drives that lasted 3 minutes or less. Under the direction of coach Mike Gundy, they scored 19 touchdowns in under 60 seconds, good enough for third in the country.
"Once their tempo gets started, it's like a train rolling downhill," Collins said earlier in the day, "it's kind of hard to stop it."
For more than seven months, Mississippi State has been preparing for Oklahoma State and its no-huddle offense. Collins has stressed to his players that the best way to stop it is to never let it get going in the first place. Negative plays and pass breakups, he says, put the offense at a disadvantage. Throwing off the tempo is the only real option, because once the Cowboys have a defense on its heels, it's lights out.
April, 8, 2013
4/08/13
9:23
AM ET
Eight just doesn't feel good enough in Starkville.
Looking back at a 2012 season that saw Mississippi State's football team start 7-0, reach its third straight bowl for only the second time in school history and reel off at least seven wins for the third straight year, players, coaches and administrators can't help but want more after an 8-5 season.
"I remember when it was acceptable for Mississippi State to win four games, beat Ole Miss and everything was fine," fifth-year senior quarterback
Tyler Russell
told ESPN.com last week. "Now, if you don't go to a good bowl game -- and win a bowl game -- it's like you don't have a successful season. That's great."
It's great because expectations are higher and people believe that under Dan Mullen, who will coach in his fifth season at Mississippi State this fall, the Bulldogs can push through and become real contenders in the SEC.
It's not something that was ever supposed to be quick, but Mullen hasn't strayed from his patient plan of slowly building up this program. In his four seasons, Mullen has gone 29-22, is 2-1 in bowl games, and has watched as the Bulldogs have sold out 23 straight home games. He's also beaten eight of the 11 other SEC teams that were around when he arrived at Mississippi State in 2009. The school has even thrown $75 million into expanding and renovating Davis Wade Stadium.
"I can see that things have changed since I've been here," Russell said. "Three years, four years ago, nobody would have said anything (negative) if we would have had the season that we had last year. They probably would have been happy that we won as many games as we did."
But fans -- and just about everyone in and around the program -- are craving more. Three straight winning seasons for the first time since Mississippi State and four straight from 1997-2000 has Starkville beaming about the future, but last year's late-season stumble brought plenty of concern.
After a 7-0 start and a rise to No. 11 in the BCS standings, the Bulldogs limped to a 1-5 finish and were outscored 188-81 in the process, conjuring past feelings of the historical inconsistency this program has had. All their losses were by double digits and none were closer than 14 points (a 34-20 loss to Northwestern in the TaxSlayer.com Gator Bowl). A 41-24 loss to archrival Ole Miss also stopped the Bulldogs' three-game winning streak over the Rebels.
A soft early-season schedule helped mask glaring defensive issues this team had, causing Mississippi State to go from a force to a phony in a matter of weeks.
Russell, who went from being one of the most efficient quarterbacks in the country to throwing nine interceptions to five touchdowns in the Bulldogs' five losses, said players got complacent after seven wins and developed an almost invincible mindset.
"I wouldn't say you don't work as hard, but I feel like we were like, 'We can't be beat,'" Russell said. "Then, you take that first loss and everything goes down hill and you try to catch back up."
Mississippi State didn't catch up, but with the 2013 season approaching, confidence is being restored. A slew of starters are gone, questions surround a much younger receiving corps, the defensive front has to make major strides this year and the secondary lost three valuable weapons, including Thorpe Award winner
Johnthan Banks
. But core players like Russell, 1,000-yard back
LaDarius Perkins
, linebackers
Benardrick McKinney
and
Deontae Skinner
, safety
Nickoe Whitley
, and four starting offensive linemen return.
Mullen has endured some backlash since the season ended. Foolish talk of him being on the hot seat has made the rounds, and athletic director Scott Stricklin couldn't be more annoyed by it.
"Well, that is silly because he's not on the hot seat," Stricklin told ESPN.com Sunday night.
Mullen isn't even in a hot room, according to Stricklin. Sure, he wasn't thrilled with last November or a poor bowl experience, but Stricklin believes in Mullen's product and loves the organization and structure he has behind the scenes.
"All of those pieces of it are phenomenal," Stricklin said. "Dan has the traits that all really good coaches have. He's very bright, very smart and he's very organized. That's a pretty powerful combination."
What Stricklin wants -- and expects -- is consistent play to build a championship-like program. That means regularly moving past the eight-win mark, annual bowl trips, keeping a recruiting edge and being more competitive in the SEC West, where Mullen has beaten just three teams -- Arkansas, Auburn and Ole Miss.
There will be more stumbles along the way, but Stricklin truly sees a program built for long-term success under Mullen.
"You don't see a lot of Johnny-come-latelys having great success at a high level in this league," he said. "It's the schools that are there year after year after year, and that's what we want to be."
December, 12, 2012
12/12/12
4:20
PM ET
We already took a look at
our All-SEC Freshman Team
, so it's time to hand out some awards for all those talented youngsters.
But we have to make a major adjustment to our awards. We won't be handing out any to Heisman Trophy winner
Johnny Manziel
. The only reason for his omission is because we know that he was not only the top freshman but the top player in the SEC -- and the country -- this season.
He IS our top offensive freshman and made the biggest impact, so we are respectfully leaving him off in order to give praise to other deserving freshmen:
[+] Enlarge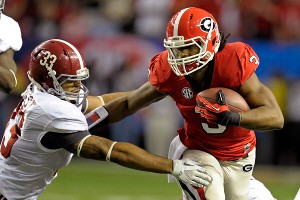 Dale Zanine/USA TODAY SportsTodd Gurley became the first Georgia true freshman to rush for more than 1,000 yards in a season since Herschel Walker did it in 1980.
Best non-Johnny Manziel offensive performance: Todd Gurley, RB, Georgia.
He made an immediate impact from Day 1 after rushing for 100 yards on eight carries and returned a kick 100 yards for a touchdown in the opener. He eventually became the primary back and finished the year leading the SEC in rushing (1,260 yards) and was tied for second in rushing touchdowns (16). He also recorded eight 100-yard rushing outings and averaged 6.3 yards per carry.
Best defensive performance: Denzel Nkemdiche, LB, Ole Miss.
Nkemdiche was all over the field for the Rebels this fall. He led his team and all SEC freshmen with 78 total tackles, including 12 tackles for loss. He also forced four fumbles and grabbed three interceptions during the season. His little brother, who is the No. 1 high school prospect in the country, might garner most of the family attention, but Nkemdiche made a real name for himself this season.
Biggest non-Manziel impact(s): Mike Evans, WR, Texas A&M and Benardrick McKinney, LB, Mississippi State.
Johnny Football might have taken all of the headlines in College Station, but he probably doesn't have the year he did without help from Evans. He wasn't just the most productive receiver on his team but he was fourth in the SEC with 75 catches and receiving yards (1,022). McKinney was one of the most productive defenders in the SEC. He became the Bulldogs' middle linebacker and started the last nine games, finishing fourth in the nation among freshmen and seventh overall in the SEC with 97 tackles. He also registered 4.5 tackles for loss, a sack, four pass breakups and recovered a fumble.
Biggest upside: Dante Fowler Jr., DE/LB, Florida.
There's a reason why Florida State coaches were so upset and why Florida coaches were giddy when Fowler flipped from the Seminoles to the Gators on national signing day. He was exactly what the Gators needed up front with the loss of
Ronald Powell
. He started out as a third-down pass-rusher, but saw his time increase as the season went on. He finished the season with 27 tackles, including 6.5 for loss and 2.5 sacks. He has the ability to be a top pass-rusher and will definitely push Powell for playing time when he returns from his ACL injury.
Best lineman: Evan Boehm, OG, Missouri.
There were some solid offensive and defensive linemen in this year's freshmen class, but Boehm was thrown in the fire earlier than anyone expected and he performed well enough to keep his job at left guard all season. He was also the first-ever true freshman to start under Gary Pinkel on the offensive line and was the only Mizzou lineman to start every game. Injuries forced him into a starting role from the start of the season and he only got better and tougher as the season continued.
Most likely to make you look silly: T.J. Yeldon, RB, Alabama.
A lot of people want to compare Yeldon to former Bama stud Trent Richardson. And you can see why when he runs over people and juts past them with his quick moves. Or you can just ask LSU safety
Craig Loston
, who was embarrassed by Yeldon and the slick move he put on him for the game-winning touchdown in Alabama's comeback win over LSU in Baton Rouge. But Loston wasn't Yeldon's only victim when it came to his elusive moves. A few Georgia defenders needed their ankles wrapped after Yeldon's performance in the SEC championship game.
Biggest high-flyer: Amari Cooper, WR, Alabama.
Cooper became
AJ McCarron
's top weapon all season. He also became one of the best deep threats in the league during the second half of the season. He averaged 16.9 yards per catch, but showed real top-flight speed on more than a handful of plays this year, especially that 45-yard, game-winning touchdown catch in the SEC championship game.
Barrett Jones
describes him as a player who has gear that normal people don't have.
Hardest hitter(s): Trae Elston, S, Ole Miss and Antonio Morrison, LB, Florida.
Suspension aside, Elston laid the legal lumber more than a few times this season against opposing offensive players. He's probably best known for his hit on UTEP WR
Jordan Leslie
that resulted in a suspension, but throughout the year he was a player who delivered a lot of big-time hits. Morrison laid some big hits all year, but his hit on Florida State quarterback EJ Manuel resulted in a fumble and led to the Gators' go-ahead touchdown in their win over the Noles. Morrison developed into one of Florida's toughest defenders and smashed into a lot of opponents.