NCF Nation:

Bernard Wolfgramm
June, 4, 2010
6/04/10
10:07
AM ET
ESPN's "College Football Live" is running down its list of the most irreplaceable players for the 2010 season. So we thought we'd take a stab at it for every Pac-10 team, including a
different take
for USC.
Arizona
: C Colin Baxter. Centers are the quarterbacks of the offensive line, and Baxter is a good O-line QB. He earned second-team All-Pac-10 honors in 2009 and his backup, sophomore Kyle Quinn, has little experience. With Baxter, the Wildcats should be strong up front. Without him, the line would be a question.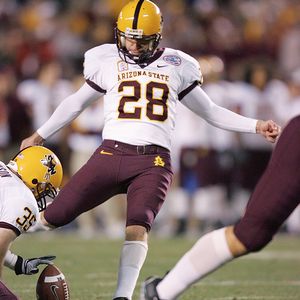 Icon SMIThomas Weber is 11-for-15 on field goals of 40 or more yards during his career.
Arizona State
: K Thomas Weber. Weber, the 2007 Lou Groza Award winner, is a weapon when healthy. While his backup, sophomore Bobby Wenzig, didn't do a terrible job filling in for a hurt Weber last year -- he made 3 of 4 field goals and 10 of 12 PATs -- he's no Weber, who's 11-for-15 from 40 or more yards during his career. The Sun Devils may struggle again on offense next fall, which means that Weber's range will be critical for getting points on the board.
California
: LB Mike Mohamed. Mohamed earned first-team All-Pac-10 honors in 2009 after leading the conference with 112 tackles, 16 more than any other defender. The Bears are replacing two of their four starting linebackers and, oh by the way, they didn't play the position terribly well last fall. It would be a big hit to lose both Mohamed's skill as well as his experience and leadership.
Oregon
: WR
Jeff Maehl
. With the demise of quarterback
Jeremiah Masoli
, the Ducks likely will be a little more pass-happy next fall. That makes Maehl, the Ducks' best receiver, critical. He caught 53 passes for 696 yards and six touchdowns in 2009 and steadily improved throughout the season. The Ducks' next two returning receivers,
D.J. Davis
and
Lavasier Tuinei
, combined to catch 47 passes for 450 yards and two TDs.
Oregon State
: RB
Jacquizz Rodgers
. It's not just that Rodgers is the conference's leading Heisman Trophy candidate. It's also about the Beavers' uncertain depth at the position.
Jovan Stevenson
and
Ryan McCants
combined for 164 yards rushing in 2009. Rodgers had 1,440. McCants turned in his best work yet this spring and the running game had its moments even without Rodgers, but let's just say the ground production likely would suffer -- big -- if Rodgers went down.
Stanford
: QB
Andrew Luck
. Pretty obvious, eh? The Cardinal's offense is already replacing Toby Gerhart. It can't afford to lose Luck also and expect to compete in the top half of the Pac-10. Backups
Josh Nunes
and
Robbie Picazo
are both redshirt freshmen, though if Luck went down, it's possible senior
Alex Loukas
could move from safety back to QB, where he started one game in 2008.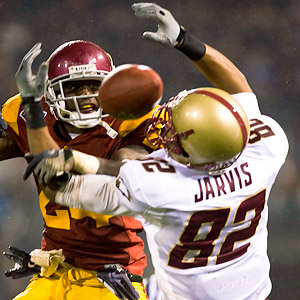 Jason O. Watson/US PresswireThe Trojans are already replacing four starters in the secondary and can't afford to lose their best corner, Shareece Wright.
UCLA
: LB Akeem Ayers. Ayers is an All-America candidate who has a knack for making big plays. If the Bruins' already-rebuilding defense lost him, it would then be replacing all three starting linebackers from 2009. His backup, Isaiah Bowens, is a redshirt freshman.
USC
: CB Shareece Wright. Michael Lev of The Orange County Register already beat me to this one in his
list of indispensable Trojans
. Wright's career has been riddled by injuries and he was academically ineligible last year, but he's long been considered the Trojans' best cover corner. USC is replacing all four starters in its secondary. Wright has four career starts and was a standout this spring. If he went down, the Trojans would have one career start returning in the secondary. That is not a good thing.
Washington
: QB
Jake Locker
. Locker is the Huskies' best player and their unquestioned leader. He's likely going to be a high first-round NFL draft pick next spring. But it's not just how important Locker is. Because last year's backup,
Ronnie Fouch
, opted to transfer, Locker's backup in 2010 will be either redshirt freshman
Keith Price
or true freshman Nick Montana. Neither, obviously, has any playing experience.
Washington State
: DE Travis Long. Long, though just a sophomore, is the Cougars' best pass-rusher and best overall defensive lineman. After a year of getting bigger and stronger, he's expected to be much better in 2010. The Cougars' defensive line already lost tackles Toby Turpin, who was kicked out of school for an academic incident, and Josh Luapo (academic ineligibility) and is waiting to find out the academic status of tackle Bernard Wolfgramm. They are not deep enough up front to recover from the loss of Long. His backup, sophomore Adam Coerper, has no experience.
May, 21, 2009
5/21/09
11:26
AM ET
Posted by ESPN.com's Ted Miller
Guys get hurt, need surgery and time to rehab. Or they get suspended. Or they need some, er, extra time to work on their grades.
In other words, while their teammates are fighting -- and sweating -- to retain or win jobs, they stand on the sidelines watching. Or sitting on a stationary bike. Or dressed in a red jersey.
Still, most fans pencil them into the lineup, worry-free.
To which we say: We shall see.
ARIZONA
C Blake Kerley & OT Phillip Garcia: Kerley had started 29 games before injuring his knee last year, and in his absence Colin Baxter entrenched himself at center. Garcia is an intriguing talent who was limited this spring after knee surgery. Both of these guys could fight into the starting lineup. Or they could provide capable depth. Or they could stand on the sidelines.
ARIZONA STATE
OT Matt Hustad: Hustad, a sophomore, is athletic and physical and if he were healthy he'd find a spot on the Sun Devils' beleaguered offensive line. But after two years of knee issues that's starting to become a significant "if."
CALIFORNIA
RB Jahvid Best: We know, we know. Jahvid's fine! Foot and elbow surgery? No worries. That hip issue last year? Didn't look like it hurt him in 2008, did it? All is well. Heisman Trophy here we come ... wheee! But, honestly, Cal fans, aren't you eager to read about him practicing again?
OREGON
RB LaMichael James: James' potential is beguiling. He's the lightning -- taking Jeremiah Johnson's place -- to match with LeGarrette Blount's thunder in the backfield. But he missed spring with a shoulder injury and he'll need to prove himself in the fall.
OREGON STATE
QB Lyle Moevao: Moevao "Wally Pipped" Sean Canfield last year, and it appears Canfield might return the favor this fall. Moevao missed the spring after shoulder surgery -- just like Canfield last year -- and he's fallen behind Canfield in the quarterback competition because of that -- just like Canfield last year. Of course, Moevao is a scrapper, so counting him out might be a mistake.
STANFORD
OT Allen Smith: Smith and his pesky patella, which killed his 2008 season and which he re-injured this spring. He's an NFL talent, and he could answer a lot of questions on the Cardinal offensive line, but he's got to stay healthy and it doesn't appear that he can.
UCLA
TB Christian Ramirez: The Bruins' coaches must love Ramirez because he still tops the depth chart after being academically ineligible last year and being limited most of spring with a bum hamstring. With two other tailbacks already opting to transfer, the pressure is on Ramirez to reward his coaches' faith.
USC
TB Joe McKnight: McKnight sat out practice with injuries (skip). McKnight sat out practice with injuries (skip). McKnight sat out practice with injuries (skip). Hey, he's a great talent, but my biggest memory of him last year wasn't a play -- it was of him sitting in a golf cart watching practice. Did they bring the golf cart back this spring?
WASHINGTON
S Jason Wells: Remember this guy, Husky fans? I didn't until Seattle Times beat writer Bob Condotta reminded me. He's a two-year starter who suffered a knee injury in 2007 that killed his 2008 season and then missed spring with an Achilles injury. The Huskies have a lot of issues in their secondary and Wells could help. If he's healthy, that is.
WASHINGTON STATE
DT Bernard Wolfgramm: The JC transfer redshirted last year yet was listed as a starter on the pre-spring depth chart. But he's had persistent back issues, which limited him this spring, so it's hard to say what he could give the Cougars in 2009. And they really need some help on the defensive line, so Wolfgramm's health is a critical issue.
March, 18, 2009
3/18/09
10:00
AM ET
Posted by ESPN.com's Ted Miller
Not everything went smoothly during Paul Wulff's first year as Washington State's head coach, starting with a 2-11 finish.
Moreover, he's going to miss the first three days of the Cougars' fall practices because of NCAA sanctions he incurred for violations that happened while he was head coach at Eastern Washington.
| | |
| --- | --- |
| | |
| | AP Photo/Ted S. Warren |
| | Paul Wulff was 2-11 in his first season at Washington State. |
But the Cougars also posted a comeback victory in the Apple Cup, dumping Washington into the basement of the Pac-10, and outdid the Huskies during recruiting.
So there is some positive momentum as he looks toward his second season.
It seemed like a good time to check in with Wulff as he and his staff prepare for spring practices, which start March 26.
First, what's the latest on quarterback Marshall Lobbestael, who's coming back from a knee injury [and a suspension for a February arrest for an underage alcohol offense]?
Paul Wulff: I think he's going to be do everything but the team segments. A lot of individual work and he'll be able to some 7-on-7 drills.
So he's been reinstated from suspension?
PW: Yes. He had a lot of things to do, but yeah.
Let's put a cap on the 2008 season: First, what went right?
PW: After we played USC [on Oct. 18] we had a bye week, and I think our team changed a lot from a personality standpoint. We grew a lot. I know we didn't play well next against Stanford for a number of reasons, but really after that our team just played better football. We grew a lot. We played much more competitively against Arizona State and then Washington and Hawaii. We just played better. We tried not to compare ourselves against anyone else, we just compared ourselves to ourselves. And we improved as a football team down the stretch.
And what was the root of the struggles?
PW: It was a combination of things. It really wasn't one thing. I think as coaches, we demanded and changed so much of what these players were asked to do, from what they were accustomed to doing, on and off the field. I think there was a natural -- not an intentional resistance -- but just a little bit of what you would say is a culture shock to the system. I think that was part of the issue, in addition to trying to replace some key parts. We lost a four-year starter at quarterback [Alex Brink], we lost a couple of receivers and a tight end who had opportunities in the NFL. It was tough to replace all that experience. And then the injuries on the offensive side of the ball -- the quarterback situation. On defense it was similar, losing both safeties, some defensive tackles, we just couldn't overcome that. Our offense then put even more pressure on our defense. I know before our offense at Washington State has always been very successful. A lot of times that goes hand-in-hand with your relieving your defense, and we weren't able to do that last year.
February, 26, 2009
2/26/09
10:49
AM ET
Posted by ESPN.com's Ted Miller
Which Pac-10 newcomers might make a name for themselves this spring and put themselves into position to start or see significant action in 2009?
Let's take a look.
Arizona

QB Nick Foles & OT Phillip Garcia: Foles is a sophomore transfer from Michigan State who will compete with Matt Scott and Bryson Beirne to replace Willie Tuitama. Garcia was a JC transfer last January, but the 6-foot-7, 340 pounder hurt his knee and missed the season. He's in the mix at left tackle.
Arizona State

S Keelan Johnson, RB James Morrison, DE Dean DeLeone: Johnson, a redshirt freshman, is the sort of athlete who could end up playing both ways. Morrison was a true freshman walk-on destined to play last year before he broke his ankle. He's back this spring. The 25-year-old DeLeone, a JC transfer, is already drawing raves for his weight room work.
California
WR Marvin Jones & LB Mychal Kendricks: Jones was a touted true freshman last year but hurt his knee and never broke through. Kendricks had 16 tackles and a sack as a true freshman and is a frontrunner to fill one of the three vacancies at linebacker.
Oregon

DE Zac Clark & WR Lavasier Tuinei: Oregon has big-time needs on the D-line and at receiver, and these JC transfers will be given an opportunity to immediately ease those needs. Tuinei, at 6-foot-5, should give the Ducks receiving corps some size, while Clark will be eyeballing the vacancy left by Nick Reed.
Oregon State

WR Jordan Bishop & OT Colin Kelly: Receiver is a need area for the Beavers, and Bishop, a redshirt freshman, impressed on the scout team and during Sun Bowl practices. Kelly, a redshirt freshman, is in the mix on an offensive line that lost both starting tackles.
Stanford

QB Andrew Luck, OG David DeCastro, TE Konrad Reuland: Luck almost lost his redshirt last year while Tavita Pritchard struggled, and he'll have a good chance to win the starting job. DeCastro is presently No. 1 on the depth chart, while Reuland is a transfer from Notre Dame.
UCLA

QB Kevin Price & TE Morrell Presley: Prince, a redshirt freshman, is the most likely candidate to unseat returning starter Kevin Craft. Presley, a true freshman, could make an immediate impact as a hybrid TE/WR.
USC

QB Matt Barkley, DE Nick Perry, RB Curtis McNeal: Barkley, the nation's No. 1 recruit in 2009, could jump over Mitch Mustain and Aaron Corp in the quarterback competition, while Perry, a redshirt freshman, is almost certain to be in the mix at end or perhaps outside linebacker. McNeal, a redshirt freshman, was a late arrival last year but made an impression with his explosiveness.
Washington

LB E.J. Savannah, C Mykenna Ikehara , WR Anthony Boyles: Savannah is not a newcomer -- he was the Huskies leading tackler in 2007 before finding his way into Tyrone Willingham's spacious doghouse and getting kick off the team. Pencil him in as a starter. Ikehara, a redshirt freshman, could replace Juan Garcia at center. Boyles, a redshirt freshman, was a touted recruit who didn't break through last year but is expected to be sharper this spring.

Washington State

DT Bernard Wolfgramm, CB Brandon Jones, RB James Montgomery: It's not unreasonable to go ahead and pencil in all three of these guys in as starters. Wolfgramm is a 2008 JC transfer who redshirted last year, while Jones and Montgomery both transferred from California.