NCF Nation:

Bernardrick McKinney
December, 9, 2014
12/09/14
11:00
AM ET
Who wants to have the better 2015?


That's the essential question facing Mississippi State and Ole Miss, as the two teams who, at one time, had playoff aspirations must now must turn their attention to bowls that neither saw coming. They're not bad bowls, mind you, but they're not where they'd hoped to be only a few weeks ago.
So better to think of New Years Eve as the beginning of another push toward the playoff, rather than the last leg of a 2014 campaign that left both camps wanting.
"Guys get a feel for the future," said Mississippi State coach Dan Mullen of the extra practices bowl games allow. "There are guys [who] were kind of in redshirt-mode this year or backup mode where they're not involved. This is kind of a reminder, when I pull out the seniors and call up the first and second-team defense, offense or special teams, those guys are now in that rotation."
And there are a lot of those seniors to be replaced, as many as 15 in the two-deep depth chart. There's also the possibility that linebacker
Benardrick McKinney
and running back
Josh Robinson
turn pro a year early.
Said Mullen, "It's a huge wake-up call for those guys in the sense of urgency they need to have in practice ... for their future."
Mullen joked that the Bulldogs would "party like it's 1941" -- the last time the program went to the Capital One Orange Bowl. But as exciting as the return trip to Florida and the opportunity to play Georgia Tech might be, what's really at stake is momentum.
Last year, coming off a thrilling win over Ole Miss, Mississippi State pounded Rice in the Liberty Bowl.
Dak Prescott
emerged as a playmaker at quarterback, the defense began winning the line of scrimmage more frequently and that forward progress carried over into the next season when the team got off to a 9-0 start for the first time in program history.
Maybe now, coming off two losses in their past three games, a strong finish is even more vital for the Bulldogs' hopes of moving forward.
Ole Miss, on the other hand, doesn't need to establish momentum as much as retain it. The Rebs, who looked down in the dumps after losing to Arkansas, 30-0, turned it around on the final day of the regular season by knocking Mississippi State out of playoff contention with a 31-17 win in Oxford.
Now coach Hugh Freeze and his staff must prepare for another playoff hopeful in TCU. The Horned Frogs, feeling snubbed from the final round of four, should come out for the Chick-fil-A Peach Bowl with something to prove.
"It's a bit ironic [TCU coach Gary Patterson is] brining in one of the top offenses and we're bringing in a top defense," Freeze said. "He's the guru on the defensive side I've wanted to learn from."
Ole Miss' offense has been humming all season long, but next year's outlook is in doubt with quarterback
Bo Wallace
set to graduate.
That means it's up to freshmen
Ryan Buchanan
and
DeVante Kincade
to make a push during bowl prep. If they don't use those practices to make an impression, Freeze could look outside the program to find his QB of 2015.
Meanwhile, coordinator Dave Womack should already be looking to retool the Landshark defense for next season when
Serderius Bryant
,
DT Shackelford
,
Senquez Golson
and
Cody Prewitt
will have all moved on.
Given the way Feeze and his staff have recruited the past few years, there's plenty on talent on campus to reload on. But until we see it in action, as we might against TCU, how good Ole Miss' defense will be in 2015 is unknown.
While it's right to want to finish the 2014 season, what lies ahead is more important than the final score.
The Orange and Peach Bowls should be fun, but for two teams in Mississippi State and Ole Miss that have come within earshot of the playoff, it's about gearing up for the next run.
July, 31, 2014
7/31/14
10:30
AM ET
HOOVER, Ala. -- Last year's season-opener should have been a moment of triumph for
Jay Hughes
. His unranked
Mississippi State Bulldogs
went into Reliant Stadium in Houston against the No. 13
Oklahoma State Cowboys
with something to prove. Down three starters in the secondary, including two NFL-caliber cornerbacks, it was thought that the game would devolve into a shootout that favored the air-it-out Cowboys offense, which had averaged 547 yards and 45.7 points per game the season prior.
[+] Enlarge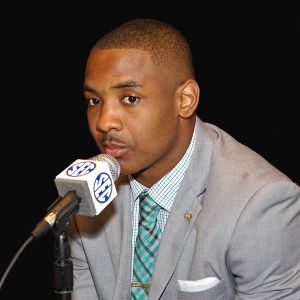 Marvin Gentry/USA Today SportsJay Hughes, who has recovered from last year's season-ending injury, says the Bulldogs have the talent to make some noise in the SEC this season.
Hughes heard "all the negative things about the secondary," he said toward the end of fall camp. He also heard one Cowboys player say that, "Sometimes those SEC defenses lose their breath" against up-tempo offenses like theirs. He heard it all, and showed up anyways, ready for his first full season as a starter at safety. And for two series, it looked like Hughes and his defense would have the last laugh.
But with a second straight three-and-out in sight, Hughes stepped in front of a pass from Clint Chelf, knocked down the ball and immediately fell to one knee. He could have been stepped on or fallen awkwardly; you couldn't tell from the television replay. Writhing on the turf, he grabbed his right heel, and after a minute or so, tried to get to the sideline under his own power but couldn't. With the support of two trainers, he limped out of the frame. He had a torn ACL. His season was over.
It was hard for everyone on the team to see Hughes go down like that. Veteran linebacker Bernardrick McKinney described it as a "very emotional time for Jay." He had a decision to make: Either ask "Why me?" or "What can I do?" He chose the latter.
"I knew the moment I got hurt I still had to be there for my teammates," Hughes said. "I was still going to meetings, still going to special teams meetings, all while I was doing my rehab."
After a couple of road trips spent recuperating at home in Starkville, Mississippi, he decided enough was enough. He was going to the Texas A&M game to be a part of his team no matter what.
"I said, 'I'm going to pack my bags. I'm going to go with my boys this week,'" he said. "I'm on the sideline with crutches and a boot. I'm there saying, 'I don't need no crutches.'"
As the lone member of the Juice Boys in College Station that day -- the group whose "role is to keep the crowd going" is made of primarily scout team players who don't usually travel to away games -- he wrapped two towels together in order to better stand out. And he did, especially to his teammates.
"That means a lot," McKinney said. "He has a lot of heart. He pushes us even when he's hurt. He was at every game trying to push us up, even in the bad times telling us, 'We got it.'"
Despite losing the opener to Oklahoma State,
21-3
, and dropping five of the next nine games, Mississippi State rallied to win three straight and finish 7-6 overall.
Instead of entering this season with a bleak outlook and a lack of experience on defense, there's hope and optimism and depth on both sides of the ball. The secondary alone returns three starters -- not including Hughes, who wasn't able to fully participate in spring practice but will be 100 percent in time for fall camp, which begins Thursday.
"I'm back, so let's go," Hughes said. "It's time. Let's do it.
"I'm hungry. I'm ready to eat. It's really good to be back on the field."
"Him coming back made his life complete again," McKinney said. "He's a hard worker. He's getting the safeties right. He's back running full-speed."
Coach Dan Mullen called Hughes a "great young man, worker and leader" on defense.
"It is a huge lift for all of our guys to have him back," he said.
Even quarterback
Dak Prescott
has noticed.
"They're all following Jay's lead," he said. "When you have a guy like that to look up to, it's fantastic."
If Hughes is setting the tone, it might be best described as "Championship or bust."
After so many years of running in the middle of the pack of the SEC West, Mississippi State feels this season is its best chance to reach Atlanta. Alabama and LSU have new quarterbacks, and Auburn has one of the toughest schedules in the conference. The Bulldogs, meanwhile, have a promising offense with Prescott under center, a defense loaded with depth and young talent such as rising star
Chris Jones
, and a schedule that sets up favorably with no real challenges out of conference and an SEC East rotation that includes Kentucky and Vanderbilt.
"It's almost like we know, man," Hughes said of the team's hunger to win a championship. "It's almost like we know. We have as good of talent as anybody with the numbers and the experience we have on the field. And with that, it's all up to us.
"We have the talent, we have the numbers, now what are we going to do?"
Expectations have risen among coaches, fans, family and "even ourselves," Hughes said. After the way last season went down and the promise that lies ahead, Hughes isn't ready to waste the opportunity.
"It's really serious right now," he said. "I tell my guys as soon as you step in this building, nothing else matters. You get that look in your eyes, and let's go, let's work."
July, 15, 2014
7/15/14
3:05
PM ET
HOOVER, Ala. -- In between debating the worst dressers on the team and picking out potential lunch options for later that afternoon, Dan Mullen turned to his quarterback to ask how he was feeling. "Are you nervous?" he said to
Dak Prescott
as the two flew from Starkville, Mississippi, to Hoover for SEC media days. He was about to face hundreds of reporters, so the pressure would be on. But Prescott told his coach, "I think I should be, but I'm not."
Mullen had to smile. That kind of poise was a good sign for his
Mississippi State Bulldogs
. It was exactly what he wanted to hear from a guy who has gone from an unknown second-stringer to the most recognizable name and face of a program in less than a year. His leader seemed ready to handle his first major responsibility of 2014.
And handle it he did.
[+] Enlarge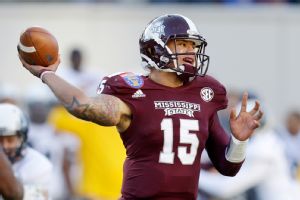 AP Photo/Mark HumphreyDak Prescott sounds comfortable and confident after finishing last season with a flourish.
Prescott didn't act like a quarterback who a year earlier wasn't on anyone's radar. Instead he showed the confidence of a veteran handling the media: chin up, strong eye contact, ever sincere. He welcomed expectations and was even glad to critique his own play.
"I was kind of wanting to run sometimes," he said. "I would step back and throw and my feet wouldn't be where they need to be. But I believe when I have my feet underneath me I can make all the throws."
Prescott got a taste of the spotlight late last season when he led State to wins over Ole Miss in the Egg Bowl and against Rice in the Liberty Bowl, accounting for six touchdowns and no turnovers in the process. Now he's being hailed as a dark-horse Heisman Trophy candidate -- which would be an accurate term only if you ignore the notion that one must be unknown to be a dark horse.
You'd have to ignore the horde of reporters trying to speak with him at media days, too.
"I know who I am deep down," Prescott said. "It hasn't changed no matter what I'm doing, if it's media days or back at the facilities. Nothing has really changed."
Mullen credits that confidence to the way last season unfolded. Because he got to dip his toe in the water as a backup-turned-starter, Prescott is more comfortable handling the role of incumbent.
"Because of injuries last year, he got to step into the top role without any of the pressure," Mullen said of his redshirt junior. "He just went out there and started playing. I think the fact that he got that part done first before the buildup made everything a lot easier for him.
"He's played on the road in tough environments. He's had to come in and win critical games. He's had good games and bad games already. Now as he comes in with the pressure of, 'Hey, you're the starting quarterback this season,' he's been in a lot of pressure situations already."
Seeing their quarterback handle so much by this point has been a good sign for teammates, too.
"He inspires me to be a better leader," veteran linebacker
Benardrick McKinney
said. "We compete every day. Sometimes I feel down and don't feel like going, and I see Dak leading the offense, inspiring me to push the defense harder.
"He's a very, very humble guy. He doesn't really go for the hype. He's going to keep fighting and not worry about what people say."
But what people were saying of Prescott on Tuesday was all positive. If he wanted to show he could handle the pressure, he did. Delivering quotes like the SEC West is "second only to the NFC and AFC" earned him credit with everyone in the room.
He should have been anxious, but Prescott didn't look it. He should have been worried about living up to the hype, but he seemed totally at ease.
Where some might see being the voice of a team as a burden, he got his feet underneath him and delivered.
"It makes it easier when the voice of the team is the quarterback, the guy who has to take all the snaps and has the ball in his hands every play," Prescott said. "So I'm embracing that role and accepting it."