NCF Nation:

Bernie Machen
November, 27, 2012
11/27/12
10:06
AM ET
Florida coach Will Muschamp
received a one-year extension
back in August, meaning he will now be under contract through the 2017 season.
The Gainesville Sun originally reported Muschamp's extension, which is the second one-year extension Muschamp has received this year. He originally signed a five-year deal through 2015 back in 2011.
It says a lot about the faith that athletic director Jeremy Foley and president Bernie Machen had in Muschamp following his 7-6 debut as the Gators' coach in 2011.
"Dr. Machen and I believed in the leadership and direction of the football program this summer and we made a decision to extend Coach Muschamp's contract an additional year this past August, prior to the start of the season," Foley said.
"The financial terms are unchanged but he is now under contract for the University of Florida through the 2017 season."
That confidence certainly paid off, as Muschamp helped guide the Gators to an 11-1 season in his second year and has Florida poised to play in a BCS bowl game in January.
June, 1, 2012
6/01/12
1:30
PM ET
They still don't get it.
As the pivotal month for college football's postseason structure kicks off, the Big Ten's position on a four-team playoff remains a mystery for many. The
SEC folks don't understand it
, and it clearly hasn't sunk in for others. Colleague Chris Low of the SEC blog
fired up his base and fired back at me
and all "city slickers" Thursday, while ignoring my main point that folks aren't understanding the Big Ten's actual playoff preference -- a hybrid model featuring the top three rated conference champions and one wild card for a deserving non-champion or independent.
[+] Enlarge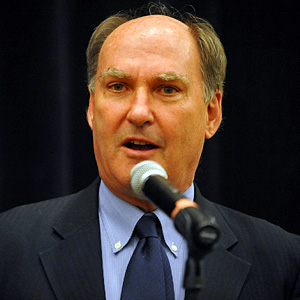 AP Photo/Dave WeaverJim Delany and the Big Ten want a playoff featuring the top three rated conference champs and a wild card for a deserving non-champion or independent.
Many are setting the stage for an SEC-Big Ten playoff proposal showdown -- Slive vs. Delany! South vs. North! Right vs. Wrong! -- while only getting one side of the story correct. One national columnist wrote Thursday night that the Big Ten still is adamant about having conference champions only and having semifinals at campus sites.
To be fair, a lot of the continued confusion about the Big Ten stems from the league sending mixed messages throughout the process.
First, the Big Ten was all about campus sites and conference champions. Then, league brass talked about preserving the Rose Bowl at all costs and seemed to give up on the campus sites push, citing weak support nationally.
We hear about how the Big Ten plays virtual road games in bowls. Then you get
Ohio State athletic director Gene Smith
saying "good weather is important" for playoff games, and Michigan AD
Dave Brandon saying he opposes playoff games at indoor venues in the Midwest
, which would make travel easier for Big Ten fans. The comments came at the same meetings where Delany confirmed the
Big Ten is interested in playing a bowl game at New York's Yankee Stadium
.
The Big Ten's shift from "campus sites are awesome!" to "save the Rose Bowl!" left many shaking their heads. Even though campus sites likely was a losing battle, the Big Ten would have earned more points by standing its ground and keeping the fight going longer. The league's Rose Bowl love isn't new, but it resonates with fewer and fewer people nationally. It's a tired argument and a hard sell.
Then you had
Delany's infamous "that team" comment to the Associated Press
, when he appeared to take a shot at non-division winners in a playoff -- and specifically reigning national champion Alabama. The next week, Delany said he wasn't targeting the Tide and preferred a system that rewarded the best conference champions but also had room for a team like Alabama. But the damage was done.
You also had Nebraska chancellor Harvey Perlman, a member of the BCS Presidential Oversight Committee, telling me he and many of his colleagues in the Big Ten and Pac-12
favor a plus-one playoff format
. But the plus-one was barely mentioned at the Big Ten spring meetings.
The Big Ten hasn't remained on message throughout this process, and its position has suffered as a result.
The SEC, meanwhile, has had a clear position that it repeats whenever possible: best four teams, bowl sites for the semifinals. End of story.
And the SEC isn't budging.
"We won't compromise on that," University of Florida president Bernie Machen said this week at the league's spring meetings. "I think the public wants the top four. I think almost everybody wants the top four."
Machen also
took a shot at the Big Ten
, telling the St. Louis Post-Dispatch, "The group that's got to get real, the Big Ten's got to realize that the world is going in a different direction."
The Big Ten presidents and chancellors meet Sunday at league headquarters. They need to emerge from the meeting with a clear consensus of what they want for a playoff. Important meetings take place June 13 and June 20 in Chicago, and the Big Ten needs its voice to be heard with no confusion.
The Big Ten doesn't appear to be in a position of strength, and the biggest reason is the continued failure of its teams to win national championships. But there's still time to influence the playoff model.
No more mixed messages. It's time for a united front.
September, 27, 2011
9/27/11
9:00
AM ET
No more rumors or covert plane tracking this time.
Mike Slive got off an airplane in College Station and got to tend to his business.
The SEC commissioner made his way to Aggieland and took a seat next to Florida president Bernie Machen, the chairman of the SEC leaders and Texas A&M officials to
welcome the Aggies as the SEC's 13th member.
"We were very happy at 12," Slive said. "When Texas A&M came to us and indicated their interest in joining the SEC, we said to ourselves: 'That is a great institution, academically, athletically, culturally and in every way, and a real fit.' So we decided even though we were content with 12, that we had the opportunity to have Texas A&M as part of the SEC was something that we just did not want to give up."
The SEC plans to remain at 13 for the immediate future.
Slive and the Aggies took questions in front of hundreds of Texas A&M fans who showed up to the Zone Club at Kyle Field to celebrate their new home.
Sources told ESPN's Joe Schad on Monday that the school's play in the league next year is "unconditional." If any school, including Baylor, files litigation against A&M, it would be addressed at that time.

Slive said that fear was quelled when Oklahoma decided it would stay in the Big 12 and keep the remaining nine teams together. The SEC was given no assurances that schools would not take legal action, but decided Oklahoma's decision was enough to go ahead with A&M's admission into the conference.
Iowa State officials told the Des Moines Register this week that they have not waived their right to legal action, but the SEC felt comfortable enough with the Big 12's future that it went ahead and made official what the league's presidents unanimously voted to do back on Sept. 6.
September, 7, 2011
9/07/11
11:10
AM ET
We seemed so close to hearing the announcement of a new school in the SEC.
But things are on hold ... again.
On Tuesday, the SEC presidents
voted and unanimously accepted Texas A&M's application
to become the conference's 13th team, according to a release by the SEC.
All finally seemed right in the SEC world until one Big 12 school decided to take last-minute action.
"After receiving unanimous written assurance from the Big 12 on September 2 that the Southeastern Conference was free to accept Texas A&M to join as a new member, the presidents and chancellors of the SEC met last night with the intention of accepting the application of Texas A&M to be the newest member of the SEC," University of Florida president and SEC chairman Dr. Bernie Machen said in a statement released Wednesday. "We were notified yesterday afternoon that at least one Big 12 institution had withdrawn its previous consent and was considering legal action. The SEC has stated that to consider an institution for membership, there must be no contractual hindrances to its departure. The SEC voted unanimously to accept Texas A&M University as a member upon receiving acceptable reconfirmation that the Big 12 and its members have reaffirmed the letter dated September 2, 2011."
The SEC wants to make sure it isn't sued by any Big 12 school for accepting Texas A&M, but sources told ESPN's Joe Schad that Baylor hasn't given the league that assurance.
That's interesting because in that letter to SEC commissioner Mike Slive from Big 12 commissioner Dan Beebe on Sept. 2, Beebe made it clear that
no legal action about be taken
against the SEC.
Here is the intro to that letter:
"This is to confirm our discussion yesterday during which I informed you that the Big 12 Conference Board of Directors unanimously authorized me to convey to you and their colleagues in the Southeastern Conference that the Big 12 and its members will not take any legal action for any possible claims against the SEC or its members relating to the departure of Texas A&M University from the Big 12 and the admission of Texas A&M into the SEC; provided, however, that such act by the SEC to admit Texas A&M is publicly confirmed by 5:00 p.m. (CDT) on September 8, 2011."
Regardless, Baylor seems to be the hold up for the SEC at this moment, but if my memory serves me, the Big East
sued Miami, Boston College and the ACC after those schools decided to jump the ACC
.
Guess where those schools, including Virginia Tech, are? Yep, the ACC.
February, 23, 2009
2/23/09
2:16
PM ET
Posted by ESPN.com's Chris Low
All those playoff proponents in college football can take solace in the fact that there's at least one high-profile president out there who doesn't like the BCS.
Florida's Bernie Machen, whose Gators have won two of the last three BCS national championships, called the current BCS format unfair in a wide-ranging Q&A that Jeremy Fowler of the Orlando Sentinel conducted with Machen recently.
In particular, Machen said the BCS system is not fair for a school like Utah, which he says could "beat a lot of SEC schools." Machen was the president at Utah before coming to Florida, and the Utes blasted Alabama last year in the Allstate Sugar Bowl to complete an undefeated season.
For a playoff to have any chance in college football, it's going to take more presidents like Machen getting on board and pushing for one. Right now, Machen is in the minority among his peers when it comes to a playoff.