NCF Nation:

Big 12 092211
September, 22, 2011
9/22/11
11:04
PM ET
Lots of news from Oklahoma's press conference earlier today
, but here are some of the other notes that didn't make the first update.
Oklahoma talks its conference shopping spree
Oklahoma president David Boren opened up about the Sooners' search for a conference, stating that a "stable Big 12" was the first choice, but they had conversations with the Pac-12.
The Sooners didn't use any outside sources for the search, and instead consulted with coach Bob Stoops and athletic director Joe Castiglione.
Stoops clearly had reservations about leaving for a league without Texas, but Boren said the Big 12 proved it could be stable and the Pac-12 and Oklahoma came to a near-simultaneous, "mutual" decision for Oklahoma not to join.
[+] Enlarge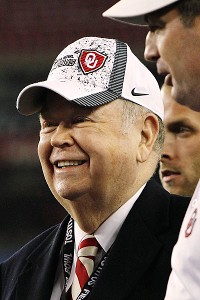 AP Photo/Ross D. FranklinOklahoma president David Boren said the school looked at the Pac-12 but that a "stable Big 12" was the first choice.
"We achieved substantial reforms and we were able to make very important steps toward greater stability of the Big 12 Conference," Boren said.
I agree with that if the league can get the media rights turned over to the conference for six years, through the renewal of the league's Tier 1 rights in five years, but for now, that's not official. Oklahoma better make it so, because there's no question the wires were crossed regarding how far along that agreement was.
Will it happen? My guess is the Big 12 eventually gets this done, but Missouri, whose chancellor is the chair of the board of directors, wasn't exactly trumpeting the Big 12's stability like Boren was. Not a good sign, but time will tell how major of an issue this becomes.
Boren said the Big 12's nine presidents agreed that they were in the conference, but I'd hold off on declaring this league stable until the media rights are officially given to the Big 12. Texas and Oklahoma are ready to stay in the Big 12.
Is Missouri?
What school is running the Big 12?
Boren took exception to the idea that Texas had been "driving the train" in the Big 12 over the past year, until Oklahoma took over that role in the Pac-12 negotiations, but handed it back to Texas when the Pac-12 announced it would not expand.
Boren went on a measured, mini-rant that made a lot of good points. I'll let him explain.
"The University of Oklahoma does not have any ambition to drive the train anywhere. We have no desire to dominate the Big 12 Conference. None whatsoever. We have a very strong feeling that those conferences that have been the most stable are conferences in which every member feels valued equally," he said, later adding, "We don't want any one school dominating the Big 12 and we have no ambition to dominate the Big 12. ... All we wanted in this conference was stability so that we could concentrate on winning games and providing quality of life for our student athletes and not having drama every year."
He emphasized that more than just Texas and Oklahoma explored their conference options, and he knew of at least four, acknowledging that more might have done so, but he didn't know for sure.
"I hope no one will write in the future that anyone is driving the train in this conference. That's our goal," Boren said. "I don't care whether that's Texas driving this conference or Oklahoma driving this conference or Missouri driving this conference or Kansas with their basketball strength driving this conference. If we get to a situation where anybody drives this conference, then it would weaken us. Strong conferences are the conferences where there's a great amount of partnership and mutual respect and trust across the board."
Oklahoma, Texas still together, on and off the field
Bob Stoops reiterated his belief that the rivalry with Texas is important for the university, and that he didn't want it to go away, which it likely would have if the Sooners went to the Pac-12 without Texas.
For now, that game will remain at the Cotton Bowl, and Boren expressed a strong desire to keep it there.
As it should be. Texas and Oklahoma play that game every year, but the State Fair is what makes that game special. Moving it to JerryWorld would be a colossal mistake.
September, 22, 2011
9/22/11
10:37
PM ET
Lots to get to on the blog tonight.
First off,
you can read our news story on tonight's news conference
at Oklahoma. Here's an update of what was decided.
More on the way later tonight.

Big 12 headed for binding TV rights
The Big 12's presidents agreed to grant their television rights to the conference for six years, Oklahoma president David Boren said at a news conference on Thursday. Missouri chancellor Brady Deaton said at a news conference also on Thursday night that the agreement was not official, and the league had agreed to pursue such binds.
A source at Missouri confirmed to ESPN.com that they were told "there was no agreement, only an agreement to work toward that as a potential outcome."
The Big 12 signed a 13-year, $1.1 billion deal with Fox Sports last summer for Tier 2 rights and the Tier 1 rights for ESPN/ABC are up for renewal in five years. By signing away the media rights to the conference, any team that left the conference during that period would offer no television revenue to a prospective new league. Any television revenue produced by that team would go to the Big 12.
"We felt that we needed a lot more than an expression of solidarity," Boren said, referencing "unequivocal commitments" that held the Big 12 together in 2010, when the Big 12 last faced near extinction. "It was a very important item to show we mean business about staying together."
Boren added: "That grant of rights really has teeth in it, because when you've granted your rights, it's very unlikely that a member would receive an invitation to another conference."

Texas A&M still headed to the SEC
Tonight's agreement has had no effect on the Texas A&M and its intended departure to the SEC.
Boren said Texas A&M president R. Bowen Loftin was on the teleconference, but was careful to note that it was "highly likely" that the Aggies would continue to chart their intended course for the SEC. Boren also said the league would not give up on convincing Texas A&M to stay until the Aggies became official members of the SEC.
The league's presidents did not discuss waiving rights to legal action that would allow Texas A&M to continue with its intended move to the SEC after the conference's presidents voted to accept them on the condition that each Big 12 team waive those legal rights.
"Another key to Big 12 stability will be for the league to assist Texas A&M with our departure," Texas A&M spokesman Jason Cook told the San Antonio Express-News.
New interim commissioner officially appointed
Dan Beebe is out, and Chuck Neinas is in. Neinas has dealt with scores of athletic departments around the country, and recommended more than half of the athletic directors in the Big 12 to the administrations in their current schools. Boren lauded Neinas as a figure respected around the country.

Neinas
Neinas will take over only as interim commissioner, though. He is not a candidate for the permanent job, which may take a "few months" to fill, Boren said, though he established no concrete timeline for the hire.
"We needed someone to lead us through a healing process," Boren said of Neinas. "There's no one better to do that."
Expansion has been re-opened
While the Big 12 nearly broke apart, the efforts of an expansion committee were obviously halted. Oklahoma athletic director Joe Castiglione and Texas athletic director DeLoss Dodds are on the committee, which has been re-activated.
The league doesn't know if it will expand to 10 or 12 teams, but will do its "due diligence" and is open to both.
I'd expect negotiations with BYU to be re-opened, and for the Big 12 to seriously talk with remaining teams in the Big East like West Virginia and Louisville, but also seriously talk to schools closer to the Big 12 footprint, like TCU or Houston.
Nothing's off the table yet, though. As it should be this early in the process.
Boren refused to name any names or publish any list of prospective members.
"We want anybody we look at for expansion to know they were our first choice," Boren said.
Big 12 committee formed
This is also an important development. Chairman of the board of directors Brady Deaton is putting together a "committee" to handle a variety of tasks facing the Big 12 currently.
For now, no change in revenue sharing has been enacted, but if it's going to happen, it will be explored by this committee.
Deaton is expected to put it together by the end of the day on Friday.
The league agreed not to air grievances with others in the league publicly, which is necessary for the appearance of stability. It also agreed that any disagreements would be settled privately through the multi-purpose committee that Boren called a "special working group."
Concessions by Texas and Oklahoma?
It's clear so far that Texas and Oklahoma have and are willing to give on some issues. Oklahoma got its wish with Beebe's ouster and a commitment with the media rights that would ensure stability, but Texas AD DeLoss Dodds told local media on Wednesday that he did not want to sign over media rights.
Judging by Boren's comments, that stance has softened. Maybe he was leveraged into it, or maybe it was a measure of good faith. Either way, it looked like it happened.
Oklahoma has also made it clear that it would not stand in the way of equal revenue sharing. The Sooners, as one of the Big 12's top earners, would get less money in that agreement.
"Would equal distribution mean a financial contribution for good of the conference? Yes. Would we be willing to do so? Yes," Boren said. "We would hope that wouldn't occur overnight."
Boren said he hoped such a plan would be fazed in slowly.
As for Texas? Maybe we'll hear from them soon.
Lots more coming on the blog tonight. Stay tuned.