NCF Nation:

Big 12 media days 2010
July, 28, 2010
7/28/10
10:15
AM ET
IRVING, Texas -- Kansas State and Texas Tech were the only two schools so far to show up in suits and ties, rather than team polos. Big picture, I don't think it matters or influences much past the way players approach the day, but there's no doubt the Red Raiders carried themselves professionally, and coach Tommy Tuberville's answer to why they did it was impressive and indicative of the type of coach he is.
"You're representing not just you, but all your teammates and all the people that love Texas Tech that have either given money or spent a lot of time," Tuberville said. "We're not trying to impress anybody. It's just, hey, this is what's expected of us. The more that you expect, the more you usually get out of it."
Before coming to media days, he told his players if they didn't have a suit, they better get one.
Here's a few other thoughts, observations and notes from Day 2 at Big 12 media days:
Commissioner Dan Beebe remained pretty consistent in his Q&A on Tuesday afternoon. The three biggest points: The new Big 12 loves the idea of playing a round-robin schedule in both basketball and football, so there's no plans to expand in the future. I'll say what I've said before again on the issue: The only thing that's going to change that is Oklahoma or Texas being left out of the national title game based on the strength of the Big 12. Who knows if that will ever happen. There also almost surely won't be a title game, although the league is looking to move some games to December as a replacement -- just not Oklahoma vs. Texas.
Also, Colorado seems likely to leave in 2011, but the details of that -- as well as the withdrawal fees for Nebraska and the Buffaloes -- are still being finalized. Beebe has no plans to disclose any of the details of those ... details to the media until they're finished. Although, once camps start, my guess is the media's going to be too busy with actual football to try to hunt them down.
The Big 12 will assess raising withdrawal fees for any team attempting to leave the conference in the future.
Beebe attacked the idea that he and the Big 12 were reactive rather than proactive during this summer's realignment mess. "We got great information that was produced by outside consultants on a number of programs in case we had to repopulate the conference or if there was interest in expansion. I didn't sit there and just bury my head about expansion," he said. There will be a least a few people who won't believe that, but I heard from plenty who didn't think much of Beebe's secretive "process" to save the conference, either. And that worked out way better than anyone thought it would after hearing him refuse to explain it.
Tuberville admitted he was really surprised at how talented the running backs he inherited were, and expressed a hope that they'll allow the Red Raiders to run the ball more effectively than they have in the past. "I'm thinking we're going to have a couple of running backs that are probably 5-foot-8, 150 pounds because you don't think of a running game," he said. "We've got two running backs that can play. We've got Eric Stephens and Baron Batch. We're going to use those guys. Might be on screens. Might be draw plays. We're going to have some plays that are drawn up where we're going to be more physical. We'll take some snaps (Ed. note: Gasp!) under center, but we have to get those guys involved to run play-action, to keep them off the quarterback."
Kansas State officially joined Nebraska as a team who got little clarity in its quarterback situation after the spring. The Wildcats also have three guys competing, although coach Bill Snyder said Carson Coffman, who began last year as the starter, has a slight lead. "We just do not have a clear-cut No. 1 right now," Snyder said. "We'll make a selection as it's clear cut in our minds." Snyder expressed some faith that either Coffman, Collin Klein of Sammuel Lamur will emerge to help that occur, and he better hope he's right. I'm a firm believer -- as most are, I'm sure -- that quarterback controversies can't end too early. Although, it does give people like me something to write about.
Missouri's not shying away from the gravity of this season's matchup in Lincoln, the last game between Missouri and Nebraska for some time. Missouri running back Derrick Washington told reporters he wants that bell (the rivalry trophy) back in Columbia this year, and it could find a permanent home on the winner's campus after 2010.
Oklahoma State coach Mike Gundy weighed in on the recent Dez Bryant controversy with some interesting comments. In regards to RoyWilliams'PadsAndDezBryant-gate, there's obviously a lot of room for debate between the anti-hazing folks and the people who think carrying some plastic pads 50 yards isn't pretty far behind the line of assault or harassment. "I don't think that's ever been a question with Dez Bryant -- his drive to have success when he crosses the white lines, there's no question about it. He is not going to be intimidated by anybody at any time, and whatever he has to do in order to have success on that field he's going to do it," Gundy said. "I don't know Roy Williams. I don't know what goes on. I don't really think it's important for me to comment on that. I think the only thing that's important or maybe what you're looking for is he is serious about football and he doesn't like distractions. Dez got caught up in a difficult situation, made a poor decision and paid a very dear price [ineligibility for the final nine games] for it. But, I don't think anybody's ever questioned his want to have success on the field and his willingness to pay the price in practice and do whatever it takes to give himself a chance to have success." Dallas Cowboys coach Wade Phillips sided with Bryant on the issue on Tuesday, and his opinion is the one that counts in the matter, but that won't end the debate.
One final note: At least one player at media days I'll keep anonymous had some Gucci sunglasses out in plain view of the media for his interview session. I'm not at all suggesting any improprieties, but with all the talk of agents and improper benefits lately, flashing high-end, expensive sunglasses in front of the media is probably not a prudent decision.
July, 28, 2010
7/28/10
10:15
AM ET
IRVING, Texas -- In a 10-team Big 12, the league's marquee game should annually, unquestionably be Oklahoma and Texas. The two programs have the past six Big 12 championships and also competed in the national title game six times in the past 10 years.


But without a Big 12 championship game to serve as a second nationally relevant contest, the Red River Rivalry being played on the first weekend of October, could cause the Big 12 title to be decided by Thanksgiving -- or earlier -- in favor of the team holding the tie break.
Though it's in the Big 12's interest to possibly move the game to December, commissioner Dan Beebe says he won't be touching the game's tradition of being hosted at the Texas State Fair for the better part of a century.
"The major consideration is to keep the traditions of the conference as well as we can, and the tradition of the game that game has been around the state fair of Texas," Beebe said. "I don't see that really being something we would want to mess with. It's just too important to those institutions, this region and so forth."
He'll leave that decision up to the schools, who may also look into whether leaving Fair Park is in the best interest of both schools. The game is contracted at through 2015, so at least until then, the matchup will remain at the Cotton Bowl during the fair.
"I don't think we can foreclose anything," Beebe said. "Institutions may change their minds, but I think we're looking at continuing what we've had traditionally in a lot of those relationships."
Without the fair and with the addition of cold weather, a move to December could also mean a move to Cowboys Stadium in Arlington, accompanied, possibly, by a much larger check.
July, 27, 2010
7/27/10
7:20
PM ET
IRVING, Texas -- Oklahoma State coach Mike Gundy was prepared to hand over playcalling duties to Dana Holgorsen, his new offensive coordinator. He was prepared to hand over his offense's identity, too, in favor of the Air Raid system Texas Tech ran while Holgorsen served as offensive coordinator, the same system that produced the nation's best offense at Houston in 2009. But he was also prepared for the transition to take time, and for it to be, "a little chaotic."
[+] Enlarge
Christian Petersen/Getty ImagesMike Gundy, above, is turning over the Cowboys' offense to Dana Holgorsen, who has had success at Texas Tech and Houston.
By the third or fourth practice of the spring, by Gundy's estimation, the offense's organization was intact. Now it's nearly fall and he's looking for more progression.
"It's gone much smoother than what I would have thought it would have gone," Gundy said. "Obviously they prepared well throughout the summer, from what I've been told. So, I'm looking forward to starting practice and seeing how it goes in the first week."
Tasked with running the offense on the field is 26-year-old junior
Brandon Weeden
, who'll have a healthy running back in
Kendall Hunter
alongside him, in front of four new starters on the offensive line. Despite the new terminology and schemes in the offense, none of them had the most difficult time making the transition.
"Part of the reason that we changed systems at this time was because we lost a number of offensive linemen, and we're changing the quarterback," Gundy said. "I would say the returning receivers,
Justin Blackmon
,
Hubert Anyiam
, those guys went through an adjustment. But for your quarterback and your offensive linemen, they didn't play last year, so they didn't have to make as much of an adjustment. They just had to learn the scheme."
July, 27, 2010
7/27/10
6:41
PM ET
IRVING, Texas -- Texas Tech coach Tommy Tuberville had a plan for the spring. An injured finger and a broken foot scrapped it. Now, entering fall practice, he's got another one to decide his starting quarterback, and part of it took place on Tuesday at Big 12 media days. Tuberville brought both seniors,
Taylor Potts
and
Steven Sheffield
, to face the media as part of the competition that will climax -- he hopes -- by the second scrimmage of the fall.
[+] Enlarge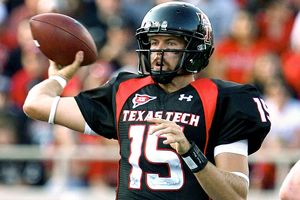 Karl Anderson/Icon SMIEven at Big 12 media days, Taylor Potts, above, and Steven Sheffield were competing.
"I wanted to see how they handled themselves in front of you and the TV cameras," Tuberville told a room of reporters. "Your quarterback is your team leader, not your head coach. Your quarterback has to have the respect of every player on the team."
The two split time a season ago under former coach Mike Leach, but Sheffield re-broke his foot early on in spring practice. Potts followed suit a day later with a broken and lacerated finger on his throwing hand. Tuberville spent most of his time addressing their similarities rather than their differences when discussing his evaluation of the pair.
"They've both been starters in the Big 12. They've both been backups in the Big 12. They've both been injured. They've won games," he said. "They've gone through some tough situations, and both can play."
But only one can play when the season opener against SMU kicks off on September 5 in a nationally televised Sunday game. And he's remained consistent on his stance this spring: His starter won't be temporary.
"We look at everything from how they handle the pregame all the way to how they handle the meeting at the end of the scrimmage," he said. "You can look at a guy and you can think that they might be the guy to get the job done and throw them the football, 40-yard out route or 60-yard deep pass, but there's a lot more to a quarterback. They've got to make decisions. And decisions of winning games. If I'm at the end of a game and we're trying to drive the ball down, and I can run it, but I can also think I can throw a pass in there 30 yards to get the first down … will they make the right decision to do that?"
July, 27, 2010
7/27/10
4:15
PM ET
IRVING, Texas -- Each Big 12 coach asked about this summer's realignment issues has taken his turn smiling or deferring to decision-makers above him for further comment.
But Texas Tech coach Tommy Tuberville,
whose comments earlier
this spring
caused a small commotion
, couldn't help but make light of his earlier public reprimand via commissioner Dan Beebe in his opening statement on Tuesday morning.
"Great to be back at a media day, out for a year working on you guys' side of the ball a little bit," he said, beginning to crack a smile. "In television, they taught us to speak our mind. I forgot to get that out of my mind a few weeks ago, so got to get back on the coaching side."
Tuberville's barb drew laughs from the room full of reporters, but he stepped back in line for his later comments on realignment.
"We want to be an all-around conference, and we will be because the teams that are still with us are very dedicated and committed to that. So I was just disappointed we lost two teams," he said. "But everything will pick up where we left off. We have our responsibility as coaches to make our teams better. The presidents and the athletic directors and the commissioner have committed, 'Hey, they're going to make this the best conference in the country.' We're all behind them and we're for that. I'm excited about it."
Tuberville will have the honor of throwing out the first pitch at Tuesday night's Texas Rangers game.
"I'm working on my slider," he said.
July, 27, 2010
7/27/10
3:00
PM ET
IRVING, Texas -- Baylor brought three players to Big 12 media days this week. The team's quarterback,
Robert Griffin III
, who missed the final nine games of the 2009 season after being named Big 12 Offensive Newcomer of the Year in 2008, wasn't one of them.
The team marketed its 2009 campaign around the star, and brought him to media days as a sophomore in 2009.
"I talked to Robert about coming today," coach Art Briles said. "You know, there's a lot of really good football players at Baylor University. Everybody knows Robert Griffin. A lot of people don't know [linebacker] Antonio Johnson -- that his nickname's 'Cuddy.' They don't know Danny Watkins, that
he was a firefighter and a hockey player
before he ever played football. They may not know about Phil Taylor, that he's a transfer from Penn State and that he's transformed himself into what we think he needs to be as a football player to contribute to our football team."
Taylor was voted Big 12 preseason Newcomer of the Year in 2009, an honor given to Colorado receiver
Toney Clemons
before this season. Taylor proved inconsistent and overweight, but he's lost 25 pounds this offseason and Briles hopes his defensive tackle can plug the middle of the defense more efficiently.
"He really didn't do the things he needed to do," Briles said. "So I told him this year, we're going to pass judgment after six ballgames. After six games, we'll see where he's at. I think I know where he's at, but I thought I knew a year ago, too, and I found out I wasn't as smart as I thought I was."
Watkins, the Bears' starting left tackle, had to turn down an offer from the Canadian Football League's British
Columbia Lions
, who drafted the lineman in May.
"Quite honestly, I wasn't concerned about him going to the CFL, even though he is from Canada," Briles said. "He understands where his potential could lead him, and that's going to be in the NFL. But first of all, being a great player for Baylor this fall."