NCF Nation:

big east media day 2010
August, 4, 2010
8/04/10
10:00
AM ET
NEWPORT, R.I. -- Some final thoughts from the Big East summer kickoff and media day:
It's become a cliche that schools hire the exact opposite guy from the previous one when they have to replace a coach. That couldn't be more true with the three new Big East coaches.New South Florida coach Skip Holtz was probably the most popular interview subject in Newport. Unlike most coaches who sat at their tables while answering questions, Holtz stood and held court for the entire hour-long interview session. He cracked jokes and told stories while looking like he was having the time of his life. Though Jim Leavitt was livelier at this event than he would be most of the rest year, it's still clear that Holtz is as different from Leavitt as can be.The same can be said for Butch Jones at Cincinnati.



[+] Enlarge

AP Photo/Stew MilneNew South Florida coach Skip Holtz was one of the stars of Big East media day.

No one is a bigger Brian Kelly fan than me, but Kelly rubbed some people the wrong way because they felt he was too much of a self-promoter and politician. Not Jones. He's so unassuming you'd never know he was a big-time football coach if you just ran into him on the street. Jones preaches family and values to his team, and I can totally see why they buy into it.Finally, there's Charlie Strong at Louisville. His predecessor, Steve Kragthorpe, liked to speak in long, cliche-filled sentences that made you wonder what he was talking about when the answer ended. Strong is low key and gives short, straightforward replies. He still seems a little uncomfortable doing mass media obligations, but he exudes an air of quiet confidence.

I found Holtz's comments about his team needing to come together in training camp interesting. Of course, it's a young team, but he also talked about the players having "wedges" among them.
I feel bad for Noel Devine. He has worked hard and is in position to have a huge senior year. He would have been a popular interview subject and would have gotten a lot of exposure at media day. Instead, he couldn't come out of his hotel room because he was sick. There was some talk that Devine ate the yucky part of a lobster on Monday night in his first encounter with that delicacy. I hope his absence doesn't hurt his chances at postseason awards.
My favorite part of the entire event is seeing how players and coaches interact in a relaxed setting. It was fun watching the coaches bust each other's chops on the golf course on Monday. Greg Schiano and Doug Marrone were spotted having a long conversation after the golf scramble, and the two men sure seemed cordial despite a rivalry that's starting to heat up between the programs. Players mingled and introduced themselves at the clam bake, and South Florida and West Virginia players took a walk around downtown together later that night. It was interesting watching when Cincinnati's players walked by the Pitt contingent at the clam bake. Both sides gave each other a hello, but you could also sense the Pitt guys feeling sick to their stomachs seeing the team that beat them for last year's league title.
[+] Enlarge

AP Photo/Jeff GentnerNoel Devine, who averaged 6.1 yards per carry last season on his way to collecting 1,465 yards, missed media day because he was sick.

I sat with Pitt coach Dave Wannstedt and the five Panthers players for dinner on Monday. I liked seeing Dion Lewis laughing and cutting up with his teammates. If you've ever seen, heard or read an interview with Lewis, you know he can come off as a very reserved man of few words. But those who know him say he's got a great personality, and I got to see a glimpse of that. I hope it starts to come through more as he gets more comfortable doing interviews. I also got to watch Lewis, Jon Baldwin and Jason Pinkston compete in a no-hands cake eating contest for some reason. Pinkston showed true commitment, diving back down for a piece that dropped out of his mouth to win the, um, honors.
There seemed to be a lot of people working on the "rise of Connecticut" story. The bandwagon is starting to fill up. The Huskies even got one first-place vote in the preseason poll, which would have been unheard of a few years ago.
I really like the new policy of having each team release their injuries on a weekly basis. You can be cynical and say it's for gamblers, but I've always thought there should be a uniform policy instead of having one school not say anything about injuries and an another tell you about every guy who tweaked an ankle. Besides, this could cut down on the endless weekly questions about who's hurt and who's not, and fans will be more informed about their teams when they watch the games. Of course, it only works if every school follows it honestly. I don't expect every coach to offer up major details about important players, but if one coach flaunts the policy the way Bill Belichick does then it becomes almost worthless. The Big East is not going to penalize schools who don't comply with the standard.
I, for one, was happy about the ban on expansion/realignment talk. For one thing, there's nothing new to say about it from the Big East perspective. For another, the coaches may have opinions, but at the end of the day those decisions are going to be made at the presidential and athletic director level, anyway.
Speaking of expansion, the rumor of a Memphis announcement at media day was absurd on so many levels. To name just one: if the league were to do such a thing, it would overshadow the entire event and upstage the other coaches and players. The Big East doesn't seem to be in any kind of hurry to add teams right now.
One expansion that does need to happen is more time with the coaches at the formal media day event. Putting eight head coaches in the same room for just one hour makes it impossible for reporters to get to all of them, and that just cuts down on the number of stories and exposure that could benefit the league. Plus, coaches would be better served having to answer questions once to a larger group than having to repeat the same things over and over to rotating individual reporters. I bet you Butch Jones can't count, for example, how many times he was asked about trying to continue Kelly's success.
August, 3, 2010
8/03/10
4:30
PM ET
NEWPORT, R.I. -- Not long after his team was named a near-consensus favorite to win the 2010 Big East title, Dave Wannstedt started doing what most coaches in his position would do: playing down expectations.
[+] Enlarge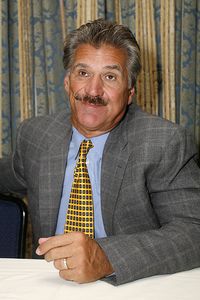 AP Photo/Stew MilneThe media picked Dave Wannstedt's Panthers as the team to beat in the Big East this season.
While Pitt received 22 out of a possible 24 first-place votes in the annual media poll -- the most since Louisville in 2005 -- Wannstedt pointed out that Cincinnati is the two-time defending champion.
"That's who we're chasing," Wannstedt said. "And there's any of four or five teams that are capable of winning our conference."
Wannstedt also highlighted the fact that he has only four seniors starting right now and nine seniors on scholarship, saying it was his youngest team at Pitt. The media, however, saw Pitt's 10-win season a year ago and some of the league's brightest talent, like reigning offensive player of the year
Dion Lewis
, co-defensive player of the year Greg Romeus and star receiver
Jonathan Baldwin
. Pitt brought five players to Newport -- left tackle Jason Pinkston and safety Dom DeCicco were the others -- and all five have been nominated to various national awards lists this preseason.
"But I think we still have a lot of holes to fill," Wannstedt said. "It's not an individual game; it's a team game. The challenge will be putting a team together."
The Panthers have questions on their interior offensive line, linebacker and tight end, and they will have a first-year starting quarterback in
Tino Sunseri
. Their overall talent level remains extremely high, though, as well as their expectations. Question is, can Pitt meet them?
"Last year, we were sitting here as the No. 1 team in the preseason, too, and we didn't finish where we wanted," Romeus said. "So we have to understand this is a preseason thing, and we have to step up and prove that we're the best team in the conference."
August, 3, 2010
8/03/10
7:42
AM ET
NEWPORT, R.I. -- Pittsburgh was the overwhelming choice to win the Big East title in the league's preseason media poll that was released Tuesday.

The Panthers received 22 out of a possible 24 first-place votes in the voting by media representatives from all eight Big East cities. Pitt was picked second on the two ballots in which it was not tabbed No. 1.

That makes Dave Wannstedt's team the heaviest favorite in the league's preseason poll since Louisville in 2005. Now it's up to the Panthers to win their first conference title under Wannstedt.

Cincinnati and West Virginia tied for second in the preseason poll. The Bearcats, who have won the league two straight years, did not receive any first-place votes, while West Virginia had one. The other first-place vote went to Connecticut, which finished fourth in the poll. That's the highest-ever preseason projection for the Huskies.

Here is the complete poll with the number of points each team received through the voting:

1. Pittsburgh (22 first-place votes) 190
2. Cincinnati 142
West Virginia (1) 142
4. Connecticut (1) 131
5. Rutgers 99
6. USF 79
7. Syracuse 41
8. Louisville 40
July, 30, 2010
7/30/10
10:31
AM ET
I've just about run out of lists and rankings and early preview capsules. So thankfully, real football is almost here -- and so is real football talk.
The Big East holds its official 2010 kickoff event on Monday and Tuesday in Newport, R.I. If you're unfamiliar with the event, know that it's nothing like the multi-day circuses that some other leagues (cough, SEC, cough) put on in the summer. It's a much more laid back affair, which is fun because it gives the media a chance to spend time with the coaches and players in a relaxed atmosphere.
Anyway, it won't be all tea and crumpets (and lobsters). There will be some pressing issues that need to be discussed. Here are what I think some of the top storylines will be in Newport:
Expansion:
Well, of course. It's the story that never dies, even though the expansion merry-go-round has come to at least a temporary stop for now. Big East officials and coaches will still be asked about what they need to do to stave off a future potential raid and whether they plan to add any teams themselves. But commissioner John Marinatto should have a more enjoyable media day experience than he might have had if the Big Ten had taken a team or two from the league this summer.
New coaches: The Big East welcomed three new head coaches -- Butch Jones, Charlie Strong and Skip Holtz -- into the fold this year, and media day will be their first introduction to a lot of reporters around the league. Holtz in particular knows how to work a room, and I expect him to be a popular interview subject.
Can Cincinnati keep it going?: The Bearcats have won two straight Big East titles, but now that Brian Kelly is gone there will be lots of questions about whether Jones can continue that success. And lots of questions about the team's defense.
Is it Pitt's time?: I expect Pittsburgh to be the preseason favorite in the media poll that will be released on Tuesday morning. Yet the Panthers are still looking for their first Big East title under Dave Wannstedt, and I'm sure many will ask him and his players why they think they can get over the hump.
Crime and punishment: There are some important lingering questions about key players who ran into trouble this offseason, including Pitt's Jabaal Sheard, Syracuse's Delone Carter and Louisville's Johnny Patrick. Not sure if we'll get any answers, but we need to ask about them.
The schedule of events looks like this. On Monday, there's a golf outing, followed by the famous Big East clambake that night. On Tuesday, Marinatto gives brief remarks. Then all eight coaches are in a room for an hour for interviews before the players enter the same room for their hour. Naturally, I'll be there and the blog will be buzzing with all the updates. (And if you haven't yet, make sure to
follow the blog on Twitter
).
Finally, what questions and storylines would you like to see addressed next week in Newport? Ask a good one, and maybe I'll save a lobster for you.