February, 18, 2011
2/18/11
12:57
PM ET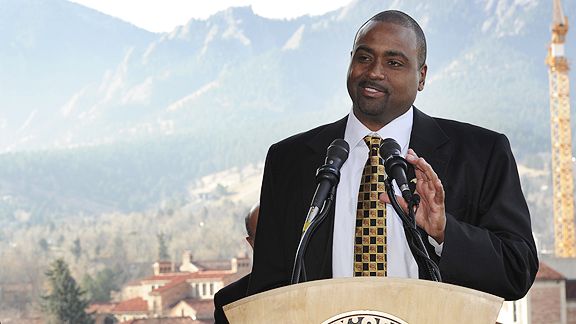 AP Photo/Jack DempseyNew Colorado coach Jon Embree is hoping to return the program to the prominence he remembers.
When you talk to new Colorado coach Jon Embree, two things stand out. First, as a former player and coach, his connection to the Buffaloes runs deep. Second, not unlike Colorado fans who feel a powerful affinity for the program -- those who remember the glory years under Bill McCartney -- the malaise of recent seasons eats at him on a visceral level.
Embree didn't negotiate the tricky coaching ladder just to become a head coach. He climbed it to become Colorado's head coach. As a competitor, he's always wanted to win, of course, whether he was at UCLA or the Kansas City Chiefs or the Washington Redskins. But Buffs fans should know this: Winning at Colorado is personal for Embree. Whatever he lacks in head-coaching experience, he may well make up for with a singular commitment to restoring football in Boulder.
"The plan was always to be back here," he said. "That was always the plan. This is the only job I've ever wanted."
There also may be an additional edge to Embree's drive to rebuild Colorado. Consider his résumé.
As a touted local recruit in 1983, he bought into what McCartney was selling and became an impact player as a true freshman tight end. In his final season, 1986, the Buffaloes overcame a 0-4 start to finish 6-6. Then it was off to a brief NFL career.
In 1991, he joined McCartney's staff as a volunteer assistant. In 1993, after a year as a high school assistant, he came back to Boulder with a full-time job, coaching tight ends, and he remained with the Buffaloes until 2002, sticking around to work for both Rick Neuheisel (1995-98) and Gary Barnett (1999-2002).
OK. This is boring. What's the point? Ah, glad you asked. Embree was in Boulder for 15 years as a player and coach from 1983-2002. What key years are missing? Correct: 1989 and 1990, when the Buffs won back-to-back Big Eight championships, went 22-2-1 and split the 1990 national title with Georgia Tech.
Embree signed with Colorado in 1983 because "I believed in the vision that Bill McCartney had for the program and where this place could go and how it could be special. It was really all Bill McCartney." And he experienced the highs and lows of a rebuilding program, including a 1-10 finish in 1984. But he wasn't there when Colorado reached the pinnacle, as a player or coach. Perhaps that's an itch that he'd like to scratch.
"I felt like we were always close," he said. "We were always right there. We were close. But we just couldn't get over the hump."